Vegan Gai Pie AKA Vegan Chinese Mini Chicken Pies are a MUST TRY! The savory, creamy meaty filling is enveloped by lightly sweet shortbread-like pastry and really tastes like the original from the Chinese Hong Kong-style bakeries. Use your choice of vegan chicken alternative for the protein or switch it for delicious oyster mushrooms or tofu; all the options are sure to satisfy your Chinese bakery craving!Click here for the printable recipe.
Video tutorial for Vegan Chinese Mini Chicken Pies (Gai Pie 鸡 批)
My Chinese Bakery Chicken Pie Inspiration
Gai Pie (鸡 批) was one of my favourite pastries from Hong Kong style bakeries. Savory, creamy chicken filling was enveloped by a lightly sweet shortbread-like pastry crust, quite unlike any other savory pies that I had growing up in Vancouver, Canada. I remember my mom never letting me have one to myself; always just giving me a bit of hers. Looking back, I now realize it was probably because those little pies packed an enormous number of calories and fat grams. Nevertheless, gai pie was (and still is, I think) one of my mom's favourite pastries and with Mother's Day coming up, I decided it was high time that I veganized those Chinese Mini Chicken Pies. For her and for me. Especially since I've only been talking about veganizing Hong Kong bakery products for nearly 5 years now.
Love Chinese bakery goods? Me too! Here are some more Hong Kong style bakery items made vegan:
Veganizing Gai Pie
Veganizing a recipe like this always makes it a wee bit healthier than the original, but make no mistake: this is not diet food! Before you even bite into this vegan gai pie, close your eyes and you can smell that unmistakable aroma of Hong Kong style bakeries: buttery and sweet. The crust is not the typical pie pastry, but a shortbread-like crust almost like a cookie. Break open that crust and the savory aroma will have you salivating.
Luckily, the crust is easy to veganize just by replacing the dairy butter with vegan butter which is much easier to find these days. Try to get a vegan butter that is solid at room temperature like Earth Balance Buttery Sticks. Earth Balance is also my recommendation for good butter-like flavour.
Vegan Chicken Alternatives
I have used vegan chicken (made from plants, not animals), mushrooms, and tofu as the meat alternative. Each option delivers a different flavour but all are delicious. The vegan chicken that I used is made by Gardien and it made the most convincing gai pie; the taste, the texture, everything was perfect. That said, both tofu and oyster mushrooms make great chicken replacements too but you won't be fooling your mom with those (or my mom, ha!)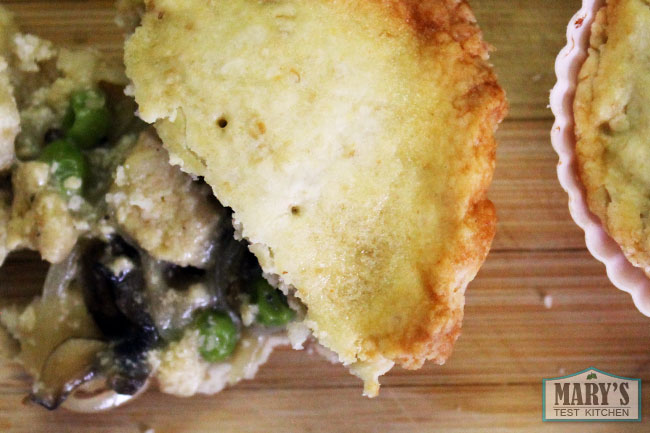 How to make the Vegan Gai Pie Filling
Making the filling was almost identical in process to the original recipe that I made during my pre-vegan days for Chinese-style cream chicken. If you're using vegan chick'n, toss it in a simple marinade of Shaoxing wine (Chinese cooking wine), soy sauce, toasted sesame oil, along with some black or white pepper or both. Same thing if you're using oyster mushrooms. Oyster mushrooms make a great chicken alternative because they have their own umami flavour when cooked and the stiff stems are fibrous and resemble chicken as well.
If you're using tofu, you'll use the same marinade but add a little extra flavour in the form of nutritional yeast, vegan chicken seasoning or mushroom seasoning. I've recently started using mushroom seasoning in place of broth powders and pastes. It doesn't contain as much sodium and gives dishes a clean tasting umami savoriness without other strong flavours (which the alternatives have such as vegetable bouillon and miso). The ingredients in the mushroom seasoning that I'm using at the moment are simply mushroom powder, salt and mushroom extract.
As the marinade soaks in, you'll cook the onions until soft, then add in sliced button mushrooms. Lastly, you'll add the vegan chicken/oyster mushrooms/tofu. Cook briefly, then transfer to a holding dish. Give the pan a quick rinse and you'll be ready to make some roux.
Roux is simply a combination of flour and butter cooked together. In this case, I'm using vegan butter. Coconut oil is a fantastic alternative as well. Use refined coconut oil if you don't want a coconut flavour though. The roux is cooked over low – medium heat until it starts to smell a bit roasty. You'll smell that familiar Hong Kong bakery smell. Then add the onion/mushroom/chikn mixture back in, along with water, soy milk, mushroom seasoning, pepper, and salt to taste; turn up the heat. The original recipe uses chicken seasoning (made from chicken, not the herbs used to season it) and the mushroom powder replaces that. If you can't get mushroom seasoning, use vegan chicken broth powder. If you can't get that either, you can use nutritional yeast or soy sauce. Keep in mind that these last two options are not ideal to get a really accurate flavour but you'll still be making something delicious.
Mix everything together thoroughly as it cooks and roux will thicken the water and soy milk into a creamy sauce. Taste and adjust for salt and pepper, scoop into a heat-safe bowl and let it chill in the fridge.
How the make Vegan Gai Pie Crust
Making the crust is like making a shortbread cookie, much easier to make than a typical flaky pie pastry crust. At least in my opinion. I do love making pie but I admit that I'm terrible at it. My pies are never very pretty. This shortbread-like crust is much more forgiving.
First, whip the flax meal and water together to make your "flax egg." Then add vegan butter, vegetable shortening or coconut oil and whip that until totally combined. Vegan butter makes a crust that is easier to handle when working with the dough and forming it into your tart tins. However, there's no noticeable difference once the pies are baked.
An ingredient that one might find odd is vanilla. Vanilla for chicken pie? I know, it sounds weird but just go with me on this one. The pie just doesn't have the right aroma without a touch of vanilla extract.
Sift together the dry ingredients. I usually just place a sieve right over top of the whipped flax/fat mixture rather than use a separate bowl.
The one unusual ingredient in the crust is soy milk powder. It gives the crust more of a milky flavour. It can be hard to find so you might try to find soy milk powder online. Luckily, my local bulk food store carries it. However, even if you leave this out, you'll still make some tasty pies. It just will have that something missing if you're trying to recreate the flavour of Hong Kong style mini chicken pies.
Mix the ingredients together with a spatula. It will look very dry at first but it will come together. Trust.
The dough will be much drier if you used shortening or coconut oil but this is OK. I would avoid adding more water as just a touch too much water will create a tough crust rather than the tender crust we are looking for.
Wrap the dough up and let it chill in the fridge for 20 to 30 minutes. Take this time to take care of yourself. Light some candles. Diffuse essential oils. Soak your feet. Or maybe just do the dishes.
Putting together the Vegan Gai Pie
Afterwards, start preheating your oven and divide the dough into 12 equal portions. I used a scale for accuracy.
Six pieces will be the bottom half of the crusts. Make them into somewhat round shapes by gently patting them with clean hands. Then roll them out into round flat discs to fit into your tart tins. This dough is a bit crumbly (very crumbly if you used shortening or coconut oil) so don't worry if you start placing them into the tins and they break. Just take the broken pieces and squish them into the cracks.
I used silicone rubber tart molds for easy clean up, but this can easily be done in with parchment liners (place them into the tins before fitting the dough) or directly in a muffin tin. It shouldn't stick after baking since there is enough oil content in the dough.
For the tops, you can pat them into rounds to fit over the top of the tarts or gently roll them out as well. I found it best not to make the rounds too large; just big enough for the edges to meet edges of the bottom crust.
Fill the tarts to the top with your chilled filling. I overfilled a couple of tarts which looks nice but makes it hard for the top and bottom crusts to seal together. Do what you like; you'll likely have a bit more filling than you need.
I wanted a diamond pattern on the top so I just traced it with the back of a butter knife. Then added some steam vents with a skewer.
I've tried a few different glazes for these and a combination of aquafaba, maple syrup, and oil seems to work the best. For a deeper colour, you could use more syrup than I have but truth be told, I hoard my maple syrup for pancakes and waffles.
Bake your vegan chicken pies for 25 to 28 minutes or until the tops brown a bit on the top and around the edges. If you didn't use a glaze, the tops will stay fairly pale but the edges will brown a bit.
Let your pies rest for at least ten minutes or you will burn your mouth off. Even then, be careful as steam will release as soon as you break into one of these delicious morsels.
And that's it. Delicious gai pie, made entirely of plants. And mushrooms. Make these for your mom. Or yourself. I made them for myself since my mom lives 900+ kilometers away, but I'll be thinking of her every time I have one of these lovely vegan chicken pies.
Printable recipe for Vegan Chinese Mini Chicken Pies (Gai Pie 鸡 批)
Yield: 6 mini pies
Vegan Hong Kong-style Chinese Mini Chicken Pie (Vegan Gai Pie 鸡 批)
Savory, creamy filling enveloped by a lightly sweet shortbread-like pastry crust. This recipe tastes exactly like the original if you use vegan "chicken" (I used Gardien). You can also use oyster mushrooms or tofu as delicious meat alternatives. 
Total Time
1 hour
25 minutes
Ingredients
Pie Crust - Wet Ingredients
5 tablespoons vegan butter, shortening, or coconut oil
1 tablespoon ground flax meal
3 tablespoons water
1/8 teaspoon vanilla extract
Pie Crust - Dry Ingredients
1 1/4 cup all purpose flour (5.47oz)
4 tablespoons icing sugar or powdered sugar
1/2 teaspoon soy milk powder
1/2 teaspoon cornstarch
1/4 teaspoon baking powder
pinch of sea salt
Marinade
2 teaspoons Shaoxing wine or dry sherry
1 teaspoon light soy sauce
1 teaspoon corn starch
1/2 teaspoon toasted sesame oil
pinch of black pepper
pinch of white pepper
Filling
3.5 oz cubed vegan "chicken," OR extra firm tofu (drained and excess water pressed out), OR oyster mushrooms
1/3 cup thinly sliced yellow onion
1/3 cup thinly sliced button mushroom (about 2-3)
2 tablespoon frozen peas
2 teaspoons refined coconut oil or other cooking oil
Sauce
1 tablespoon all-purpose flour
1 tablespoon vegan butter or refined coconut oil
1/2 cup plus 2 tablespoons water
2 tablespoons soy milk
1 teaspoon mushroom seasoning
1/4 teaspoon sugar
1/8 teaspoon white pepper
salt to taste
Optional glaze
1 tablespoon aquafaba (water from a can of chickpeas/light coloured beans)
2 teaspoons maple syrup
1 teaspoon oil
Instructions
Make the filling
Whisk the marinade ingredients together until well combined. Add the vegan "chicken," oyster mushrooms or tofu and stir to coat. Set aside.
Sauté onions with oil over medium heat until soft; about 3 minutes. Add the sliced button mushrooms, frozen peas and the marinated ingredients. Cook for about 4 minutes or until everything is hot and fragrant. Transfer to a bowl and rinse and dry the pan.
Return the pan to the stove and melt the vegan butter or coconut oil in it over low heat. Add flour and stir well. Cook for about two minutes and the mixture will start to smell fragrant; a bit toasty.
Add the cooked ingredients back into the pan and stir well. Add water, soy milk, mushroom seasoning, sugar, white pepper. Turn the heat up to medium and cook until the liquids are thick. Taste and adjust for salt and pepper. Remove from heat, transfer to a bowl and chill in the fridge while you make the crust.
Make the pie crust
In a mixing bowl, whisk the flax meal and water together. Let sit for a minute to let the mixture thicken. Whisk in room temperature vegan butter (or coconut oil or shortening) and vanilla. You may use an electric mixer to make this easier. The mixture should be fairly well emulsified before continuing.
Sift together the dry ingredients and stir into the wet ingredients until completely combined. You will have a crumbly looking dough. If you've used coconut oil or shortening, the dough will be very crumbly and seem dry. This is normal.
Pat the crumbs into a dough ball and wrap with plastic wrap. Let chill in the fridge for 20 to 30 minutes.
Assemble the pies
Preheat oven to 375°F.
Unwrap the dough and divide into 12 equal pieces. Pat each piece into a ball shape. Roll out 6 of the pieces into discs about 3" in diameter. You may need to flour your work surface to handle the dough more easily. Also, the dough may break during rolling but do the best you can.
Fit each each into a tart/muffin tin. I used silicone rubber liners to make this easier and for easy clean up. Parchment liners can also be used. The dough may break (especially if using coconut oil/shortening) so just take the crumbs and press into the cracks if this happens. Use you thumbs to press the dough evenly into the tins.
Form the 6 remaining pieces into smaller discs just large enough to cover the tops of the tarts.
Fill the tarts with the chilled filling up to the top edge. You may overfill them, though this will make sealing the top crust a bit more difficult.
Cover the filling with the top crust dough and press gently around the edges to seal.
Pierce the tops with a fork or make a couple steam vents with a toothpick.
If using a glaze for color, whisk together the glaze ingredients and brush a thin coat on top of all the covered tarts.
Bake for 25 - 28 minutes at 375°F or until the tops are lightly golden and edges have browned a bit. Let rest for 15 minutes before serving.
If saving for later, let cool to room temperature then freeze in freezer bags. To defrost, turn upside down on to a paper towel and microwave for 30 seconds. Then turn it right side up and microwave for another 30 seconds. Be careful of hot steam!
Notes
Tips about ingredients
If using coconut oil, choose refined coconut oil if you do not want the coconut flavour.
You can find mushroom seasoning at Asian grocery stores or online. It's essential to create an authentic flavour. Alternatively, use vegan chicken-flavoured bouillon.
Nutrition Information:
Yield:
6
Serving Size:
1 gai pie
Amount Per Serving:
Calories:

492
Total Fat:

27g
Saturated Fat:

14g
Trans Fat:

0g
Unsaturated Fat:

11g
Cholesterol:

47mg
Sodium:

409mg
Carbohydrates:

53g
Fiber:

2g
Sugar:

27g
Protein:

10g
Nutritional Information automatically calculated by a plugin and may not be correct.