This Vegan Keto Pizza Crust is hand stretched and rises up just like traditional pizza dough. Make it thin and crispy or let it be puffy and chewy; it's up to you! Unlike other low carb pizza crust, there's no cheese, completely dairy-free and egg-free. Like all the recipes on this site, it's completely plant-based. All that and only 2.2 net carbs per slice.
Video Tutorial for Vegan Keto Pizza (with Sausage and Onion)
Ingredients for this Vegan Keto Pizza Crust
This low carb pizza dough handles and bakes up very similar to traditional pizza because the dry ingredients work together to replace the qualities of whole wheat flour. Pizza dough should stretch and have a yeasty aroma. It should bake up with a slightly rise, bready texture, and crispy base. You should also be able to customize whether you want it to become a super thin cracker-like crust or thick and chewy. These ingredients allow this keto crust to be all those things.
Oat Fiber
With zero net carbs, this Oat Fiber replaces the starch that would be in traditional flour. It adds bulk to the dough as well as a wonderful toasty aroma during baking. However, be careful not to confuse it with Oat Flour which is made with whole oats and is very high in carbs. Oat Fiber is made from the indigestible husks of oats. Another thing to watch out for is the nutrition label. While the Anthony's brand of Organic Oat Fiber I use is completely made of fiber, some that I've seen online are not so please check the label before purchasing.
When measuring the oat fiber, be careful because this ingredient is extremely light. It's easy to kick up a cloud of dusty oat fiber so please be gentle. Also, for accurate measuring, a scale is best. However, if you must measure by volume, use PACKED tablespoons instead of the usual sift, scoop, and level method.
Golden Flax Seeds
Flax seeds help this dough retain moisture and adds bulk to the dough without weighing it down and preventing rising (something too much oat fiber can do). I choose Golden Flax Seeds over regular brown flax seeds because they have a milder flavour and give a lighter, nicer appearance to the finished pizza crust.
You may find ground golden flax for sale. I haven't tried that type myself but it should still work for this recipe. Make sure to smell the opened bag before using it in the recipe. The oil in flax is delicate so you should smell it before using it in a recipe. Rancid flax oil smells fishy so through it out if you detect that.
I avoid this possibility by only buying whole flax seeds. They are less delicate when kept intact and can be stored in the pantry. Then, simply grind them as you require. Always be careful not to let them overheat, and store in the fridge until you need them. This way, the oil inside stays fresh.
Vital Wheat Gluten
The gluten in wheat flour is what creates structure in bread and allows it to rise and keep its shape. But instead of using the whole wheat that includes so much starch, we can use only the protein part: Vital Wheat Gluten. However, too much of it will make your dough too tough and chewy plus have an unpleasant doughy flavour. So it's important to mix in the flax and oat fiber. Also, I like to use Anthony's brand of Vital Wheat Gluten especially because it has less of that distinct "gluten-y" flavour.
Want more Keto Bread-y things? Try my Vegan Keto Sandwich Rolls recipe!
Troubleshooting Vegan Keto Pizza Crust Dough
Keto pizza dough may feel, handle and bake up like regular pizza dough but there is one key difference that can prevent you from getting great results if you follow your regular dough making sensibilities. And since this is similar to my keto sandwich rolls recipe, I'll give the same caution: don't proof the dough BEFORE shaping IE. don't let it rise or rest too long).
Since there's only a small amount of sugar in this recipe and next to no starch in the flours, there's hardly anything for the yeast to consume. If you don't go through the recipe steps quickly enough, the yeast will eat all the sugar before your final dough shaping and it won't puff up at the end. There's no need to rush but please give yourself enough time to work through the entire recipe from start to finish. In this particular case, more proofing time will not improve this pizza dough.
Printable Recipe for Vegan Keto Pizza Crust
Yield: 2 pizza crusts, 8 slices each
Vegan Keto Pizza Crust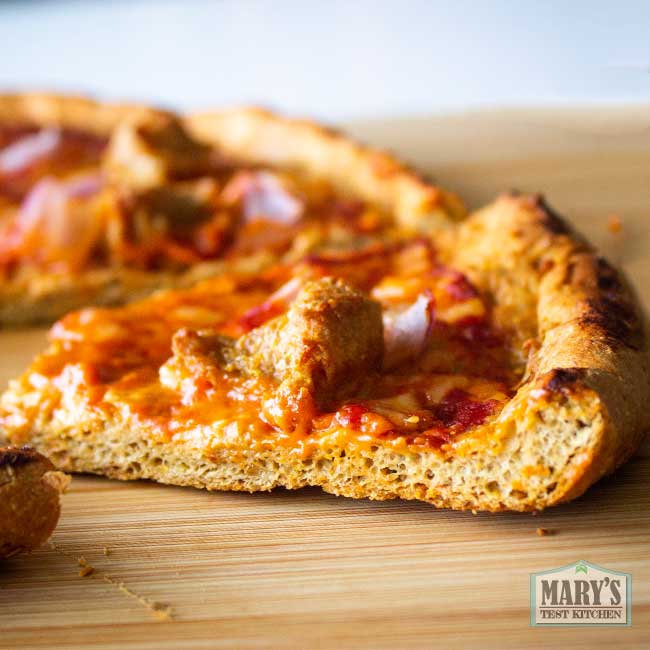 Plant-based Low carb pizza crust with only 2.2 net carbs per slice making it perfect for keto diets. FOR BEST RESULTS: measure by WEIGHT.
Proofing Time
1 hour
30 minutes
Total Time
2 hours
20 minutes
Ingredients
WET
7g instant yeast (2 1/4 tsp)
7g maple syrup or sugar (1 tsp)
350ml warm water @ 110°F (1 ½ cup)
DRY
100g Ground Golden flax meal (1 cup)
175g Vital Wheat Gluten (1 cup + 3 tbsp + 1 ½ tsp)
100g Oat Fiber (8 tbsp + 1 ½ tsp PACKED)
7g salt (1 tsp)
1 tsp garlic powder
1 tsp onion powder
1/2 tsp dried oregano
1/4 tsp dried basil
Instructions
In the mixer, combine yeast, maple syrup, and warm water. Let bloom for 5 minutes.
Add dry ingredients. Stir to form dough. Knead @ speed 3 for 8 minutes.
Divide and shape into 2 pucks. Cover and rest in a warm, draft-free location for 90 minutes.
Roll or press and hand-stretch each puck flat to about ¼" thick or as desired. If it resists, let cover and let it rest a few minutes until dough is relaxed again and easy to roll/stretch.
Preheat the oven to 400°F. Lightly oil one side, then place the oiled side on a parchment lined baking sheet. Gently stretch each crust. Top with sauce and toppings as desired.
Bake for 10 minutes or until the crust is stiff on the bottom. Then slide the pan out so that the pizza sits directly on the middle rack. Turn heat to 475°F and continue baking for 6 to 10 minutes until cheese is bubbling and bottom is nicely browned.
Notes
Oat Fiber - I use Anthony's brand as it's zero net carb. Other brands may not be zero carb.
Vital Wheat Gluten - Again, I use Anthony's brand as it is the best tasting without a strong "gluten-y" odor
To freeze crusts for later, place on parchment-lined baking sheet and chill in freezer until solid. Then wrap in plastic. To use, add toppings directly on frozen crust and using usual baking instructions, adding 5 - 10 minutes to the time.