Friends, this is the BEST vegan fried chicken recipe. It's seriously crunchy on the outside with well-seasoned breading full of crispy nooks and crannies. But the inside is what makes this vegan fried chicken different. You won't believe how tender, juicy and meaty this vegan 'chicken' tastes and looks. Flavour bursts from layers of 'meat' as you bite into it. Click here for the printable recipe or pin this for later.
Looking for the Tofu Brands tested to work? See the Notes in the printable recipe
Video tutorial for the Best Vegan Fried Chicken
I stumbled across the secret to creating this realistic, crispy and juicy vegan fried chicken last year (you might have seen it on my Instagram stories) and have since perfected it so you can make it easily at home. Make deep-fried vegan chicken on your stove top or deep-fryer for the absolute best vegan chicken you've ever had. Or, you can bake these golden pieces of juicy perfection in the oven for delicious oven-fried vegan chicken. And it's gluten-free to boot!

Recipes featuring The Best Vegan Fried "Chicken"
What's the secret to The BEST Vegan Fried "Chicken"
The secret to making this flaky, juicy BEST Vegan Fried "Chicken" is twice frozen medium firm tofu. What is medium firm tofu? Why freeze twice? How is this different from regular frozen tofu? Read on for the answers!
Twice Frozen Medium Firm Tofu
You may have heard of the trick where you freeze extra firm tofu then let it thaw. The ice that forms in the tofu creates pockets so when it thaws, you can squeeze the water out like you would a sponge. Then when you marinate the tofu, it can absorb much more flavour than before. But it can be a bit grainy or gritty feeling.
Using medium firm (or Traditional style) tofu produces a tender texture without that grainy feeling. However, it falls apart very easily. Freezing and thawing medium firm tofu twice makes the tofu more sturdy so you can press more water out without the whole thing disintegrating.
NOTE: Since different brands can all vary, please see the printable recipe below for brands that have been tested and what readers have reported.
By the way, this practice is safe! General food safety guidelines for home cooking say not to freeze and reheat food twice. This is usually the best way to go since people are thinking of leftovers (and meat). But if done properly, it is totally safe to freeze and thaw the tofu twice. See these details from the USDA.
Vegan Tofu "Chicken" F.A.Q.'s
1. Wait..do you drain it first? Freeze it first? DO NOT OPEN THE PACKAGE. Simply pop the whole package of Medium Firm Tofu (packed in water) in the freezer. Freeze, thaw, freeze, thaw, open, drain, press water out then continue 2:12 Watch THIS video for more detail on the tofu freezing/thawing process, choosing tofu, and the oven-fried method: https://goo.gl/3PYyBR
2. Can I use Firm or Extra-firm Tofu? Or other types of tofu? To get the "chicken-y" layers in the tofu, use the Medium Firm tofu I used in the video. I've tested with Sunrise, Superior, and T&T brand and they all work. Viewers have told me that House brand tofu works when you use Soft. It's important that the tofu has enough water content in it and is packed in water. If you use firmer tofus, you will likely get a spongy/crumbly result instead of the layers. Firmer tofus also tend to hold onto more water making it a bit more difficult to infuse with the "chicken" broth flavour. Just keep that in mind if you use firmer tofu than the recommended. And for goodness sake, do not use Silken Tofu.
3. Do I have to use Gluten-free flour? NO. I recommend the one I used because it comes out really nicely; better than using regular AP flour. But you can certainly use regular AP flour if you like. It's a bit better if you swap 1/4 of your AP flour for potato/cornstarch to lighten things up.
4. Do I have to use VeganEgg™? NO. You can use other egg replacers but I do recommend VeganEgg™ if you can get it because it comes out really nicely. You can also other egg replacers. One that I LOVE is using chickpea flour and water. Use a 1:1 ratio of chickpea flour and water. The third best I'ved tried is flax egg. Make a "flax egg" by combining 1 tablespoon of ground flax seed with 3 tablespoons of water.
5. What vegan "chicken" broths do you recommend? Mushroom Seasoning (use this just like broth powder): https://amzn.to/2GOA4EA or Better Than Boullion No-Chicken Base: https://amzn.to/2EkAb9v or DIY Vegan "Chicken" Broth: https://www.marystestkitchen.com/diy-vegan-chicken-broth-powder/ Other options exist! Choose the one that you enjoy the most 🙂
What exactly IS Medium Firm Tofu?
Medium Firm Tofu is about as firm (or tender) as the meaty part of your palm just under your thumb. Use a finger to press on that part of your hand and notice how it has some give but is also somewhat firm at the same time. That's about the firmness that Medium Firm Tofu will have.
Keep in mind, there is no international naming convention for tofu so you might have soft/medium/firm/extra firm here in Canada, or just Soft and Firm in some parts of the USA, or (as a commenter shared, Slightly Firm, Perfectly Firm, Classic, and Hard in Australia).
To get more technical, the medium firm tofu that I use contain:
water,
soybeans (non-GMO),
calcium sulphate, and
glucono-delta-lactone
The macros per 100 grams are:
82 calories
2.3 g carbohydrate
4.7 g fat
8.2 – 9.4 g protein
These details are only for your reference and not a guarantee that the tofu that matches these details will turn out to be flaky after being frozen.
How this technique for Vegan Fried Tofu "Chicken" came to be
Can you guess how I stumbled across this? If you have a hard time sticking to a meal plan like I do, you might have done this too. I had an unopened package of tofu in the fridge that was nearing the expiry so I stuck it in the freezer. Then when I thought I was going to use it the next day, I let it thaw. Of course, dinner did not go as planned, so I stuck it back in the freezer.
A few weeks later, I thawed the block, went to press it and was blown away by the texture. Combined with five spice seasoning, an air fryer, and twenty minutes later, I had something that was crunchy on the outside and juicy on the inside. It wasn't the perfect vegan chicken yet. But it inspired me to develop this further. Now several months later, I'm confident that this will be the best vegan chicken you'll make at home!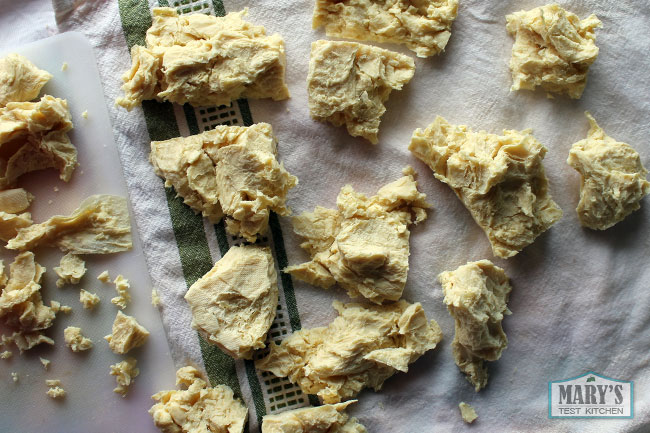 Prepare the tofu by pressing it gently after you thaw it the second time. I used a tofu-making mould to help me and it did very well. You can also use a tofu press if you have one or squeeze your tofu gently between two cutting boards. See the video on how I did it.
The tofu is still fairly delicate so use care. You can squeeze out the last of the water with clean kitchen towels. Then, you'll see layers within the tofu. This is what creates the realistic vegan chicken effect. Carefully pull the layers apart into rough, large chunks; about eight pieces. Again, use a light touch.
You'll probably find that the tofu doesn't need a lot of help to break into pieces; let them fall as they will. You'll also have a bunch of bits leftover. Don't worry; we'll use them too.
Turning Double Frozen Tofu into The Best Vegan Fried "Chicken"
After pressing the tofu, you can reintroduce moisture, but this time, in the form of flavourful vegan chicken-style broth. Use twice the amount of paste or powder to make the broth. If you're using liquid broth, boil it down to 1/2 volume so the flavours are concentrated.
When you have your bowl of broth, add the tofu to it. Try to make sure the layers sit flat, then press down and let go so the tofu pieces can soak up the broth. Some of the tofu will want to fall apart at this point so handle with care. You might end up with a few more pieces than you started with; I did!
By the way, if you skip the "chicken" broth step, the tofu will hold together better. However, the end result will not have that juicy flavour. So it will resemble dry chicken breast and have more of a pronounced tofu flavour. That said, if you're going to add a very flavourful sauce afterwards, or you're in a hurry or just want to get this done quickly with less mess, well, this is your vegan fried chicken and there are no rules!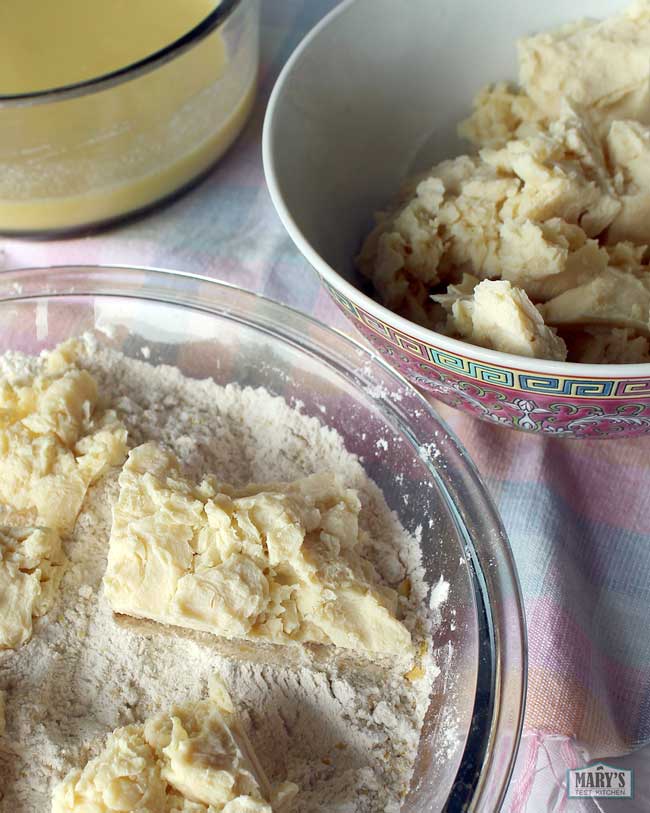 Now the tofu is ready for the three-step dredge: seasoned gluten-free flour, vegan egg wash, and seasoned flour again with the addition of crispy rice puffs to add a bigger crunch.
There are a couple of special ingredients in this recipe: Vegan Egg by Follow Your Heart (Earth Island Foods in Canada), and Bob's Red Mill 1-1 Gluten-free Baking Flour. These two ingredients really did make a better vegan fried chicken coating compared to using the usual flax or starch-based vegan egg alternatives and all-purpose wheat-based flour. The flax egg test was ok but not as good as FYH's Vegan Egg. I haven't tested other gluten-free flour blends (mostly because I already hate them and am tired of wasting food) so it's possible that there are others out there that will work. Personally, I'll stick to this particular flour from Bob's Red Bill because it works well and doesn't have any odd flavours.
But if you don't have access to these special ingredients, don't worry. You can use chickpea flour for the vegan egg and regular all-purpose flour in place of gluten-free. Optionally, add a couple tablespoons of potato starch or rice starch to lighten up regular all-purpose flour.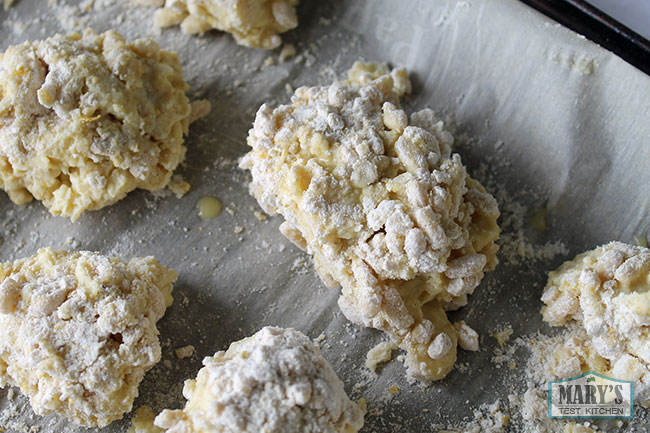 I find it easiest to do the first dredge first with all the "chicken" pieces. Let them sit on a plate or baking sheet. Toss the bits and smaller pieces into the flour as well and shake off the excess very well. Then grab a handful and squeeze gently. Some of the moisture will come out and help the bits clump together. Let these pieces sit a few minutes before continuing with the vegan egg wash and the final coating of seasoned flour; this will help them set.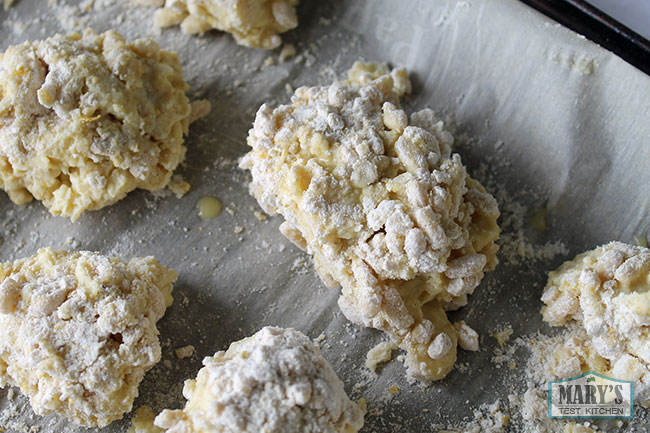 Finally, you can heat up oil in a large pot or wok and hold that heat steady at 350°F so you can fry the pieces in small batches. You'll want five whole minutes for the pieces to turn golden brown and perfectly crispy-crunchy! Let them rest for a few minutes before digging in or saucing up.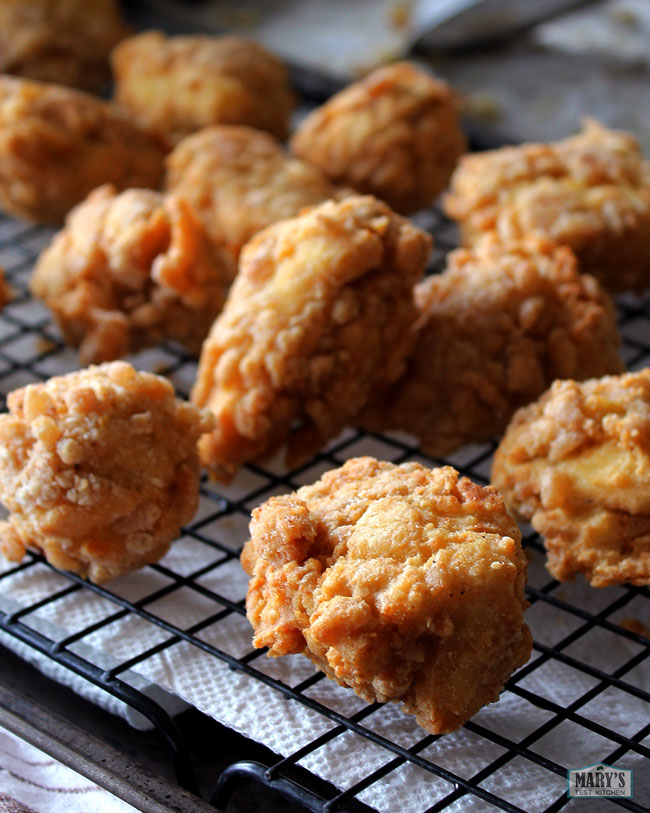 To oven-fry, drizzle or spray oil generously over the breaded vegan chicken pieces that you've laid over a parchment lined baking sheet. Bake in a preheated 425°F oven for 30 minutes, flipping the pieces at the halfway mark. Oven-fried vegan chicken is still really delicious; it's crunchy on the outside and juicy on the inside. However, it doesn't get the same satisfying flavour and crispness that only comes with frying in oil.
I loved them without anything extra but I couldn't pass up an opportunity for some dipping action. So I also made a thick gochugaru dip and a yogurt-y dill dip (without yogurt). What will you have the best vegan fried chicken with? Let me know in the comments!
Printable recipe for the Best Vegan Fried Chicken (gluten-free)
Yield: 4 servings
The Best Vegan Fried Chicken
The Best Vegan Fried "Chicken" is beautifully seasoned, crispy and crunchy on the outside and juicy on the inside with an amazing flaky meaty texture you must see to believe! And while it takes some time to prepare, it's SUPER EASY and most of the time is totally hands off!
Start this recipe by freezing and thawing 24oz (700g) Traditional or Medium tofu twice. *See the notes for brands that have been tested and which have been reported NOT to work*
Do not open the package(s). Make sure to freeze the tofu completely until it is solid and then let it thaw completely each time. This can take up to two days. Trust: this gluten-free vegan fried chicken recipe is worth the wait!
Please see my video tutorial on how to make this vegan fried chicken so you get a good idea of how to treat the tofu. It's a simple recipe but you do need to be mindful of some details.
While best deep-fried, you can oven-fry (or air fry) this recipe. See the directions for more details.
Freezing and Thawing Tofu
3 days
Total Time
3 days
35 minutes
Ingredients
neutral frying oil, such as canola
24oz (700g) traditional or medium tofu (do not use silken tofu)
1 cup double strength chicken-style broth
seasoned flour
1 cup regular all-purpose or gluten-free flour*
1 tablespoon nutritional yeast
1 teaspoon salt
1 teaspoon onion powder
1 teaspoon garlic powder
1/2 teaspoon white pepper
1 cup crispy puffed rice (aka rice crispies)
vegan egg
3/4 cup chickpea flour (or 2 Tablespoons Follow Your Heart VeganEgg powder)*
3/4 cup ice cold water, divided
Instructions
Freeze and thaw the tofu
Place the whole unopened package or packages of tofu in the freezer and freeze until solid (about 6 hours to overnight).
Once solid, let thaw completely. Do this quickly and safely by thawing on the counter until mostly thawed but still very cold (about 2 - 4 hours) then let it thaw the rest of the way in the fridge.
Once the tofu is completely thawed, freeze it solid again. Then, you can take it out for the final thaw before making your vegan fried chicken. You can hasten the last thaw by defrosting in the microwave. Tofu that has been thawed the second time should be consumed within as soon as possible (within two days).
Turn tofu into "chicken"
Press the tofu gently but thoroughly to remove most of the water within. See my video tutorial for a demonstration. You should see some natural layers and cracks where the tofu can break into realistic looking meaty chunks. Using a light touch, divide the tofu into eight to 10 chunks. You will have some bits leftover; save them. Let the tofu rest on a clean kitchen towel while you prepare the seasoned flour and vegan egg wash.
Mix the seasoned flour ingredients together but leave out the rice crisps; they will go in later. Separately, mix two tablespoons of vegan egg powder with 1/2 cup of ice cold water. Whisk until smooth. Add the remaining water and whisk. The mixture should resemble thin crepe batter. When these dredging mixtures are done, go back to the tofu.
Prepare a wide bowl with your double strength chicken-style broth. Add the tofu pieces, placing them with layers flat; perpendicular to the table. Press down evenly and let go so the tofu can soak up the broth. Drain away excess broth, if any.
Gently transfer a few pieces of the tofu to the seasoned flour. Cover them gently, then scoop them up with loose fingers, shaking the excess off. Place on a plate or baking sheet. Repeat with all of the tofu chunks. When you only have small pieces and bits left, place those in the seasoned flour again. Toss them to coat evenly and be even more diligent about shaking off excess flour. Grab a small handful of them and squeeze gently to help them clump together. Place them on the plate or baking sheet as well. You will have lots of seasoned flour left in the plate. Add the crispy rice puffs to the seasoned flour. crushing about half with your hands.
Starting with the tofu you coated first, dip the pieces in vegan egg wash and let the excess drip off. Place the vegan-egg-coated pieces into the seasoned flour with rice crisps, cover gently and lightly pat so the rice crisps stick on well. Place the coated piece back on the plate or baking sheet. Repeat with the rest.
How to Deep-fry the Best Vegan Fried Chicken
Heat a few inches of oil to 350°F in a wok or large heavy-bottomed pan. Use a frying thermometer to help keep the oil temperature stable between 350°F and 360°.
Fry your coated vegan 'chicken' in small batches, turning them occasionally for even cooking, until they are a deep golden colour. They should take 5 whole minutes to cook. If they cook too fast, make sure the temperature has not exceeded 360°F. If they do not cook fast enough, make sure the temperature is hot enough. Temperature is key to creating the perfect crispy yet crunchy crust without too much greasiness.
Drain on layers of paper towel or a rack.
Oven-fry
Place the coated vegan 'chicken' on a parchment-lined baking sheet. Spray or drizzle generously with oil to create a crunchy exterior and oven-fried effect. Bake in a preheated 425°F oven for 30 minutes, flipping the pieces at the 15-minute mark.
Air Frying
Lightly spay your air fryer basket with oil. Place the coated vegan "chicken" pieces in the basket, leaving an inch of space around each piece. Spray the tops of the pieces with oil, then air-fry at 400°F for 10 minutes.
Flip the pieces, spray oil on the other side and air-fry for another 10 - 15 minutes or until they are golden and crispy on the outside. Avoid leaving them in the air fryer too long or they may become too dry on the inside.
Serve!
Serve the Best Vegan Fried Chicken immediately after frying/ baking/ or air-frying! Add your favourite seasonings on top or just a little extra salt and pepper.
Notes
Vegan "Egg"
Using either chickpea flour or VeganEgg (by Follow Your Heart/ Earth Island) produces the best results. Flax/chia egg is also okay (but not as crispy and light). If you use ground flax or chia, mix 2 tablespoons of the ground seed with 1/2 cup lukewarm water).
Gluten-Free Flour Recommended!
While you can use regular all-purpose flour, I found that using Bob's Red Mill 1 to 1 Baking Flour makes the exterior even more crispy and light. You can also try replacing some of the flour for potato or rice starch to lighten up regular flour.
What is Medium Firm Tofu?
Buy tofu packed in water. As a rough guide, the firmness is like the fleshy part of your palm just under your thumb.
To get more technical, the medium firm tofu that I use contain: 
water,
soybeans (non-GMO),
calcium sulphate, and
glucono-delta-lactone
The macros per 100 grams are:
82 calories
2.3 g carbohydrate
4.7 g fat
8.2 – 9.4 g protein
If the tofu that you buy goes grainy instead of flaky after freezing, try the next softer tofu in the same brand.
Tested Tofu Brands that go FLAKY
This recipe was tested with Superior Tofu, T&T brand, and Sunrise Tofu; all worked when using medium firm or traditional. Not firm, not extra firm. Firm + extra firm will still taste ok but you can't call it "the best!" They don't develop the layered effect and retain more water. The soft or smooth (not silken) versions may develop the layered effect as well but are just a tad softer. But it's not as good as using medium firm or traditional. The soft/smooth ones taste more tofu-ish.
I'm in western Canada and have no access to other brands. Please let me know in the comments if you try other brands and how it worked out for you. TIA! ?
FIRM AND EXTRA FIRM DO NOT CREATE LAYERS. This bears repeating ?
Other viewer tested brands
House brand SOMETIMES WORKS with medium firm. I've seen photos from readers who have tried with this brand and it works only sometimes. IE, sometimes it comes out spongy but other times it comes out flaky. You can also try soft; some people have reported that House Brand in SOFT works.
Sprouts Brand DOES NOT WORK with medium. You might have success with SOFT.
Good news, AUSTRALIA!! Fortune in Smooth Silken Pressed Tofu goes flaky! Verified by viewer photos.
Trader Joe's Organic Tofu (magenta label) WORKS! It does not have an additional "firmness" indicated on the label (so not the firm/extra firm).
Stay tuned for a DIY medium firm tofu that will create those layers for you if you don't live in a place where the ideal tofu is available.
Nutrition Information:
Yield:
4
Serving Size:
1/4th of the recipe
Amount Per Serving:
Calories:

353
Total Fat:

11g
Saturated Fat:

2g
Trans Fat:

0g
Unsaturated Fat:

8g
Cholesterol:

34mg
Sodium:

656mg
Carbohydrates:

41g
Fiber:

4g
Sugar:

3g
Protein:

20g
Nutritional Information automatically calculated by a plugin and may not be correct.