Vegan honey butter chicken sounds impossible, but anything is possible with plants! And a little trial and error. Lucky for you, I did all the trials and ate all the errors already. Crispy oven-fried (or deep-fried) protein enveloped in sweet buttery sauce and crunchy pumpkin seeds make for an indulgent treat anyone can enjoy. This vegan recipe is gluten-free and easy to make but takes a bit of prep so make sure you read the printable recipe all the way through before you start.
Video tutorial for Vegan Honey Butter Chicken

I've been following Korean YouTuber Maangchi for a while; I mentioned her in my post for making Vegan Kimchi. I love her attitude and appreciate that she posts lots of vegan-friendly recipes. After watching her tutorial for Honey Butter Chicken, I knew I had to try making a vegan version. I know that sounds funny to some non-vegans (and vegans too) with every word in that name being a non-vegan ingredient. But if you've been following me for a while, you know I love a good veganizing challenge. Turns out, this wasn't too much of a challenge…after I came up with The Best Vegan Fried Chicken Recipe.
More delicious veganized recipes you might like:
About the Best Vegan Fried Chicken Recipe (AKA Flaky Frozen Tofu)
The Best Vegan Fried Chicken Recipe is different than other vegan chicken alternatives. It's simple, made from tofu. But it's unlike most other vegan chicken type recipes made from tofu. Instead of using firm or extra firm tofu, it uses medium firm or Traditional tofu. The tofu is frozen to change the texture. Firm or extra firm tofu changes texture too when frozen. It's a common hack as this texture change makes it meatier and easier to press. The pressed tofu is able to absorb more flavours from marinades and sauces. However, the texture is spongy. Not very chicken-like.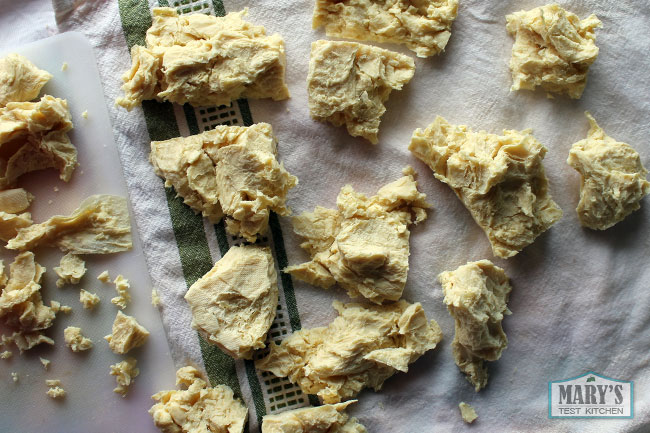 Freezing and thawing medium or Traditional tofu creates a different texture. The tofu doesn't become spongy; instead it becomes filled with horizontal layers; more like the texture of cooked chicken meat. This layer-filled tofu is delicate but freezing the tofu a second time (without opening and draining the package) seems to make it a bit more sturdy. Even so, I do take care when I press this twice-frozen tofu. I use this tofu making mold as a press since I have it on hand to make tofu already.
After being soaked in vegan chicken-style broth, the tofu goes through a three-step dredge process similar to making regular fried chicken and is deep-fried or oven fried. The results are pretty flipping spectacular: crispy, crunchy on the outside and juicy and tender on the inside. You don't have to take my word for it; check the comments ?
Haven't found your holy grail vegan chicken-style broth yet? Try these brands: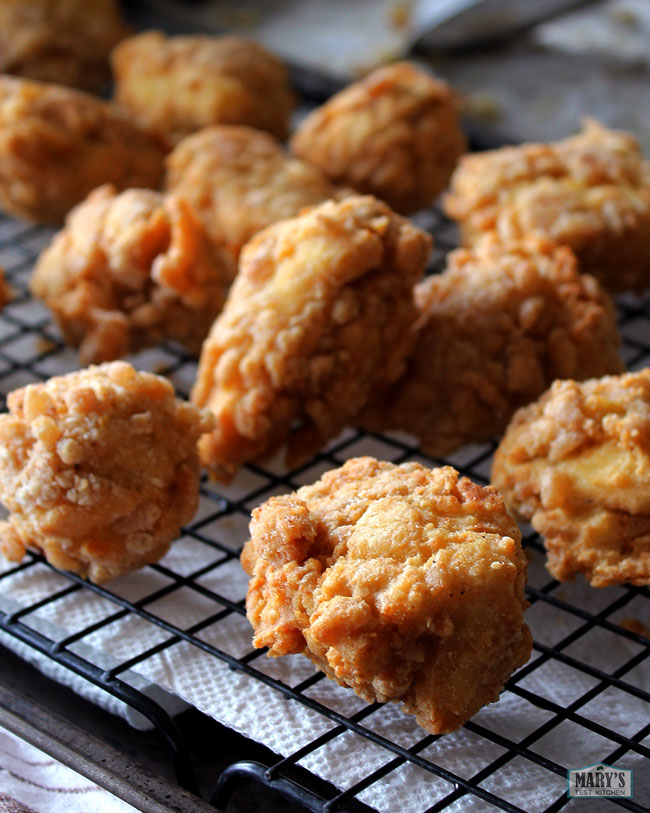 Of course, this process is, well, quite a process. There isn't a ton of work involved, especially if you oven-fry, but you do have to wait for the tofu to go through the freezing and thawing cycle. If you're impatient, you can use store-bought vegan chicken tenders or nuggets for your vegan honey butter chicken. Out of all the store-bought vegan chicken alternatives I've tried, Gardien is my favourite.
Turning Vegan Fried Chicken into Vegan Honey Butter Chicken
Once you have your vegan chicken, the sauce is a snap to make. Heat vegan butter in a large pan or wok, cook some garlic in there until it's golden, add soy sauce, vegan honey, sugar, and lemon, let it reduce to a syrup and fold in your hot vegan chicken and pumpkin seeds. The original recipe by Maangchi doesn't include lemon juice but I found the sweetness a bit too much without some tang to balance. But otherwise, it's very similar!
By the way, if you're making this recipe gluten-free, make sure you choose a soy sauce that is labelled gluten-free. Soy sauce commonly contains wheat but luckily, gluten-free versions are pretty easy to find.
You might be saying, "Whoa! Back up. What the hey is vegan butter? What pray tell is vegan honey?!" You might even wonder why honey isn't considered vegan.
About Vegan Butter
Vegan butter is simply a solid fat product that resembles dairy butter in function and flavour. It's fat and water emulsified in similar proportions to dairy butter so it can work in recipes to replace butter. I like Earth Balance Buttery Spread (or sticks) because it tastes like a lot like dairy butter. Everyone's different though and there are quite a number on the market these days so do a bit of taste testing and find the one you like best. There are also vegan butter recipes you can find online so do a little googling if you're in a DIY mood.
About Vegan Honey
Vegan Honey is syrup that resembles the texture and flavour of bee-made honey. The fact that bees make it make honey a non-vegan product by definition. However, some vegans still consume it. No judgements from me! But if you want to make your own, check out my Vegan Honey recipe which uses apples, lemon and sugar to make a fruit syrup that tastes really honey-like. Rather reach for your wallet? Check out health food stores for Bee-Free Honee and Bloom or find some online.
I love the combination of the crunchy exterior with sweet syrupy sauce and the juicy meaty interior. But the pumpkin seeds coated in the same sauce is actually my favourite part. I could just snack on those forever. Please give this recipe a try and let me know what you think in the comments. I think you're going to love it!
Printable recipe Vegan Honey Butter Chicken
Yield: 4 servings
Vegan Honey Butter Chicken Recipe
Inspired by Maanchi's Honey Butter Chicken recipe but it's vegan! Sweet buttery sauce envelopes crispy vegan 'chicken' and pumpkin seeds for a crunchy, indulgent treat. This version bumps up the garlic flavour and includes your choice of lemon juice or vinegar to balance the sweetness.
This recipe uses my Best Vegan Fried Chicken recipe as a base or you can use store-bought vegan 'chicken' tenders or nuggets.
The cook time for this recipe starts after your vegan chicken has been prepared. Note that the Best Vegan Fried Chicken takes about 45 minutes to an hour to prepare after you have your twice frozen tofu thawed and ready to go. Both the oven-fried and deep-fried versions will work for this recipe. Store-bought chicken alternatives vary in prep time.
To make this recipe gluten-free, choose gluten-free soy sauce such as gluten-free tamari and choose the gluten-free options when making or buying your vegan fried chicken.
Click there to see the video for a demonstration of this recipe from start to finish.
Click here to Pin this.
Ingredients
700g Vegan "Chicken" Nuggets/Tenders (or 1 batch Best Vegan Fried Chicken)
Vegan 'Honey Butter' Sauce
4 tablespoons vegan butter (I used Earth Balance)
1 tablespoon minced garlic (about 3 cloves)
5 tablespoons sugar (white or brown)
1 tablespoon soy sauce (your choice of gluten-free or not)
1 tablespoon lemon juice or white vinegar
1 tablespoon vegan honey (eg homemade apple 'honey' or store-bought)
1/4 cup pumpkin seeds (pre-shelled)
Optional
salt to taste
cayenne pepper powder to taste
Instructions
Prepare your vegan 'chicken'. Just as the 'chicken' is finished baking/frying and set aside on a rack, start making the vegan honey butter sauce.
In a wok or large skillet, melt vegan butter over medium-high heat. Add the garlic and cook until the garlic is just starting to turn colour.
Immediately add the sugar, soy sauce, lemon juice or vinegar, and vegan honey. Stir well to combine. Let the mixture come to a boil. Turn the heat down so that it continues to bubble without bubbling over. Let cook for one minute or until a syrupy consistency develops.
Turn off the heat, add the hot vegan chicken and pumpkin seeds. Fold to coat. Transfer to a serving dish or wire rack over a baking sheet to serve. A wire rack is preferred to prevent the 'chicken' from getting soggy. Taste and add a sprinkle of salt and cayenne pepper powder if desired.
Notes
Vegan honey can be made at home or found in some grocery and health food stores. Try my recipe for vegan honey made from apple juice, sugar, and lemon juice. Some store-bought vegan honey brands include: Bee-free Honee and Bumble Bloom. You can also substitute syrups like brown rice syrup, maple syrup, and date syrup but these don't taste like honey.
Soy sauce often contains wheat. If you're keeping this recipe gluten-free, remember to select gluten-free soy sauce. Tamari is a type of soy sauce that is often gluten-free but not always so check the label.
This recipe was inspired by Maanchi's Honey Butter Chicken recipe.
Nutrition Information:
Yield:
4
Serving Size:
200g
Amount Per Serving:
Calories:

770
Total Fat:

50g
Saturated Fat:

14g
Trans Fat:

1g
Unsaturated Fat:

30g
Cholesterol:

131mg
Sodium:

1572mg
Carbohydrates:

51g
Fiber:

3g
Sugar:

20g
Protein:

31g
Nutritional Information automatically calculated by a plugin and may not be correct.