This crispy Salt and Pepper Tofu recipe makes a Chinese restaurant-style dish with delicious pan-fried tofu tossed with scallions, garlic, chillies, and spices. The easy tofu recipe is simple but addicting! Have it with drinks or turn it into a meal with steamed rice and vegetables. Click here for the printable recipe.
Pin this recipe.
Video tutorial for Salt and Pepper Tofu Recipe
Adapting Chinese Restaurant Salt and Pepper Tofu for the Home Kitchen
Make restaurant-style salt and pepper tofu easier but just as delicious with this recipe. Usually, salt and pepper tofu is made with deep-fried tofu. While I'm no stranger to deep-frying as evidenced by my vegan doughnut recipes, vegan fried 'chicken' recipe, and the more recent vegan ginger 'beef' recipe.
Moreover, I'd certainly not going to discourage anyone from it either. But the pan-fried method of making crispy tofu is so easy, produces wonderfully crunchy tofu, and makes the cleanup process so much simpler.
Also, Salt and Pepper Tofu from Chinese restaurants often contain a good helping of MSG to bump up the savory umami flavour of this dish. While I actually appreciate it, MSG is not a very common pantry item in Canadian (or American) kitchens so I'm using the natural umami qualities of plant-ingredients to make up for the MSG in this MSG-free recipe.
But if you happen to have Ac'cent or Aji-No-Moto (two brands available in grocery stores), go ahead and add a sprinkle. Just remember you can reduce the salt in that case. So taste as you go. This is your salt and pepper recipe now and there are no rules!
Recipe Ingredients
The tofu you choose is up to you. For this recipe, I like using firm or extra firm tofu. They are easiest to work with. However, medium firm tofu or traditional tofu works as well. I like the contrast between the crunchy exterior and tender interior. On the other hand, they have a greater moisture content so they will take longer to fry.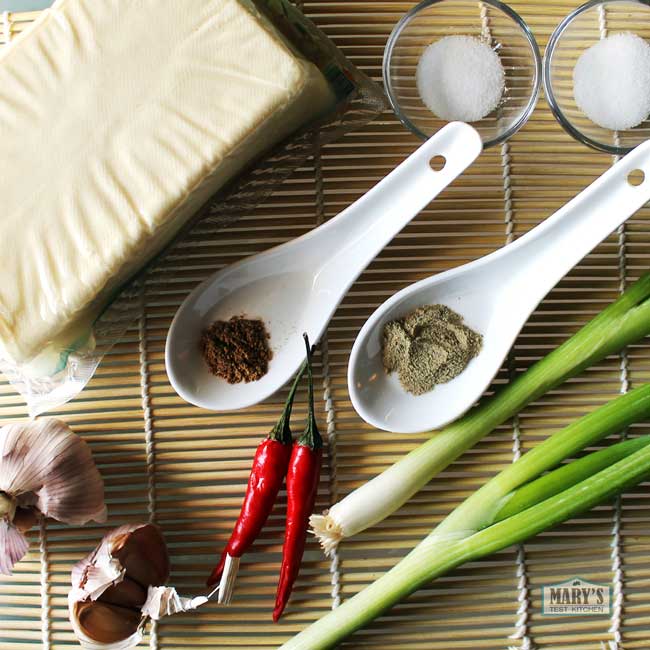 The rest of the ingredients are fairly simple and common in Chinese cooking: garlic, scallions (green onion), chillies, salt, a little sugar, white pepper, and Chinese five-spice powder.
As I mentioned before, restaurant salt and pepper tofu also often includes MSG powder. While I don't include MSG in this recipe, I am not anti-MSG. *gasp* I'll down a pack of Nong Shim instant veggie noodles any day and enjoy it!
But MSG powder is not something I normally have in my pantry and you don't need a flavour enhancer to make this dish addictive! The spices combined with texture of crunchy tofu are enough to keep anyone coming back for more.
I hope you enjoy this easy recipe for vegan salt and pepper tofu. Please let me know if you try it!
Printable recipe for Salt and Pepper Tofu
Yield: 2 servings
Salt and Pepper Tofu
Salt and Pepper Tofu is a delicious vegetarian (and vegan) dish, often enjoyed at Chinese and Vietnamese restaurants. This easy version pan-fries tofu to crispy perfection and tossed with fragrant scallions, garlic and red chilies and a special mix of spices. The result is wonderfully crispy tofu that's simple but addicting.
Serve as a salty appetizer with drinks or as a meal with a side of steamed rice and veggies.
Ingredients
1 12oz (350g) block tofu (see notes)
Aromatics (prep after cutting up the tofu)
2 scallions, sliced, white and light green parts separated from dark green parts
2 tablespoons garlic
2 red chilies, deseeded and chopped finely
Spice Mix
1/2 teaspoon salt
1/2 teaspoon sugar
1/4 teaspoon white pepper
pinch of Chinese Five Spice Powder
Instructions
Prep
Pat the block of tofu dry. Cut into bite sized cubes or triangles. Place on a lint-free kitchen towel and pat gently to remove excess water. Let sit for a few minutes while you prepare the aromatics and spice mix.
Prepare the aromatics by slicing up the scallions; separate the white and light green parts from the dark green parts. Crush the garlic, then mince. De-seed the red chilies and chop finely.
Prepare the spice mix by combining the salt, sugar, white pepper and Chinese five spice powder.
Cook
In a wok or wide nonstick pan, heat a couple tablespoons of oil over medium high heat. When hot, add the tofu. Fry until the bottom is golden brown. Turn each piece and continue frying until all sides are browned. Transfer the crispy tofu to a wire rack.
Add the scallion whites and light green parts. Stir-fry for 30-60 seconds; until the scallions are fragrant. Add garlic and continue to stir-fry. Add a little oil if the garlic starts to stick. Add the red chili and stir-fry until the garlic starts to turn golden. Turn off the heat.
Add the tofu immediately and toss so the tofu can absorb some of the aromatic oil. Sprinkle the spice mix over top and toss very well so everything is evenly seasoned. Transfer to a serving plate and garnish with the remaining scallion greens. Enjoy!
Notes
Extra firm, firm, or medium firm tofu can all be used for this dish. Extra firm and firm are easier to handle and have a meatier texture. People who aren't very familiar with tofu tend to prefer extra firm.
Nutrition Information:
Yield:
2
Serving Size:
1
Amount Per Serving:
Calories:

229
Total Fat:

12g
Saturated Fat:

2g
Trans Fat:

0g
Unsaturated Fat:

9g
Cholesterol:

0mg
Sodium:

545mg
Carbohydrates:

12g
Fiber:

4g
Sugar:

5g
Protein:

24g
Nutritional Information automatically calculated by a plugin and may not be correct.