These vegan donuts are springy and light, tender and delicious yeast donuts. And like traditional yeast donuts, they are deep-fried. But they are not greasy at all. In this recipe, I'll share some tips on how to make the best vegan yeast donuts that are deliciously fluffy and never oily.
If you're not ready to deep-fry though, try this fluffy yeasted baked doughnut recipe.
Video Tutorial for Vegan Donuts
Due to popular demand, I also created a baked version of these donuts for those of you who are adverse to deep-frying stuff or just want donuts in your belly faster. You're welcome.
Make Vegan Glazed Donuts extra special
While this addition is totally optional, for an extra summery hit, I love to add a sprinkling of strawberry dust which gives these glazed vegan donuts just a hint of strawberry. Strawberry dust is simply dried strawberries that have been blitzed in a blender. If you don't have a dehydrator, you can easily make Strawberry Chips in the oven.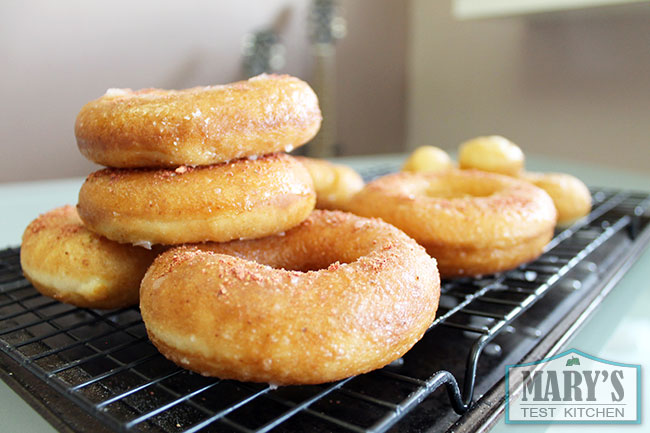 How to Make Vegan Donuts (traditional yeast donuts)
The dough comes together easily; just try not to add too much flour. Otherwise your donuts will be dense instead of light and fluffy. I used a large mason jar ring lid and a shot glass as my donut cutters. Real proper donut cutters would probably work better, but I am a big fan of just using what you have. So use what you have!
After letting the cut donuts rise, they are ready to fry. I used canola oil in all my test batches so I can't say what will happen if you use other oils. But whatever you do, be careful!
Soon after frying, you can dip your donuts in glaze and sprinkle on your strawberry dust. But wait a bit before eating or these vegan donuts will burn your mouth!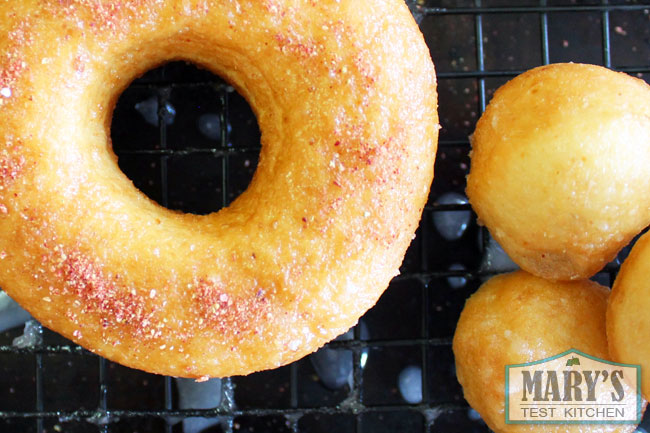 The true test is when you bite into one. It should be soft but not floppy, with a nice bite but not too dense.
Let me know if you try this recipe and how it goes! I'd love to hear your topping ideas too! Enjoy!
More vegan doughnut recipes:





Printable recipe for Vegan Donuts
Yield: 7 donuts and donut holes
How to Make Vegan Donuts (Yeast Doughnut Recipe)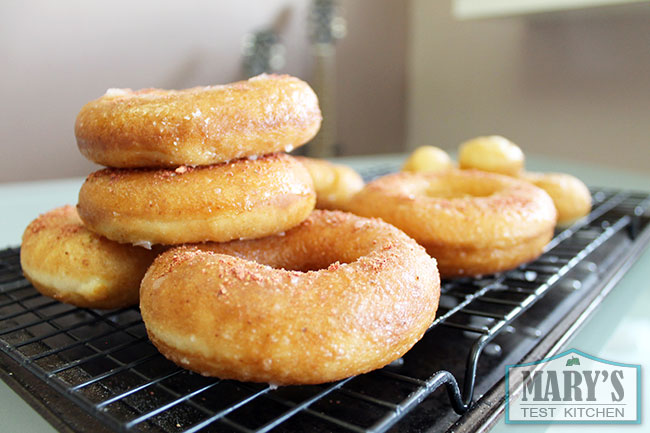 Simply delectable Vegan Glazed Donuts! Easy dough, fried, and glazed for a traditional light and puffy treat. Feel free to multiply this recipe to make larger batches. 
Ingredients
Dough
1/2 cup 110°F warm water (120ml)
1 teaspoon of yeast (half an envelope)
1 tablespoon golden flax meal
3 tablespoons refined (deodorized) coconut oil (45ml)
2 tablespoons sugar
1 3/4 cups all-purpose flour (220g)
2 teaspoons vital wheat gluten (pure gluten flour)
1/8 teaspoon vanilla (optional)
For glaze
1 1/2 cup icing sugar (180g)
1/4 cup water
Optional topping
1 tablespoon ground dried strawberries
Instructions
In your large mixing bowl, activate yeast by mixing with warm water. Let in sit about 5 minutes. Meanwhile in a separate bowl, combine all-purpose flour with the pure gluten flour. Alternatively, you can substitute bread flour for the all-purpose flour and leave out the extra gluten.
Back to the original large mixing bowl, the yeast mixture should be foamy. Add sugar, flax meal, coconut oil and optional vanilla. Whisk well until fairly smooth.
Add flour a quarter cup at a time. Incorporate the flour completely before adding more. Reduce the amount of flour that you add once the mixture starts to form a dough. Add only enough flour to form a soft dough that is slightly sticky. You might have some flour leftover. Knead until fairly smooth. Then place back into the bowl, cover with a clean kitchen towel and let rest in a warm, draft-free location for one hour or until doubled in size.
Scoop the dough out gently on to a floured surface. Gently roll the dough out to 3/8th inch thickness. Cut out the donuts using donut/cookie cutters or improvise as I did with a large mason jar ring lid for the outer edge and a small shot glass for the inner edge.
Place cut donuts and donut holes on to a lightly floured parchment on a baking sheet. Cover with a warm, lightly damp towel or a sheet of plastic with the bottom side dusted with flour. Let the uncooked donuts rise for 45 minutes to one hour or until at least doubled in size.
Meanwhile, mix the glaze for whisking the icing sugar with water. Add a drop of vanilla extract or your choice of flavouring if desired.
When the dough has risen, prepare a saucepan or fryer with canola oil. Heat to 375°F. During cooking, you will keep the oil at 350-375°F for best results. Lower temperatures will result in greasy, oil-logged donuts. Prepare a wire rack and any utensils that you'll need for flipping the donuts and dipping them into glaze.
Use a slotted spoon to gently lower a donut into the hot oil. Cook only one layer of donuts at one time. Each donut will take 30 to 45 seconds on the first side to become golden brown. Flip and cook for about 30 seconds or until that side is golden brown. Remove carefully with tongs (or chopsticks) and let drain on the wire rack. Continue with the rest.
Glaze the hot donuts by dipping them in the glaze on one or both sides. Place back onto the rack and sprinkle on any toppings you'd like.
Let the donuts cool for 15 minutes or more before eating. These are best eaten within one or two days. Store in a breathable container at room temperature.
Notes
If you don't mind the coconut scent, feel free to use regular virgin coconut oil instead of refined.