Cake doughnuts are fine and dandy, but in my world, Vegan YEAST doughnuts are the doughnuts of my cravings. And those doughnuts are usually fried. In fact, I shared my recipe for fried yeast donuts just last month. But many viewers wanted to see if they could be baked.
Click here for the printable recipe.
Video tutorial for Vegan Baked Donuts
Aren't Baked Yeast Doughnuts just Bread?
You might be asking yourself, "Isn't a baked yeast doughnut just bread?" Keeping in mind that doughnuts are actually a type of bread, I do know what you mean. These baked yeast doughnuts aren't just bread in doughnut form; they are soft, puffy, and light. The taste is lightly sweet with a touch of vanilla: the perfect canvas for a rich and creamy glaze. In this post, I share two: a traditional fudgy chocolate glaze and a less traditional sweet matcha green tea glaze. And as always, vegan.
How to Make Vegan Baked Doughnuts
The dough for these vegan baked donuts starts out the same as with my vegan fried donuts recipe.
The dry ingredients contain just one extra ingredient: baking powder. This adds a touch more leavening since baked donuts benefit from that extra boost.
When you add the flour, you want to add as little as possible to create a soft dough. If you add too much, the dough will get tougher and you really will just end up with bread in a donut shape. You will have some flour leftover; use it to prevent sticking when you're rolling out the dough.
This recipe requires two rises: once for just the dough ball and once after you cut out your donut and "timbit" shapes.
Remember to place the dough in a warm, draft-free location while it's rising. If it's too cold, your dough will rise more slowly.
Bake the donuts at 350°F or 175°C for 10 minutes. Try not to over bake them or the texture won't be as donut-y.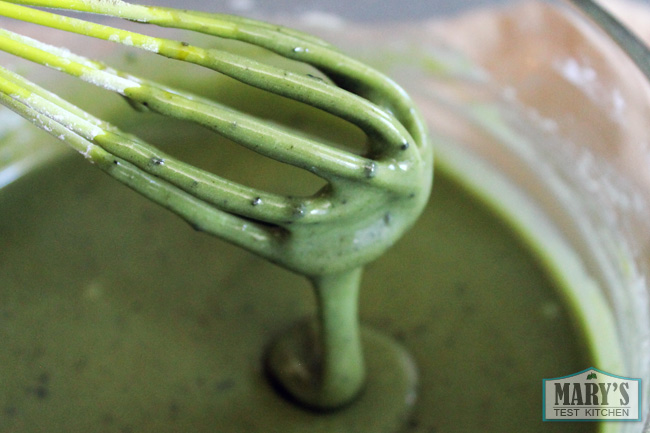 While they are warm, dip them in your prepared glaze. You did make your glaze while your donuts were rising, didn't you? 😉
You'll want to stir up your glaze before dipping so it goes on smooth. Then place the glazed donut on a wire rack so the excess can drip off.
Add any toppings like sprinkles, coconut shreds, or graham crumbles (I had some leftover from making vegan cheesecake) right away as the glaze will set up pretty fast.

And there you have baked vegan chocolate glaze donuts.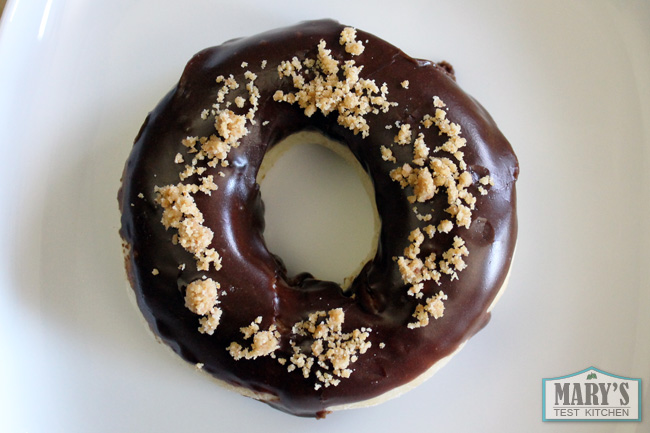 And baked vegan matcha donuts.
My boyfriend actually prefers these baked donuts to the fried version because you get donut-y goodness without the heavy feeling that comes with eating deep-fried things. For me, I like that I can eat more baked donuts in one sitting than I can manage with fried donuts. And not having to clean up deep-frying equipment is nice too. Please let me know if you tried this recipe or the fried version and tell me what you think!
More vegan doughnut recipes:
Printable recipe for Baked Vegan Donuts
Yield: 6 donuts and 6 donut holes
Vegan Baked Yeast Donuts (with chocolate glaze and matcha glaze)
These Vegan Baked Donuts are light and fluffy just like regular donuts but much less work! Try glazing with rich chocolate or matcha green tea glaze. Makes 6-7 donuts and donut holes. 
Total Time
2 hours
10 minutes
Ingredients
For donuts
1/2 cup warm water (110°F / 43­C) (120ml)
1 teaspoon of yeast (half an envelope)
1 tablespoon golden flax meal
3 tablespoons coconut oil
2 tablespoons sugar
1/8 teaspoon vanilla extract
1 3/4 cups all-purpose flour (220g)
2 teaspoons vital wheat gluten (pure gluten flour)
1/2 teaspoon baking powder
For Chocolate Glaze (enough for 1 full batch)
3 tablespoon soy milk (or plant milk of choice)
3 tablespoons cocoa powder
1 tablespoon melted coconut oil
1 teaspoon vanilla extract
1 1/2 cup icing sugar
For Matcha Glaze (enough for 1 full batch)
3 tablespoon soy milk (or plant milk of choice)
1 tablespoons matcha powder
1 tablespoon melted coconut oil
1 teaspoon vanilla extract
1 3/4 cup icing sugar
Instructions
Activate yeast by mixing with warm water.
Meanwhile, combine the all-purpose flour with the pure gluten flour and baking powder. Alternatively, you can substitute bread flour for the all-purpose flour and leave out the extra gluten. Do not use gluten-free flour for this recipe.
In a large mixing bowl, combine the foamy yeast mixture, sugar, flax meal, coconut oil and vanilla. Whisk well until fairly smooth.
Add the flour, a quarter cup at a time. Incorporate the flour completely before adding more. Reduce the amount of flour that you add once the mixture starts to form a dough. Add only enough flour to form a soft dough. You should have some flour leftover. Knead until fairly smooth. Then place back into the bowl, cover with a clean kitchen towel and let rest in a warm, draft-free location for one hour or until doubled in size.
Scoop the dough out gently on to a floured surface. Gently roll the dough out to 3/8th inch thickness. Cut out the donuts using donut/cookie cutters or improvise as I did with a large mason jar ring lid for the outer edge and a small shot glass for the inner edge.
Place cut donuts and donut holes on to a lightly floured parchment on a baking sheet. Cover with a warm, lightly damp towel or a sheet of plastic with the bottom side dusted with flour. Let the uncooked donuts rise for 45 minutes to one hour or until at least doubled in size.
Meanwhile, mix the glaze ingredients together until smooth and creamy. Pick either the chocolate glaze or matcha glaze. If you decide to make both, halve the recipes or you'll have extra.
When the dough has risen at least double in size (ideally a bit more), bake in a preheated oven set at 350°F (175°C) for 10 minutes. Do not over bake.
Let the donuts cool for a few minutes. Stir the glaze first, then dip one side of each donut in, let the excess drip off, then place on a wire rack to cool and set. Sprinkle on any additional toppings right away before the glaze sets.
These are best eaten on the same day. Store in a breathable container at room temperature.
Notes
Use refined coconut oil
Unless you want coconut-tasting donuts or glaze, use refined coconut oil.
Storage Tips
If you're not eating these donuts on the same day, let them cool to room temperature, then freeze. They can thaw at room temperature when you want to eat them.