Soy-free Tofu can be separated into two main types based on their nutrition content and how they are made. This post focuses on the high protein, low carb variety that looks and feels like traditional soy tofu.
My High Protein Soy-Free Tofu is made in the same way as traditional tofu which is made from high protein curds and pressed into a block. So you can make it soft, medium, firm and extra firm. And with these macros, it's perfect for any diet but particularly keto and low carb.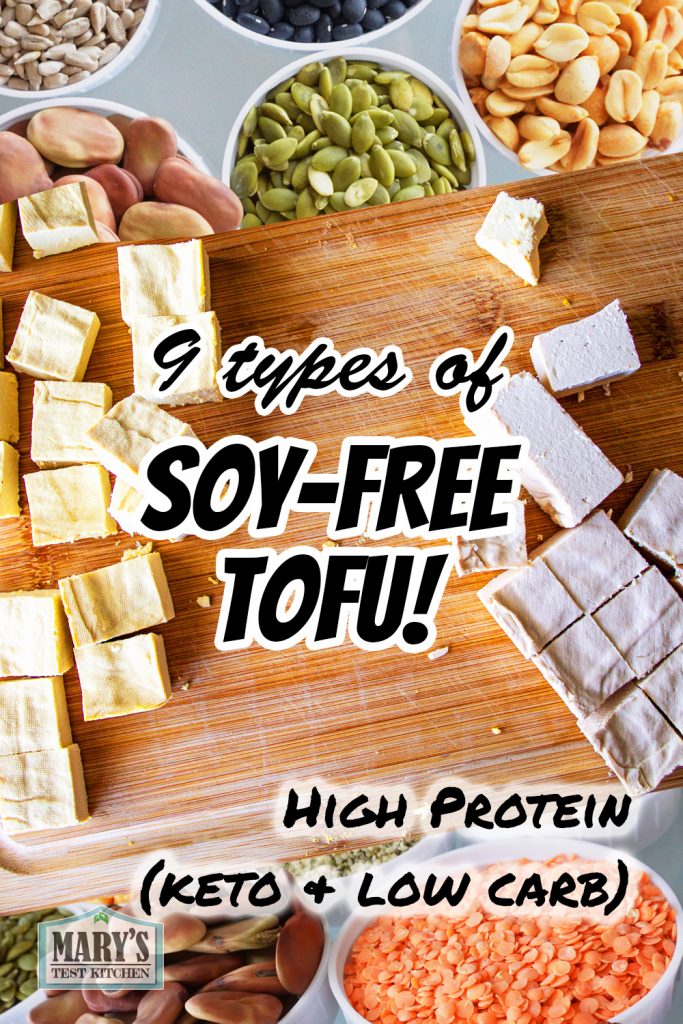 Recipes for High Protein Soy-Free Tofu
Over the last year, I've been experimenting with different plant-based ingredients to find out which ones make the best high protein soy-free tofu. I tested beans, peas, lentils and seeds with varying results. Some are better for substituting extra firm tofu, some are more delicate, and are not so much a substitute as their own delicious food!
Best soy-free tofu to substitute for firm or extra firm tofu
These non-soy ingredients make the most convincing alternative to firm or extra firm tofu. You can marinate, cook, bake or fry them just like you would with regular tofu. They will stand up in braised dishes, soups and stews like regular tofu without dissolving or breaking excessively.
Chickpeas really surprised me! I didn't think it would work, but my homemade low-carb chickpea milk self-coagulated after heating it up. The resulting tofu had the same amazing bouncy quality of traditional tofu. But it was even more delicious with the mild naturally savory flavor of chickpeas.
The reason I didn't think it would work was the high starch content of chickpeas. But the starch removal was easy and the fact that the milk self-coagulated without adding any coagulant was a welcome bonus.
Below: high protein chickpea tofu in miso soup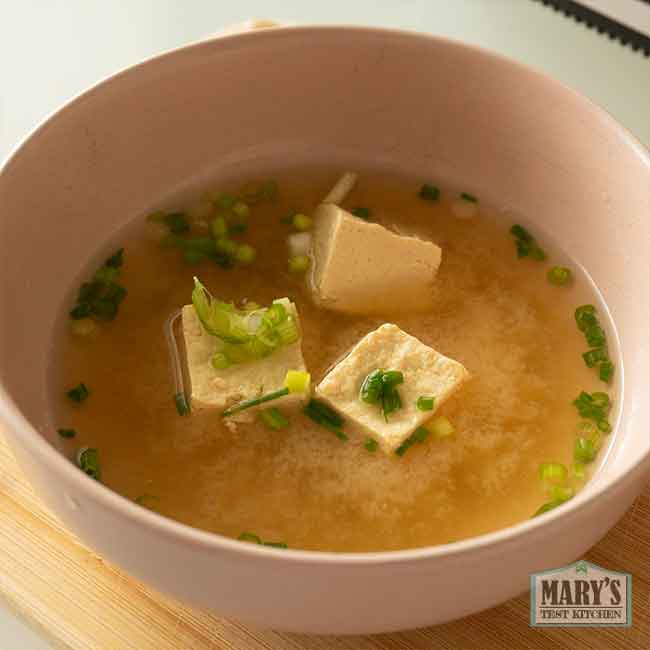 Fava Beans, like many beans, are great sources of vegan protein. They also don't contain as much starch as some others which is why I had it on my list for testing. However, it was really seeing Big Mountain Food's new soy-free tofu that really lit a fire under me to refine my process. I saw from their nutrition label that they were able to completely eliminate the carbohydrates while using fava beans as their base. So, I used a process similar to making wheat starch noodles. But instead of focusing on isolating and using the starch, I isolated and removed the starch.
Below: air fried plain fava bean tofu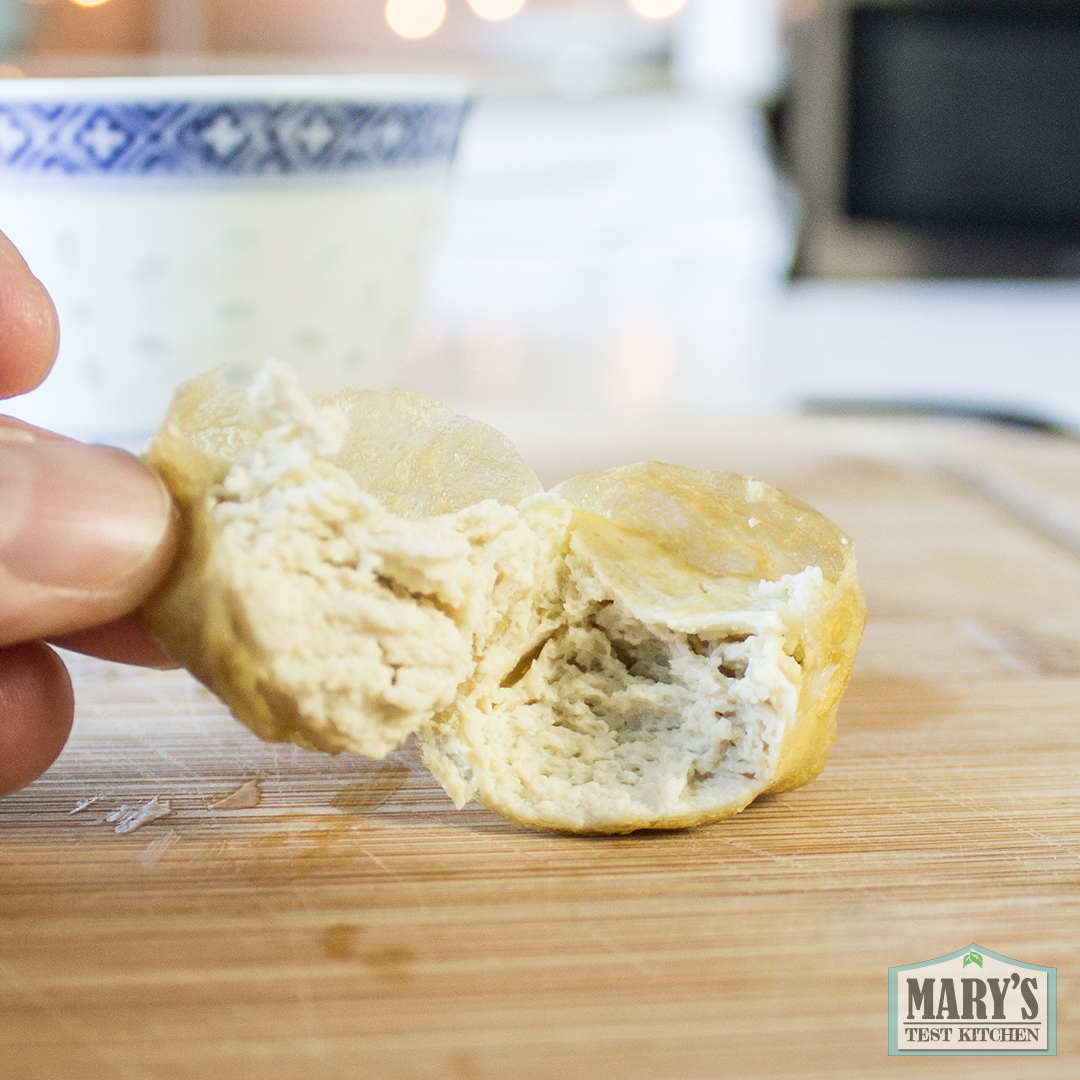 It makes wonderful extra firm tofu with the delicious flavor of fava beans. The result was very similar to extra firm tofu. However, it was not quite as bouncy as the high protein chickpea tofu.
Below: Deep-fried Fava Bean Tofu
Split Yellow Peas are great because you can speed up the process by hot-soaking the dried split peas. The smaller size allows them to plump up faster. Curds made from split yellow peas were smaller than chickpea or fava bean so the resulting tofu after being pressed wasn't as bouncy. Still, it can stand up in boiling (the texture actually improves) and is a great substitute for firm or medium firm tofu.
Below: split yellow pea tofu that was pan-fried alone, then stir-fried with vegetables and sauce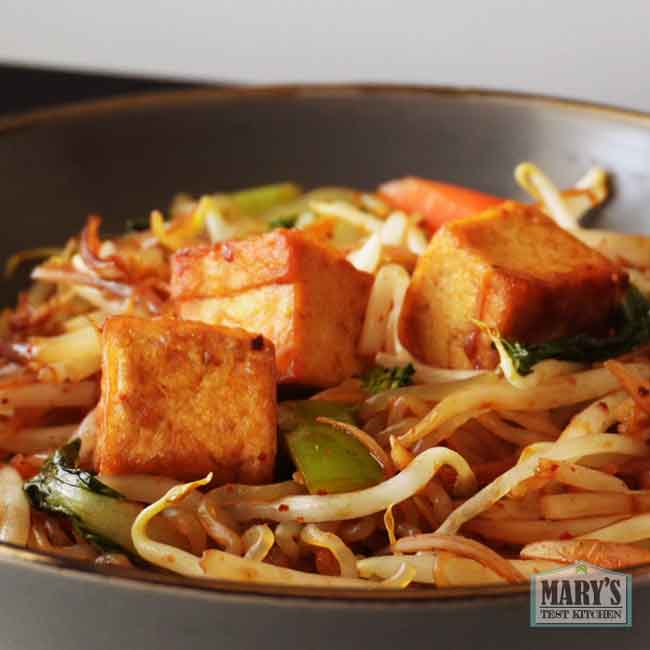 Similar to Split Yellow Pea Tofu, Green Pea Tofu has the same texture but with the slightly sweeter flavour of green peas.
Below: boiled green pea tofu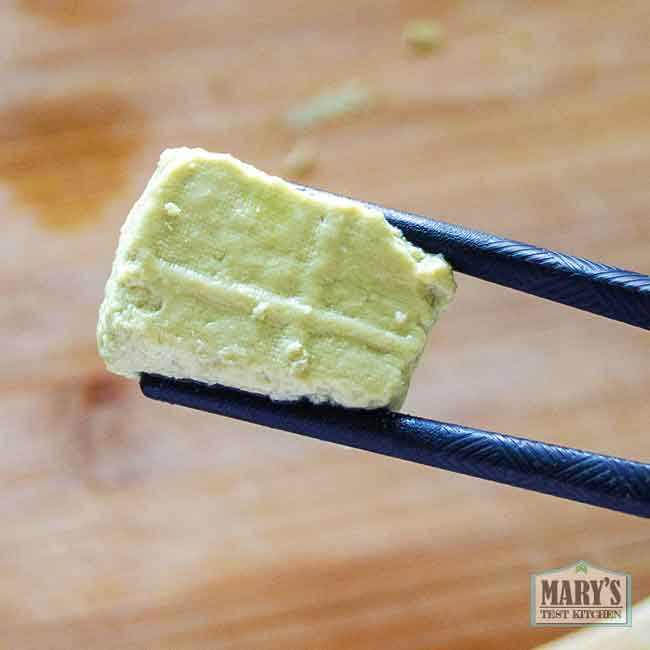 Split Pigeon Peas make a wonderful yellow tofu that is similar to the split yellow pea tofu above. Split Pigeon Peas look different from the whole version as the brown outer part is removed. This makes the process of making soy-free tofu from it a bit faster and easier.
Below: plain and seasoned air fried pigeon pea tofu
The result is firm, bouncy, and versatile. It has a mild bitterness from the pigeon peas when freshly made. However, this is reduced after boiling in water. Making this a tofu that would be well suited for braised dishes or recipes with a spicy, flavorful sauce.
Below: boiled pigeon pea tofu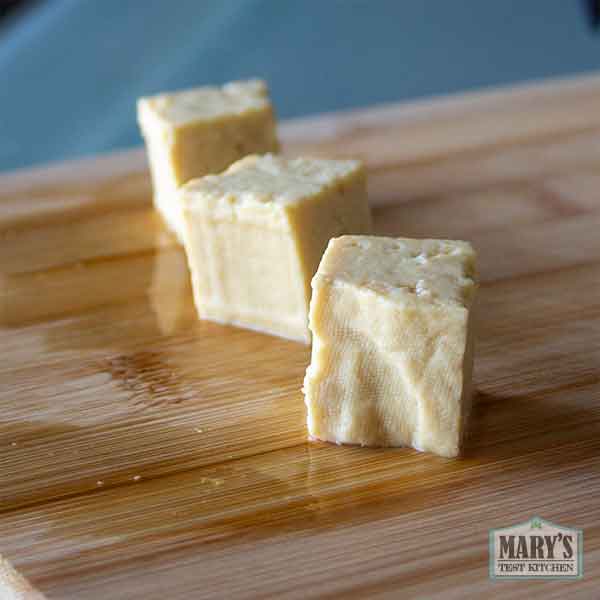 Best Soy-Free Tofu to substitute for soft or silken tofu
While all the tofu's above can be made to be soft (using less weight in the pressing stage), one stands out as a winner for soft or silken tofu.
This beautiful blush-colored soy-free tofu is made from red lentils. The lentils are ground with water and then milked. The starch is left to settle and the bottom while the top layer of protein-rich plant-based milk is cooked. Then a natural coagulant is added and the hot milk separates into fine curds and clear whey.
After pressing these fine curds, the tofu is delicate and soft. It has a mild flavor of savory lentils and is perfect for any recipe where you need soft or silken tofu.
Below, from right to left: high protein red lentil tofu plain, air fried, and seasoned and air fried, and seasoned and deep-fried
High Fat Soy-Free Tofu
These seed-based tofu varieties are high in fat but all vary in their texture. They all have the ability to self-coagulant, making them all one-ingredient recipes. I wouldn't substitute them for most regular tofu recipes as their richness makes them more satiating. I use them more like a high-fat accent (much like cheese) than a main protein source. All of them should be included in your next exotic tofu-tasting party.
Incredibly delicious and indulgent, pumpkin seed tofu is like the ribeye steak of tofu. Its high fat and protein content makes it incredibly filling. And the wonderful flavour of pumpkin seeds becomes more aromatic when you sear it or fry it. The texture is firm and creamy at the same time.
Below, from left to right: plain air fried pumpkin seed tofu, plain raw pumpkin seed tofu, seasoned and air fried pumpkin seed tofu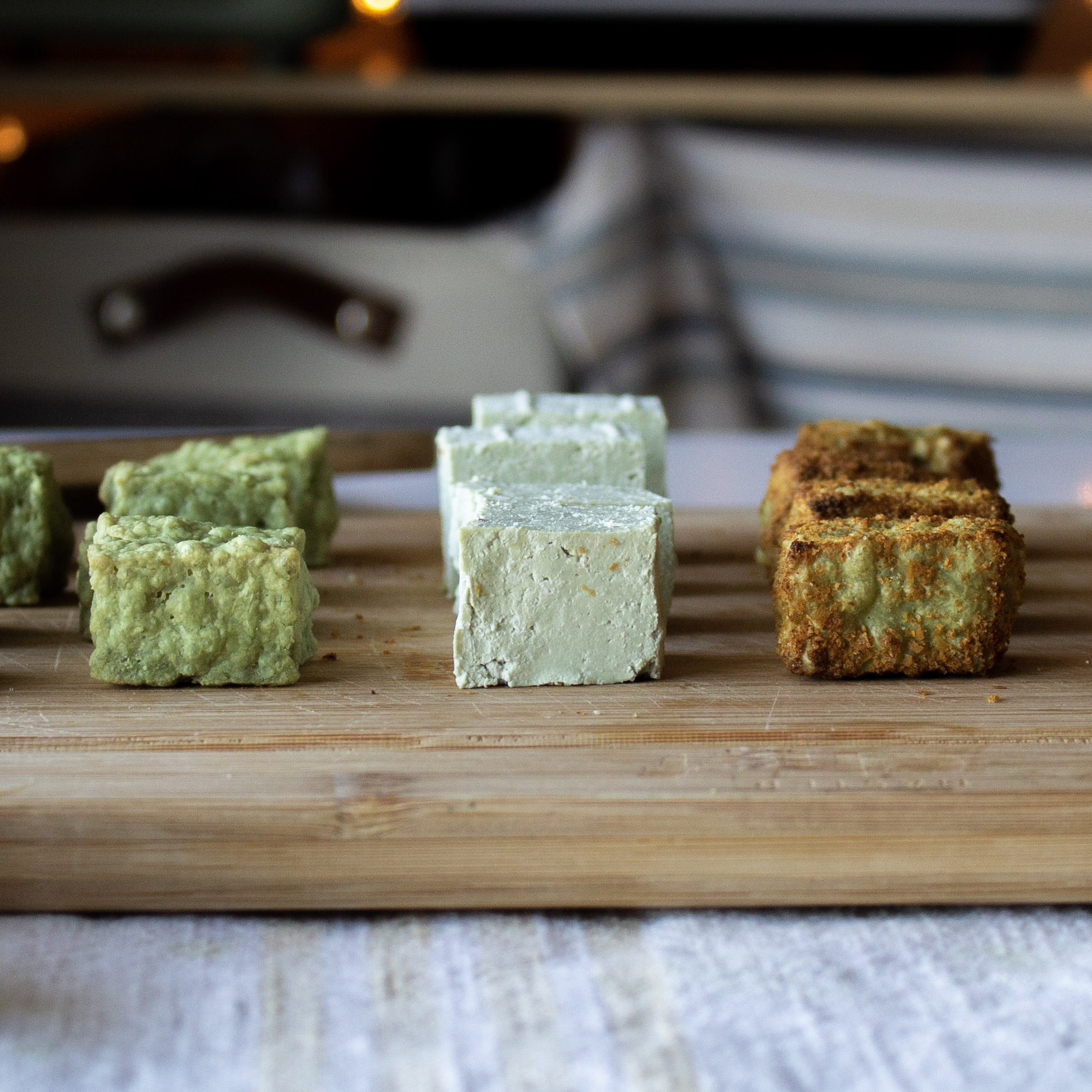 And when it's frozen and thawed, some of the oil content separates, making the protein more chewy and meaty. It makes the most incredible vegan bacon.
Tofu made from hemp hearts (hulled hemp seeds) is wonderfully high in protein, healthy fat and tastes great too! Hemp seeds are famous for their omega-3 content; especially important for plant-based dieters.
Below: plain hemp heart tofu
The texture of hemp seed tofu is moderately firm with a slight bounce. The bite is chewy in a meaty sort of way (not rubbery) and creamy at the same time. When served plain, it tastes like the hemp hearts they are made out of. So make sure you choose a brand that has a pleasant mild nutty flavor and avoid using hemp hearts that are bitter.
Sunflower seeds make a creamier tofu that is firm enough to cube up and fry, but soft enough that it's easy to spread. This is the ideal ingredient to make instant flavored vegan cheese spreads.
Below: cubed sunflower seed tofu with seasonings sprinkled on top
The difference between High Protein Soy-Free Tofu and High Carb Soy-free Tofu
High carb soy-free tofu is much more common. One traditional example is Burmese Tofu, also known as Shan Tofu and Chickpea Tofu. It's made from grinding whole chickpeas or using chickpea flour and mixing with water, cooking the puree until it's stiff, which is then poured into a mold and left to set. The mixture becomes a solid block similar to polenta. The resulting nutrition profile is high in carbohydrates with relatively little protein.
Because it's so easy and accessible, it's become popular to use the Burmese Tofu method to make high carb tofu from other peas, lentils and beans. However, high carb tofu isn't a perfect substitute for traditional soy-based tofu. The texture is much softer (mushier) and does not stand up well in braised or soupy recipes. It is better prepared seasoned and baked, pan-fried or air-fried.
Other types of high carb soy-free tofu are include almond tofu (which is set using agar agar) and sesame tofu (which is set using added starch).
On the other hand, High Protein Soy-Free Tofu is made in a similar way to traditional tofu. A milk is made from the whole food ingredient, the protein is coagulated into curds and pressed into blocks. This makes soy-free tofu that is low in carbohydrates with a nutrition profile much more similar to traditional soy-based tofu.
However, soy is quite unique in that it is very high in protein while containing very little starch. Other legumes contain more starch which requires removal. Otherwise, the starch-rich soy-free tofu comes out mushy. The starch interferes with the curds forming nicely and interlocking firmly when being pressed. Luckily, it's easy to do.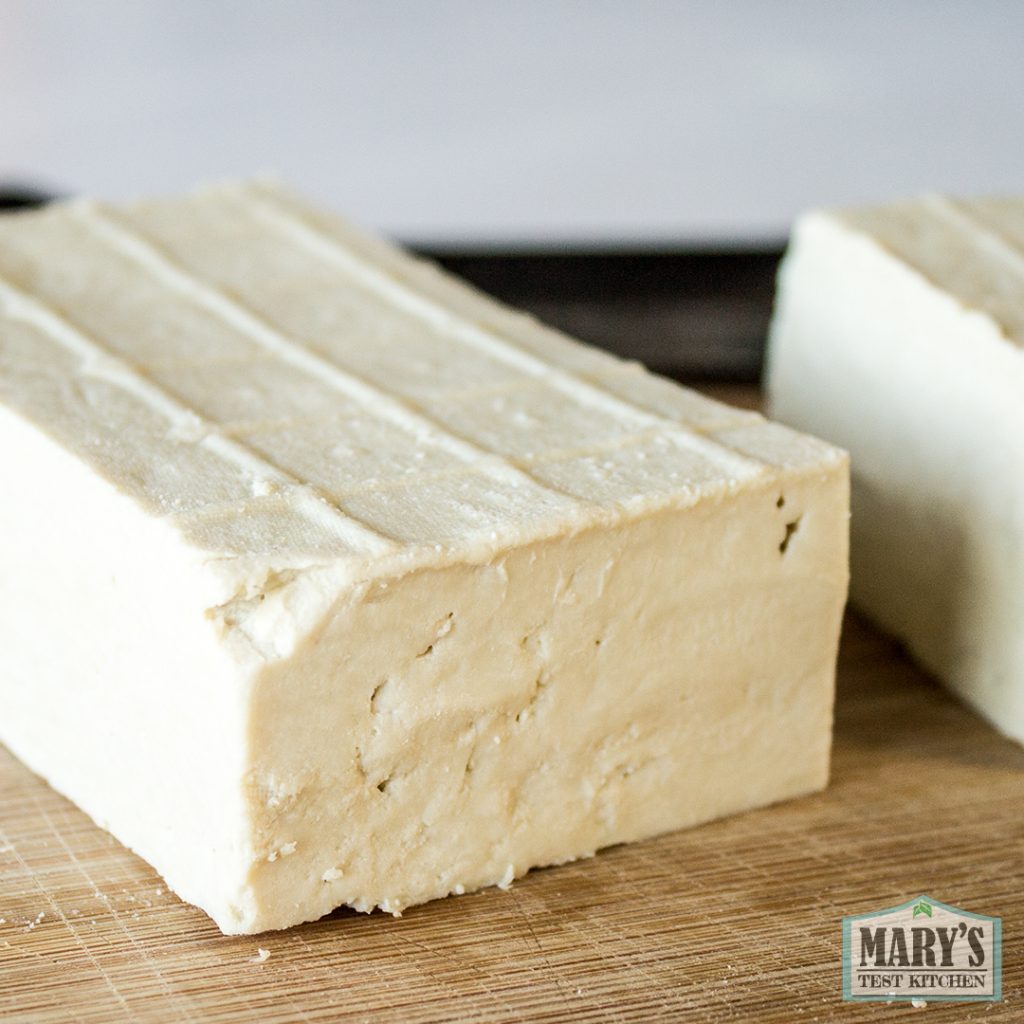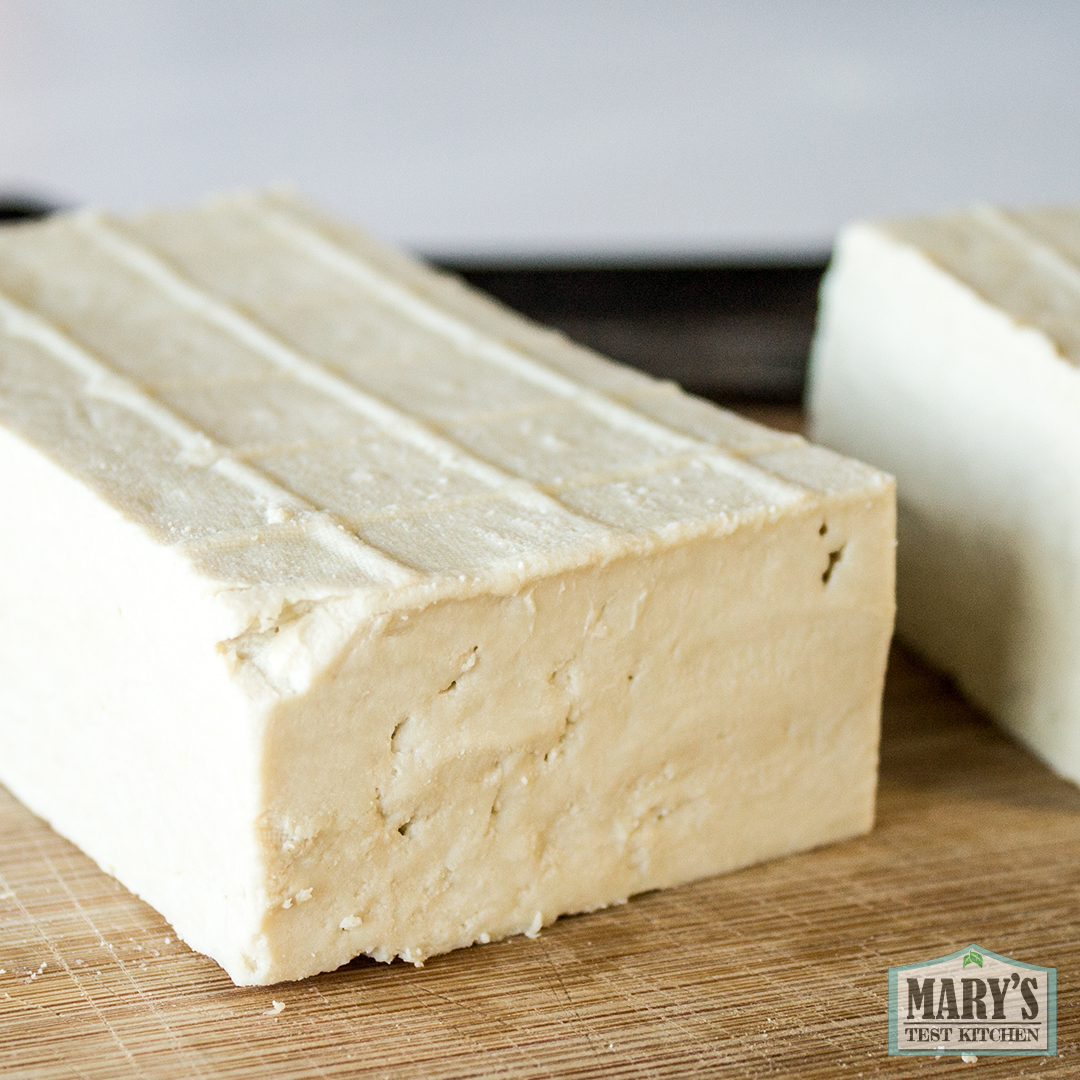 Ready to try your first high protein soy-free tofu?
Choose your challenge! By the way, the chickpea and red lentil tofu recipes are labelled "high protein" only because high carb versions of these are more common known at the moment. All of the tofu types listed here are high in protein and low in carbohydrates.
Have you tried any soy-free tofu? What did you think of them? While you're here, please let me know if you want me to try "tofuifying" any other plant-based ingredients. Thanks for reading!