This is PINK TOFU! High protein, soy-free, lower carb red lentil tofu that's not like other red lentil tofu recipes. The others are made like Burmese Tofu (aka Shan Tofu or Chickpea Tofu) where the whole bean or legume is used. In this recipe, the fiber and starch is removed, leaving you tofu that is mainly protein. It's delicious, creamy, and beautiful tofu!
Video Tutorial for Pink Tofu (High Protein Red Lentil Tofu)
More Tofu From Scratch
If you're looking for more Soy-Free Tofu, check out
If you're looking for how to make Soy Tofu, check out
Why High-Protein Red Lentil Tofu
Since refining my recipe for soy-free fava bean tofu, I am on a mission to see what other plant-based foods I can turn into high-protein, low carb tofu. Red lentils were my first choice after fava beans because they are super accessible, inexpensive and high in protein relative to other plant-based sources.
I haven't seen anyone make red lentil tofu like this before so I'm taking the liberty of naming it: Pink Tofu! It's a creamy delicate tofu that is absolutely divine seasoned and air-fried or deep fried.
Why make Soy-Free Tofu from Red Lentils?
If you are allergic to soy and can't have fava beans (which make tofu that's almost identical to soy tofu), this is a great high-protein alternative! Personally, I love to eat soy but I also love to have variety when it comes to plant-based protein sources.
I also absolutely loved red lentil or I have for years. But recently I have not been able to eat them because they are too high in carbs for my personal health condition. I was afraid my giant jar of red lentils was going to go bad in my pantry. But after the success of my new fava bean tofu recipe, I had to give red lentil tofu a try.
Why you'll love Pink Tofu
This red lentil tofu is different from all the other red lentil tofu recipes I could find on YouTube or through Google search. Those are all basically using whole lentils or lentil flour, blending with water and cooking the mixture until it gels up like Burmese Tofu (aka Shan Tofu or Chickpea Tofu). The starch and fiber are contained. While I love fiber as much as any other gut-having foodie, I could do without the starch.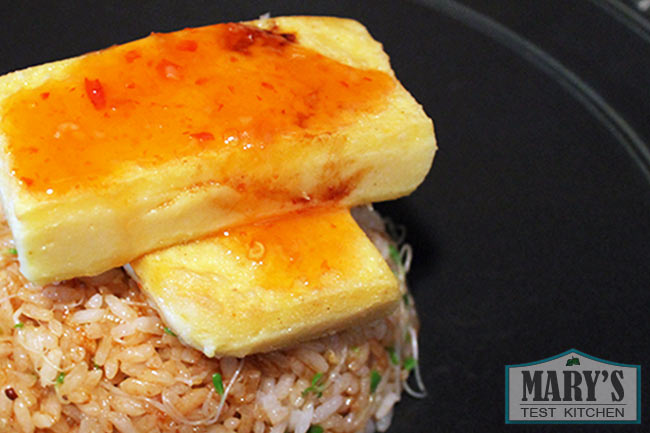 Pink Tofu is made like more traditional tofu. That is, the fiber is removed and the protein milk is coagulated into curds, then pressed into a block. Because lentils are high in starch, I have inserted an extra step to let the starch settle so it can be separated. The result is high protein red lentil tofu with much less carbohydrate content.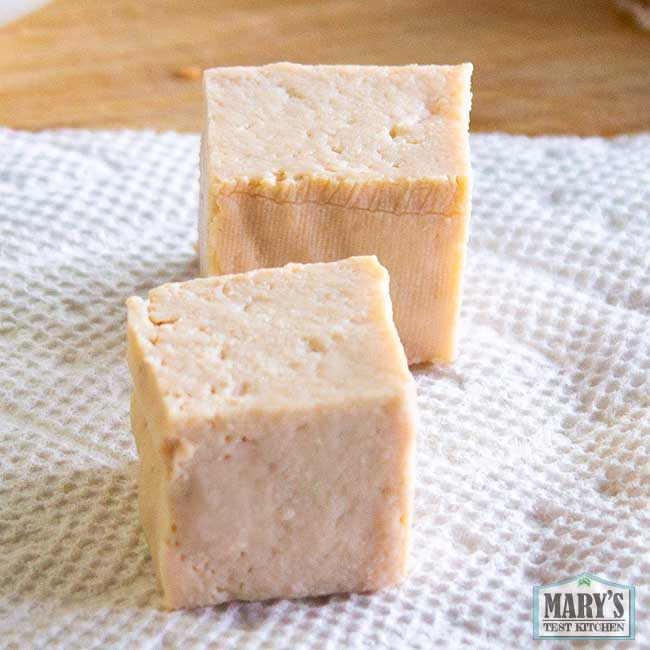 Written Recipe for Pink Tofu (High Protein Red Lentil Tofu)
PINK TOFU (High Protein Red Lentil Tofu)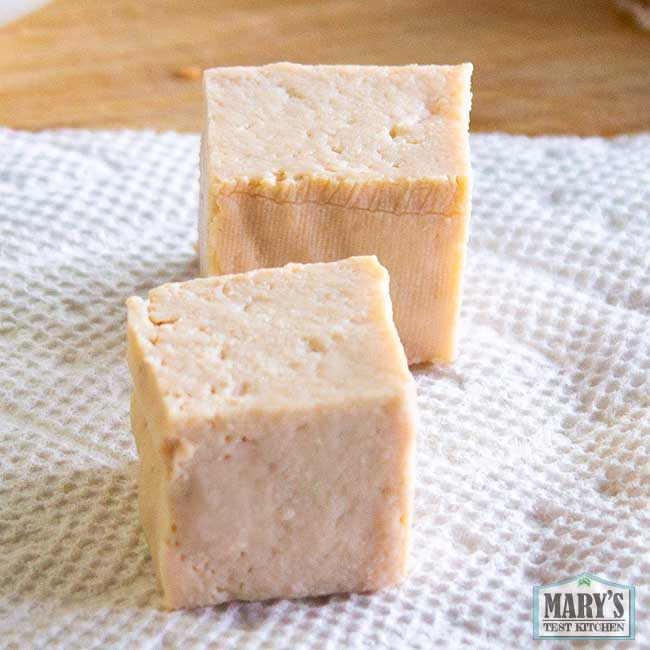 A delicious, delicate and creamy soy-free tofu that's high protein and lower in carbohydrates from other red lentil tofu recipes.
Equipment required: blender, soy milk/ nut milk bag, tofu mold/press with cloth liner, large pot, spatula, and thermometer. with cloth liner
Ingredients
1 lb dried split red lentils (450g)
1 tbsp calcium sulfate (food grade gypsum)
1 cup room temperature water
Instructions
Soak split red lentils in plenty of water for 10 to 15 minutes until plump. Rinse and drain very well. Then, transfer HALF to your blender along with 3 to 4 cups of fresh water. Blend in high-speed blender on high for 30 seconds. Over a large bowl or pot (prefer glass bowl to see through), strain through soy/nut milk bag until pulp is very dry. Repeat with other half of lentils.
Let the milk rest for 15 minutes or longer to allow the starch to settle to the bottom of the bowl or pot. Then, use a cup to gently scoop only the milk to large cooking pot while avoiding disturbing the starchy layer below. You will have to leave some of the milk behind as it won't be possible to get it all without starch contamination.
Let it warm up over medium low heat while you prepare your coagulant. Mix room temperature water with 1 tbsp calcium sulfate and keep it nearby with a spoon ready.
Turn heat up to medium high or high but stir constantly so that the milk does not burn to the bottom. When in doubt, lower the heat. Keep cooking until the milk reaches 180°F then turn off the heat. Immediately, stir up your coagulant again. Pick it up in one hand, keep stirring the milk and pour in HALF the coagulant slowly. Stand the spatula straight down to stop the spinning action. Cover and rest for 15 minutes.
Afterwards, check on how it coagulated. The whey should be clear if completely curdled. The curds will be distinct but soft and delicate. If it is completely curdled, save the rest of your coagulant for another day. If not, spoon the remaining coagulant over the top surface and around the sides. Tap the top gently to move the curds softly. Then cover again and turn the heat to the lowest setting. Wait 10 minutes and re-check. All the milk should be coagulated.
Moisten the cloth and line your tofu mold. With a slotted spoon and/or mesh sieve, scoop the curds into the mold while holding the edges of the cloth so it doesn't fall in. The curds are very fine so you will have to tap against the side of the pot to drain more water. Try not to add too much water to the mold or it will be difficult to wrap. Try to spread the curds in evenly. Then add the top and secure. If using my preferred tofu mold, just twist the knob until it stops; do not force it. Pour off excess water using the vents. Please in fridge to cool overnight. If using weights, use about 5 lbs of weight, pour off excess water and place in fridge. The next day, gently unmold and your high protein, soy-free red lentil tofu is ready to use!
Notes
This soy-free tofu is creamy and delicate. Cut and handle with care like you would a soft or silken tofu.