Burmese tofu, also known as Shan Tofu or Chickpea Tofu, is a soy-free, gluten-free food made from chickpea flour, water, salt and turmeric. While it can stand in for regular soy tofu in some recipes, Burmese Tofu is really it's own thing. Made in a similar way to polenta, chickpea tofu is firm enough to cut into blocks for pan-frying but it has a more delicate, creamy texture than regular soy tofu. This chickpea tofu recipe is made with a little extra flavour and tips to make your first batch a delicious success!
Skip to the printable recipe
Pin this for later.
RELATED RECIPES
Video Tutorial for Burmese Tofu aka Chickpea Tofu
My first time making Burmese Tofu
I first learned about Burmese tofu back in January when looking for ways to use my up a huge bag of chickpea flour (chana) that I got from Superstore; they didn't have any smaller bags at the time. While searching for chickpea flour recipes, I ran across this post from omni gluten-free blogger, Girl Cooks World and gave her recipe a go as it seemed so easy. And it was! After learning more about Burmese Tofu and doing some experimentation, I changed it up a bit to make a tastier chickpea tofu.
On my first go, I nixed the additives and just used chickpea flour and water. The result was a cross between scrambled eggs and silken tofu. I found that it was great cut into cubes, dipped in a little flour and fried up. I've used it as salad toppings, on rice, in place of scrambled eggs and as the egg part of a quiche. Also, I've found that it's really filling for the amount of calories, plus it's a great source of protein and iron.
Turning into a Burmese Tofu Obsession…
Over the last few months, it's become one of my go-to foods. I've adapted the recipe to be more savory and more suited to how I like to use it, but it's still super easy to make. And because chickpea flour is so inexpensive and nutritious, there's no reason not to have it for breakfast, lunch, and dinner.
Have you tried Burmese Tofu before? What did you think?
Edit June 27, 2014: By popular request, I have posted the recipe and a video tutorial on how to make Burmese Tofu Crispy dippers like the ones above. Click here for the post.
Burmese Tofu Ingredients
The main ingredient is chickpea flour. If you're not very familiar with it, this can be a bit confusing to shop for because of it's many names, including
chana flour,
besan flour,
garbanzo bean flour,
as well as chickpea flour.
The good news is they all work. Chana and Besan are two varieties of chickpeas but they are similar enough for our chickpea tofu purposes. Garbanzo beans are really the same thing as chickpeas but just a different name. The only type I don't recommend is sprouted flour. I find the flavour way too strong and grassy. It always tastes raw to me no matter how long I cook it. However, that's just my opinion so perhaps you will love the grassy flavour of sprouted chickpea flour.
The only other ingredient that you really need is a liquid. Water is fine but broth is better. You can use any broth you like as long as it's thin like water. I love to use:
vegetable broth,
vegan chicken-style broth,
the water leftover from cooking beans.
You can really get creative here and create your own flavour combinations. One commenter even uses miso and ginger! Sounds great to me!
Lastly, don't forget salt. Yes, I just said you only need the two ingredients mentioned before but a little salt will really bump up the flavour and make your chickpea tofu more delicious. While we're talking more delicious, feel free to add additional herbs and spices that you like.
Troubleshooting Burmese Tofu / Chickpea Tofu
Over the years since this post was first published (update on March 2, 2020), there's two problems that commenters have bumped into again and again.
The first issue is that their chickpea mixture isn't setting (becoming solid). To prevent this, make sure to:
Measure the ingredients accurately. And unlike with measuring regular flour for baking, you should not fluff the flour before scooping. Instead, pack the flour into the measuring cup.
Add the cold liquid + chickpea flour mixture only when the water is at a rolling boil. It will look like the water is rolling in on itself in a circle.
If you have a gas stove, instead of turning off the heat, just turn it as low as it will go without going out.
Doing these things should get your a chickpea mixture that sets up right away. I find that my chickpea tofu will set up so fast it's hard to get it smooth on top before it solidifies.
The second issue is their chickpea tofu leeches water during storage. There's nothing to be done for this except draining off the liquid every day. Alternatively, you could store your chickpea tofu in a container that has a little rack in it so moisture can drip down.
The last common problem is that their tofu is too soft for their liking. In this case, add a little more chickpea flour to your chickpea flour + cold water mixture. Try going up to 3 cups of chickpea flour to 6 cups of water. The only issue I run into is that the mixture can become hard to stir and cook all the way through before setting if I add too much. That said, I have very weak wrists these days so you might not have this problem!
Finally, one thing I should mention is that chickpea flour can go "off." Typically, I buy the same brand of chickpea flour every time but one bag resulted in very bitter tofu! I even tried to cover up the bitterness by making a quiche with tons of seasonings. Didn't work. So I threw it out and got a new bag. Problem solved! If this happens to you, it just might be a bad batch of flour.

Printable recipe for Burmese Tofu (AKA Chickpea Tofu)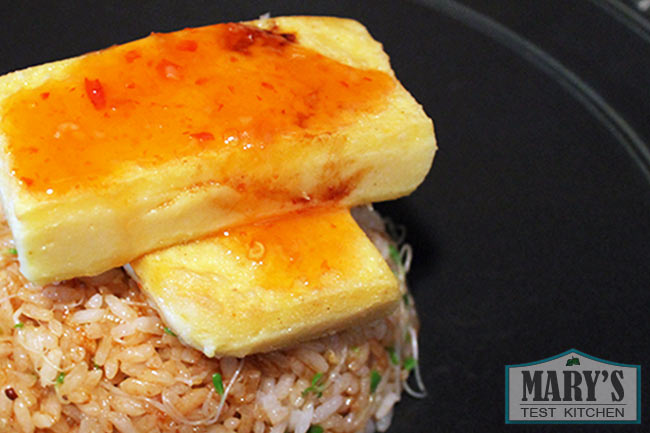 Burmese Tofu
2014-05-09 15:22:53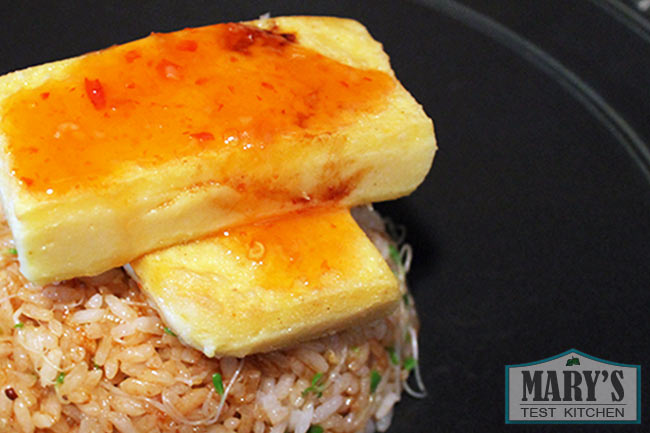 Any issues with this recipe? Please see if my
Burmese Tofu Troubleshooting guide
will help your situation or leave me a comment.