This vegan dilly dip is super easy and quick to put together and happens to be gluten-free and nut-free. Simply throw all the ingredients in a blender and blend! Click here to skip to the printable vegan dill dip recipe.
Vegan Dilly Dip Video Tutorial
In my pre-vegan days, dilly dip was my all time favourite condiment. Fresh and summery, it would be my go-to veggie dip, sandwich spread, and salad dressing. After I went vegan, I would pass it in the grocery store and feel a tinge of nostalgia. Lately, I've been recreating old favourites and put this one together surprisingly easily.
Regular dill dip usually contains a ton of high-fat and high calorie mayonaise and sour cream This vegan version is as rich and creamy as the original but does NOT have any added fat! Bonus! You'll need about 6 oz (175g) of silken tofu. I used half a package of Mori-nu Extra Firm Silken Tofu as I can find it all the major groceries in my area. Then, combine that with lemon juice, garlic, onion powder, fresh parsley and, of course, fresh dill. Blend that until smooth and BAM! Ultra-creamy,bright and flavourful vegan dill dip.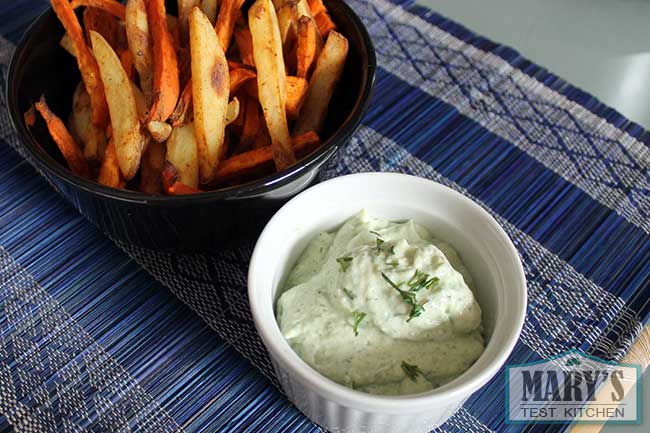 Dilly dip is just perfect with some crisp veggie sticks. Wonderfully healthy, especially since this vegan dill dip is completely oil and overt-fat free. Potatoes are vegetables. Therefore, french fries are veggie sticks. Hence, this snack of fries and dip is health food. That's my story and I'm sticking to it!
But if you want to get wild and through caution to the wind, try it with some deep-fried Burmese Tofu sticks.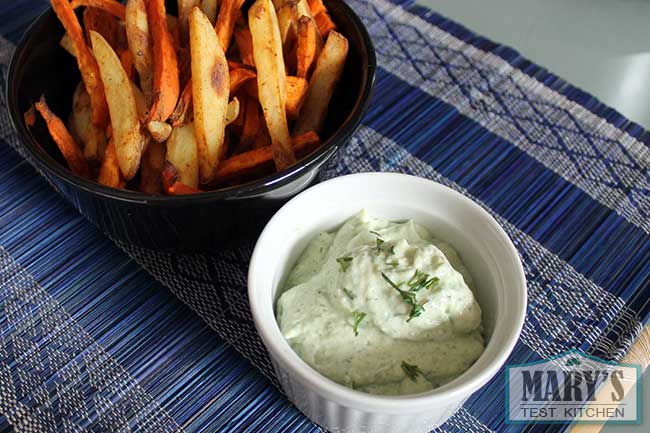 Vegan Dilly Dip
2014-06-20 17:48:40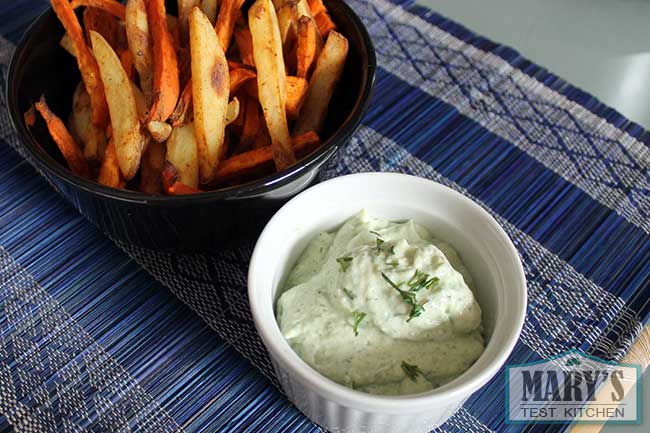 A luscious dill dip made with fresh herbs. It also happens to be fat-free, nut-free, gluten-free and rich in protein.
Ingredients
6 oz (175g) extra firm silken tofu (I used a half package of Mori-nu Extra Firm Silken Tofu)
1 1/2 Tablespoons fresh lemon juice
2 Tablespoons fresh parsley
2 Tablespoons fresh dill weed
1-2 teaspoons onion powder
1 small clove of garlic
salt and pepper to taste
Instructions
Combine everything in a blender.
Blend until smooth. Test for graininess. Blend for longer if needed until completely smooth.
Taste, then add salt and pepper, adjusting as necessary.
Garnish with extra parley and/or dill.
Notes
Store this in the fridge. The flavour improves after spending at least an hour in the fridge.
Mary's Test Kitchen https://www.marystestkitchen.com/