Pumpkin Seed Tofu is delicious, firm, high-protein, low-carb tofu that's super luxurious. This DIY Pumfu) is the EASIEST keto-friendly tofu to make since you don't need a coagulant. This is 1-ingredient tofu! Unlike other pumpkin seed or pepita tofu recipes, it's also low carb with fiber and starches removed as much as possible.
Video Tutorial for DIY Pumfu (Pumpkin Seed Tofu)
What Does Pumpkin Seed Tofu Taste Like?
This soy-free tofu really has the mild nutty flavour of pumpkin seeds. The texture is firm but creamy thanks to its high fat content. Plus, it makes an excellent snack on its own and is marvelous seasoned and air-fried. Salt and crumble it on salads or cube and crisp it up for your favourite bowls.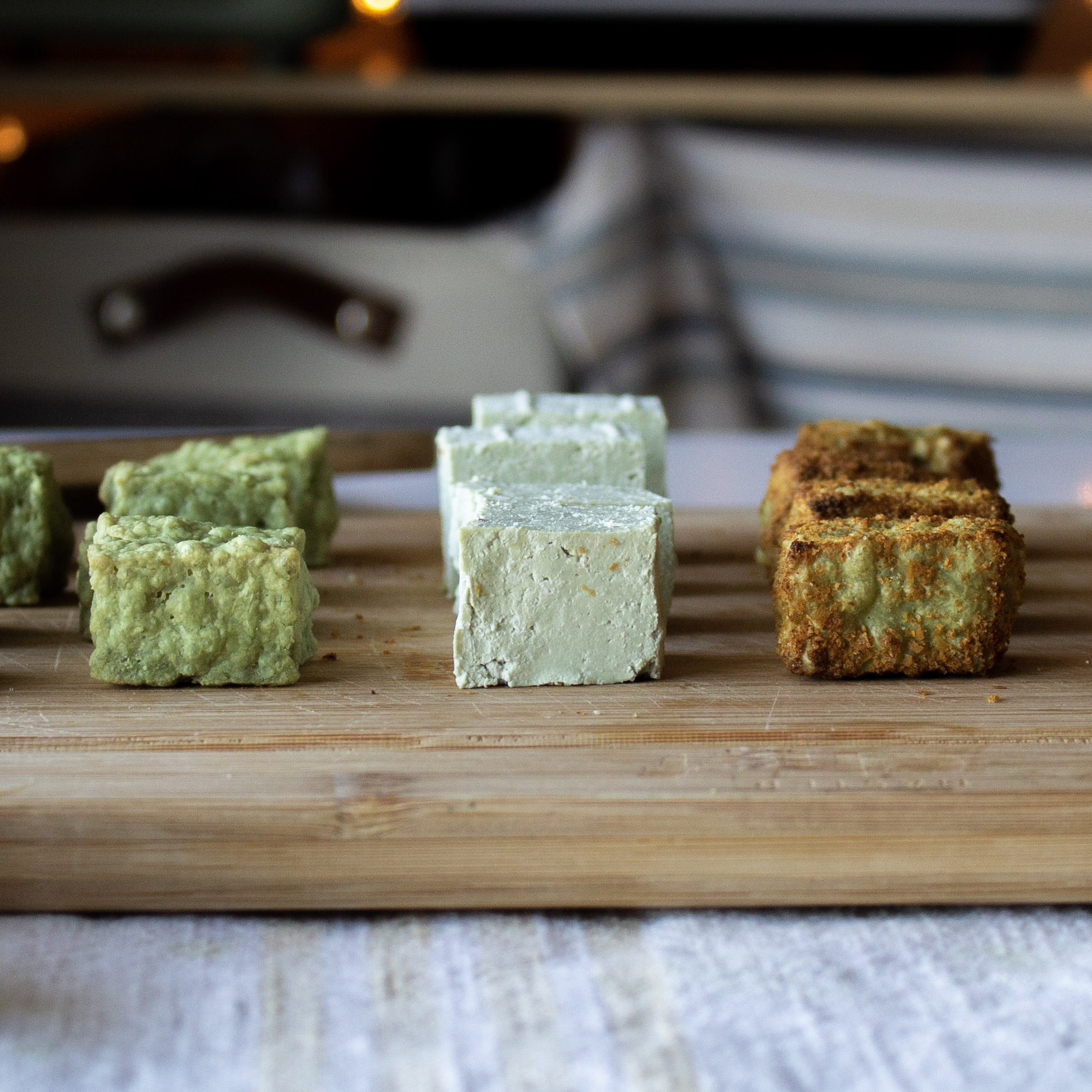 Why Make "Pumfu"?
Pumfu is a the brand name of FoodiesVegan's pumpkin seed tofu product but we can make it at home too. Pumpkin seed tofu is super unique and delicious; well worth the small effort to try it at home. It is:
high in protein,
high in fat making it super satiating,
creamy and luxurious,
easy to make with only one ingredient,
and comes with a side of delicious pumpkin seed milk!
After posting my first high protein soy-free tofu, I've been inundated with requests for a version using pumpkin seeds. I've been aware of the brand "Pumfu" for ages but have never had a chance to try it. That's because it seems to be only available in the US; not here in Canada. Viewers and reader have also told me that they find it expensive (to be fair, many tell me it's well worth it too!)
All those lovely positives said, making pumpkin seed tofu at home will probably not save you much money if you already have access to buy Pumfu. One batch of this recipe makes a firm 370g (13oz) block and about 3 cups of pumpkin seed whey (which can be used as milk) and cost me almost $10 Canadian using the most affordable pumpkin seed that I could find. Homemade regular soy tofu, my soy-free fava bean tofu, or red lentil tofu is much more affordable.
How this Pumpkin Seed Tofu was developed
Since I love to give you what you want, I got some raw, hulled pumpkin seeds and went to work right away! I followed my traditional tofu-making process:
soak raw, hulled pumpkin seeds in water overnight,
rinsed and drained the hydrated pumpkin seeds,
blended the seeds with double the amount of water (in two batches),
strained the fiber from the pumpkin seed milk, then
heated the pumpkin seed milk with a target temperature of 180°F.
The next step would've been to add a coagulant. But as the temperature rose between 150°F and 160°, I saw the milk begin to separate into curds and whey. This is a tofu that does not need a coagulant!
First, I wondered if it was the high magnesium content that was responsible for this phenomena. Also, I was remembered that in the comments of my original lemon + soymilk tofu tutorial, some people reported their soymilk would start to coagulate even before they added the lemon. I was sure that it must be to do with the particular pot they might be using or the mineral content of their tap water but I've never been able to replicate this effect.
I wondered if the pumpkin seed milk's self-coagulation was due to my Rocky Mountain-sourced tap water here in Calgary, Alberta rather than something to do with the pumpkin seeds themselves.
So after I completed the process of this first batch of pumpkin seed tofu, I tested with distilled water next. Distilled water has had the minerals removed, taking this variable out of the test. Happily, this round progressed just like the first; the pumpkin seed milk started to curdle upon reaching 150°F!
In subsequent tests, I also discovered that it's best to heat the milk all the way to 180°F. If you don't, the pumpkin whey leftover gets clumpy and separated rather than staying an rich emulsified liquid which can be used as plant-based milk. You can use this for drinking (it tastes wonderful) or use it in plant-based creamy sauces or soups. On the other hand, if you do end up with clump separated whey afterwards, you can incorporate it into a smoothie or soup and not all is lost.
What you Need to Make Pumpkin Seed Tofu
The only ingredient you need to make pumpkin seed tofu is pumpkin seed! Specifically for recipe, you'll need one pound (454g) raw and hulled pumpkin seeds.
You will also need a high speed blender, a good nut milk bag, large cooking pot, and a tofu making mold. I prefer using this inexpensive tofu press that doubles as a tofu mold which comes in a set with a lining cloth. Please note that these links are Amazon affiliate links. This means if you use them to make your purchases, I will receive a small commission but rest assured there is no extra cost to you.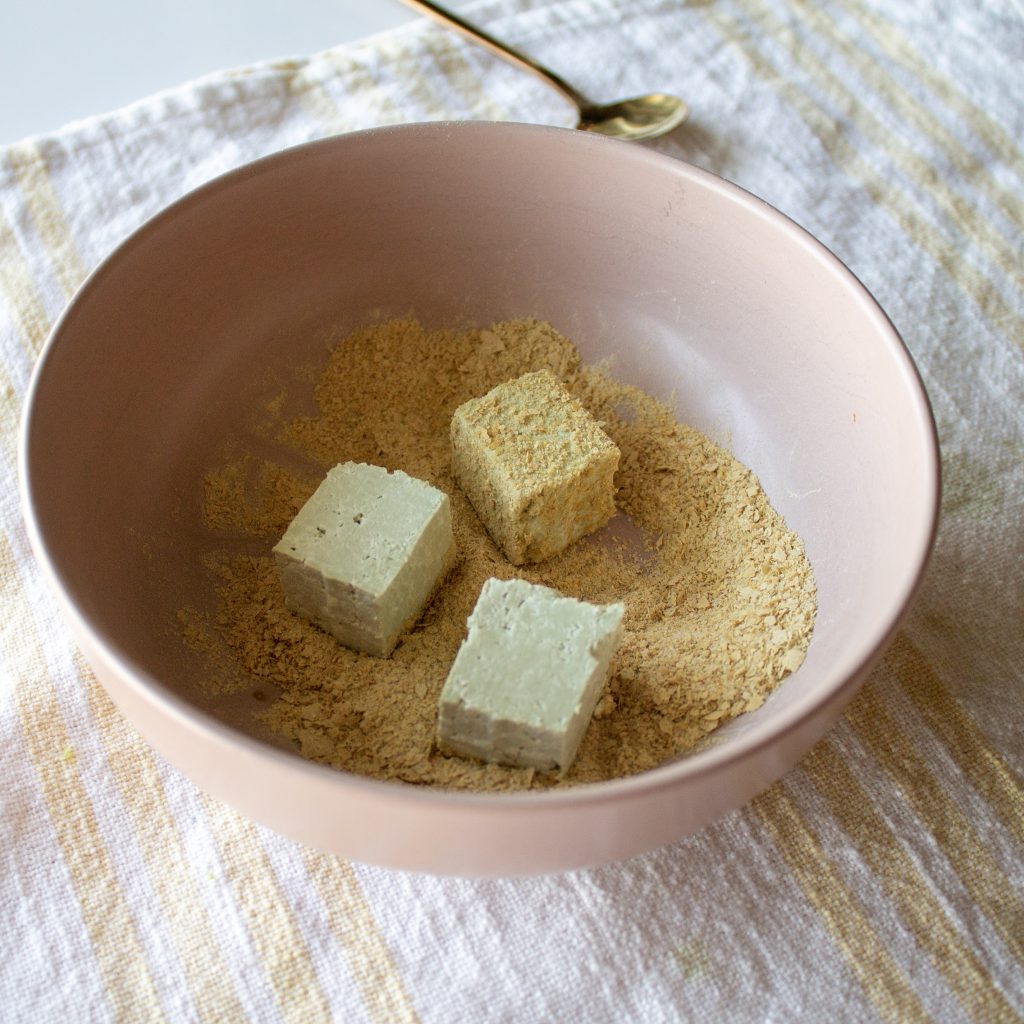 RELATED RECIPES
Troubleshooting
Having trouble? See if any of the tips below apply to you!
My pumpkin seed milk isn't curdling or there are only very few curds!
If your pumpkin milk is not curdling at the target temperature, keep heating to a boil. Let it cook at a hard boil for a minute to get the maximum curdling effect. For this method, please make sure there is lots of extra room in your pot to account for the extra volume caused by the rolling boil. Also, watch the pot carefully and be ready to stir or remove from heat in case of boiling over.
Keep in mind, your whey will probably become completely clear if you choose this method so you won't be able to use it as a plant-based milk afterwards. However, you can use it instead of water in your next vegetable soup!
My pumpkin milk isn't curdling even when I boiled it for a minute
This is probably because you didn't get enough protein out of your pumpkin seeds. Put the pulp back in your blender along with your cooled pumkin seed milk and blend again. You may need to break the seeds down farther. Then strain again until the pulp is quite dry. Your milk should be thicker now and you can try cooking it again.
Printable Recipe for Pumpkin Seed Tofu (DIY Pumfu)
Yield: 370g (13oz) block pumpkin seed tofu
DIY Pumfu (High protein soy-free pumpkin seed tofu)
Pumpkin Seed Tofu is the easiest SOY-FREE high protein, low carb tofu recipe due to the fact that you only need ONE ingredient! No additional coagulant necessary.
Total Time
16 hours
30 minutes
Ingredients
1 lb raw hulled pumpkin seeds (454g)
Instructions
Soak pumpkin seeds in plenty of water for 8 hours (up to 24 hours). The next day, rinse them well and drain completely.
In high speed blender, combine HALF the seeds with about double their volume in water (about 600ml). Blend 30 seconds on high (until very fine, no chunks visible). Using nut milk bag, strain milk into a large bowl/jug. Be sure to squeeze pulp very dry; it should resemble play-doh. Pulp can be reserved for other uses such as making crackers; freeze to store for later. Repeat with the second half of the seeds.
Let the milk sit for 15 minutes or more to let the starch settle to the bottom. Then gently pour the milk into your cooking pot. As you get to the end of the milk, pour even more slowly and hold back when you see the starchy sludge at the bottom.
Heat the raw pumpkin seed milk with a target temperature of 180°F. Keep the milk from scorching by using a flat wooden spatula to keep it moving. The milk will start to curdle at 150-160°F. Continue to heat to 180°F.
Dampen the liner of your tofu mold before placing it properly. Use a slotted spoon to ladle the curds in. Try to distribute them evenly. Use a mesh strainer to catch any smaller leftover curds. You may use the nut milk bag again when the milk is cooler to make sure no bits are left in the whey (save the whey! It makes delicious plant-based milk alternative).
If using my preferred tofu mold, simply add the pressing plate and spring top. Twist the top knob to press the tofu further, then use the vents to pour off excess liquid (save it! It's delicious!). If using a traditional tofu mold, add 5lbs of weight (or as much as desired). Chill overnight then enjoy the next day!