Yes you can make sunflower seed tofu! Should we call it "Sunfu"? Anyways, using the traditional tofu-making process on sunflower seeds makes a high-protein soy-free tofu that's creamy, rich, and satisfying! With higher fat content than regular tofu, this plant-based protein also makes a great vegan cheese alternative too. Pin this for later.
More soy-free tofu recipes
Video Tutorial for Sunflower Seed Tofu
What Does Sunflower Seed Tofu Taste Like?
This soy-free tofu is creamy and rich with the mild, nutty taste of sunflower seeds! The texture is soft and easily mixed with seasonings to create a smooth spread or dip. And because sunflower seeds have a slightly woodsy quality to them, I like to balance that flavour with a bit of citrus or vinegar.
Why make this soy-free sunflower seed tofu (or SunFu?)
Using affordable sunflower seeds is a fun way to experiment with making soy-free tofu. It's a delicious way to get plant-based protein that also comes with healthy plant-based fat. You'll love this soy-free tofu because its:
made with only ONE ingredient (no coagulant needed for this tofu!),
creamy and luxurious (perfect for making quick vegan cheese),
high in protein, and
high in fat making it very filling and satisfying, and
it's similar to PumFu (pumpkin seed tofu) but more affordable!
This recipe was originally developed to find a more cost-effective version of pumpkin seed tofu. However it's not quite the same. It's similar but softer and more delicate in comparison.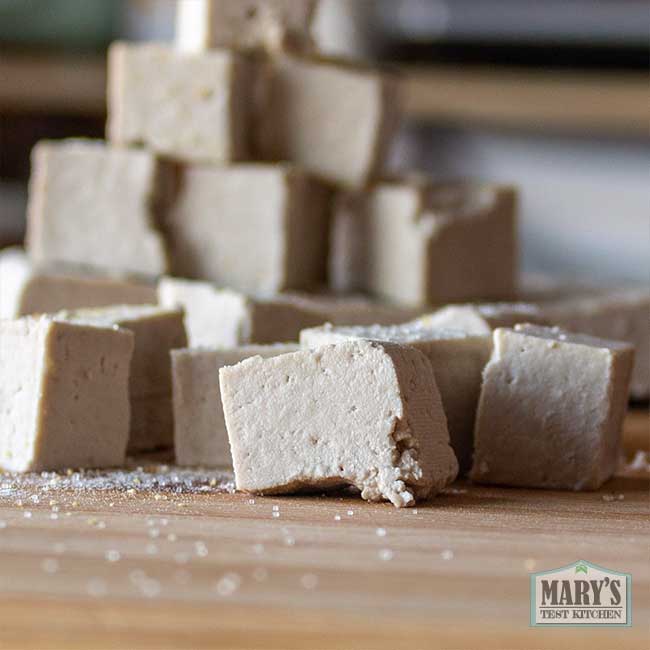 What you'll need to make Sunflower Seed Tofu
For this recipe, you will only need 1 pound of raw hulled sunflower seeds. No other ingredients needed. For equipment, it will be helpful to have:
a blender (I tested using only my Vitamix but other lower-powered blenders should work fine too),
a large cooking pot,
a tofu making mold (I prefer this one),
fine cheesecloth (if your tofu press didn't come with one),
and a way to scoop up fine delicate curds (like a mesh strainer, slotted spoon, etc).
Please note that these links are Amazon affiliate links. This means if you use them to make your purchases, I will receive a small commission but rest assured there is no extra cost to you.
How to Make Sunflower Seed Tofu
First, soak raw sunflower seeds for at least 4 hours or overnight. In this recipe, use 1 pound of dry hulled sunflower seeds (454g). Soaking them will make them super easy to blend so they can release their protein and fat into milk. Rinse and drain the plump seeds very well. Afterwards, my hydrated seeds swelled to almost double: just over 23 ounces or 720 grams.
Then because my high-speed blender container is not that large, I divided the seeds into two portions and added fresh tap water. I like to use about double the amount of water as we have seeds. Then blend on high for 15 seconds.
Use a high-quality nut milk bag to strain the fibrous pulp from the creamy sunflower seed milk. Then you can repeat the blending and straining process on the remaining sunflower seeds.
If we've done a good job with extracting the protein and fat from the seeds, the leftover sunflower seed pulp should be mainly fiber with only traces of other nutrients. So you could compost it. But I also like to save this fiber to use in other recipes. If not using right away, store in the freezer for up to two months.
Cook the sunflower seed milk in a large pot until boiling. Make sure this pot is large enough to handle the milk foaming up to triple in volume to prevent spillovers. And be sure to monitor it, stirring regularly, and remove from heat if it's foaming too much. You can also turn down the heat to let it boil for a minute without boiling over.
After it boils for a minute, turn off the heat and let it cool down a little. You will see wispy, delicate curds in the pot separated from clear whey. Sunflower seed milk produces fine soft curds; not as solid or large as fava bean curds or pumpkin seed curds.
Line your tofu making mold with the cloth it came with (or something fine, durable, and reusable like this one). I find it helps to moisten the cloth first for easier handling. Then scoop the curds with a slotted spoon into the mold. Eventually, you may get to the point when the remaining curds are just to fine for your slotted spoon.
In this case, I line a wire sieve with cheesecloth and pour the rest of the milk through it. Be careful when handling this hot whey. And also, don't pour it down the drain! This leftover sunflower seed whey makes a nice savory broth for vegetable soups.
Fold the cloth over your curds, add the pressing top and carefully pour off any excess liquid. If you're using my favourite tofu press, you can simply turn the knob to increase the pressure, then place in the fridge overnight. If you're using another press, add as much weight as you can to it, make sure to pour off excess liquid, then chill the entire set-up in the fridge as well.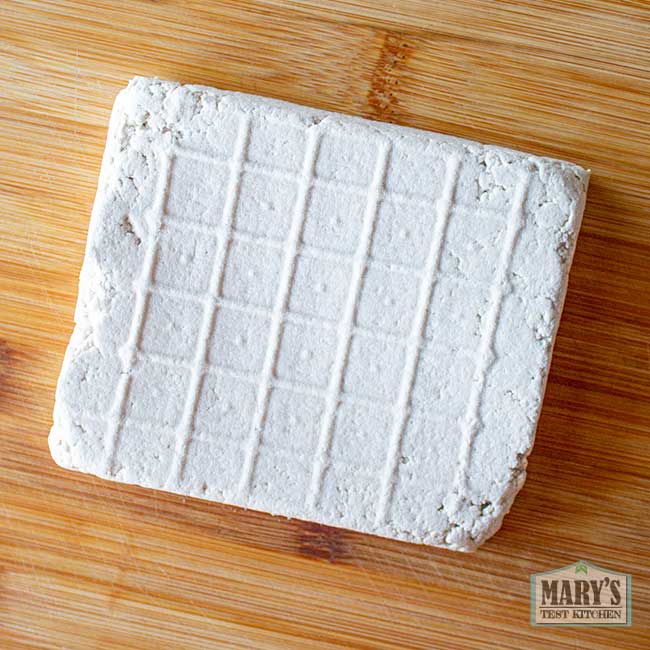 Afterwards, you can carefully remove and unwrap your homemade soy-free sunflower seed tofu! It is quite delicate so handle it gently. You can eat it right away.
This soy-free tofu is a lot more delicate than regular tofu so treat it more like a silken tofu. It's quite delicious just sprinkled with some salt, onion powder, and garlic powder.
It would make a terrific vegan cheese due to it's high protein, fat content, and smooth creamy texture.
Traditional Soy-based Tofu Recipes
Printable recipe for Sunflower Seed Tofu (Sunfu!)
Yield: 230g block (8oz)
Sunflower Seed Tofu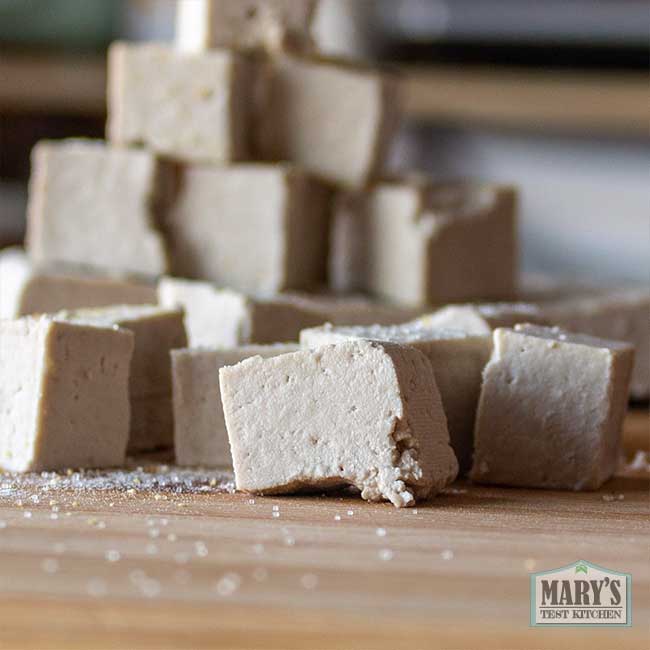 Sunflower seed tofu made using the traditional tofu-making method but only ONE ingredient!
Total Time
4 hours
30 minutes
Ingredients
1lb raw hulled sunflower seeds (454g)
Instructions
Soak sunflower seeds at least 4 hours to overnight. Rinse and drain very well. Divide into two portions and blend with double the amount of water. High speed for 15 seconds (in high speed blender).
Using nut milk bag, strain very well until pulp is as dry as you can get it. Reserve pulp for other recipes or compost. Transfer sunflower seed milk to large cooking pot.
Heat while stirring until boiling. Turn heat down to continue boling for one minute. Milk will foam up; stir and adjust heat to prevent boiling over. You will see curds form. Remove from heat and let cool down while you set up your tofu-making mold (I use this press with built in spring and vents). Dampen cheesecloth and line the mold.
When curds are cool enough to comfortably handle, scoop with slotted spoon into the lined mold. When remaining curds are too fine, you can use a wire mesh sieve lined with cheesecloth to collect the rest. Fold the cloth over the mold, secure the top and carefully pour off excess liquid. Adjust the knob or weight to press the tofu as much as you can and put the whole contraption in the fridge to cool overnight.
Carefully remove wrapped tofu from the mold, unwrap and enjoy!