This is how to make tofu easily at home with only soymilk, fresh lemon juice and water! Fresh, homemade tofu is so much better tasting than the store-bought stuff and super easy to make. Don't worry, it doesn't taste like lemons. And you won't need anything special other than cheesecloth and maybe a food thermometer. Pin this for later.
Video Tutorial for How to Make Homemade Tofu
RELATED RECIPES
Important notes for making tofu successfully!
Store bought soymilk usually contains a bunch of additives so you won't want to use that for this recipe. Use this homemade soymilk recipe to ensure great results. It does take time but it's rather simple and easy. Otherwise, if you really want to try this and really cannot be making your own homemade soy milk, use store-bought at your own risk. Try brands that only contain soybeans, water and maybe salt. Also make sure it's full fat and high in protein (at least 8 grams per cup).
By the way, this recipe makes "regular" style tofu; the firm kind that you can stir-fry without it breaking apart. Click here for how to make Silken Tofu, also known as smooth tofu.
Why make tofu at home?
Simply put, fresh tofu tastes best and what is fresher than homemade? Plus you can customize the firmness to your needs and even experiment with flavours. And once you learn the first time, you will have The Power of Tofu. A very powerful power😉
How to Make Tofu (the quick notes)
The process is:
Make or procure good quality, high protein, full fat soy milk made from good quality soy beans
Heat the soy milk up (160°F)
Add a coagulant liquid (in this case, lemon and water) two times; once while stirring, once after a little bit
Scoop the soy curds from the whey and form into a block
Press the block of soy curds to compress to the right firmness
Sounds simple? It is! But with these few steps, it is important to get them right.
Why make tofu with lemon juice?
There are many traditional coagulants but you might be looking for a tofu coagulant substitute. I love to use lemon juice because it's accessible! For most of us, buying fresh lemons or bottled lemon juice is easy and convenient from the grocery store.
Honestly, I came up with this when I wanted to try making tofu for the first time but didn't have access to any traditional coagulants. And vinegar sounded like a bad option (spoiler! it's not that bad haha).
Granted, this tofu made with lemons really isn't the same as store-bought tofu made with traditional coagulants like calcium sulfate (gypsum) or magnesium chloride (nigari). Lemon-tofu comes out grainer (with smaller soy curds) while tofu made with gypsum or nigari comes out smoother and with larger curds.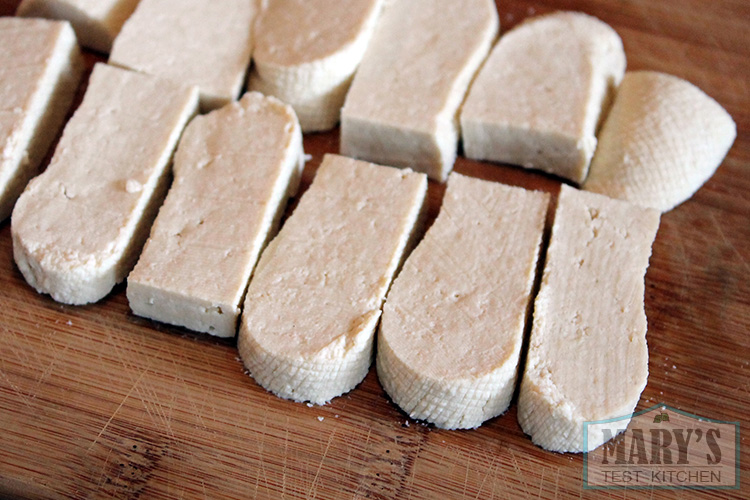 Check out this quick recipe for Chinese Five-Spice Tofu, one of my favourite ways to eat up fresh, homemade tofu.
Where to buy soybeans?
Here in Canada, I usually buy my soybeans from Superstore (so convenient!) or organic soybeans from Bulk Barn (less convenient for me but I like organic). You may be able to find them in supermarkets that serve a lot of Asian customers in particular, as well as health food and bulk food stores.
I've also found them online on Amazon and other E-tailers.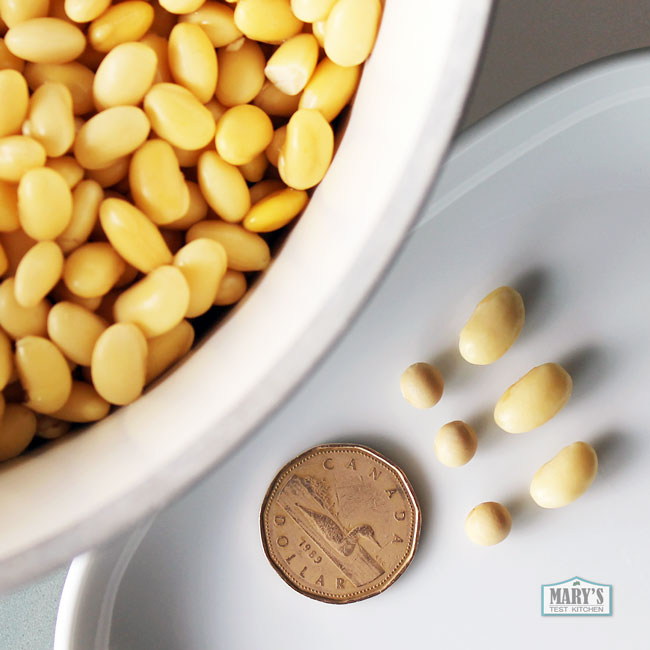 Is soy healthy though?
Hey! It's just a BEAN. This legume has been consumed in China for centuries! Soy is one of the "5 Sacred Grains" and is one considered of the most healthful sources of complete protein. Check out this article from Dr. M Greger on the healthfulness of soy.
Ok, ok, I'm in no way an food expert, but I feel great eating tofu and drinking soy milk. For many years, I had stomach issues but after cutting out dairy and adding soy milk, I feel amazing. Sure, there may be other factors but my experience says it's good! And also I may be biased as I am Chinese Canadian and grew up eating tofu.
All that said, I choose organic soybeans whenever I can (mainly not for health reasons tbh). And you might be interested to know, certified organic soybeans are also non-GMO.
Do I need any special equipment to make tofu?
Not really! To make this tofu recipe, you probably have all the required equipment already. They include:
a big pot, to fit at least 7 to 10 cups (need room in case of excess bubbling)
a slotted spoon or similar ladle
cheesecloth or thin woven fabric large enough to wrap the tofu and tie off the top
a food thermometer
To make the homemade soy milk, you'll also need a blender and nut milk bag. Jelly bags can also work but I find them not as durable as nut milk bags.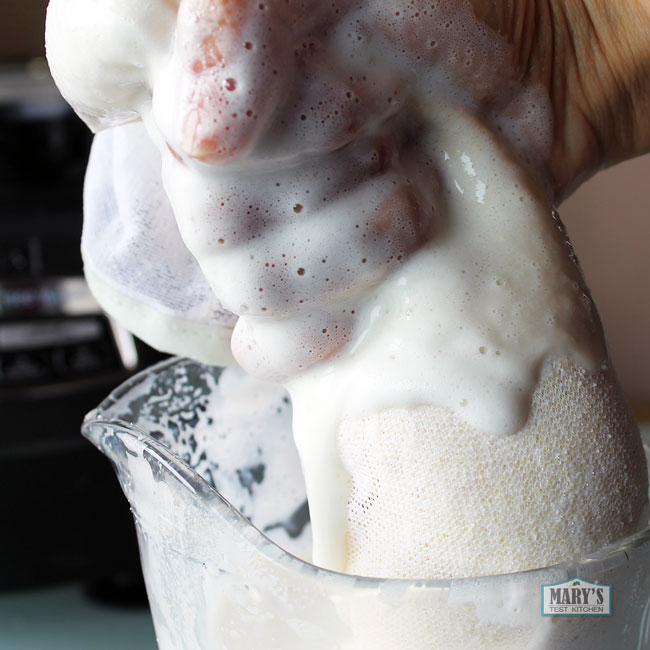 Why is your lemon-tofu so ugly? Can I use a mold?
I put off getting a mold because one of my personal mottos is "Use what you have!" That said, yes, my tofu is very ugly-looking! By all means, get a tofu-making mold. Over the years after posting this recipe (in 2014, now updating in 2021), I have three of these tofu-making mold kits that have the rectangular mold, a top to press down on the curds, and a nice reusable cloth liner too! All for TEN DOLLARS! 2014 would never.
Tofu-making Troubleshooting

There are two main issues see people having when their tofu doesn't turn out correctly. One, the soy milk doesn't coagulate fully (or at all). The second issue is the tofu falling apart after pressing it. And then one issue I see a couple times a year, the soy milk does coagulate fully but you only got a tiny amount of tofu out of it! How frustrating! But don't worry, I have your answers! You might not like them though 🤷‍♀️
Soy milk not coagulating fully (or at all)
If your soy milk has partly but not completely coagulated. Try adding just a few drops of lemon juice on the milky sections. Cover and let that sit. Did that work?
If not, you may just need to heat up your soy milk again. Avoid heating the milk and curds up too quickly so use medium heat to get the temperature back up to 160°F. Then turn off the heat, cover and it should finish coagulating.
If that doesn't work, the problem may be your soy milk is not properly made for tofu-making. Even though there are many variations on how to make soy milk, my homemade soy milk recipe (original, not 2.0) is the best for consistently working for most recipe-followers.
If your store-bought soy milk isn't coagulating, check the nutrition information. It should have at LEAST 8 grams of protein and minimal ingredients (soybeans, water, and not much else). That said, commercial brands vary so much (and there are so many out there) that I can't tell you if yours will work or not. Some reader have reported plain Belsoy soy milk works for them while other readers reported that it didn't work. So 🤷‍♀️
Homemade Tofu is falling apart!
This is mainly because of how you wrap and press the soy curds. You may notice in the video I'm pretty particular about how I wrap it. The cheesecloth has tension that keeps the shape and I try to keep the weight even. This will make the consistency of the tofu …well, consistent. And therefore, the tofu becomes a solid block. If you don't wrap it well, some parts of your soy curds will get higher pressure than others and it will fall apart.
The other reason may be that you skipped or rushed the final step of shocking the tofu with cold water. The temperature change makes the soy curds shrink which helps the tofu become denser and the curds interlock with each other, helping it stay together. Make sure the tofu is nice and chilly all the way through before removing from the cold water bath.
That said, this homemade tofu is somewhat more delicate than store-bought. One thing that could help is using a tofu mold.
My soy milk coagulated but I only got a tiny bit of tofu! What gives?
Did you use store-bought soy milk? Check the nutrition label. Some soy beverages only have 1 to 3 grams of protein! You want the one with the most protein because that's what forms the soy curds that become tofu. I would look for brands with at least 8 grams per cup. And avoid anything that says "low-fat."
When you make my homemade soy milk, using 200g (1 cup) of dry soy beans, you should get about 260g of tofu at the end of this process. If you did use homemade soy milk, you probably rushed either the blending step or the milking step.
You'll know you haven't blended your beans enough if your soy pulp is chunky. It should be really fine, pretty dry after milking, but sticks together like play-doh. I divide the batch into two parts when blending as my containers are not that big. And this takes about 30 seconds using my Vitamix on the highest setting or 2 minutes using my regular-powered Oster Blender on the Liquefy setting.
Similar to that, if your soy pulp is the right consistency but quite wet, you've got to squeeze it some more! Get all that protein and fat extracted out of those beans; put some elbow grease into it and strengthen your forearms at the same time!
What to do with your homemade tofu?
You can use your homemade tofu in any recipe that calls for firm tofu. Like this easy and delicious 5-spice tofu recipe.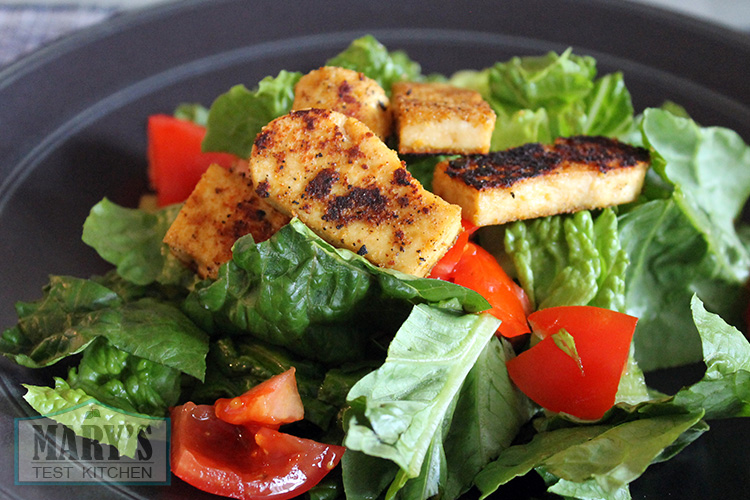 Printable recipe for DIY Tofu
Yield: about 260 grams firm tofu
How to Make Tofu (with just lemon + soy mlk)
Make your own tofu at home with only soymilk, fresh lemon juice and water! Fresh, handmade tofu is so much better tasting than the store-bought stuff; milder and with a different bite. Plus it's super easy to make. And don't worry, it doesn't taste very lemon-y at all.
HOMEMADE soy milk made from THIS recipe is highly recommended. Many commercial soy milk brands will not coagulate properly. And some other soy milk recipes don't extract enough protein and fat to give you a good yield.
Ingredients
5 cups plain HOMEMADE soy milk (see description for recipe link)
coagulant:
1/2 cup water
1 1/2 tablespoons lemon juice (must be sour!)
Instructions
Heat and Coagulate
Combine the water and lemon juice.
Separately, heat the soymilk to 160F (71C) in a large pot. Be sure to stir constantly to keep the soymilk from burning on the bottom. If you don't have a thermometer, you can bring it just to a boil, then remove from heat and stir for a minute or two to cool.
Remove the soymilk from heat and immediately stir half of the lemon mixture into the soymilk for 1 or 2 minutes with a wooden spoon or spatula. STOP immediately if the milk starts to thicken to avoid breaking the curds into small bits.
Stand the spoon or spatula straight down into the milk to cause the spinning motion of the milk to stop.
Add the rest of the lemon mixture and stir the spatula in a back and forth motion or a figure eight motion. The intent is to mix the lemon juice coagulant in thoroughly but gently. HOWEVER if the soymilk has already turned into solid curds, just spoon the lemon mixture over top.
After a minute, the soymilk should start to separate and curds will begin to form. Stop stirring as soon as you see curds forming and cover the pot with a lid.
Let sit for 15 minutes.
Afterwards, the soymilk will have completely separated into bits of soybean curd and liquid. The liquid should be clear and yellowish. If it is still milky looking, it has not completely curdled. In that case, add a few drops of lemon juice to the milky liquid and stir gently.
Troubleshooting
If your soy milk has not completely coagulated and you already tried adding a few more drops of lemon juice, you may need to heat up your soy milk again. Avoiding to heat up too quickly, use medium heat and get it back up to 160°F. Then turn off the heat, cover and it should finish coagulating. If that doesn't work, the problem may be your soy milk is not properly made for tofu-making.
Form the soy curds into tofu
Prepare a colander or sieve lined with a few layers of cheesecloth over a bowl, or use a steamer pot.
Scoop some soy curds with your slotted spoon or similar ladle and let excess water drain away before transferring to the cheesecloth.
Carefully pull up the sides of the cloth to allow most of the water to drain out. Gather the sides of the cloth and twist at the top to squeeze out more water. *Wait a few minutes if the bundle is too hot to handle**
Untwist the cloth and re-wrap the curds so that it forms a loaf shape.
With the curds securely wrapped in the cheesecloth, place a couple pounds of weight on top. You want to press the curds evenly to force the water out. A cutting board with a few books on top would work well. Alternatively, use a tofu press device.
Let sit for 15 to 30 minutes (longer time for firmer tofu)
Place the wrapped tofu in a bowl of ice-cold water. This will help the tofu firm up further. After a few minutes, you can unwrap the tofu. Then let it sit in the water until completely chilled through. Afterwards, it's ready to use!
Storage
Store fresh tofu in cold water, cover with a lid and refrigerate. Use as soon as possible; store for up to 5 days.
If you're storing in the freezer, you don't need to keep it swimming in water. Just put in a freezer bag, squeeze out excess air and freeze. The texture will change to more spongy. Keep for up to 2 months.
Notes
Larger Batch?
While I recommend making this small batch for your first time making tofu, this recipe can be multiplied to make larger batches. This recipe makes about 260 grams (8.5 ounces) of firm tofu using 8 lbs of weight over 30 minutes. The weight of your finished product will depend on how much water is pressed from your tofu.
Can I use store-bought soy milk?
I don't recommend it only because so many people have reported failing with commercially available soy milk. It seems many soy milk brands include additives so you won't want to use that for this recipe. In fact, these additives are sometimes added specifically to prevent curdling which is exactly the opposite of what we're trying to do. Use homemade soymilk or brands that only contain soybeans, water and maybe salt. Additionally look for a high protein and fat content.
Can I use almond/oat/cashew/other types of plant-milks?
No; not with this method. Only soy milk has enough protein to produce the amount of curds that you need to produce tofu.
What do you mean the lemon juice must be sour?
Sourness indicates the pH level is acidic enough to curdle the soy milk. Some lemons are not sour (aka sweet lemons) and the juice will not curdle the soy milk.
Nutrition Information:
Yield:
4
Serving Size:
1/4 of recipe
Amount Per Serving:
Calories:

126
Total Fat:

5g
Saturated Fat:

1g
Trans Fat:

0g
Unsaturated Fat:

0g
Cholesterol:

0mg
Sodium:

151mg
Carbohydrates:

10g
Fiber:

1g
Sugar:

8g
Protein:

9g
Nutritional Information automatically calculated by a plugin and may not be correct.