Follow this simple guide to turn Black Soybeans into lovely high protein, low carb tofu. This firm black soybean tofu can be used in any recipe that calls for firm tofu. Or, with a small adjustment, you can make it soft or extra firm.
Video Tutorial for Black Soybean Tofu
What are Black Soybeans?
Black Soybeans are a variety of soybean, in the same family as the common yellow soybean. Also known as "Black Beans with Green", they make great tofu too!
Black Soybeans VS Common Black Beans (or Black Turtle Beans)
Don't confuse Black Soybeans with Common Black Beans or Black Turtle Beans. While they may look similar, they are different on the inside. Common Black Beans are oblong with a white interior. While Black Soybeans are more round with a pale green interior.
I've tried making tofu from common black beans and it was a complete disaster! See the photo below.
Or watch the video where I tested the traditional tofu-making method on black beans, pinto beans, kidney beans and giant broad beans.
The starches in black beans make it impossible to extract milk in order to make high protein tofu. However, you may make "high carb" tofu from it; like making Burmese Tofu.
In contrast, black soybeans are low in carbs and high in protein. It's simple to make black soybean milk and turn it into tofu.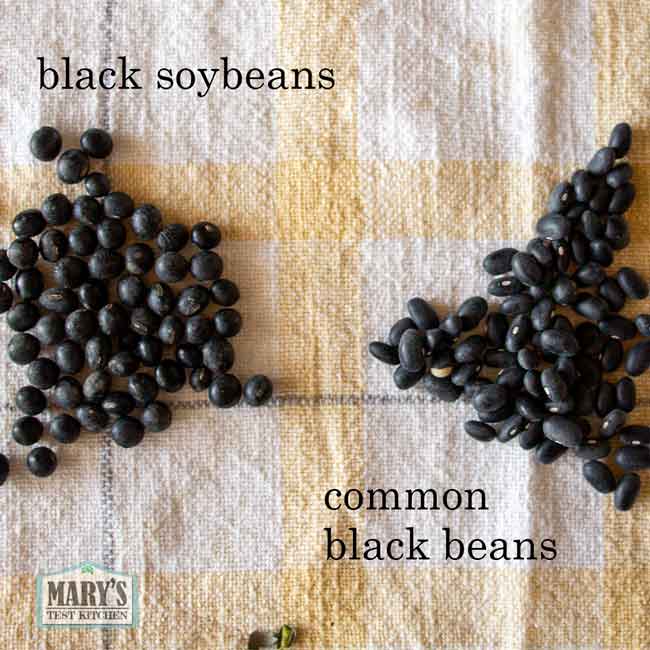 Black Soybeans vs Regular Yellow Soybeans
The most obvious difference is that black soybeans are black and regular soybeans are yellow. However, despite being black on the outside, Black Soybeans are green on the inside. So Black Soybean Tofu actually comes out greenish.
Are black soybeans healthy?
Yes, black soybeans, like regular soybeans, are nutritious and healthy! The exception, of course, is if you have a soy allergy or soy intolerance. Then you'll want to avoid them since black soybeans ARE soybeans.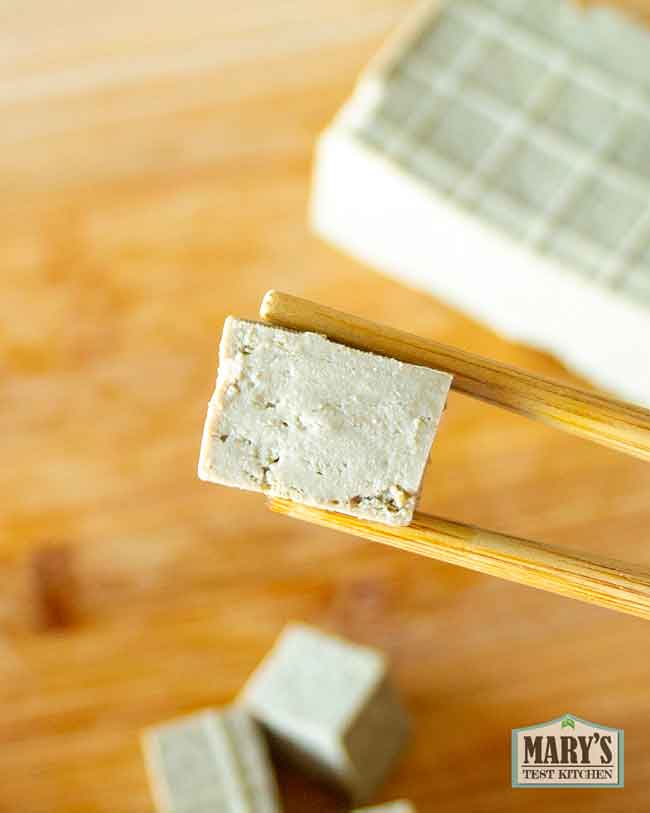 What are the disadvantages of Black Soybeans?
Black soybeans are not as widely available to buy compared to regular yellow soybeans. And they can be more expensive. During the milking stage, I also found that black soybeans took a bit more effort to strain compared to yellow soybeans.
Which soybean is best for tofu?
As long as it is a mature bean, both yellow and black soybeans make great tofu. Which is best for you depends on personal taste.
Yellow Soybeans are more affordable and are more widely available. However, black soybeans are a bit sweeter and would be more interesting to share during your next exotic tofu-tasting party 😉
What do I need to Make Black Soybean Tofu?
Below, I'll get into all the details about what equipment and ingredients you'll need to make professional-level tofu at home. But if you're in a hurry and just want all the supplies, here's my shopping list:
1 lb dry black soybeans (makes 500g of firm tofu)
food grade calcium sulfate
tofu making kit including mold and liner cloth
Cheesecloth (if your tofu press didn't come with a cloth)
nut milk bag
Equipment you probably already have:
large pot for cooking 1.5 liters (1/2 gallon) of soy milk (with lots of room to allow for bubbles)
a slotted spoon ladle
blender
Ingredients to make Black Soybean Tofu
You'll only need two ingredients besides water: dry black soybeans and a coagulant. In most cases, I recommend using calcium sulfate (also known as gypsum) and I'll get to why below. In this section, I'll share how to go about buying dry soybeans and how to pick good ones. Plus a bit more about the different tofu coagulants.
Want to skip the explanations and just buy ingredients quickly? Get non-GMO black soybeans HERE and food-grade calcium sulfate HERE.

If you use these links to buy, I'll get a small commission. This is a great way to support my work at no cost to yourself. Thanks so much!
Where to Buy Black Soybeans
I bought my black soybeans on Amazon for $14 for 2lbs. This is more expensive than what I found at a local Asian Supermarket (T&T) which had their own brand of organic black soybeans for only $3.49 per pound! I wish I found those first.
A subscriber recommended getting them at Korean grocery stores where they may be labeled as "Black Bean with Green."
Confusingly, in Asian grocery stores, Black Soybeans can be labeled "Black Beans". So you'll need to examine them to see if you have the right ones. Black soybeans are almost perfectly round while regular black beans are oblong.
How to pick good black soybeans
Picking good black soybeans is important for good-tasting tofu. Qualities to look for in your dry soy beans:
Even black color on the outside (they are green on the inside)
Smooth and round (not wrinkly and dried-out looking)
Fresh smell (not rancid)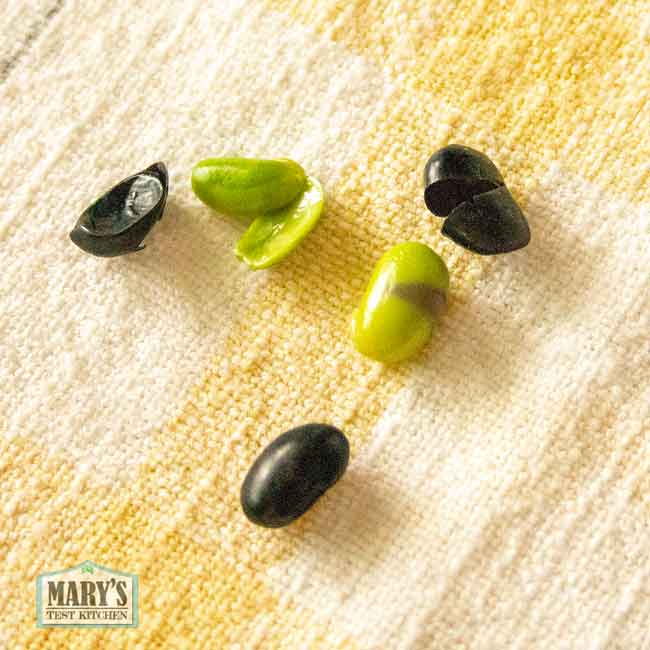 Equipment to make tofu
In my DIY Tofu with Lemon Juice post, I kept the equipment to a minimum, assuming you just want to get from zero to tofu with as little trouble as possible. In this post, I want you to get the professional-level results so you (and everyone lucky enough to taste your homemade black soybean tofu) can use this tofu in any recipe and have your tofu behave predictably.
Large Cooking Pot – This can double as the container to soak your dry beans. But it must be large enough to hold rehydrated beans, at least 2 liters (half a gallon) of water, AND handle the foam that will form when you cook your black soybean milk.
Slotted Spoon – You'll need this to scoop your black soybean curds from the whey after the milk is coagulated.
Blender – I use a Vitamix now but in the past I have used a regular $30 Oster blender with great results.
Tofu-Making Mold/Press – I have used cheap molds in the past but these days, I swear by this spring-loaded press.
Fine Cheesecloth – My tofu mold actually came with a cloth which is quite good. However, the brand is not consistent about including it. I found THIS cheesecloth which is grade 100 and larger. I love that it's strong and versatile so I can use it for many things.
Nut milk/ Soy Milk bag – this is a strong, fine bag made for straining the milk from the puree.
Ways to Cook Homemade Black Soybean Tofu
I tested cooking this homemade black soybean tofu various ways and I can confidently recommend using it in any recipe that calls for regular firm tofu.
Air fried results
Whether seasoned or plain, coated with oil or without, Black Soybean Tofu performed wonderfully. Pictured below, from left to right, a column of seasoned black soybean tofu, the same with oil, then simply salted plain black soybean tofu coated with oil, and the same without oil.
After air frying for 10 minutes at 400°F, the tofu was lightly puffed and delicious. The tofu with oil was crispier while tofu air fried without oil was chewier.
Pan fried results
In this test, I lightly oiled a non-stick pan and pan-fried the tofu over medium high heat. I left some plain and some seasoned with nutritional yeast, onion powder, garlic powder, salt, and pepper.
While not as crispy as the air-fried tofu, they were still delicious. The interior was more moist and not puffy like the air fried version.
Boiled results
After boiling these cubes of black soybean tofu for one minute over high heat, they stayed completely intact. The texture became softer and bouncier.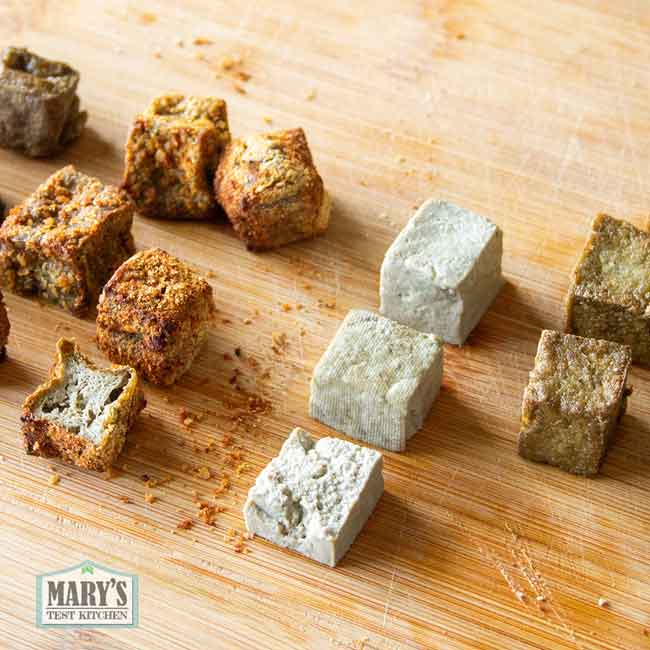 Printable Recipe for How To Make Black Soybean Tofu
Yield: 500 grams (17.6oz)
Black Soybean Tofu
Bouncy and firm tofu made from Black Soybeans is just like regular tofu but a bit sweeter!
Ingredients
1 lb dry black soybeans (454g)
1 1/2 tsp gypsum (food grade calcium sulphate)
water
Instructions
soak black soybeans in triple their volume in water (the will double in size) and refrigerate overnight
drain and rinse the beans. Then divide into two portions. Blend each half with 1 liter of water in your high speed blender; 20 seconds on high. Avoid over-blending as it will make straining more difficult.
use a nutmilk / soymilk bag to strain out the pulp. Reserve the pulp for other recipes (search for okara or soy pulp recipes).
cook the raw soymilk by bringing it to a boil, then lowering the heat to a simmer. Simmer for 15 to 20 minutes. If the milk becomes very thick, you can add extra water to thin it out.
Mix your gypsum with 1/2 cup of room temperature water. After the soymilk is cooked, check that it is at 180°F before stirring in the coagulant mixture. Cover and let it sit on the warm stovetop for 15 minutes to fully coagulate.
Transfer the curds to your cheesecloth-lined tofu press. Fold the cloth over so no curds can sneak out. Add the pressing lid and twist the knob to add more pressure. Drain away the whey. Reserve the whey to use in broths, soups, or sauces. Chill the whole thing for 4 hours to overnight.
Afterwards, unwrap and enjoy!