Tofu made from hemp hearts (hulled hemp seeds) is wonderfully high in protein, healthy fat and tastes great too! This creamy soy-free tofu alternative is made using the traditional tofu-making method with ONE difference. We skip a step! Note, this is NOT like other hemp tofu's which are grainy blocks formed from ground hemps seeds. This is much better and more luxurious!
Video Tutorial for Hemp Heart Tofu
What does HempFu taste and feel like?
Freshly made hemp heart tofu is more like a rich cheese than conventional tofu. It tastes much like the hemp hearts it started out as but milder. Hemp heart tofu is:
moderately firm with a slight bounce,
chewy in a meaty kind of way (not rubbery) but also feels creamy at the same time,
takes on seasonings well and fat-soluble flavours,
easy to crumble for making a tasty bacon-like crumble,
mildly savory and can be eaten on its own with just a little salt or simple seasonings.
You could use it like regular soy tofu (pan, deep-fry or air-fry) but it is super filling because of the fat content. Because of this, I don't recommend it to be the main protein of your dish.
But why make Soy-Free Tofu in the first place?
If you are allergic to soy or the people you are cooking for are, this is a great alternative so that you can still make tofu recipes without any soy! Personally, I eat a lot of soy but I believe it's good to have variety when it comes to plant-based protein sources. In this series, we have made high protein, low carb tofu from:
Applying the tofu-making method to peanuts and sunflower seeds made soft creamy curds that were more like soft cheeses than tofu.
If you were wondering, I did try with black beans, kidney beans, and pinto beans. However the process was exceedingly difficult and the results were more like a bean paste than a bean curd.
I even tried making tofu out of frozen edamame. The process was more difficult that usual and the results were…well, maybe you should read the blog post for that one.
But why are YOU making soy-free tofu?
Last year, I made the decision to stick to a keto diet for my chronic tendonitis. In the months following, my tendonitis symptoms completely resolved and stayed away (as long as I also stayed away from too many carbs). I was eating soy tofu two or three times per day and, while I don't think I suffered any ill effects from eating delicious and nutritious soy products all day and everyday, I need variety in my life! And I missed other beans and peas. So I started experimenting with making high protein, low carb "tofu" by applying the traditional tofu-making method to non-traditional ingredients.
Beans and grains are great sources of vegan protein BUT if you are like me and cannot have too many carbohydrates for medical reasons, having protein sources that are not attached to a lot of sugars or starches is really important for health.
Why use Hemp Seeds for Soy-Free Tofu?
Hemp Seeds are famously high in omega-3's and a complete source of plant-based protein. However, they have a bitter shell so make sure to buy hulled hemp hearts (also known as hemp hearts).
Hemp hearts also have special characteristics so we can reduce two steps from the traditional tofu-making method. First, you don't need to soak hemp hearts before blending them to make hemp milk. Second, making tofu usually requires a coagulant to be added (such as gypsum or nigari). Hemp heart milk doesn't need these to coagulate, making this a one ingredient soy-free tofu!
The only downside it the price. Typically, I'm buying 1 pound of hemp hearts for $10 to 15; depending on the store. This makes one block quite expensive compared to regular tofu. However, as mentioned earlier, hempfu is more comparable in its satiation factor and usefulness to a cheese than tofu.
What you'll need to make Hemp Tofu
You only need ONE ingredient to make bouncy and delicious hemp tofu:
1 pound of hulled hemp seeds (hemp hearts).
For equipment, it will be helpful to have:
Please note that these links are Amazon affiliate links. This means if you use them to make your purchases, I will receive a small commission but rest assured there is no extra cost to you.
How to Make Hemp Heart Tofu
Making tofu with hemp hearts is a lot like making regular soy tofu. However, since there is more starch in peas, there is one extra (but easy) step to remove the starch. I'll get into the details in the step-by-step below.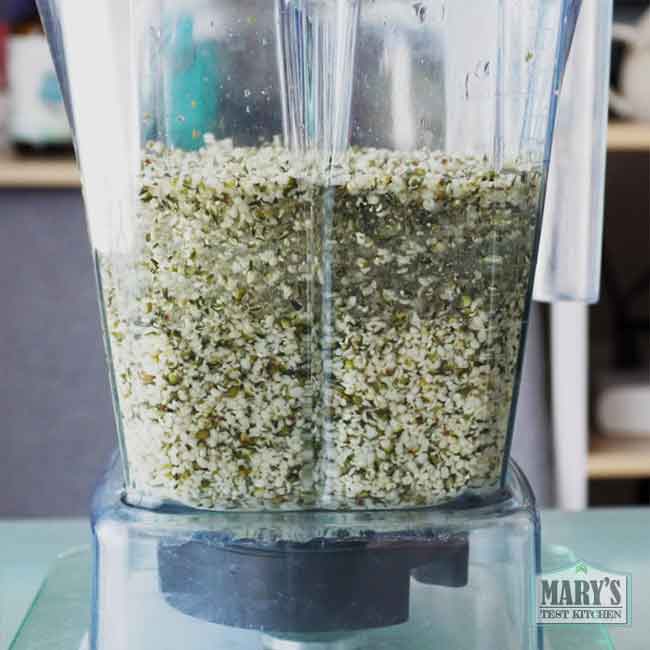 1. Blend hemp hearts with water
Because these seeds are so tiny and soft, we only need to combine them with about double their volume of water and blend for 10 seconds with a high speed blender (such as a Vitamix). However, please try not to over blend as this will make the next step much more difficult.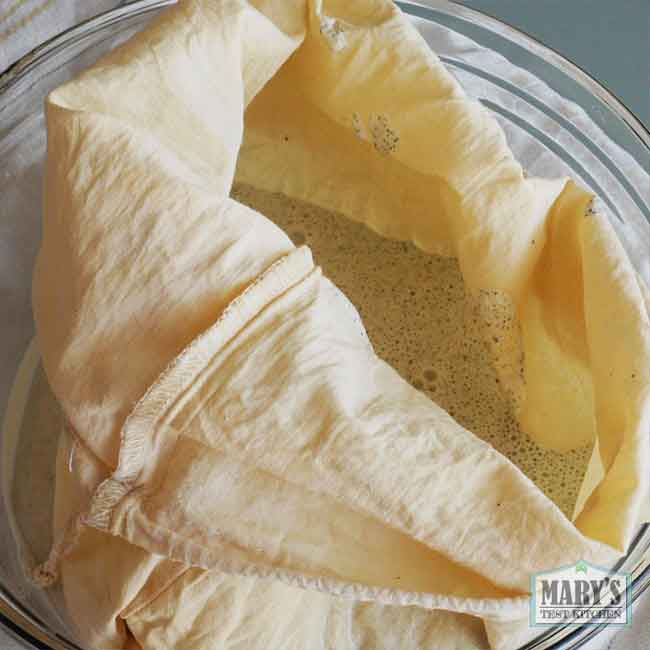 2. Separate milk from the pulp
Using a high-quality nut milk bag, strain the cream hemp milk from the fibrous pulp. Make sure to squeeze well and make the pulp as dry as possible.
The leftover pulp can be used to make a quick vegan cheese. Or use your imagination!
Unlike the other soy-free tofu recipes in this series, you do not need to "settle" the milk since hemp hearts don't have much starch to begin with.
3. Cook the milk
Then, over medium-high heat, cook the raw hemp milk until it comes to a simmer. Like soy milk, a film can form easily around the sides and bottom of the pot so stir regularly. But unlike soy milk, chickpea milk starts to curdle as it approaches 165°F! No coagulant needed.
Bring the hemp milk to a boil and let it boil at a moderate level for a few minutes so that the maximum amount of curds can form.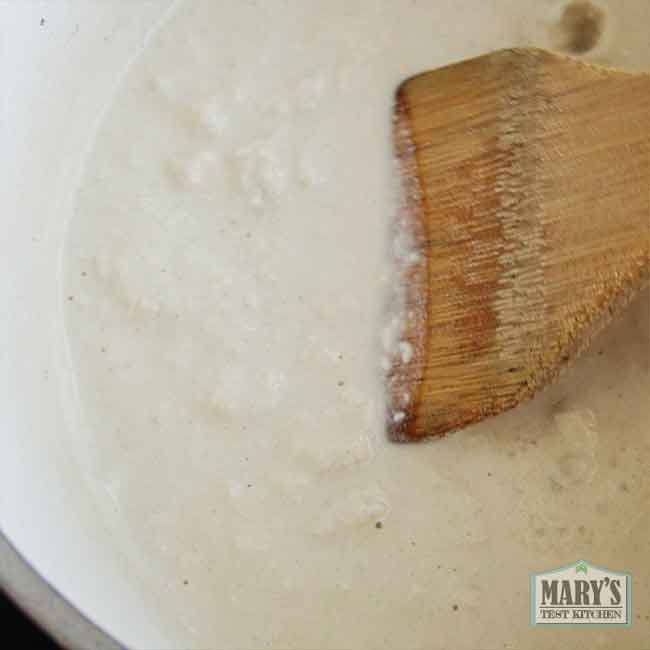 4. Let Cool
After the 10 minutes, turn off the heat, and let the curds and whey cool for a while. If your tofu press is plastic like mine, you may not want to put super hot curds in it right away. I like to let it cool until the curds are comfortable to the touch.
5. Press curds
Use a slotted spoon to transfer the curds into a cloth-lined tofu mold.
The hemp heart whey is pretty tasty so save it for a small beverage or add it in your next soup or sauce.
When enough whey has drained, it will be easier to transfer the curds into your tofu press. Gently arrange the curds they they sit evenly in the mold. Fold the cloth neatly over the tofu and add your pressing lid.
If using my preferred tofu mold, just twist the knob until it stops; do not force it. Pour off excess water using the vents. Please in fridge to cool overnight. If using weights, use about 5 lbs of weight, pour off excess water and place in fridge. The next day, gently unmold and your high protein hemp heart tofu is ready to use!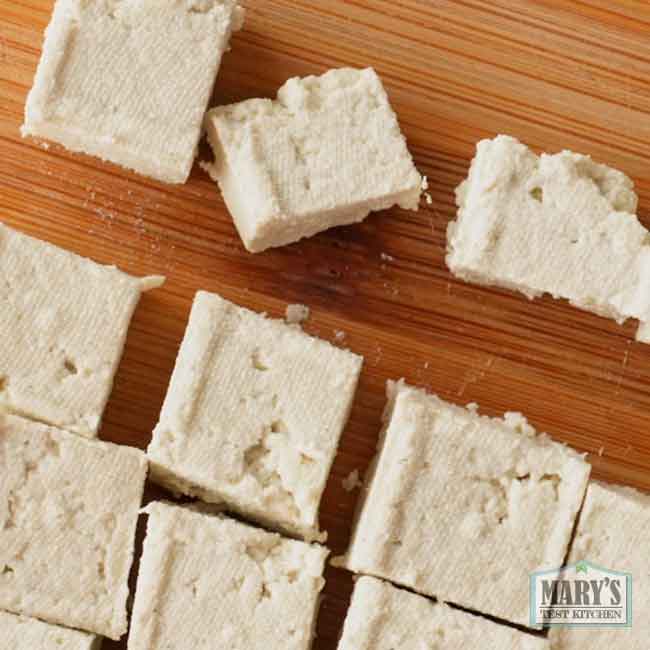 Printable Recipe for HempFu (Tofu from Hemp Hearts)
Yield: 380g (13.4oz) hemp heart tofu
Hemp Heart Tofu (HempFu!)
This high protein, low carb hemp heart tofu is made in the traditional soy-tofu method but with 2 LESS steps! Easy-peasy!
Starch Settling Time
1 hour
Total Time
2 hours
30 minutes
Ingredients
1 pound hemp hearts aka shelled hemp seeds (454g)
water
Instructions
Blend the hemp hearts with double their volume in water for 10 seconds in your high speed blender. Double or triple the time if you're using a conventional blender. Then, strain the creamy puree through a fine nut milk bag over a large bowl or pot. Continue squeezing until the pulp is quite dry. Reserve the pulp for making crackers or season it to make a quick vegan spread.
Transfer milk to large cooking pot. Turn heat up to medium high or high and bring milk to a simmer. During this time, the milk will start to coagulate. As it does, stir gently to prevent anything sticking to the bottom or sides of the pot. When a gentle simmer is achieved, control the heat and keep cooking for a few minutes to maximize the curd yield.
Afterwards, let the curds cool until easy to handle. Use a slotted spoon to transfer the curds to your cloth-lined tofu mold. Try to spread the curds in evenly. Then add the top and secure. If using my preferred tofu mold, just twist the knob until it stops; do not force it. Pour off excess water using the vents. Please in fridge to cool overnight. If using weights, use about 5 lbs of weight, pour off excess water and place in fridge. The next day, gently unmold and your high protein, soy-free hemp tofu is ready to use!
Notes
Hemp tofu is super rich and more filling than regular tofu due to the high fat content. Because of this, it's a wonderful salad topper, used more like a cheese or condiment. I like to season and cook it to make a tasty bacon-like crumble.