Vegan Dry Pot "Fish" is made possible with the genius creation that is Gardein Golden Fishless Fillets and the increasingly popular Chinese Dry Pot. This colourful stir-fry of vegan not-fish and vegetables is ultra flavourful thanks to aromatic spiced oil infused with mouth-numbing Sichuan peppercorns, zesty dried tangerine rind, and more flavourful spices.
This is not a sponsored post and I have no business relationship with Gardein. But I wouldn't say no, ya know?!
Click here for the printable recipe.
Pin this recipe.
Video tutorial for Vegan Dry Pot "Fish"
Special thanks to Wes who requested this dish. I had not heard of Dry Pot before that email!
What is Dry Pot?
Basically, Dry Pot is the soupless version of Chinese Hot Pot. Chinese Hot Pot is all about the communal experience. Friends and family gather around a (usually) single pot filled with bubbling broth set over a fire or (more likely in modern times) over electric heat. Some pots will only hold one type of broth. Other pots have a divider so you can have two types. A wide variety of foods sit around the table ready for diners to slip into the broth to cook. Vegetables and mushrooms are cut into single bites. Protein (commonly meat, tofu, and vegetarian meats) is thinly sliced for quick cooking.
In Hot Pot, everyone drops in their choice of ingredients and fishes them out with a mini wire ladle or long chopsticks when the food is cooked to their liking. If you were being polite, you might drop some in for an elder. In loving gestures, you may do the same for your friends and family. As you wait for your food to cook, you'll have time to catch up with everyone. This is a fantastic meal for celebrations and special occasions. There are many styles of Chinese hot pot; some with spicy strong broths, some with super light clear broths (the kind I grew up with). There are also hot pot variations in different countries like Shabu-shabu and Sukiyaki from Japan.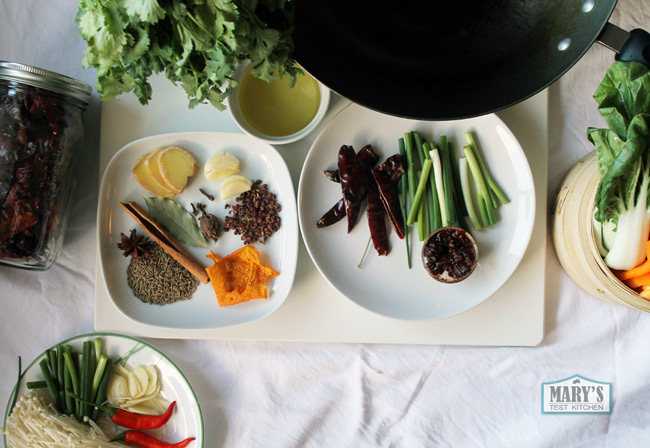 Dry Pot captures the essence of hot pot with the intention of eating together, the variety of ingredients to please different palates, and the single communal pot. The difference is that the ingredients are all stir-fried together before eating instead of being cooked slowly with participation from all the diners. Also, having been originally popularized in Sichuan province, the flavours are bold and spicy like Sichuan-style hot pot.
When making Dry Pot, choose ingredients that you know your guests will love. In this version of Vegan Dry Pot "Fish", I used bell pepper, bok choy, and enoki mushroom for the variety of colours and textures. You really can throw in anything you like. Add seasonal ingredients or just choose what you and your guests like. Make it mild or spicy hot. You can even turn this recipe into Vegan Dry Pot Tofu by using your choice of prepared tofu or Vegan Dry Pot "Chicken" by using store-bought vegan chicken tenders or a batch of The Best Vegan Fried "Chicken."
Special ingredients for Vegan Dry Pot "Fish"
The first special ingredient is the vegan "fish." I use Gardein Golden Fishless Filets which are incredible. I enjoy many Gardein products but the Fishless Filets are hands down their most convincing item. The flavour is just like regular fried fish filets; maybe not as fishy tasting as some and that's a good thing! They don't have an overly ocean-y seaweed flavour like other fish alternatives that I've tried. Also, the flaky texture of the filets is amazing. The first time I had them, I could not believe they were not actually fish! Happily, they are available at most major supermarkets in my area (Calgary, Canada) and are widely available in the USA. Find them in the freezer section. At Superstore, find them in the freezer section of the natural foods aisle. Please let me know in the comments if you see it in other countries or if you know of other very-convincing vegan fish products.
The other special ingredients for vegan dry pot create the ultra flavourful spiced oil that will permeate through the whole dish. You can buy them at Chinese grocery stores and from well-stocked spice shops and aisles. Indian grocery stores will also often have all or most of the ingredients. If you can't find them locally, search for them online or link through the links below. These are Amazon affiliate links which means I'll earn a small commission if you purchase through them at NO extra cost to you. Even if you choose not to buy from Amazon, you can use the product info to find them on your own.
The other spice oil ingredients are more common: whole cumin seeds, a bay leaf, a cinnamon stick, fresh ginger, garlic, and green onions (scallions). You'll combine the dry spices and citrus peel with oil and infuse over low heat for 20 minutes.
Meanwhile, bake up the Fishless Filets, start your rice cooker (or cook noodles or other grains as you like), and prepare your vegetables and other add-ins. When the Fishless Filets are done, the oil will be too. You can keep the "fish" warm in the oven with the door open while you quickly proceed with the stir-fry.
Add the fresh aromatics, whole dried chilies and fermented broad bean chili paste and let them get fragrant. Then dump in the vegetables to cook quickly. Then the vegan "fish" can be folded in and you'll be ready to serve. I hope you give this recipe a try and let me know what you think in the comments below.
Thanks so much for visiting! Special thanks to everyone who has sent kind messages while I've been away. 2018 has been an emotional roller-coaster and losing Charlie was/is the hardest thing. At the same time, you have been such a light; your support means more to me than you can ever know. The biggest lesson I learned was that there is no substitute for attention. Don't let things that are not so important distract you from really focusing and engaging with your loved ones. Happy new year, everyone!
Printable recipe for Vegan Dry Pot "Fish"
Yield: 3 to 4 servings
Vegan Dry Pot "Fish"
Dry Pot Fish is made Vegan easily with this colourful stir-fry of vegan fishless fillets and vegetables. It's ultra flavourful thanks to with aromatic spiced oil infused with mouth-numbing Sichuan peppercorns, zesty dried orange/tangerine rind, and more flavourful spices. I used Gardein Golden Fishless Filets as they are widely available and the best vegan fish alternative I have tried so far.
Dry pot is the soupless version of Sichuan-style hot pot and involves much of the same flavours. Like traditional Chinese hot pot, it can be customized. Add seasonal ingredients or just choose what you and your guests like. Make it mild or spicy hot.
Turn this recipe into Vegan Dry Pot Tofu by using your choice of prepared tofu or Vegan Dry Pot "Chicken" by using store-bought vegan chicken tenders or a batch of The Best Vegan Fried "Chicken.
Serve Vegan Dry Pot "Fish" right in the wok or a large serving dish in the middle of the table along with steamed rice and dig in! Dry pot, like hot pot, is all about sharing, enhancing the bond between family and friends.
Ingredients
Step 1 – Spiced oil:
1/4 cup vegetable oil (such as canola or peanut)
2 teaspoons Sichuan peppercorns
1 1/2 teaspoons whole cumin seeds
1 star anise
3/4 teaspoon fennel seeds
1 cinnamon stick
1 bay leaf
3 cloves
1 black cardamom, smashed
1 dried tangerine zest, about 2″x2″ piece
Step 2:
1 package Gardein Golden Fishless Fillets (or favourite vegan fried fish alternative)
Step 3:
1 tablespoon doubanjiang (fermented broad bean chili paste)
1″ ginger, sliced into thick rounds
2-3 cloves garlic, smashed
2 green onions, sliced into 2″ lengths
6 whole dried chili peppers
Vegetables:
3 cups bok choy, stems separated
1 orange bell pepper, sliced
3.5 oz (100g) enoki mushroom
2 green onions, sliced into 2″ lengths
2 cloves garlic, sliced thin
2 Thai red peppers (optional)
Garnish:
chopped cilantro (optional)
Instructions
Preheat your oven to 425°F for the vegan "fish."
Make spice oil:
Combine oil, dry spices and tangerine zest. Cook over low heat for a minimum of 20 minutes ensuring the oil has good contact with the ingredients. A small saucepan would work well though you can do this directly in your large wok or skillet for a one-pot dish.
Prepare other ingredients:
While the oil is infusing, bake the Gardein Fishless Filets according to the package instructions (20 minutes).
During this time, you can also start your rice cooker to make a side of rice or cook other grains/noodles to accompany the meal.
Also, set up your other ingredients so they can go into the stir-fry quickly.
Stir-fry:
When the Fishless Fillets are done, you can open the oven door but keep them in there to keep warm. Meanwhile, add in the fermented broad bean chili paste turn up the heat a touch towards medium and let it fry for 15 seconds or so until it really gets fragrant.
Then add the dried whole chilies, green onions, smashed garlic, and ginger. The dish won't be very spicy as is but you can cut into one or more of the chilies if you want to turn up the spicy heat in this dish.
Stir fry for 3 to 5 minutes for the flavours to infuse but don't let the chilies burn.
Push everything in the wok to the side and add your veggies: bok choy, orange pepper, sliced garlic, more green onions, and enoki mushrooms. Also add Thai red peppers if you like. Keep them whole for less heat, break one open for more spicy heat. Fold together thoroughly, then cover the wok and let cook for a few minutes or until the vegetables are done to your liking.
Uncover and add the Fishless Fillets. Fold together and serve immediately with rice (or grain of your choice). Enjoy!
Notes
Special Ingredients
For some of the ingredients, you may have to go to your local Chinese grocery store. Many can be found conveniently online, such as:
Substitutions
The vegetables in this dish are just a suggestion. Feel free to substitute other Chinese greens, mushrooms, and colourful vegetables. Precook starchy vegetables like yam or squash since they will only be stir-fried quickly.
Also, instead of cilantro, you may want to try other herbs like fresh mint, Thai basil, dill or a combination!
This recipe should serve three to four people. Feel free to multiply the ingredient amounts for more if you're having a bigger dry pot party; just extend the cooking time for the vegetables a bit but the timing for everything else should stay about the same.
Nutrition Information:
Yield:
4
Serving Size:
1
Amount Per Serving:
Calories:

210
Total Fat:

15g
Saturated Fat:

1g
Trans Fat:

0g
Unsaturated Fat:

13g
Cholesterol:

0mg
Sodium:

320mg
Carbohydrates:

18g
Fiber:

5g
Sugar:

8g
Protein:

4g
Nutritional Information automatically calculated by a plugin and may not be correct.
Let me know in the comments below if you have any questions and I'll do my best to answer. And let me know how it goes if you do make this! Maybe take a pic and tag me on
Instagram
. I simply love seeing what you do with these recipes.