DIY Homemade Vegan Frozen Pizza is the convenience you never knew you needed (or maybe you did and that's why you searched for it and here you are!) Let's face it. The selection of store-bought frozen vegan pizzas is still a little sad. The toppings usually aren't too bad but they're limited. The crusts are barely passable. And often pretty expensive for what you get. Make them yourself and you'll have a way better experience, with better ingredients, tastier toppings and satisfying crusts; more value for the cost. Try the Mushroom Forest Pizza or Habanero Buffalo "Chicken" Pizza for your toppings and put them on thin crispy gluten-free crusts or puffy no-knead wheat-based crust.
Click here for the printable recipe.
Included in this post:
Video tutorial for DIY Vegan Frozen Pizza
This video was sponsored by Thrive Market.

Normally, I whip together a no-knead wheat-based crust for my pizzas at home. But I love my gluten-free friends too much leave you out of this DIY frozen pizza "meal prep"!
For the gluten-free crust, I recommend Bob's Red Mill Gluten-Free 1 to 1 Baking Flour. It works really well and does not have any funny taste like many gluten-free blends do. For those in Canada, you can also use Bulk Barn's gluten-free 1 to 1 baking flour. They have the exact same ingredients.
For the regular wheat-based crusts, you can make them thin or thick. For thinner crusts, sprinkle flour over the mounds of risen dough and roll out. For thicker crusts, just stretch out the dough with wet or oiled hands.
You'll parbake the crusts, meaning baking just until they are cooked through but still pale. This ensures that the crust will bake up perfectly after freezing. Just let them cook completely on wire racks before adding the sauce and other toppings.
Mushroom Forest Pizza
Mushroom Forest Pizza has a bevy of nutritious, delicious toppings inspired by nature: greens, lentils, sweet caramelized onions, and pine nuts. It goes perfectly on thin, crispy crusts and is a wonderful autumnal pizza without the use of pumpkin. I'm not opposed to pumpkin but I have to admit, I'm a little over it this fall.
You'll want to make the caramelized onions ahead of time since they take almost 2 hours to complete. Make them in the oven so you don't have to be glued to the stove. Just slice up a few large onions, bake them at 400°F in a roasting pan or dutch oven with a lid and stir every 15 minutes. During the first hour, you might have doubts as nothing seems to happen. But quickly in the second hour, the colour will develop. Draw darker bits of onion to the middle and add splashes of water to dissolve the dark film around the edges.
Habanero Buffalo Tofu "Chicken" Pizza
The second pizza is my favourite of the moment: Habanero Buffalo Tofu "Chicken" Pizza. No chicken, obvs. It uses extra firm tofu, dry-fried in a pan to remove the moisture, then re-hydrated with DIY Vegan "Chicken" Broth and sauced up with homemade Habanero Buffalo Sauce. The Habanero Buffalo Sauce can be quickly blended together using vegan butter or butter-flavoured coconut oil and the habanero hot sauce of your choice. I chose Yellowbird Habanero Hot Sauce Condiment which I love because the flavour is just really sharp and fresh. Which, I know, is a funny way of describing hot sauce. But if you love spice and can find this Made in Texas sauce, I'd recommend giving it a try.
I love the Habanero Buffalo "Chicken" Pizza on thick, pillowy crusts. They come out soft on top but crispy on the bottom.
Freezing and Baking your DIY Vegan Frozen Pizza
Once your pizzas are topped, pop them in your freezer uncovered. You'll let them sit for an hour to three hours until the toppings are frozen solid. Then you can transfer them to freezer bags, suck out all the excess air, and seal. Taking out the extra air prevents ice crystals from forming over time. To reduce waste, I reuse my freezer bags. Just wipe them down between uses and store the empty bags in the freezer to prevent any pathogens growing. When they finally kick the bucket, you can recycle them.
To bake, preheat your oven to 425°F and place your pizza stone or baking tray on the middle rack. When the oven is hot, take the pizza out of the freezer and directly on the stone or baking tray. Bake for around 10 to 15 minutes or until the toppings are heated through. I don't recommend baking the gluten-free crust directly on the oven rack. The gluten-free crust can fall through if it's too thin. You can bake the wheat-based crust directly on the oven rack, though I prefer using a baking tray or pizza stone when making the buttery Habanero Buffalo Pizza. The melted coconut oil will drip down and sizzle around the edges of the pizza making it extra crispy and intensifying that soft/crunchy textural juxtaposition for ultimate pizza satisfaction.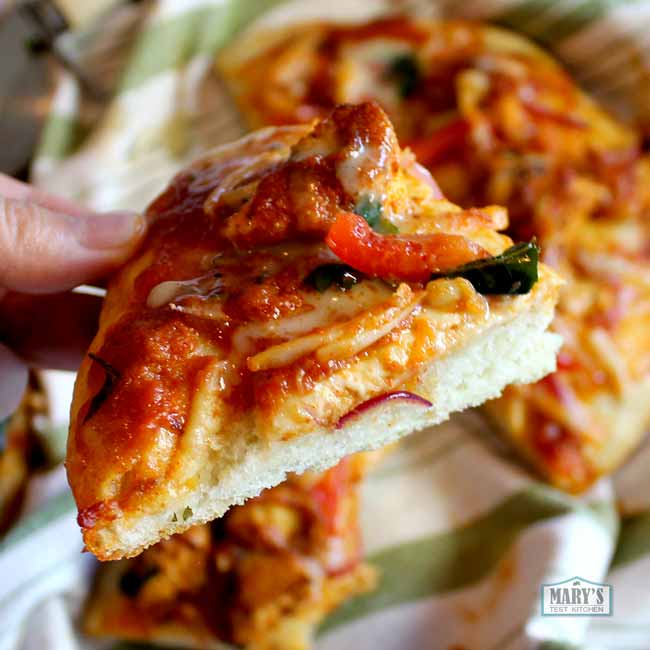 Printable recipe for DIY Vegan Frozen Pizza (wheat-based)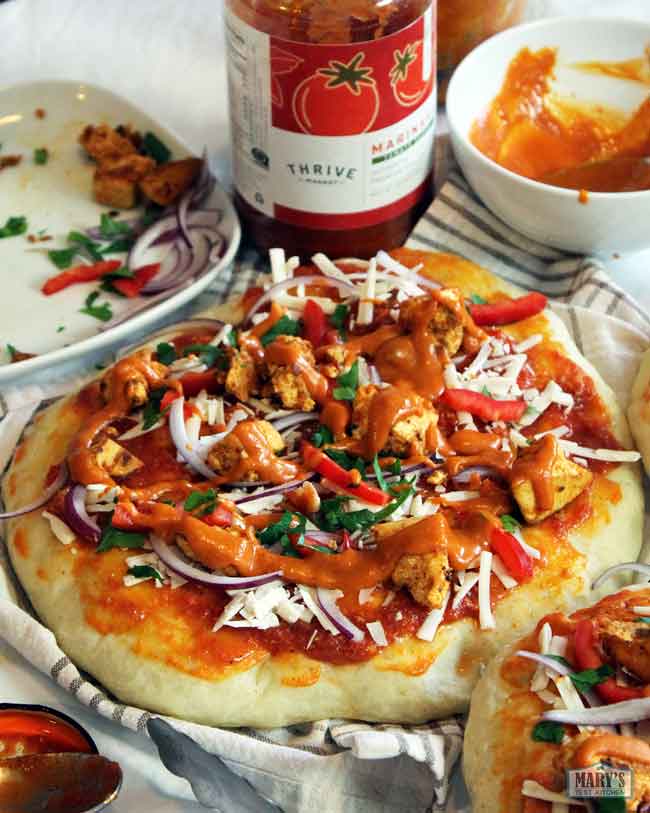 DIY Vegan Frozen Pizza (regular wheat-based)
2018-10-30 15:29:26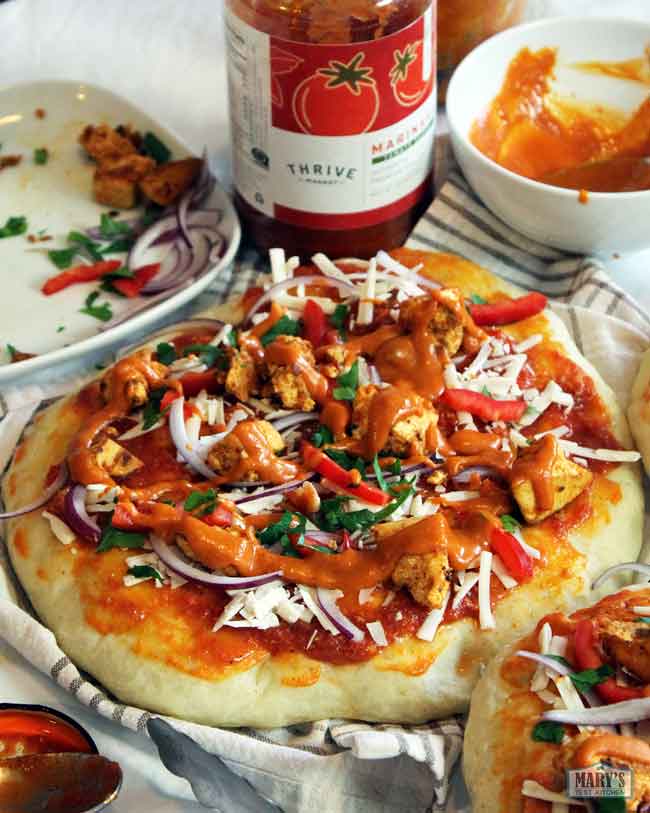 This recipe makes two 10" pizzas or four 6" personal sized pizzas or 1 x 10" and 2 x 6" with puffy crusts. You may produce more pizzas, or larger pizzas if you make them thin crust.
Watch the video tutorial here
.
Ingredients
1 tablespoon ground flax seed
3 tablespoons water
1 teaspoon sugar
1 1/4 cup (300ml) warm water, 105°-110°F
2 teaspoons instant or traditional yeast (one envelope)
3 cups all-purpose flour (wheat-based)
1 teaspoon salt
Pizza toppings
or choose your own.
Instructions
Remove any thing from inside your oven and make some space in your freezer so a tray or two can lie flat in it.
Combine ground flax seed and 3 tablespoons of water. Separately, in a large bowl combine sugar, warm water, and yeast. Let this yeast mixture sit for 5 to 10 minutes. During this time the yeast will activate and become foamy.
Give the ground flax and water a quick mix. It should be thick and goopy. Add it to the yeast mixture.
Add 3 cups of all-purpose flour and a sprinkle the salt over top. Mix until dough forms and there are no dry streaks. This dough will be very loose and requires no kneading. Cover and let dough rise for 30 minutes to an hour in a warm draft-free location or until doubled in size.
Prepare two baking sheets lined with parchment paper. Add a teaspoon of oil to each place where you will put your pizza crusts. See the video for demonstration.
Spread the oil out a little bit with clean hands. With wet or oiled fingers, divide the dough into the number of crust you would like. Place the dough on the oiled parchment lined baking sheets and spread the dough out. If the dough sticks to your hands as you try to spread the dough out and make the crust as thin as you desire, just add a little bit more oil to your hands or use water. If you desire a thin crust, add a little bit of flour to the tops so that you can really flatten out this dough.
Cover the dough loosely with a warm damp clean kitchen towel, making sure that the towel will not touch the dough as it rises. Let rise in a warm draft free location, about 30 minutes so it can double in size.
To make frozen pizza
Preheat oven to 400°F. Bake the pizza crusts for 10 minutes or until they are cooked through, but still pale on the top and bottom. For thin crusts, check on them at 5 minutes.
Let your pizza crusts cool completely on a wire rack.
Add the pizza sauce and toppings of your choice. I suggest the Habanero Buffalo Pizza toppings or Mushroom Forest Pizza toppings.
Place your topped pizzas uncovered in the freezer. Let freeze until the toppings are frozen solid; about 1 to 3 hours.
Wrap the frozen pizzas in plastic wrap or place in freezer bags. If you use freezer bags make sure to suck out all the extra air from the bag before sealing. Your frozen pizzas will store well for about two months though flavors can dull over time so try not to store them too long.
To cook frozen pizzas
if you have a pizza stone place it in your oven. If not, you can use a baking sheet placed upside down. Depending on the toppings, you may even bake directly on the oven racks. Preheat your oven to 425°F. When the oven is fully preheated, place the unwrapped frozen pizza directly onto the pizza stone or baking sheet. Bake for 12 to 15 minutes or until the toppings are completely heated through. Larger pizzas with more toppings may require a few extra minutes. Enjoy!
To make fresh pizzas, not frozen
Top the uncooked risen pizza bases with your choice of toppings. I suggest the Habanero Buffalo Pizza toppings or Mushroom Forest Pizza toppings. Bake at 425°F on a pizza stone or baking sheet for 10 to 15 minutes or until the toppings are heated through and the crust is golden. If you're baking on two racks, rotate the trays halfway through. For an extra crispy crust, after baking only about 8 minutes, the crust should be solid enough so you can remove the baking sheet and let it bake directly on the oven rack for the remaining time. However, if you're making Habanero Buffalo Pizza, you should still use a baking sheet/pizza stone for the whole time.Enjoy!
Mary's Test Kitchen https://www.marystestkitchen.com/
Printable recipe for DIY Gluten-Free Vegan Frozen Pizza
Printable recipe for Vegan Mushroom Forest Pizza
Printable recipe for Vegan Habanero Buffalo Tofu "Chicken" Pizza