This Vegan Korean Fried Chicken recipe with red spicy, sweet and sour gochujang sauce coating crispy crunchy golden nuggets of flaky tofu "chicken" is unbelieveably delicious! And baked (or air-fried) for an oven-fried effect without the hassle of deep-frying!
Skip to the printable recipe.
Pin this for later.
Click here for brands of tofu recommended for Twice Frozen Tofu.
Video Tutorial for Vegan Korean Fried Chicken (bake or use air fryer)
How to Make Vegan Korean Fried Chicken
First, you'll prep your vegan chicken, marinate it if using my flaky tofu chicken technique, do a simple 3-step dredge, then oven or air fry. Meanwhile, make the sauce so it'll be ready by the time your vegan chicken becomes crispy, golden and delicious!
0. Choosing your Vegan Chicken for Korean Fried Chicken
For the most delicious Vegan Korean Fried Chicken, I'm biased to using my original double frozen flaky tofu "chicken". But that does take some planning if you don't already have it in your regular rotation. So if you're in a hurry, start with an unbreaded vegan chicken product. You can simply mold it into nugget shapes and skip directly to the 3-step dredge.
If you're not in such a hurry and want to make (imo) the BEST Korean (not) Fried (not) Chicken, then read on for details OR jump to transforming your tofu into flaky tofu "chicken".
Tofu has the power to transform into a very chicken-like tender, flaky texture when it's the right firmness: medium firm. When it's frozen, horizontal layers of ice form, leaving these layers in place when it thaws. However, this very tender tofu breaks easily when pressed so another round of freezing and thawing is necessary to firm up the structure before being pressed and separated into "nuggets".
Double Frozen Flaky Tofu Chicken Origins
A few years ago, I created this process when kept forgetting about my tofu about to expire. I air-fried some defrosted medium firm tofu and found the texture much different from other types of frozen tofu. The layered texture reminded me of chicken, the tenderness more like dark meat than dry and dense white meat. And it was easier to press dry and infuse with flavour.
Through experimentation, I figured out that double freezing yields the best results from flaky tofu even though double freezing did nothing good for firmer varieties.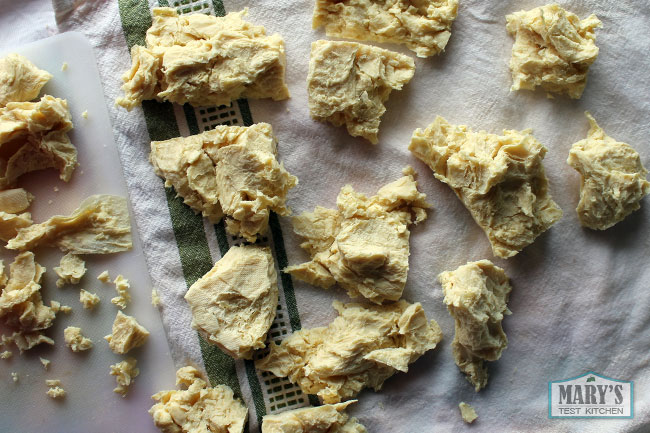 Then, after pressing the tofu, dividing them into pieces and drying even more, the flaky tofu becomes perfect for absorbing some strong chicken-style broth. After adding a classic 3 step dredge, it makes fantastic fried "chicken" whether deep-fried or baked.
Tofu Brands for Mary's Flaky Tofu "Chicken"
While I have a homemade medium firm tofu tutorial in production, as of right now, the best choice is to find a brand of medium firm tofu that does the hard work for you! So together with a team of volunteer testers, plus feedback from commenters, here's a list of tofu brands and varieties that have been proven to provide flaky results.
Recommended Brands of Medium Firm Tofu
Sunrise | Medium Firm Tofu
Sunrise | Traditional Tofu (highly recommended! Comes in 700g packs!)
Superior Tofu | Medium Firm
House | Medium Firm (sometimes is too firm but sometimes works)
House | Soft (a few viewers liked the result from this; I haven't tried it myself)
Trader Joe's |Organic (magenta label, no firmness indicated on package)
Fortune | Smooth Silken Pressed Tofu (for those in Australia)
Caution about using Soft Tofu: I find that while it does go flaky, soft tofu tends to get mushed up with you try to press it. Or, it appears to work at first but at first bite, you can feel the mushy difference.
A Note about Spongy Medium Firm Tofu
Many other brands of medium firm tofu will go spongy instead of flaky when frozen (pictured below). However, I still encourage you to use them if you can't get any flaky varieties! They will still be easily pressed and taste delicious. If you get a brand that goes spongy, remember next time that you only have to freeze and thaw ONCE! Freezing and thawing spongy tofu twice doesn't help the texture. So in that way, you have an advantage!
Brands that don't turn flaky
Sprouts | Medium (one commenter has reported success with Soft)
Nasoya | Firm
DSI | Fresh Tofu (still very delicious!)
Unisoya
Aloha | Firm
Ota | Medium
Soyganic | Firm
Banyan | Medium Firm
Melissa's Organic | Firm
1. From Medium Firm Tofu to Mary's Flaky Tofu "Chicken"
For this recipe, you'll need 700g (24oz) of medium firm tofu. Not all brands are the same; some labelled medium firm can actually be a tad too firm, leading to spongy results rather than flaky. So after these steps, I've included a list of tested tofu brands and varieties. Also to make sure it's fresh, you'll want to choose packages with expiry dates as far into the future as you can. With your tofu in hand, follow the steps below to transform medium-firm tofu into flaky tofu "chicken".
Do not open the package. Instead, just put it in the freezer to freeze solid; about 6 hours or overnight.
Then put the frozen block in your refridgerator to thaw. About 48-72 hours depending on fridge temperature.
Once thawed, place the tofu back in the freezer. Again, do not open the package.
When solid, you can keep it in there until you need it. Thaw again in the fridge OR use a water bath to speed up the process OR defrost in the microwave.
When completely thawed the second time, press the tofu block(s) using a tofu press, tofu mold, or you can improvise with a couple cutting boards. Press as much water as possible out of the tofu. I also like to follow up by blotting with a clean kitchen towel.
Alfterwards, break the tofu into nuggets. You'll probably find that the tofu doesn't need a lot of help to break into pieces; let them fall as they will. You'll also have a some bits leftover. Don't worry; we'll use them too. I usually make 8 to 10 large pieces from 700g (24oz) of tofu; smaller bite-sized pieces are fine too. Finally, with a clean dry cloth, blot the tofu nuggets to get as much moisture out as possible.
2. Marinate
After pressing the tofu, you can reintroduce moisture, but this time, in the form of flavourful vegan chicken-style broth. Use twice the amount of paste or powder to make the broth. If you're using liquid broth, boil it down to 1/2 volume so the flavours are concentrated.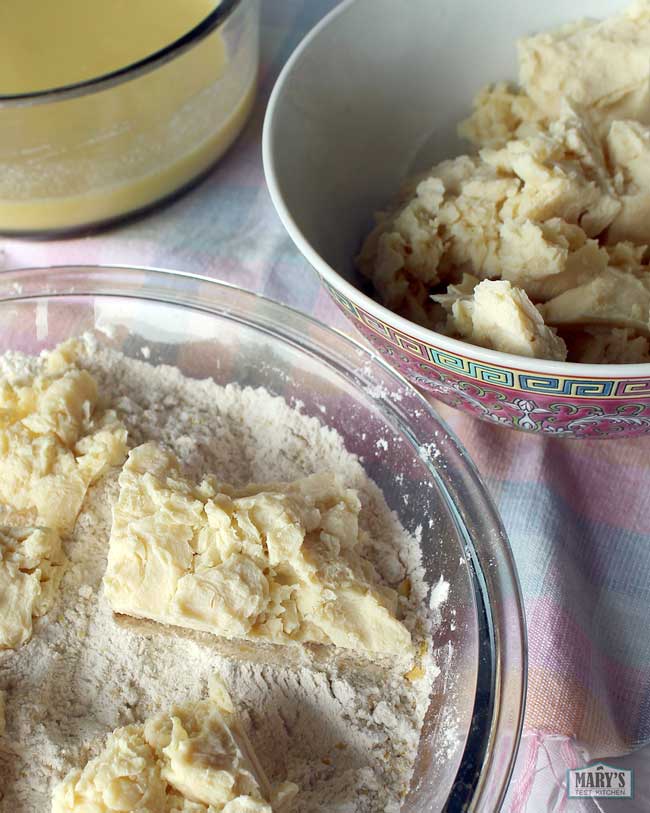 When you have your bowl of broth, add the tofu to it. Try to make sure the layers sit flat, then press down and let go so the tofu pieces can soak up the broth. Some of the tofu will want to fall apart at this point so handle with care. You might end up with a few more pieces than you started with; I did!
By the way, if you skip the "chicken" broth step, the tofu will hold together better. However, the end result will not have that juicy flavour. So it will resemble dry chicken breast and have more of a pronounced tofu flavour. That said, if you're going to add a very flavourful sauce afterwards, or you're in a hurry or just want to get this done quickly with less mess, well, this is your vegan fried chicken and there are no rules!
3. Three Step Dredge
Now your tofu (or store-bought unbreaded vegan chicken) nuggets are ready for the three-step dredge: seasoned gluten-free flour, vegan egg wash, and seasoned flour again with the addition of crispy rice puffs to add a bigger crunch. But before you begin, preheat your oven to 425°F. Or if you're using an airfryer, there is no need to preheat.
Vegan Egg Wash
Mix 3/4 of chickpea flour with 3/4 cup of water to create a creamy yellow vegan egg wash. Alternatively, this recipe has also been tested with Vegan Egg by Follow Your Heart (Earth Island Foods in Canada). If you happen to have that on hand, use 2 tablespoons of vegan egg powder with 3/4 cup of cold water. Set your vegan egg wash aside and mix your seasoned flour.
Seasoned Flour Mix
While regular flour will do, I always use Bob's Red Mill 1-1 Gluten-free Baking Flour for this recipe just because it makes a lighter crispier crust. You can also try to lighten regular flour by replacing some with potato or cornstarch. In any case, mix the following ingredients together and then you'll be ready to start the dredging process.
1 cup regular all-purpose or gluten-free flour*
1 tablespoon nutritional yeast
1 teaspoon salt
1 teaspoon onion powder
1 teaspoon garlic powder
1/2 teaspoon white pepper
When you have the seasoned flour all mixed up, place your tofu nuggets in, cover and shake off any excess. Place the coated pieces on a parchment lined baking sheet.
Crispy Rice Seasoned Flour
Finally, add a cup of crispy rice cereal to the leftover seasoned flour and crush about half of them before mixing them in.
Now you can dunk your coated tofu nuggets in the vegan egg wash. Let the excess drip off before placing them in the crispy seasoned flour mix. Cover, pat them gently to press the crispy coating on, then transfer back to the baking sheet.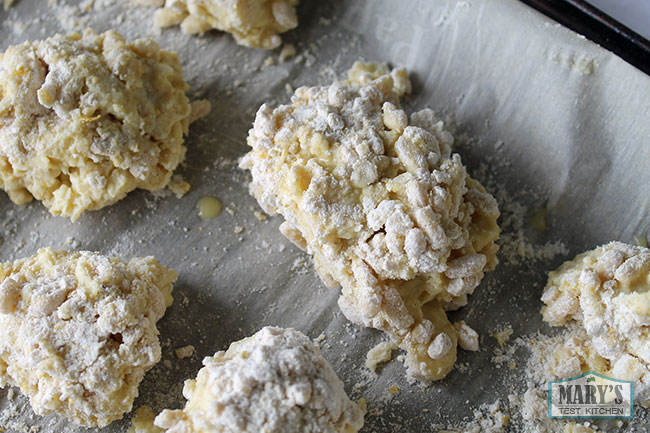 If you have bits leftover, you can do the same process with them and simply place the pieces together into nugget sized clumps. When they bake up, they will stick together.
4.A. Bake
Space out the coated vegan chicken nuggets on a parchment lined baking sheet and spray them with oil to ensure that oven-fried effect. If you don't have oil spray, you can simply drizzle some oil on each piece. Bake for 15 minutes before flipping the pieces and giving the other side a spritz of oil too. Then bake for another 15 minutes or until your oven-fried vegan chicken nuggets are golden and crispy.
4.B. Air Fry
If you're air-frying, you may have to work in batches. Place your coated vegan chicken nuggets in the air fryer basket, taking care to give each piece some room. Spritz them with some oil spray. Then air fry at 400°F for 10 minutes. Afterwards, flip the pieces, spray them again, and continue air frying for 10 – 15 minutes or until your air-fried vegan chicken nuggets are golden and crispy.
5. Making Korean Sweet & Sour Spicy Gochujang Sauce
While your vegan chicken nuggets are getting crispy in the oven or air fryer, you can make this super simple, super delicious sauce! The star of this sauce is the Korean Red Pepper Paste (Gochujang). This paste can be found in Korean and some East Asian grocery stores, and if you're particularly lucky, the international aisle of your local supermarket. One thing to note is that Gochujang normally contains wheat and so is not gluten-free.
This salty fermented chili paste is not easily substituted but it is similar in flavour to Chinese Broadbean Chili Paste (also not gluten-free though). In my opinion (looking only at taste and texture), the difference is that Gochujang is made into a smooth paste, is seasoned with garlic and onion, plus it's sweetened with syrup. So if you're living where you can get one but not the other, you might be able to MacGuyer yourself a suitable substitution.
Simply combine the following, then heat it on the stove or in the microwave until bubbling.
¼ cup seasoned rice vinegar

3 tablespoons ketchup

3 tablespoons sugar

2 tablespoons gochujang (Korean red pepper paste)

1/2 teaspoon onion powder

1/2 teaspoon garlic powder

1/8 teaspoon ginger powder
These amounts make just enough to coat the nuggets but if you want to get extra saucy, feel free to multiply the ingredients. Extra sauce can be stored in the fridge for two weeks.
Finally, when your crispy oven-fried vegan chicken is done, toss them in the sauce! I find it easier to work in half batches to get them well coated. To serve, garnish with chopped green onion and toasted sesame seeds. Enjoy!
Printable Recipe for Vegan Korean Fried Chicken (Baked or Air Fried)
Yield: 4 servings
Vegan Korean Fried Chicken (in oven or air fryer)
This Vegan Korean Fried Chicken is sweet, spicy, sticky and crunchy without the mess of deep-frying. Plan ahead and use my double frozen flaky tofu technique to transform medium firm tofu's texture (3 days). Then infuse with vegan chicken flavour, add a super crunchy dredge and bake for a super crispy oven-fried coating. Finally, toss in sweet gochujang sauce and enjoy!
Freezing and Thawing Tofu
3 days
Hands-On Prep Time
15 minutes
Total Time
3 days
45 minutes
Ingredients
24oz medium firm tofu (700g), click here for tested brands
1 cup double-strength chicken-style broth
seasoned flour
1 cup all-purpose flour (1-1 gluten-free blend is recommended)
1 tablespoon nutritional yeast
1 teaspoon salt
1 teaspoon onion powder
1 teaspoon garlic powder
½ teaspoon white pepper
1 cup crispy puffed rice cereal (AKA Rice Krispies)
vegan "egg" wash
¾ cup chickpea flour (or 2 Tbsp FYH VeganEgg powder)
¾ cup ice cold water
sauce:
¼ cup seasoned rice vinegar
3 tablespoons ketchup
3 tablespoons sugar
2 tablespoons gochujang (Korean red pepper paste)
1/2 teaspoon onion powder
1/2 teaspoon garlic powder
1/8 teaspoon ginger powder
garnish
toasted sesame seeds
chopped green onion
Instructions
Double Frozen Flaky Tofu Method
1st FREEZE: Place unopened package(s) of tofu in the freezer and freeze until solid (about 6 hours to overnight). This changes the texture from smooth to flaky. Also, make sure it doesn't expire any time soon!
1st THAW: Once solid, let thaw completely (48-72 hrs in fridge). Faster methods combine room temp or cold water bath + refrigerator methods but be careful as you must avoid letting the tofu sit above 40°F (5°C) . You can check that it's thawed to the middle by gently squeezing the package; you will be able to feel the difference.
2nd FREEZE: As soon as it's thawed, put it back in the freezer to freeze solid (6 more hours or overnight). This makes the flaky tofu more sturdy and easier to press completely when thawed.
2nd THAW: Thaw completely. You can do this faster by defrosting in the microwave or using the cold water bath method. Tofu that has been thawed the second time should be consumed as soon as possible; within two days. If not, see Notes.
Prepare Flaky Tofu "Chicken" Pieces
Drain thawed tofu and press out as much water as possible. The tofu will be delicate; handle gently. Use the natural layers and cracks to break the tofu into rough bite-sized pieces. You may have some small bits leftover; save them. Let the tofu rest on a clean kitchen towel while you prepare the next steps. Also, preheat your oven now to 425°F. If air-frying, you will not need to preheat.
Prepare 3-step Dredge and Vegan Chicken Marinade
Mix the seasoned flour ingredients EXCEPT the crispy rice cereal. Separately, mix chickpea flour with ice cold water and whisk until smooth. It should resemble a thin crepe batter.
Prepare double-strength vegan chicken-style broth in a third bowl. If using broth powder, paste or cubes, use double the amount of product called for making 1 cup of broth. If using prepared liquid broth, use two cups and boil it down to 1 cup and cool before using.
Dip n' Dredge
Blot the tofu pieces one last time with a clean dry kitchen cloth, then arrange them in the vegan chicken broth. Gently press on them so that they soak up the marinade. Drain off any excess (there really shouldn't be much more than a tablespoon if you got the tofu dry enough earlier).
Next, coat all the tofu pieces in seasoned flour by transferring a few pieces to the flour at a time, covering with some flour, and scooping them up with loose fingers and shaking any excess off. Place on a plate or baking sheet and repeat with the rest.
For any smaller bits of tofu, toss in seasoned flour, shake off excess and gently place together to create nuggets. They will stick together once baked.
Next, add the crispy rice cereal to the seasoned flour. crushing about half with your hands before mixing well. Also, give the chickpea "egg" another stir.
Then starting with the tofu you coated first, dip the pieces in chickpea mixture and let the excess drip off. Place them into the seasoned flour again, cover gently and lightly pat so the rice crisps stick on well. Place the coated piece back on the plate or baking sheet. Repeat with the rest. Then you can oven-fry or air-fry. While they are cooking, make the sauce.
Oven-Fry
Spray or drizzle the coated nuggets generously with oil. Then bake in a preheated oven at 425°F for 15 minutes before flipping the pieces, spraying with oil again, and baking for another 15 minutes. Total bake time of 30 minutes or until the tofu "chicken" is golden and crispy.
Air-Fry
Lightly spray your air fryer basket with oil. Place the coated vegan "chicken" pieces in the basket, leaving an inch of space around each piece. Spray the tops of the pieces with oil, then air-fry at 400°F for 10 minutes.
Flip the pieces, spray oil on the other side and air-fry for another 10 - 15 minutes or until they are golden and crispy on the outside. Avoid leaving them in the air fryer too long or they may become too dry on the inside.
Make Korean-Style Sweet & Spicy Sauce
In a small saucepan, combine sauce ingredients (reserve 1 tablespoon rice vinegar) and heat until bubbling. Alternatively, microwave until bubbling.
Taste and adjust. You can dilute it with more ketchup/rice vinegar/add more sugar if it is too spicy.
Finish
When your vegan "chicken" is ready, transfer it to a large mixing bowl, pour over the sauce and fold to coat every piece. Transfer to your serving dish, garnish with toasted sesame seeds and chopped green onion, and enjoy!
Notes
Mary's Flaky Tofu "Chicken"
Not all varieties of tofu behave the same when frozen. Please see the list of brands tested.
Twice Thawed Tofu
If you have Twice Thawed Tofu but don't have time to make the recipe right away, drain and press it very well now. Then break it into bite size pieces, dry them as much as possible, put in a freezer bag, squeeze out all the air, and freeze again. Label it and make sure to use it within a month or two.