This creamy pasta dish is an extremely easy version of Vegan Noodles Romanoff but it still tastes absolutely incredible! Made in under 20 minutes, it's sure to become a weeknight staple!
Pin this for later or Skip to the Printable Recipe.
Video Tutorial for Easy Vegan Noodles Romanoff
About this Easy Vegan Noodles Romanoff Recipe
Thanks to a viewer request, I had to look up what Noodles Romanoff was! I was surprised to realize that I have had this dish of white cheesy cream sauce and wide pasta noodles many times but under different names. And mainly from convenient instant pasta packages.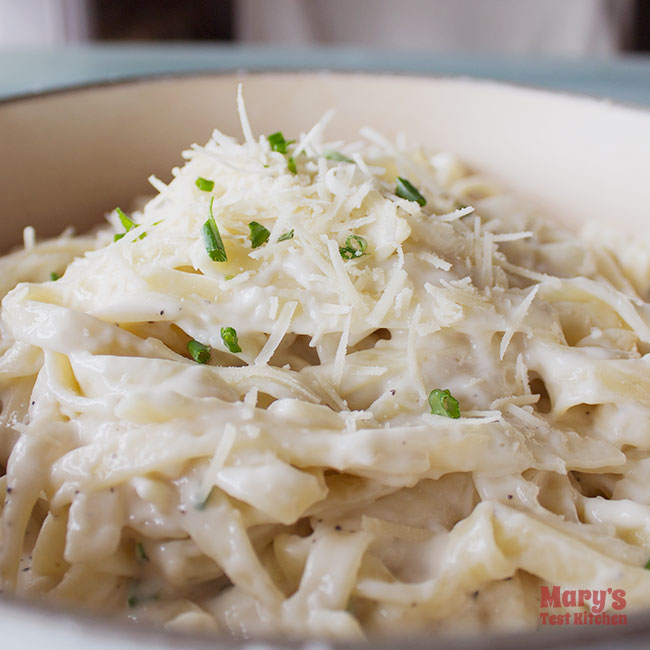 However, the original Noodles Romanoff is credited to the Romanoff's restaurant in LA in the 1950's. Later, it appeared at Stouffer's Top of the Rock Restaurant in Chicago. Then it was transformed into a frozen food version by the same brand; Stouffer's. From then, other food companies started to produce them too.
With this history and various historical recipes as inspiration, I made this easy vegan Noodles Romanoff recipe using modern vegan dairy alternatives.
How to make Easy Vegan Noodles Romanoff
This recipe for Vegan Noodles Romanoff is too easy. Simply cook pasta in one pot and while that's going on, stir the sauce ingredients together in a pan.
Then, add your cooked noodles to the sauce and fold to coat them in that delicious cheesy vegan white sauce. And if the noodles absorb too much moisture and the sauce starts to look sticky instead of creamy, add a bit of pasta cooking water and stir in until it's glossy and perfect. Voila!
I hope you give this easy pasta dish a try and let me know how it goes. But if you're craving a more involved, from-scratch version (say, without store-bought vegan dairy alternatives), please let me know in the comments.
Printable Tutorial for Easy Vegan Noodles Romanoff
Yield: 2 main dish servings
Easy Vegan Noodles Romanoff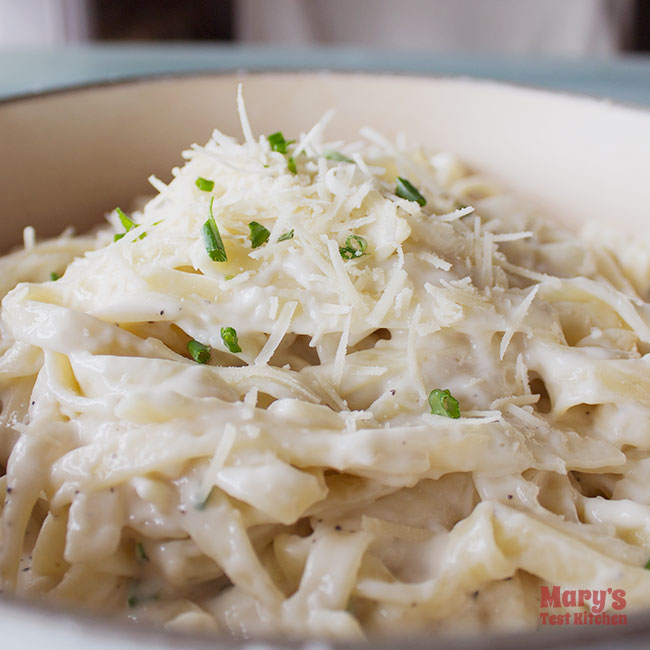 An extremely easy version of Vegan Noodles Romanoff that tastes absolutely incredible and is done in under 20 minutes!
Ingredients
7oz uncooked wide flat pasta noodles (200g)
1 cup vegan sour cream
1/2 cup plant-based milk
1/2 cup grated vegan parmesan
2 tablespoons vegan butter
1 tablespoon chopped chives
1 teaspoon minced garlic
1/2 teaspoon salt
1/4 teaspoon black pepper
dash of vegan worcestershire sauce
Instructions
Cook pasta according to package instructions.
Meanwhile in a wide pan, whisk together vegan sour cream, plant-based milk, 1/4 cup of the grated vegan parmesan, vegan butter, chives (reserving a pinch for garnish), garlic, and black pepper. Heat and stir until the cheese and cream melts together and the sauce becomes smooth.
Add cooked and drained pasta to the saucepan, add a dash of vegan worcestershire sauce, and fold to coat all the noodles.
Serve with more grated vegan parmesan on top and pinch of chopped chives. Enjoy!
Notes
Vegan Sour Cream
Choose a thick vegan sour cream for this recipe like Earth Island, Tofutti or Wayfare's vegan sour cream products.
Vegan Parmesan
Choose a vegan parmesan product that melts for this recipe. While homemade nut parm is a very tasty topping, it won't make a smooth sauce.
Vegan Worchestershire Sauce
Some generic brands of Worcestershire sauce happen to be vegan; check the ingredients list. Otherwise, try to find Wizards' Vegan Worcestershire sauce. If you can't find that, you can substitute with a little balsamic vinegar and soy sauce for the tangy and savory replacement
Nutrition Information:
Yield:
2
Serving Size:
1
Amount Per Serving:
Calories:

637
Total Fat:

43g
Saturated Fat:

33g
Trans Fat:

1g
Unsaturated Fat:

7g
Cholesterol:

57mg
Sodium:

1222mg
Carbohydrates:

45g
Fiber:

2g
Sugar:

11g
Protein:

18g
Nutritional Information automatically calculated by a plugin and may not be correct.