Capture the golden spirit of summer's end with these Vegan Peach Fritters made with fresh, juicy in-season peaches! You'll love to share these fluffy yeast peach fritter doughnuts with their crispy edges, caramelized peach pieces and tangy vanilla icing. Skip to printable recipe or Pin this for later.
Video Tutorial for Vegan Peach Fritters
Tips to make the BEST Vegan Peach Fritters
Ready to dive into making these awesome vegan peach fritters? Here's a few tips to ensure your fruity doughnuts come out delicious every time.
Choose delicious peaches
I love juicy, sweet in-season peaches the best. But if you like a tangier peach, feel free to use that! However, if you've missed the season and all you can get are canned peaches, you can use those too. Just drain them very well before using them in this recipe.
Learn to knead sticky dough
If you are not using a stand mixer, you'll have to knead this sticky dough by hand. Don't be intimidated; you've got this. Here's how:

Start with your dough on a clean work surface and don't flour it.
Gather the sticky dough in one hand and stretch it upwards. The other end will still be stuck to the table.
Fold the dough over on itself. Now grab the other side of the dough furthest from you, scraping up the dough with the same hand.
Lift it up off the table, then smack it on your table without letting go.
Stretch the dough by pulling up, then fold it over on itself. Scrape up the dough again and repeat. I find it easiest to do this with one hand on the dough. My other hand is then free to brace the table or use a scraper.
This kneading motion distributes all the ingredients throughout the dough and develops the gluten so the fritters will rise nicely when the time comes.
For this particular recipe, you don't have to knead very long; just about ten minutes. Afterwards, the dough will still be sticky but should be manageable enough to form into a ball and place back into the bowl to rise.
Cut Dough into Cubes with a Pizza Cutter
The easiest way to cut the cubes of dough for your fritters is using a floured pizza cutter! Just dip your sharp pizza cutter in flour, shake off the excess then draw lines into your flattened dough square.
The point of the shapes is to give your fritters those signature nooks and crannies for crispy edge bits and for your peaches to poke through. In the video, I separated the cubes before adding the chopped peaches but later I found that I liked the shape better then I didn't divide them up. Instead just take take 6 to 8 cubes still slightly attached together as the base, add the peaches, then place the other portion on top.
Use "Tent Poles"
Your assembled uncooked vegan peach fritters need to be covered when rising to prevent them from forming a dry skin on top. I find plastic wrap to be the best cover. However, if your fritters touch the wrap too much when risen, they tend to stick and then tear, which easily deflates the fritter. To avoid this, add "tent poles" in the form of narrow cups in the middle of your baking sheets. This will give the uncooked fritters lots of room to double in size.
Fry at the right temperature to avoid greasy doughnuts
To make perfectly cooked, non-greasy doughnuts, make sure your frying oil has reached 350°F and keep it between 350° and 375°F while you're frying your peach fritters. If the temperature is too low, the doughnuts will absorb the oil and you'll have heavy greasy fritters on your hands. Avoid this by monitoring your frying thermometer, adjusting the heat as needed, and frying in small batches. Patience is the key to great peach fritters!
Fry for less time than you think!
Because doughnuts keep cooking even after you take them out of the hot oil, take your fritters out a little before they get as dark as you'd like. I like to take them out when they are a light golden brown. They will darken to a medium golden brown by the time they've cooled completely. Plus, the peaches will go from just caramelized to burnt-looking if they get overdone.
If you're not sure, time yourself and fry just one doughnut at a time and let it cool for 10 minutes. Then you can inspect your results and check that the inside is completely cooked through.
Watch the video!
Hype yourself up for your doughnut-making endeavour by watching the video tutorial! Plus, you can get a better idea of the workflow, the texture of the dough you're working with, and what the fritters should look like at each step.
Leave me a comment!
If you're unsure of any step, please feel free to leave me a comment in this blog's comment section OR the comment section of the YouTube tutorial. I check at least once a day and try to get back to you as soon as possible.
Happy Peach-Fritter-Making!
Printable Recipe for Vegan Peach Fritters

Yield: 12 peach fritters
Vegan Peach Fritters (Yeast Doughnut Recipe)
Delicious fresh vegan peach fritters are the best way to celebrate summer's end! These yeasted deep fried doughnuts are soft and fluffy with juicy peaches on the inside. And on the outside, they have lovely crispy edges, caramelized peach pieces and tangy vanilla icing to brighten all the flavours.
Of course, if you're well past the season, bring summer back by using canned peaches instead!
Hands-On Prep Time
30 minutes
Ingredients
Peach Fritters (in order of recipe)
1 cup warm water, 110°F (237ml, 44°C)
2 ¼ teaspoon instant or traditional dry active yeast
2 tablespoon sugar
2 tablespoon vegan butter, softened
2 tablespoon ground flax or chia seed
½ teaspoon vanilla extract
¼ teaspoon ground nutmeg
½ teaspoon salt
3 cups all-purpose flour (360g)
2 cups chopped peaches (about 2 large peaches)
Lemon Vanilla Icing
2 teaspoon lemon juice
1 teaspoon vanilla extract
1 teaspoon plant-based milk
1 ¼ cup icing sugar
Other
several cups neutral flavour cooking oil such as canola, sunflower or peanut oil
Instructions
Make Doughnut Dough
In a large warm mixing bowl, combine warm water, yeast, sugar, and ½ cup of flour. Wait 5 to 10 minutes for the mixture to bloom (you'll see gas bubbles build up). See troubleshooting tips if you don't see anything happening.
Add vegan butter, ground flax or chia seeds, vanilla extract, nutmeg and salt. Briefly stir, then mix in the rest of the flour; a cup at a time. A soft dough will form.
Knead manually for 10 minutes (see how to knead sticky dough) OR knead 6 minutes in your stand mixer. The dough will still be tacky afterwards. Form it into a ball, place back in the mixing bowl (if you removed it earlier), cover and let rise in a warm, draft-free location until it has doubled in size (about 1 hour). Meanwhile, clean up and chop your peaches.
When the dough has doubled in size, place it on a well-floured surface. Dust the top with flour before using your palms to flatten and shape it into a square, about 1 inch thick. Press it thoroughly to remove trapped gas pockets. Then using a floured knife or pizza cutter, cut the square into 1 inch cubes.
Prepare two baking sheets with parchment paper and dust will flour. Divide the dough cubes into 12 portions. With each portion, place half on to a baking sheet, making sure the cubes are touching. This will be the base of your peach fritter. Place 2 to 3 tablespoons of chopped peach on top. Then sandwich them with the remaining portion of dough cubes. It will be a little messy and some peach pieces may fall out. Just place them back on top and make sure all the peaches have some dough surrounding. Repeat with the 11 remaining portions and space them out evenly on the parchment paper.
Finally, cover them in a tent of plastic wrap. You can use narrow cups as "tent poles" to ensure the fritters can rise fully without touching the wrap. Let rise in a warm, draft-free location for 1 hour to double in size.
When the uncooked fritters have risen fully, carefully cut the parchment paper between each one to separate them.
Make Lemon Vanilla Icing
In a bowl, combine all the icing ingredients and whisk until smooth. Set aside.
Deep Frying Peach Fritters
Prepare a cooling rack for the freshly fried peach fritters. Line with paper towels to absorb oil if desired. Then, in a large pot or wok, fill it with 3 to 4 inches of a neutral frying oil. Ensure there are a few inches above the oil level to accommodate some bubbling. Heat to 350°F While frying, monitor the oil temperature and adjust the heat so it always stays between 350° and 375°F.
To avoid deflating the fritters, use a spatula under the parchment paper to lift each one to the oil. Carefully slip it into the oil and remove the parchment paper. Cook all the doughnuts in small batches to avoid crowding and lowering the oil temperature.
Fry each fritter until both sides are light golden brown; their colour will deepen after resting. This takes about one to two minutes per side. Remove to your cooling rack.
After all the fritters are fried, mix up your icing once more. Then drizzle on warm fritters. If you prefer a thicker glaze, wait until the fritters have cooled somewhat before adding the icing. Serve and enjoy on the same day for the best experience.
Notes
Storage
Once the peach fritters have fully cooled, you may freeze them on a baking sheet until solid. Then transfer them to a freezer bag for storage; up to one month. Thaw at room temperature or with short bursts in the microwave.
Try my Vegan Boston Cream Doughnuts or Classic Yeast Doughnuts.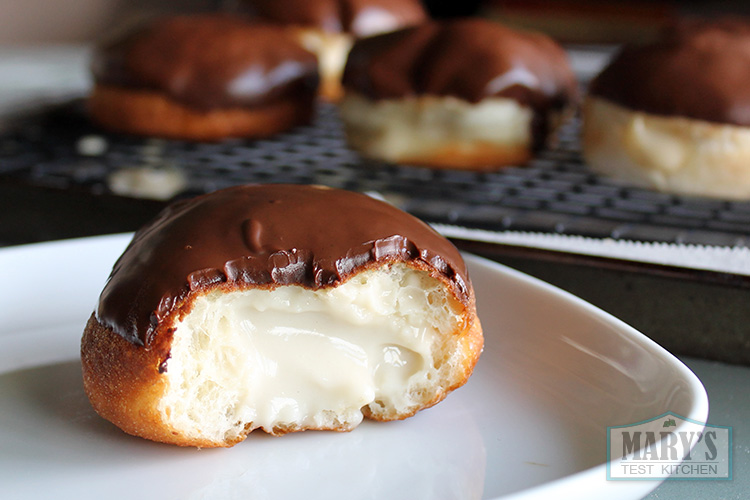 For baked vegan doughnuts, try my Baked Confetti Doughnuts or Chocolate Tuxedo Doughnuts!