Ready to make this traditional mantou (Chinese plain steamed buns)? Using only flour, yeast, water and, in this case, sugar, plain steamed buns are a staple food that can be eaten with both savory and sweet accompaniments.
Click here to skip to the recipe.

What is Mantou VS Baozi?
Mantou originated in northern China as wheat was the major crop as opposed to rice in the south. On the other hand, Baozi are similar but stuffed with either sweet or savory fillings.
Video Tutorial for Vegan Chinese Steamed Buns AKA Mantou
Childhood Memories of Mantou
It was during a trip to Hong-Kong that I first had Mantou; I think it was the summer of third grade. My maternal grandmother was celebrating a milestone birthday and as with most important family events, it was celebrated with a large family banquet. With the start of the meal, little steamed and fried buns were served. There were all sorts of dips that I could only discern with a dip of the finger. By that age, my Cantonese was already shaky; I could understand most of what was said with context clues filling the gaps in my vocabulary. Speaking the language was more challenging as I grasped for the right words, so instead of asking a lot of questions about the unfamiliar foods, I just ate.
More steamed bun recipes:
Compared to the flavourful baozi that I knew and loved, mantou were painfully bland. It was just bread. Except when you started dipping. You guys know dipping is my favourite way to eat food right? Soon my mom was telling my younger brother and me not to eat so many. Third-grader-me was also very amused that the name of the bun sounded like the words for "slow head" and had a blast chasing and getting chased while yelling "mantou! mantou!" Real mature for my age, I know.
So take this little steamed bun and do whatever you like with it. Eat them plain, with savory foods or dip it in some condensed plant-milk for a sweet treat.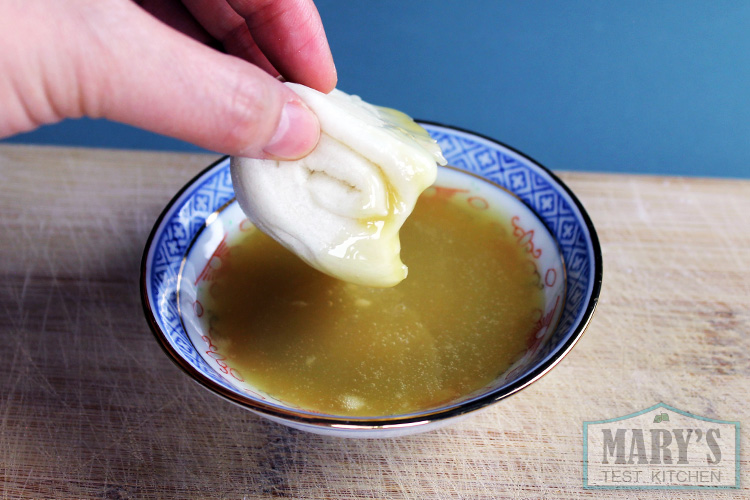 Their small size also makes for a nice slider bun. Just serve them fresh as they are best straight out of the steamer.
This recipe is just one way of making Mantou. They can also be deep fried, shaped differently and filled, but this way is a simple and easy way to start.
Printable recipe for Mantou or Chinese Steamed Buns
Yield: 8
How to make Chinese Steamed Buns (Mantou 饅頭)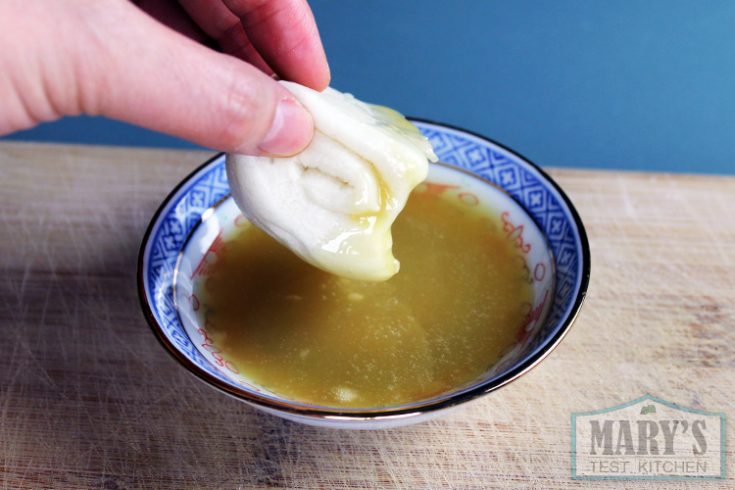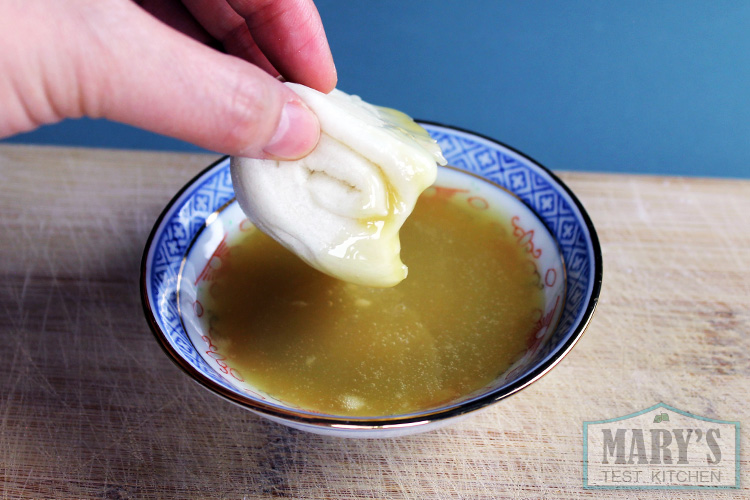 This traditional Chinese recipe is already vegan; using only flour, yeast, water and, in this case, sugar. Plain steamed buns are a staple food that can be eaten with both savory and sweet accompaniments.
Prep Time
1 hour
30 minutes
Ingredients
1/3 cup and 2 tablespoons warm water, about 105F [100 ml, 40C]
1 cup all-purpose flour [150 g]
1 teaspoon sugar [7g]
1 teaspoon traditional or instant yeast [4g]
Instructions
Combine the water, sugar and yeast. Let sit for 5 minutes for the yeast to bloom.
In a large bowl, combine the liquid and the flour. Stir with chopsticks to combine, then use clean hands to form the dough into a ball. Knead the dough until it is smooth; about 5 minutes.
Place the dough into a bowl, cover with a moist towel or floured plastic wrap and let rise for one hour or until doubled in size.
Remove the covering and punch down the dough, knocking out any large bubbles in the dough.
Knead lightly and form into desired shapes. You can make small 1 1/2" balls, shape the the dough into a log and cut in to pieces, or roll the dough out into a long rectangle, roll it up and cut across the length to make snail shapes. To make handling easier, you can place each roll on to a small square of parchment paper.
Cover the dough balls with a moist cloth or floured plastic wrap and let rise for 30 minutes or until nicely puffed up. Once puffed up, they can can be frozen for future use. See notes for details.
Prepare your steamer. Bring the water to a boil. To prevent the buns from sticking to the steamer basket, line it with parchment paper or oil the bottom lightly.
Carefully place the puffed dough into the steamer basket and steam on medium-high to high heat for 15 minutes. If you make larger buns, you may need to add more time. Try to avoid over steaming as this will result in a denser, tougher texture.
Removed the steamer basket from the heat but keep the lid on; let rest for 5 minutes before removing the buns. Serve immediately with savory or sweet accompaniments.
Notes
Freezing Instructions: Steamed buns can be frozen two ways: before or after steaming. Freezing after cooking gives more consistent results. Cooked steamed buns should be cooled completely before placing in the freezer.
To cook frozen steamed buns, steam on med-high 10-15 minutes. Or, thaw at room temperature for 15 - 30 minutes. If not completely unthawed after this, zap in the microwave for 10 seconds.
Frozen dough doesn't rise as much during steaming compared to fresh dough. Also, dough that is a bit more stiff (less sticky, more flour) does better for this method. After you've shaped the buns, let them rise until tripled in size. This may take one hour in a warm environment or more if in a cooler environment. Carefully place the puffed up raw buns in the freezer without knocking into them. They will be delicate. Freeze for two hours; until solid. Then store in an air tight container.
To cook raw buns from frozen, steam over high heat for 15 minutes. Rest at least 5 minutes before uncovering and serving.