Steamed red bean buns are a common menu item at Chinese dim sum restaurants and one of my favourites. They're actually really easy to make too. For this recipe, the dough is actually really simple: water, yeast, flour and sweetener. I'm using sweetened condensed milk as I find it gives these buns a milky aroma and I just like the flavour better than just using regular sugar. Click here to jump to the printable recipe.
The Chinese word for Red Bean Buns is 豆沙包 (Dou Sha Bao). It literally means bean paste bun.
Video tutorial for Steamed Red Bean Buns or Dou Sha Bao

Vegan sweetened condensed milk can be hard to find, but it's easy to make. Simply boil down some soy milk with sugar. Here's a recipe for sweetened condensed soy milk; you can also use other milks like almond, cashew, and coconut.
The red bean paste found inside these steamed buns can be found at Chinese, Korean, Japanese and some other Asian grocery stores. Usually, they are in cans and are made of just red adzuki beans and sugar. However, some may contain vegetable or animal fats. You can make your own red bean paste easily too. Here's a recipe for the red bean paste. The ingredients are just adzuki beans and dates or your choice of sweetener.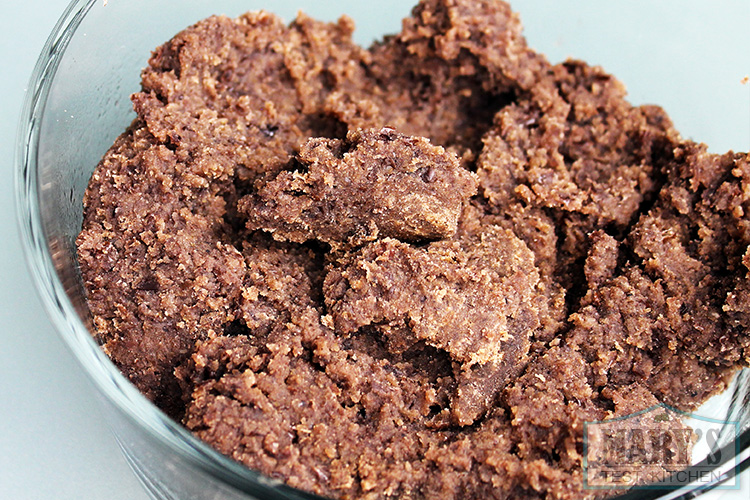 Once you have your red bean paste, the baozi, or steamed bun, is simple to make. Combine the yeast with warm water and sweetener, just as you would when starting the dough for most other breads. Let the mixture stand for a few minutes to ensure that the yeast blooms. When you water is too hot or too cold, the yeast may not activate and your bread will not rise properly.
Add flour to the bowl a half cup at a time, mixing the flour in completely each time. This helps create a smooth dough. Knead it for a few minutes, then cover it and let it rise for an hour or until doubled in size. Does this sound familiar? The process is almost the same as making my Fluffy Flax Hamburger buns or Simple French Bread.
After the dough rises, take it out of the bowl and divide it up into equal pieces. I made 20 small buns with this recipe so that they would fit in my little bamboo steamer but just make as many as you'd like. If this seems like too many buns to make at one time, feel free to halve this recipe.
Flatten the dough balls into circles, place some filling and wrap them up. You can use the pleated method like I did here or simply pinch the sides together over the filling to a single point on top, twist to seal the bun and place it upside down so that the smooth side is up.
Then steam the buns for 10 to 15 minutes, more time if you made larger buns, less time if you made smaller buns. After steaming, leave the lid on for about 5 minutes. If you take the lid off too soon, the top of the buns will collapse and get a bit wrinkly. The resulting buns should be soft and easy to pull apart. If the bread is stiff that means you steamed too long. If the bread is doughy then it wasn't steamed for long enough.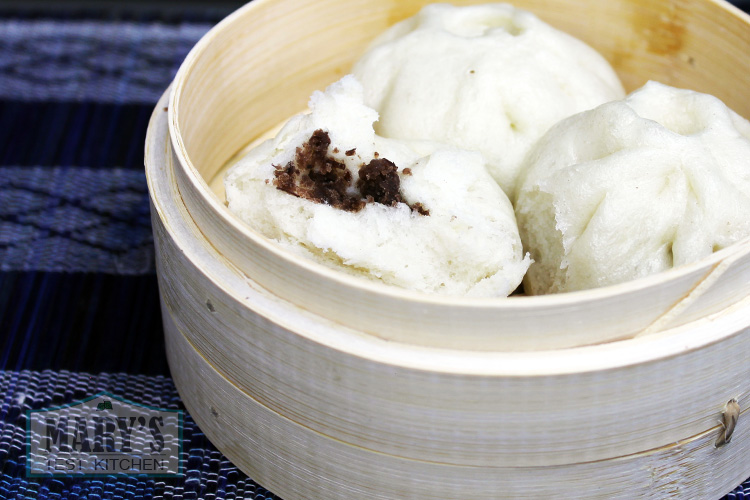 After steaming the red bean filling is more moist than before. I love buns that are super stuffed with red bean paste but if you overdo it, it's a bit hard to form the buns without making a mess. I think the mess is worth it though. 🙂 I hope you give this recipe a try!
Printable recipe for Chinese Red Bean Steamed Buns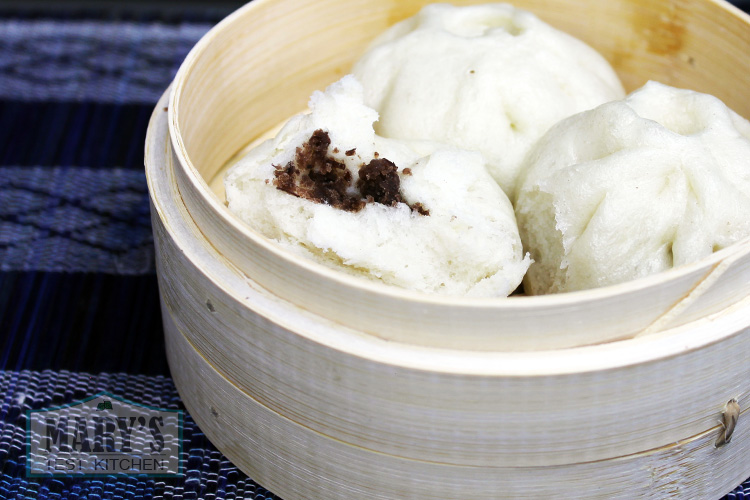 Chinese Steamed Red Bean Buns
2015-02-23 12:41:16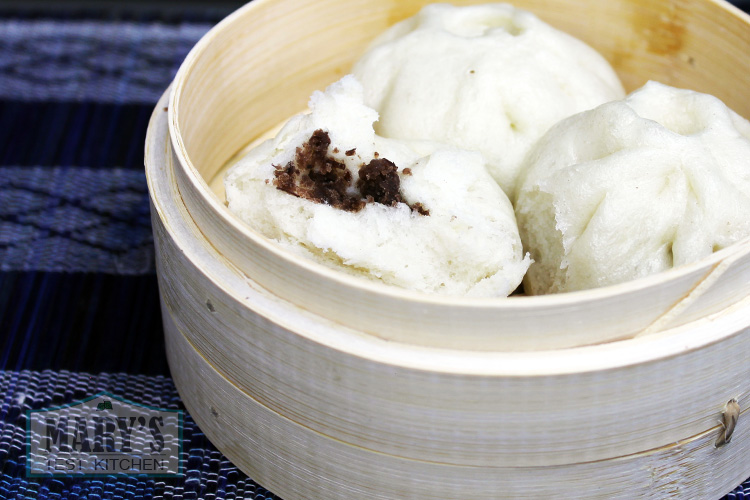 Steamed red bean buns are a common menu item at Chinese dim sum restaurants and one of my favourites. They're actually really easy to make too.
Dough
1 cup warm water, about 105-110F [237ml, 40.5-43C]
1/4 cup sweetened condensed soy milk, or your choice of liquid sweetener [60ml]
about 3 cups of all-purpose flour [360g]
2 teaspoons of traditional or instant yeast [10cc]
Instructions
Combine the water, condense soy milk (or your choice of liquid sweetener) and yeast. Let it sit so that the yeast blooms; about 5 minutes.
In a large mixing bowl, combine the yeast solution with a half cup of flour. Whisk the flour in completely. Add a second half cup of flour and whisk that in as well. This method of adding in flour slowly helps achieve a smoother dough.
At this point, you'll add one and a half more cups of flour using the same method of adding just a half cup at a time. But by now, the whisk won't work well; use a wooden spoon or chopsticks instead.
Now you will have added a total of two and a half cups of flour and you should have a sticky dough. Use clean hands to turn it onto a flour surface and knead for 5 minutes. Sprinkle flour on top as necessary but try not to add too much flour. I added about a half cup, bringing the total amount of flour used to three cups. The dough should be fairly soft, smooth and elastic.
Place the dough back into the mixing bowl and cover. Let it rise in a warm, draft-free location for about an hour or until the dough has double in size.
Remove the dough from the bowl and shape it into a log shape. Divide it into even pieces. I made 20 dough balls to make small buns but you can choose to make fewer dough balls to create larger buns.
Knead each piece lightly and shape it into a ball. Flatten the ball into a circle with your hands or rolling pin. Make the edges a bit thinner than the center.
Take a heaping tablespoon of red bean paste and squeeze it into a ball shape. Place it on the center of the dough.
View the video tutorial to see how I made the pleated buns. To make the smooth top buns, gather the sides of the dough, over the filling and pinch at the top to seal. Then place the bun with the pinched side down so that the smooth side is up.
Prepare your steaming apparatus. Fill the base with boiling water and turn the heat to high. You may line your steaming layers with parchment paper to prevent the buns from sticking. Just be sure to add some vents to allow the steam to circulate.
Place the buns on your steamer, keeping them apart from each other. The buns will puff up during steaming.
Steam on high heat for 10 to 15 minutes. Use more time if you created larger buns, less time if you made smaller buns.
After steaming, remove from heat but keep the lid on for another 5 minutes. This helps prevent the tops of the buns from wrinkling up.
These buns are best served straight out of the steamer. Once cooled, you can freeze them for future snacks.
To reheat from frozen, just steam them for 10 minutes or until the inside is hot.
Notes
You can choose any type of sweetener that you like for this recipe or simply leave it out. If you use a non-liquid sweetener, you will not need as much flour.
Mary's Test Kitchen https://www.marystestkitchen.com/