Want to make red bean paste more nutritious and without refined sugar? You've come to the right place! Skip to the printable recipe.
Red bean paste is traditional ingredient in many Asian desserts. Two of my favourite Chinese sweets are made with this healthy dessert filling: glutinous rice balls stuffed with red bean (tong yuen) and steamed red bean paste buns. We'll get to those later, but first we need to prepare the filling!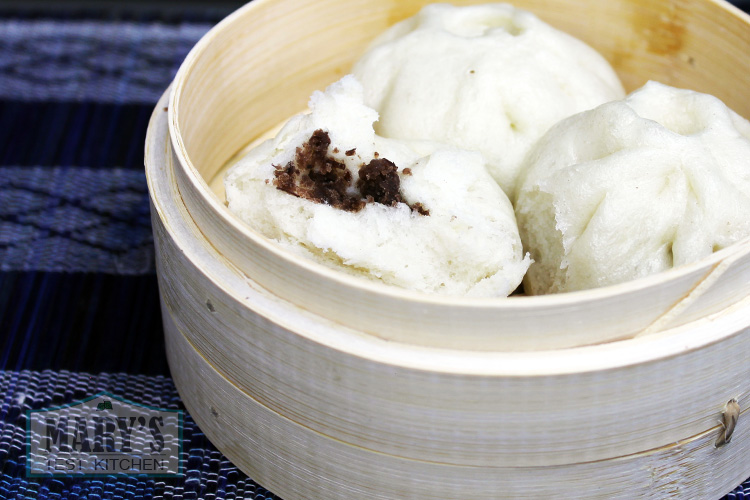 Why you'll love making your own red bean paste
Red bean paste can be found in most Asian grocery stores in a can and they aren't expensive either. Most canned versions that I have seen are also accidentally vegan. So why make your own? Well, other than if you don't have a local Asian grocery store that stocks red bean paste, you can control the amount of sugar in homemade versions and increase the nutritional value by leaving the skins on the beans. I also don't use any oil in my red bean paste while some recipes include vegetable or animal fat.
Video tutorial for Red Bean Paste
How to Make Red Bean Paste (aka Sweet Red Bean Paste or Hong Dou Sha)
This refined sugar-free version is super easy to make; all you need are some Adzuki beans, dates or sweetener of choice, and water.
Soak, then cook the beans
The beans used are not just any beans that are red. The red beans referred to here are Adzuki beans (also spelled as azuki). Just cook them like you would any other bean. Soak them for 8 hours or overnight before cooking in plenty of water until they are very soft and drain them. This took one hour for me but you'll cut your cooking time significantly if you use a pressure cooker.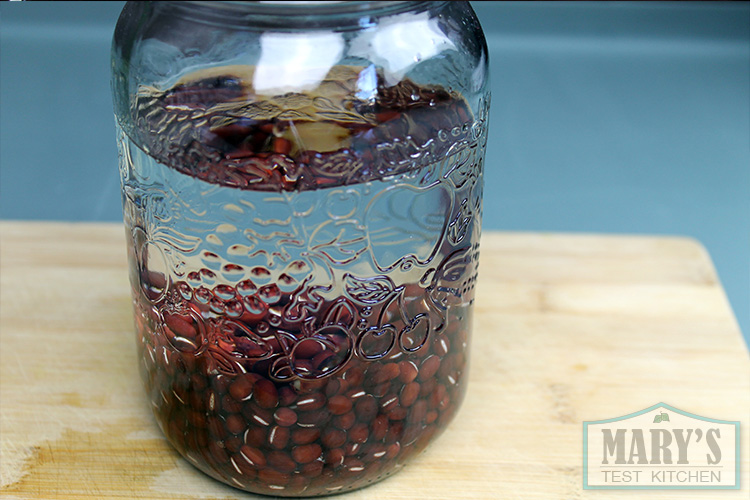 Make a paste
At this stage, you can create a very smooth paste by pushing the beans through a strainer, separating out the skins. However, I leave the skins in the paste for their nutritional value and because I find the process of pushing beans through a sieve much too tedious. Instead, I'll just blitz them with an immersion blender and be done with it. You can also use a food processor.
Add natural sweetener
I used just over a cup of soaked Khadrawy dates. If you go the date-route as well, you may need to use more dates or less dates as all varieties have a different level of sweetness. You can also just use sugar or whatever type of sweetener you like. Start with using a third to a half cup of your favourite sweetener (much less if you use stevia), blend it in, taste and increase the sweetener to your preference. Red bean paste is usually eaten as a filling or topping on more plain foods like steamed buns, glutinous rice dumplings or sweet sticky rice so keep that in mind; it should be quite sweet.
Cook until finished
After that, return the beans to the stove to cook off any excess water. The best way is to use a large non-stick pan and spread out the paste so that there is more surface area for the water to evapourate. However, I did this in the same pot that I cooked the beans in and it worked fine. Use low to medium heat to avoid burning the paste. This process also helps develop the nutty flavour of the beans and deepens the colour of the paste.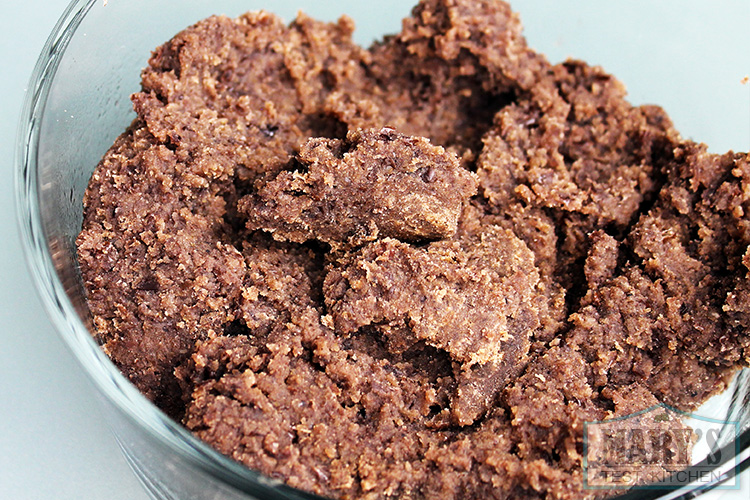 The final red bean paste should be deep brownish red with a thick consistency and sweet nutty flavour. Let it cool before using it to fill any steamed buns or tong yuan. You can store it in an airtight container in the fridge for a few weeks as long as you have a high enough sugar content. It can also be frozen into cubes for future use.
Enjoy!
Printable recipe for Chinese Red Bean Paste
Yield: 3 cups
Vegan Red Bean Paste (no-refined sugar)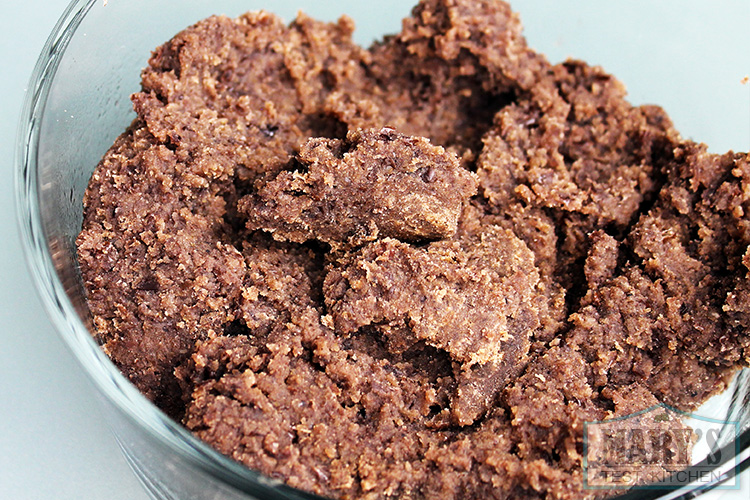 Red bean paste is commonly used in Asian desserts such as steamed buns and glutinous rice dumplings. This vegan version uses dates as the sweetener and excludes all oil. All you need are Adzuki beans and dates.
Ingredients
1 cup dry adzuki beans [200g]
1 cup pitted dates (about 25) - You may need more or less than this amount. See notes for details and alternatives.
water
Instructions
Soak the beans in water for at least 8 hours or overnight. If you are using a pressure cooker, you may skip this step.
Rinse and drain the soaked beans. To cook, place the beans in a large pot and fill it up with enough water to completely cover the beans and then an inch or two more. Bring the water to a boil over high heat, then reduce the heat to a simmer. Cook until the beans are quite soft. This may take about an hour. Remove from heat and drain the beans.
Use an immersion blender or food processor to break the beans down into a smooth paste.
Add your soaked dates and blend those in completely. If you are using sugar or another sweetener, add only a third to a half cup, blend it in, taste it, and add more sweetener to your preference. Keep in mind that red bean paste is normally used as the filling or topping to more plain foods such as steamed buns, glutinous rice dumplings, or sticky rice so it needs to be quite sweet.
Now you need to cook out the excess water. In a non-stick pot or pan over low to medium heat, spread out the red bean paste. Use a wooden spoon or spatula to mix the paste around so that the beans do not burn. The paste is ready when it turns into a deep reddish brown color, has a sweet nutty aroma and flavour, and become quite thick and stiff.
Place the finished red bean paste into a heat-proof container to cool. It can be stored in the fridge for up to 3 weeks or in the freezer.
Notes
Because all varieties of dates have different levels of sweetness, you may need more or less dates to reach the desired sweetness.
Other types of sweeteners can be used in this recipe, including coconut palm sugar, date sugar, brown sugar, etc. After the beans are cooked and blended, you can taste and adjust for the amount of sweetener.