Make these delicious Tong Yuan, AKA Sweet Rice Dumplings or Glutinous Rice Dumplings, for an easy dessert for any occasion but traditionally they are served for Lunar New Year! The tender mochi-like balls can be plain or stuffed and served in light ginger syrup. And best of all, this recipe is EASY! The dough is just two ingredients, stuff them with whatever filling you like and cook them together with the ginger syrup; all within 30 minutes. Skip to the printable recipe, pin this for later or scroll down to learn more about them.
Video Tutorial for Tong Yuan
What are Tong Yuan?
Made from glutinous rice flour (also known as sweet rice flour) mixed with water, these simple dumplings are commonly enjoyed for Lunar New Year (AKA Chinese New Year) and especially for the Lantern festival. They are soft and chewy and, in this case, swimming in a light ginger syrup. Some are plain but I love them filled with brown sugar, sweet red bean paste, ground sesame or crush peanuts with sugar. The ones I made here are also plain on the outside but you can have fun adding colour with vegetable or fruit extracts.
Growing up, I loved them. My parents would only make them occasionally, and usually late in the evening. For that reason, tong yuan always felt like a special treat; we got to have dessert AND stay up late.
How to Make Tong Yuan
First select the filling, totally up to you if you even want a filling. For this recipe, I used two: sweet red bean paste and broken up chunks of Chinese brown sugar bars. Get the recipe for sweet red bean paste here.
The Chinese brown sugar bars are quite particular and well worth the special trip to the Asian grocery store to buy them. They have a soft lighter colored layer in the middle that's a bit softer than the outer layers and a wonderful flavor of brown cane sugar.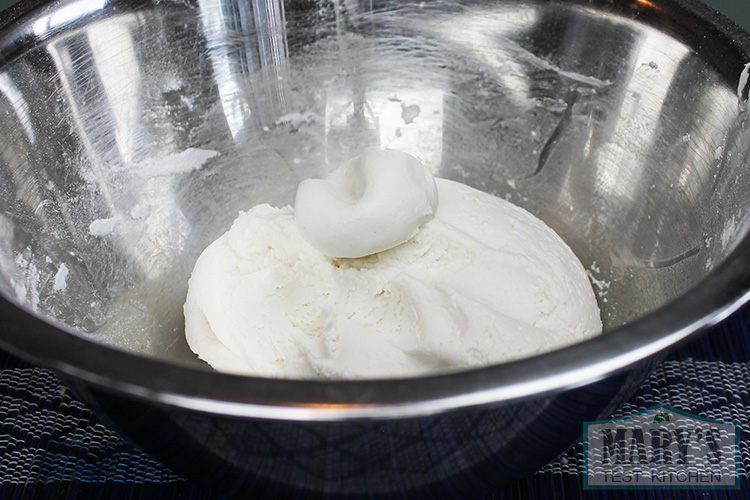 The dough is made with glutinous rice flour also known as sweet rice. Despite the name, glutinous rice does not contain any gluten. It's just sticky and can have a stretchy quality. This same rice flour is used to make the Japanese sweets known as mochi.
Simply mix two parts rice flour to one part water. Then divide the dough into little balls.
Press a thumbprint into each dough ball to create a space, add a little filling and squish the dough around it to seal. Once filled, the tong yuan can be frozen for later or simply cooked in with ginger slices and sugar. I like it best with more of that Chinese brown sugar.
The red bean filled dumplings are healthier and quite tasty, but I like the sugar-filled dumplings the best.
I find the dumplings pretty filling so three is good enough for me. And I just like having things in threes.
I hope you give these a try. And please tell me what you enjoy for Lunar New year!
Printable recipe for Chinese Glutinous Rice Dumplings in Ginger Syrup
Yield: 30 sweet rice dumplings
How to Make Tong Yuan (with light ginger syrup)
Tender, chewy sweet rice dumplings filled with your choice of fillings and swimming in light ginger syrup. Try them with Chinese brown cane sugar, sweet red bean paste, ground sesame or crushed peanuts. You'll love how quick and easy they are to make!
Ingredients
For Tong Yuan Dumplings:
1 cup glutinous rice flour (AKA sweet rice flour (200g)
1/2 cup water (100ml)
1/2 cup of brown sugar, small chunks of Chinese brown cane sugar, red bean paste, black sesame, or crushed peanut (your choice)
For Ginger Syrup
2 cups water (480ml)
a few slices of ginger
1/4 cup brown sugar or 1/2 bar of Chinese Brown Cane Sugar (or to taste)
Instructions
Prepare the Ginger Syrup
Combine all the syrup ingredients in a pot over high heat. Bring to a boil, then turn off the heat.
Prepare the Fillings
If using sweet bean, nut or sesame paste, form it into small balls, about a quarter to a half inch in diameter. Chill in the freezer for a few minutes to firm up. If using Chinese cane sugar, break the into small chunks.
Prepare the Tong Yuan Dumpling Dough
Combine the rice flour with water. Mix well, using hands to knead to form a smooth dough.
Taking small pieces of dough form balls about 1" to 1 1/2" in diameter (2.5 - 4 cm). Set them on a baking sheet. Cover to prevent them from drying out.
Fill the Dumplings (optional)
Press your thumb into the center of a dough ball to form a well. Place a piece of filling inside and pinch up the dough to enclose it. Roll it between your palms to smooth dumpling. Continue with the rest.
When the dumplings are filled, set aside the ones you want to cook and eat right away apart from the ones you want to freeze for future use.
To Freeze Tong Yuan for Later
Space the dumplings out on a baking sheet or freezer-safe dish. Place in the freezer for an hour or until the dumplings are solid. Then remove from the baking sheet or plate and store in a freezer bag with the air pressed out.
Cook the Tong Yuan in Ginger Syrup!
Bring your ginger syrup back up to a boil. Lower the temperature so that it continues to simmer gently. Then, add the dumplings to the syrup, spacing them out so that they don't stick together.
Cook for 5 minutes or until the dough becomes a bit translucent looking and they float to the top. If you are cooking from frozen, they will take a few more minutes.
Remove the cooked dumplings immediately and transfer to serving bowls. Then add a little of the ginger syrup to each bowl. Enjoy!

Notes
The amount of ginger syrup in this recipe is for cooking 9 to 12 dumplings. If you are cooking a larger batch at once, feel free to multiply the amounts.
Nutrition Information:
Yield:
10
Serving Size:
3 dumplings
Amount Per Serving:
Calories:

186
Total Fat:

0g
Saturated Fat:

0g
Trans Fat:

0g
Unsaturated Fat:

0g
Cholesterol:

0mg
Sodium:

61mg
Carbohydrates:

43g
Fiber:

2g
Sugar:

24g
Protein:

4g
Nutritional Information automatically calculated by a plugin and may not be correct.