These delicious vegan Chinese BBQ pork buns are made with seitan and king oyster mushrooms to replace the lean and fatty parts of the bbq pork normally found in steamed bbq pork buns found at Chinese dim sum restaurants. In Cantonese, these steamed buns are called 叉燒包 (pronounced char siu bao or char siew bao). It's wonderful to use bamboo steamers with this recipe for an authentic flavour but you can also make do with other steaming sets, or improvise with other methods. Click here for the printable recipe.
Video tutorial for Vegan Chinese BBQ Pork Buns | Vegetarian Char Siu Bao | 素叉燒包
When I was a kid, dim sum was my ultimate favourite meal out. It was a rare treat as you needed to get to the restaurant before it got too late. Our favourite dim sum places were always packed and ran out of things if you didn't get there early enough. Crowded and noisy with clinking teapots and cups, chopsticks tapping porcelain bowls, squeaky carts with piled high with steaming bamboo baskets, and the chatter of Cantonese families. While I'm normally a peace and quiet kinda person, there's something about being in a dim sum restaurant with all the hustle and bustle that feels like home to me. And those fluffy little barbeque pork buns.
I've tried to make these in the past, in a kind of half-hearted random way, and those attempts were not the most successful. But recently, while chatting with my friend Lisa from The Viet Vegan, I became motivated to get it done right. There were many failed batches. Many almost-but-not-quite's. So finally, when I tasted what would become the final recipe, I jumped up and down for joy! I felt I was transported back to my childhood, to Chinatown, back to the noisy restaurants filled with the fragrance of bamboo and steamed buns, back to sitting at a huge table with a lazy susan offering the last bun to an elder while secretly hoping they would let me have it.
How to make Char Siu Bao Bun Dough Easier
The dough for these steamed buns is the same as my plain steamed buns recipe (mantou) and five spice jackfruit buns (vegan gua bao). It's very simple; not going to get us the cracked surface of the ones off a dim sum cart (those use harder-to-get-here-ingredients) but tastes just as good. I use a food processor with dough attachment to turn flour, yeast, water and sugar into dough in just a couple minutes. Yes, that's sugar and no salt. As the filling is going to be quite salty, I don't feel a need for salt in the dough.
Vegan Chinese Barbeque "Pork" Bun Filling
The filling is a bit more complicated to make. First, you'll make steamed seitan. This consists of mixing up liquid ingredients and flavourings and then adding vital wheat gluten. It's easy so don't be intimidated even if you've never made seitan before. You'll wrap up the seitan dough tightly, then steam it for 45 minutes. After it cools, you can chop it up and that's your wheat meat! You'll saute some ginger, onions, mushrooms; pour in some soy sauce, hoisin sauce, and other flavourings; pour in a flour slurry to thicken; then, dump in your seitan and that's pretty much it.
The bright vibrant red colour of char siu bao filling in restaurants is usually food colouring. If it is bright red, that is. My parents have always steered away from food colouring and I have an instinctual reaction to poo-poo food colouring in savoury foods. I'm ok with it in candy; illogical double standard, I know. So I did add vegan-friendly food colouring to this batch of char siu bao filling. Mostly so the photos would look super legit. If you don't want to add it, don't. It's totally up to you!
I really hope you give this recipe a try. If you liked/like steamed bbq pork buns, you'll love these! Please read the entire recipe before you start. This recipe takes a while to make but it's absolutely worth it. If you do, let me know how it goes! Also, tell me what other recipes you'd like me to veganize in the comments below.
Printable recipe for vegan BBQ pork buns
Yield: 16 small bao
Vegan Chinese BBQ Pork Buns | Vegetarian Char Siu Bao | 素叉燒包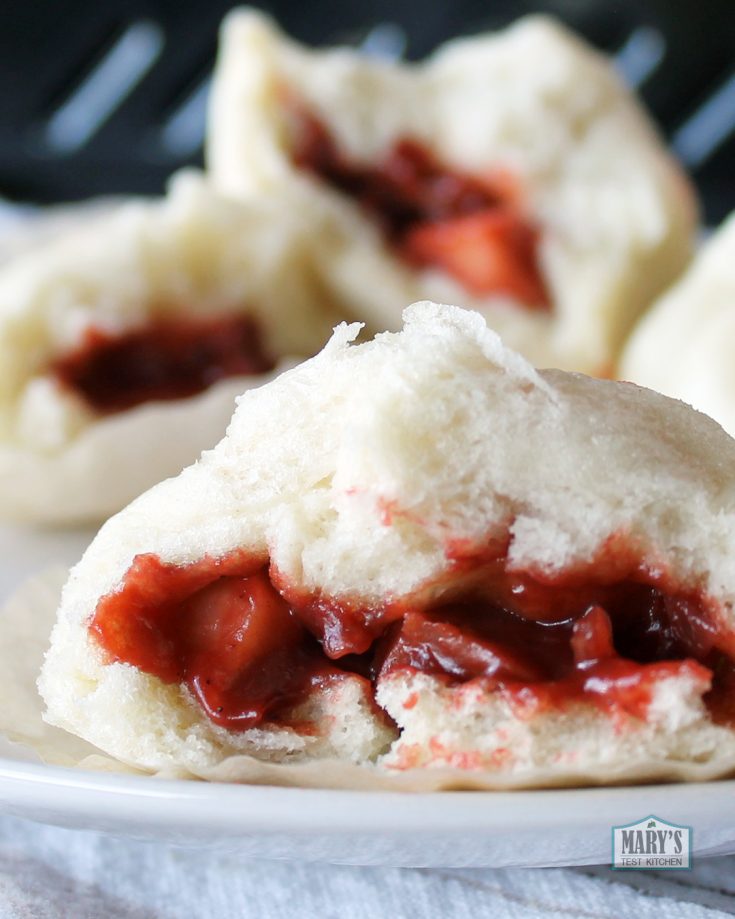 These delicious vegan bbq pork buns are made with seitan and king oyster mushrooms to replace the lean and fatty parts of the bbq pork normally found in steamed bbq pork buns found at Chinese dim sum restaurants. In Cantonese, these steamed buns are called 叉燒包 (pronounced char siu bao or char siew bao). It's wonderful to use bamboo steamers with this recipe for an authentic flavour but you can also make do with other steaming sets, or improvise with other methods.
If you'd like the baked version found commonly at Chinese/Hong Kong style bakeries, use my vegan milk bread recipe instead of the steamed bun dough. See notes for baking instructions.
If you'd rather not make the seitan from scratch, you can buy pre-made firm seitan or use super firm pressed tofu instead. Check the notes for details.
This recipes makes 16 small buns. They can be frozen after steaming. Check notes for details.
Total Time
3 hours
15 minutes
Ingredients
Char Siu Seitan
4 cloves garlic, crushed
1 1/2 tablespoons brown sugar
1 tablespoon light soy sauce
2 teaspoons Shaoxing wine
1 teaspoon mushroom bouillon powder (Asian style)
1/4 teaspoon Chinese five spice powder
1/2 teaspoon sesame oil
1/4 cup water
3/4 cup (3.3oz) vital wheat gluten
Steamed Bun Dough
2 1/4 cups flour
3/4 cups + 2 tablespoons warm water (105°-110°F)
2 1/4 teaspoons instant yeast (one envelope)
2 teaspoons sugar
Char Siu Sauce
2 teaspoons cooking oil
1 slice ginger (1/4" thick, 1" diameter")
1/4 cup hoisin sauce
2 tablespoons maltose (preferred) or corn syrup
1 tablespoon Shaoxing wine
1 teaspoon light soy sauce
1 teaspoon dark soy sauce
1/4 teaspoon Chinese five spice powder
1 cup diced King Oyster Mushroom (3.5oz)
1/2 cup diced red onion or shallot (2.5oz)
Slurry
1/2 cup water
2 tablespoons flour
1/2 teaspoon mushroom bouillon powder
Optional
Instructions
Make the seitan
Mix all the seitan ingredients EXCEPT the vital wheat gluten. Then add the gluten as well and mix until a dough forms. Knead the stiff dough a few times. Then wrap very tightly in parchment paper or aluminum foil. The more secure the parchment/foil is, the firmer the seitan will be.
Steam for 45 minutes over medium-high heat to cook through. Then, let it cool 5 - 10 minutes before putting in the fridge to chill. This will firm up the seitan to make for easier chopping. After putting the seitan in the fridge, it's a good time to start making the dough.
Start the dough
Combine all the dough ingredients and mix well until it forms a sticky dough. You can use a mixer with dough attachment for this. Process for a minute or knead by hand for 5 to 10 minutes. Cover with a clean damp towel or vented lid and let rise for 1 hour or until doubled in size.
While the dough is rising, chop up the mushroom and onion, and measure your ingredients for the sauce. When the seitan is cool enough, chop that up too.
Make the sauce
Combine the slurry ingredients and set aside. In a large pan, heat a couple teaspoons of cooking oil over medium-high heat. When hot, add the slice of ginger. Cook for a minute or until the ginger starts to brown on the bottom side.
Add the onion and cook until soft; about 3 minutes. Lower the heat to medium, add the mushrooms and cook until they are soft; about 5 minutes. Stir in the maltose/corn syrup, hoisin sauce, dark and light soy sauce, shao xing wine, and five spice powder and cook until bubbling; 2 - 3 minutes.
Give the slurry a stir and pour it in. Stir well. The sauce will thicken quickly; about 1 minute. Turn off the heat and stir in the chopped seitan. Taste and adjust for salt. Add a couple drops of red food colouring if you want your filling to be a bright red colour.
Let the char siu mixture chill in the fridge while you form the dough.
Form the dough
When the dough has doubled in size, transfer it to a clean, lightly floured work surface and knead a few times. Flour your hands as necessary as this dough will be quite sticky. Shape the dough into a log shape.
Divide the dough into 12 pieces about 1.4oz each. Knead each piece lightly and roll them into balls. Flatten and roll out between 1/4" and 1/2" thick. Make the edges of the round thinner than the center.
Fill the buns
Take the slice of ginger out of the bowl of filling and discard. Place a heaping tablespoon of filling into the middle of a round. Use as much filling as you can, without breaking the dough. Pleat the edges together over the filling and pinch to secure. See video for demonstration. You may have some filling leftover; use it for fried rice!
Place each bun on a square cut piece of parchment or use slightly flattened muffin liners.
Cover the buns and let them rise for 30 minutes or until nice and puffy.
Steaming with a steaming set
Prepare your steaming apparatus. Place buns in the steamer basket, leaving some room for them to expand. Fill the steamer's base with plenty of water and let it come to a boil over high heat. Then set the steamer basket in place, turn the heat to medium and steam for 10 minutes. Afterwards, remove the steamer basket from the heat but do not remove the lid; let it rest for 2 - 5 minutes. Then remove the buns and serve!
Steaming with a big pot, foil balls and plate
If you don't have a steamer set, you can steam in a large pot. Choose a plate which you can fit easily into the pot. Crunch up three square pieces of alumium foil into three evenly size balls. Place them at the bottom of your large pot. Check that your plate can rest evenly on top of them. Then take the plate out and fill the bottom of the pot with water, careful to leave some of the foil balls sticking out. You don't want the boiling water to reach the plate. Set the plate on top of the foil balls and arrange the buns on the plate, leaving enough room for them to expand.
To Serve and store
Serve hot steamed buns immediately! These are best fresh.
To store leftovers, allow the buns to cool completely, then place in a container and refrigerate up to 2 days. Reheat by microwaving 30 seconds or steaming over med-high heat for 3 minutes.
To freeze leftovers, allow the buns to cool completely, then place in freezer bags, remove as much as as possible, and store in the freezer for up to one month. Reheat by microwave or steaming over med-high heat for 10 minutes.
Notes
Measuring flour: Use all-purpose flour or bread flour. Make sure to measure the flour correctly especially when dumping all the ingredients into a food processor or mixer. Using an accurate kitchen scale is highly recommended. 2 1/4 cup of flour = 9.56oz or 270g
If you must measure by volume, remember to sift or fluff the flour first, then spoon the flour into your measuring cup without packing it down. Then level with a straight edge. When in doubt, add less flour. You can always add more if you need to.
Chinese Ingredients
No time to make char siu seitan?
If you don't have the inclination or time to make seitan from scratch, use super firm pressed tofu instead! Chop up 7oz of store-bought pressed tofu into tiny cubes. Dry them with paper towel or clean kitchen towel. Then combine all the char siu seitan ingredients (except the gluten) and marinate that tofu for as long as possible (up to 24 hours). Then use it in place of the char siu seitan.
Baking Instructions
You can use the same dough to make baked buns. After filling the buns, preheat your oven to 350°F. After the buns have risen, bake for 15 - 20 minutes. They will not get very much color unless brushed with syrup wash.
Alternatively, for bakery-worthy results, use my Chinese Milk Bread dough recipe. After letting the dough rise once, divide it into 16 pieces, and continue with the rest of the recipe (filling, letting rise). Brush puffed filled buns with the maple syrup wash in the Milk Bread recipe, and bake at 350°F for 20 minutes or until the tops are golden brown.