Earlier this year, vegan meringue made from "Aquafaba" swept the vegan cooking blogosphere. Kicked off from a photo of vegan pavlova by Goose Wolht in the Facebook group, What Fat Vegans Eat, members broke off and formed another group where we compared notes, learned from each other, and refined our vegan meringue recipes and techniques. What is aqua faba? In short, the water left from cooking legumes such as chickpeas and white beans. Get it? Aqua means water and faba means legume. 😉 It sounds ridiculous, even gross. But don't knock it before you try it. You will be amazed! The video below will show you how you can whip up a fluffy meringue from aqua faba.Click here for the printable recipe.
Video tutorial for making Vegan Meringue with Aquafaba

This meringue is more stable in the oven than flax-based versions and much more easy to make as well. You can use it straight out of the mixing bowl for whipped dessert toppings or bake it to create merigue cookies, meringue pie, and pavlova. If you decide to bake it, you will need to add sugar. Stevia and artificial sweeteners will not work.
Some recipes that use Aquafaba: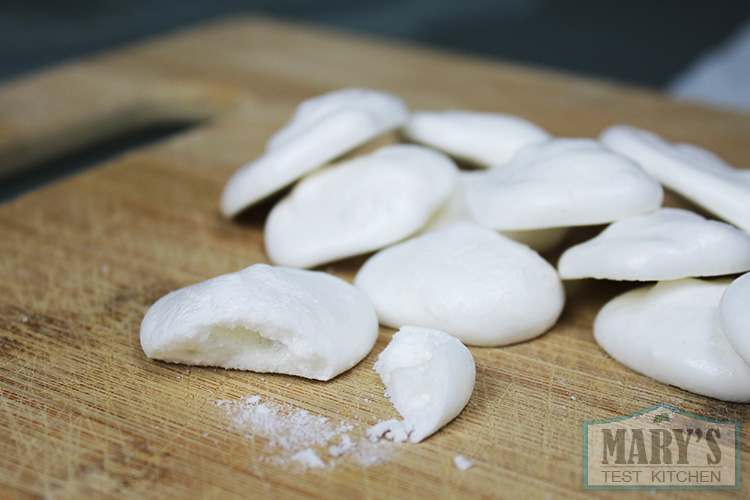 Aquafaba is more than just a way to get fluffy vegan meringue. You can use it in place of eggs in some kinds of baking. Try it in these Chocolate Chip Cookies from VedgedOut.com.

Start with aqua faba itself. This aquafaba is simply the water from a can of chickpeas. If you want to avoid preservatives, simply choose a brand that includes only chickpeas (or white beans), water, and salt in the ingredients. You can also make it from scratch; save the liquid from cooking dry beans in a slow cooker like in this guideline. If you don't have a slow cooker, you can make them on the stove top like I do in this video.
Whip it with an electric mixer just as you might have done in the past with egg whites. After one minute, you will just have a frothy liquid. Some people add in cream of tartar to help achieve the stiff peaks, but I never do and the aqua faba whips up just fine.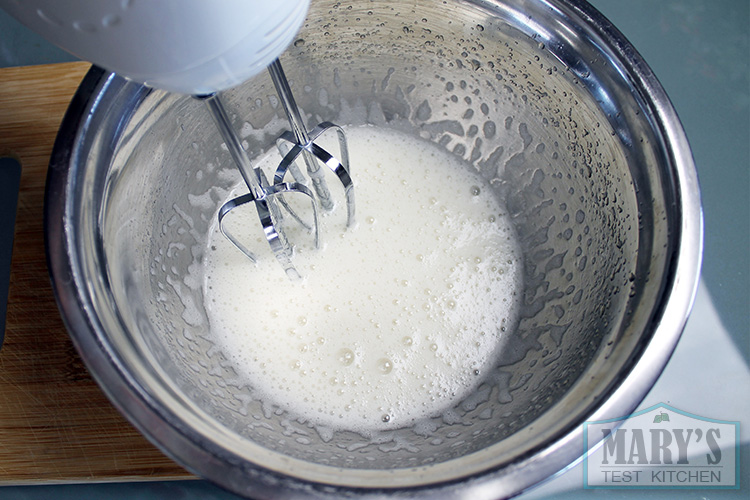 Depending the speed of your mixer, the density of your particular aquafaba, and your own kitchen conditions, it can take anywhere from a few minutes to 20 minutes of whipping to get up to stiff peaks.
When you've achieved stiff peaks, you can whip in powdered sugar and flavourings. The aqua faba may slide back into a soft peak situation but just keep whipping and it will get back up to stiff peaks.
Now you can use this as a sweet whipped dessert topping or in baking. For more guidelines on how to use this in baking (since there are some differences from the non-vegan counterpart), please visit the newly formed Facebook group called Aquafaba Everything.
Printable recipe for Vegan Meringue with Aquafaba
Vegan Meringue with Aquafaba
2015-07-08 17:03:54
This recipe is the result of experimentation and influence from the Vegan Meringue Hits and Misses group on Facebook. Aqua Faba was the chosen name for the "secret" ingredient: chickpea brine. You can also use the water from other light-coloured legumes like white kidney or great northern beans.
Ingredients
1/2 cup aquafaba (drain the water from a can of chickpeas or white beans)
3/4 cup granulated white sugar, ground down to a powder
1 teaspoon vanilla extract
Instructions
Using an electric mixer, whip the aquafaba to stiff peaks. This will take anywhere from 2 - 20 minutes.
Add powdered sugar gradually while continuing to whip. Add the vanilla as well.
The mixture may soften but keep whipping to re-create stiff peaks.
Use as a sweet dessert topping, coffee or hot chocolate topping, or in baking. Try them in these .
Notes
Brand to brand and even can to can, the bean brine's consistency will be thinner or thicker. It doesn't have to be super thick but it will have to have a slimy, slippery feeling similar to egg whites when you feel it between your fingers.
If the aquafaba from your beans seems too thin to whip up, you can simmer it on the stove until the volume is reduced 30 - 50%.
I like to chill my aqua faba before starting, but this is not essential. The aqua faba WILL whip up whether it is cold, room temperature, or even hot.
Adapted from aquafaba.com
Adapted from aquafaba.com
Mary's Test Kitchen https://www.marystestkitchen.com/