This is the best vegan mushroom rice and beans. It's extra delicious because we're using dried shiitake mushrooms for their super savory flavour and meaty texture. Plus, it's super easy. Just pop everything in a large pot or rice cooker and you're good to go!
The Inspiration for Easy Vegan Mushroom Rice and Beans
When I was in college, I studied as a full time student and often worked two jobs to make ends meet. Needless to say, time was my most precious commodity and when I did make the time to cook a healthy meal at home, it still needed to be quick, delicious, and easy on the wallet. Enter rice n' beans!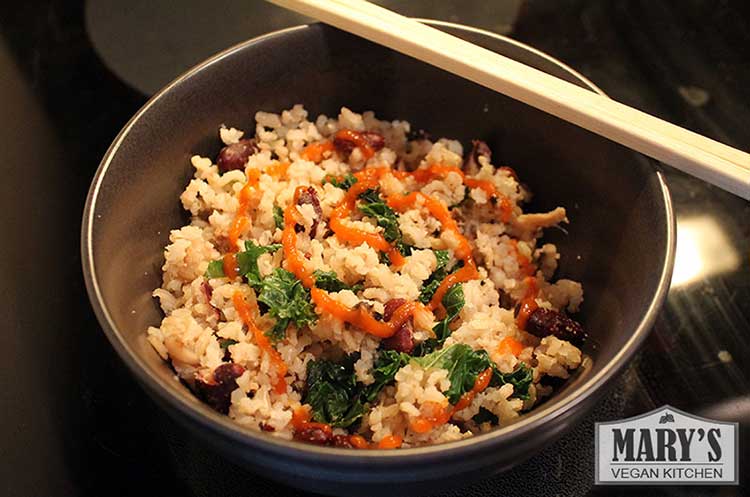 I hadn't grown up on beans and rice. Rice, yes. Beans, no. Beans were not a thing my family ate while I was growing up. But even before I went vegan, I knew beans were a great source of protein, fiber and antioxidants. I'm pretty sure that was a tidbit I got from Grade 8 Home Economics class. Plus, they were cheap. For $1-2 a can, I could make two meals along with rice and whatever wilty greens I had at the back of my fridge.
Why use Dried Shiitake Mushrooms for Vegan Rice and Beans?
Shiitake mushrooms are not always inexpensive, but the best prices can be found at Asian grocery stores. Dried shiitakes have more flavour than fresh ones and will keep in a pantry for years if stored in a cool, dry location. Plus, you only need to use one or two at a time to add umami flavour to a big batch of rice.
Making Easy Vegan Mushroom Rice and Beans
After you have soaked and chopped the shiitake mushrooms, add ginger, garlic and sesame oil to the pot. This gives the rice a fragrance that is common to Chinese cooking and one that takes me back to a cozy time when life was not as hectic. If you like, toasted sesame seeds can be used in place of sesame oil for a whole food, oil-free version of this recipe.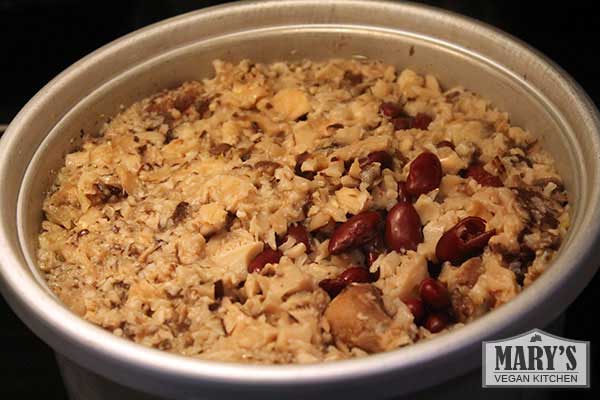 Add in whatever greens you like to the pot during the last ten minutes of cooking. Broccoli, cauliflower, sliced napa cabbage, and bok choy are all great additions. Kale can be bitter so I like to sauté those on the side instead of placing them directly in the pot. This cooking method does take about 45 minutes from start to finish if you use brown rice (white rice cuts that time by 15 minutes or more but isn't as filling or nutritious) but you really only have to be present for about 5 minutes of that, especially if you use an automatic rice cooker.
Printable Recipe for Easy Vegan Shiitake Mushroom Rice and Beans
Yield: 4 servings
Easy Vegan Mushroom Rice and Beans!
This easy to make, savory dish is an Asian-inspired take on beans and rice. The rice is infused with rich bouillon and shitake mushrooms burst with garlicky flavour while adding a meaty texture. Add a side of garlic sautéed kale to make this a meal.
Ingredients
1 cup basmati brown rice, uncooked
2 cups water
1 vegetable bouillon cube
1-3 large dried shiitake mushrooms, re-hydrated and minced
1-2 cloves garlic, minced
1 teaspoons powdered ginger
1/2 teaspoon sesame oil (or 1 teaspoon toasted sesame seeds)
1/2 teaspoon salt
1 cup of cooked kidney beans
Instructions
In a large pot, combine water, rice, and bouillon cube; set heat to high and cover.
In a bowl, mix the mushrooms, garlic, ginger, sesame oil, and salt.
Once the rice comes to a rolling boil, add the mushroom mixture and kidney beans, then set the heat to medium-low. Cover and simmer for about 30 minutes or until the rice is tender and all the liquid has been absorbed.
Notes
Re-hydrating Dried Shiitake Mushrooms
You can re-hydrate dried shiitake mushrooms quickly but soaking them in hot, just-boiled water. Let them soak for at least 15 minutes so they will be tender all the way through to the stem. Carefully squeeze out the water (don't burn yourself on hot water) and chop before continuing the recipe.
Nutrition Information:
Yield:
4
Serving Size:
1/2 cup
Amount Per Serving:
Calories:

163
Total Fat:

1g
Saturated Fat:

0g
Trans Fat:

0g
Unsaturated Fat:

1g
Cholesterol:

0mg
Sodium:

401mg
Carbohydrates:

32g
Fiber:

5g
Sugar:

1g
Protein:

7g
Nutritional Information automatically calculated by a plugin and may not be correct.