This Vegan Hainanese Chicken Rice Recipe hits satisfies that craving in all the right ways! Made with vegetarian chicken broth from scratch, the rice is super flavourful. Then it's loaded with juicy mushrooms that mimics the jelly-like chicken skin and white beans that stand in for white meat for a healthy alternative to the classic Singapore favourite Chicken Rice.
How this Vegan Hainanese Chicken Rice came to be…
When I was a kid, I was acutely aware that my meals were often very different from other Canadian kids. When other kids brought ham sandwiches to school, I had a container of rice, vegetables and meat. While mainstream media had me believing that kids should hate vegetables, I loved the sautéed greens that my Dad made with every meal.
In my home, my sister, my brother and I all ate the same things my parent's did. There weren't separate "kid-friendly" foods prepared. All food was just food. That's not to say we didn't have our own preferences. My brother often refused tofu and I was prone to hiding green peas and throwing them out my bedroom window in a sneaky attempt to get out of eating them. Seven-year-old-me didn't consider that anyone walking past could see that there was a pile of peas under that window.
Click here to skip to the printable recipe.
I was nearly an adult before I got over my hate of peas; luckily the Chinese cuisine that we ate had plenty of pea-free options. Like Hainanese Chicken Rice. It's a fairly well known dish in Asia and a staple on many Chinese restaurant menus all over the world. I didn't love it because of it's fame though; I just liked the taste. And knowing that it is one of my mom's all time favourite dishes, having it with her was a treat.
Now that I'm vegan, I can still enjoy flavours and textures reminiscent of the original dish. This vegan version is much healthier but carries the same distinct flavours of scallion and ginger with rich umami flavours from mushrooms and vegan chicken-style stock. Although I haven't yet shared this dish with my mom, I'm sure she would love it too.
The rice, though plain looking, was the biggest deal of all. Every grain is full of flavour from the special broth. To me, rice is the ultimate in comfort food.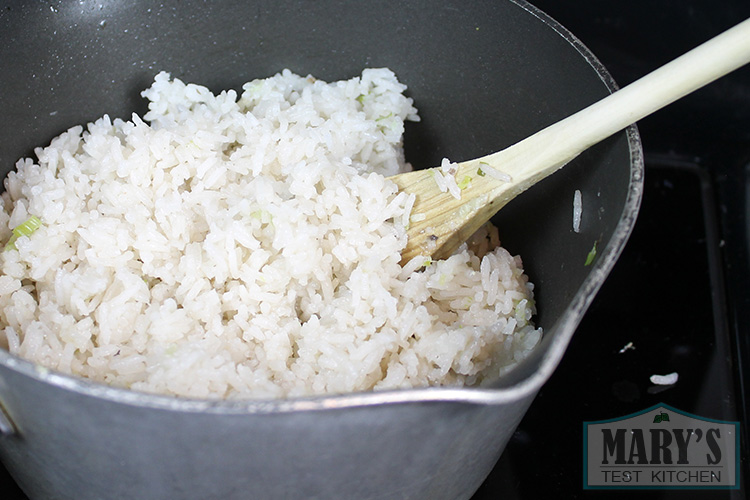 I recommend straining out any bits of garlic, ginger or scallion from the broth before preparing the rice as the texture may be too much for young palates. At least, it was for mine when I was a kid. I loved the flavour of those three things but could barely tolerate the textures.
How does this Vegetarian Chicken Rice compare?
In this version of Hainanese "Chicken" Rice, there is no chicken alternative used at all. Instead, mushrooms stand in for the gelatinous texture of steamed chicken skin, while white beans stand in for the white meat. Another great alternative that's been swimming in my mind is Gardein or other vegan chicken alternative with some steamed yuba (bean curd) in place of the skin. For my vegan and vegetarian readers, sorry for the detail as I know it can be a bit disturbing. But for my readers who love/loved this dish, you can rest assured that there is a plant-based version to satisfy those cravings!
Video Tutorial for Vegan Hainanese "Chicken" Rice
Hainanese Rice usually comes with two sauces:

I find it is most time efficient to prepare the ingredients for all three recipes before starting as many of the ingredients overlap.
Printable recipe for Vegan Hainanese "Chicken" Rice
Click here to view the full original post for my Vegan Hainanese "Chicken" Rice".
Yield: 4 servings
Vegan Hainanese 'Chicken' Rice
This vegan version of Hainanese Chicken Rice uses whole, plant-based ingredients to capture the authentic, savory essence of the dish but is much easier and faster to cook than the original.
The main flavours come from the generous amounts of garlic, ginger and scallion (aka green onions), plus a special broth that extracts umami goodness from mushrooms. That flavour gets sucked up into ordinary white rice and transforms it into the most flavourful, delicious dish!
Don't forget to serve this with easy-to-make Scallion Ginger Sauce (aka Green Onion Ginger Sauce) and Hainan Chili Sauce.
Ingredients
Hainanese 'Chicken' Flavoured Rice Ingredients
1 teaspoon cooking oil
4 teaspoons ginger, minced
4 teaspoons garlic, minced
4 tablespoon scallion, white and light green parts only, chopped
2 heaping cups mushrooms, thick sliced
3 cups vegan chicken-style prepared broth
1 cup cooked white beans (or your choice)
1 1/2 cups uncooked white rice
Garnishes
4 tablespoons scallions (dark green parts only)
1/2 cup sliced cucumber
1/4 cup grated carrot
4 sprigs of cilantro
Instructions
Wash the rice. Place the rice in a bowl, add water and swish around. Drain the cloudy water. Repeat until the water runs clear. Drain the remaining water and set the rice aside.
Heat a pot over high heat with a little vegetable oil. Add a teaspoon of garlic, a teaspoon of ginger, and a tablespoon of chopped scallion, white and light green parts only. Let them sizzle for a few seconds before adding the mushrooms. Reduce the heat to medium high and let the mushrooms cook until soft; about 5 minutes. Stir occasionally.
Add an additional teaspoon of garlic, a teaspoon of ginger, a tablespoon of scallions (again only white and light green parts), 3 cups of broth, and cooked beans. Turn the heat to high, let the broth come to a boil, then simmer on low for about 3 minutes.
Turn the heat off. Remove the beans and mushrooms with a slotted spoon and transfer to a bowl to cool. Optionally, chill the beans and mushrooms in the fridge as the main protein in this dish is traditionally served cold over hot rice.
You will have about 3 cups of broth remaining. Reserve one cup and set aside, checking that you have 2 cups left in the pot. Add the washed rice to the pot and turn the heat to high. When it comes to a boil, turn the heat to low, cover and simmer until the rice has absorbed all the broth; about 15 minutes. Do not stir the rice while simmering!
While the rice is cooking, make the Scallion Ginger Sauce and Hainan Chili Sauce.
Serve the hot rice with beans and mushrooms on top, along with Scallion Ginger Sauce, Hainan Chili Sauce, sliced cucumber, carrots, the chopped scallion (the dark green parts), cilantro, and the remaining broth.
Notes
The mushrooms and beans in this dish are served chilled to be more like the original Hainanese dish. However, this dish also tastes great with everything hot so serve it however you prefer!
Instead of beans, you can also use tofu or sliced seitan. Super firm pressed tofu will give this dish a toothsome bite that is similar to chicken. Soft tofu can deliver the same flavour with a delicate texture. Choose the dense protein that you prefer or leave it out all together. THERE ARE NO RULES!
Nutrition Information:
Yield:
4
Serving Size:
1
Amount Per Serving:
Calories:

623
Total Fat:

16g
Saturated Fat:

4g
Trans Fat:

0g
Unsaturated Fat:

10g
Cholesterol:

97mg
Sodium:

172mg
Carbohydrates:

80g
Fiber:

5g
Sugar:

4g
Protein:

37g
Nutritional Information automatically calculated by a plugin and may not be correct.