No one's going to know this vegan 'chicken' shwarma wrap is totally plant-based unless you tell them. It looks, smells and tastes like chicken shwarma. And if you bring it to school or the office for lunch, you can be sure of a few jealous glances. Click here for the printable recipe.
Video Tutorial for Vegan 'Chicken' Shwarma Wraps Recipe
Once upon a time, I would have Chicken Shwarma wraps all the time. My go-to shwarma stop was a local favourite that was close to work and cheap AF. I didn't even mind the line that went down the block (and sometimes to the next block over) because the staff worked super fast. It was so small that only about three people in line could be "inside" at any one time. It wasn't my only shwarma source but that's where I learned to love that particular mix of spices, garlic, and savory flavour. When I went vegan, I switched to falafel and was pretty satisfied with that. But now, I know I don't have to live without the flavours that I once loved to stay vegan. Now it's easy to switch out the animal flesh for plant-based 'meats'.
For this recipe, I'm using Blue Menu Vegetarian Chicken Breast. #notsponsored #iwish #imeanitloblaws #reallyilltakeitincoupons
The label says vegetarian but the product is also vegan-friendly. In fact, it's made by Gardien. The ingredients are the same as Gardien's Chick'n Scallopini.
Edit June 26, 2019: The Blue Menu product mentioned above was sadly discontinued. Loblaws has recently come out with a new similar product that I have not tried yet. Happily, there are even more vegan chicken alternatives on the market these days.
You may be able to use other vegan chicken alternatives but you might need to add extra seasoning. Similarly, you could probably substitute soy curls or tofu with excellent results but I'd recommend marinating first. Perhaps with some vegan vegetable or chicken-style broth.
All that said, when I dreamed up this recipe, I wanted your friends to get jealous when you pulled out this beautiful, colorful, aromatic wrap from your lunch bag/kit/box. I wanted them to get curious because it looks just like real chicken. And I wanted you to tell them that "Anything you can eat, I can eat vegan" because you can. 😉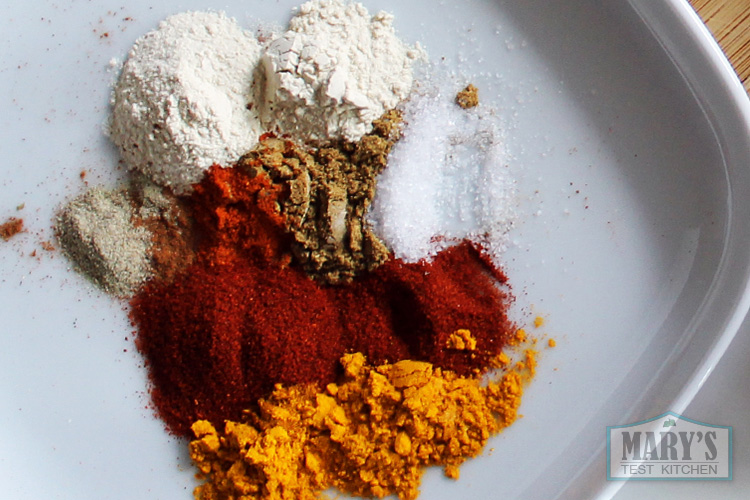 How to Make Vegan Chicken Shwarma
To begin, partially defrost your vegan 'chicken'. This is just so you can separate the patties into pieces. You don't want to defrost all the way though. When fully defrosted, the pieces break down too much and may dry out too much after cooking.
Then add garlic, lemon, and spices. I really like using my Lemon Roasted Garlic Sauce for this as it adds an extra dimension to the flavours but you can also just use fresh garlic and lemon juice. I've kept the spice mix as simple as possible. Some might say I'm missing sumac or allspice but I really wanted to keep the list short for simplicity's sake. Of course, do what you like. There are no rules!
Bake the seasoned vegan meat first at 325°F. When it's heated through, raise the baking sheet closer to your broiler and broil for a few minutes. This is just to get some charring and crispy bits on the meat; just like regular shwarma. I watch the oven like a hawk whenever I broil anything as it can go from perfect to burnt in mere seconds.
This is going to smell so amazing out of the oven but restrain yourself because this is for your packed lunch, remember? Let it cool a bit before storing in the fridge for up to 7 days.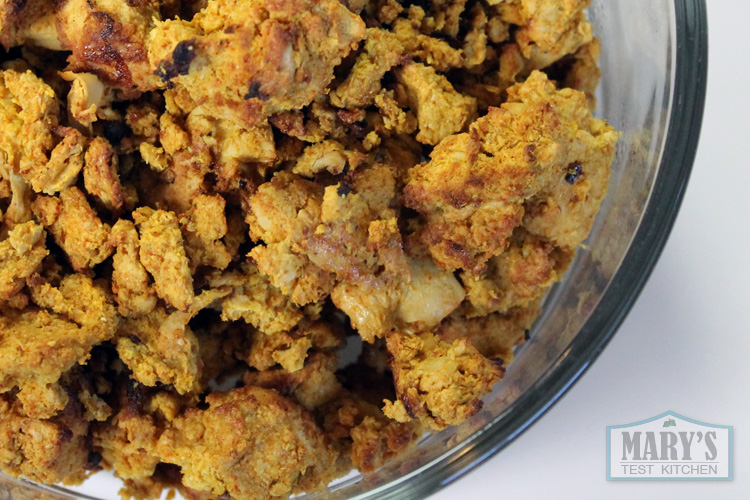 If you're planning to have wraps throughout the week, I would avoid pre-assembling as they can get soggy just sitting in the fridge. But make things easy on your morning-self by pre-washing and slicing lettuce, tomatoes, onions, cucumbers and any other veggies you plan to include. Have them in containers at the front of your fridge so you can assemble your vegan shwarma masterpiece in seconds. Also don't forget to have some hummus for an extra high-protein spread.
For the wrapper, I love using homemade "naan." Partly because it just tastes great but also because it looks impressive. I divide up my basic pizza dough recipe and roll the pieces thin. Then, I cook them on a skillet over high heat. Each piece takes two minutes or less to cook and come off fluffy, soft, stretchy and delicious. Use store-bought pita or naan if you like.
I like to wrap my shwarma to go in parchment but you can use any food wrap you like. Whatever you do, wrap it tightly so it stays together and nothing leaks!
I hope you try this recipe and let me know what you think in the comments. 🙂
Next week, I've got two more vegan lunches to make your friends jealous so check back or subscribe for updates!
Printable Recipe for Vegan Chicken Shwarma Wraps
Yield: 4 wraps
Vegan 'Chicken' Shwarma Wraps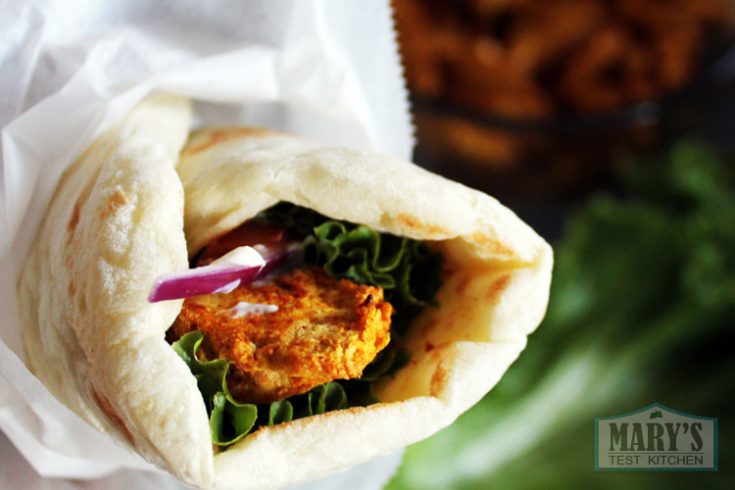 Delicious, juicy, savory, and aromatic Vegan Chicken Shawarma Wraps are simple to make with this easy recipe. The list of Middle Eastern spices from traditional shawarma recipes is simplified and applied to plant-based chicken alternatives along with mellow roasted garlic and bright lemon juice. Rolled up with tomatoes, lettuce and onions along with creamy hummus, these wraps make perfect lunches for work or school. 
Ingredients
8.8oz vegan "chicken", eg. 4 pieces Gardien Chick'n Scallopini (280g)
1/4 cup Lemon Roasted Garlic Sauce* (or 4 cloves crushed garlic + 2 tablespoons lemon juice)
1 teaspoon onion powder
1/2 teaspoon cumin
1 teaspoon paprika
1/4 teaspoon turmeric
1/4 teaspoon cayenne
1/4 teaspoon sea salt
2 pinches cinnamon
2 pinches black pepper
2 teaspoons cooking oil
Other ingredients
4 pita (or naan)
1/2 cup hummus
lettuce
1 tomato, sliced
red onion slices
Instructions
Preheat oven to 325°F.
Partially defrost the frozen vegan 'chicken.' You can thaw it in the fridge or use the defrost setting on your microwave for a few minutes. We want to be able to chop them into pieces but still retain their shape.
Slice the pieces into chunks, about 1/4" thick.
Transfer to a large mixing bowl and add the spices, cooking oil, and lemon roasted garlic sauce. If you prefer, you can substitute the lemon roasted garlic sauce with 4 cloves of crushed garlic and 2 tablespoons of lemon juice. Mix well.
Spread the seasoned pieces out on to a parchment lined baking sheet.
Bake at 325°F for 12 minutes until fully heated through. Then, broil** for a few more minutes until lightly charred. The vegan "chicken" shawarma can be used right away or let cool before storing in an airtight container in the fridge. This tastes great hot or cold.
To assemble the wraps, spread 2 tablespoons of hummus on each pita/naan. Add lettuce, then vegan "chicken", tomato slices, red onion, and any other veggies you'd like and wrap up. Enjoy!
Notes
Roasted Garlic Lemon Sauce
Try making your own with THIS easy recipe. Or instead of roasted garlic lemon sauce, you can substitute 4 cloves crushed garlic and 30ml lemon juice.
Note about broiling
Broil from the top to get light charring on the tops of the "chicken" pieces. Be careful not to overcook as they can dry out too much. If your oven doesn't have a top broil function, you can fry the pieces on stove top to get some browning or just leave this step out.
Vegan Chicken Alternatives
You can use other vegan chicken alternatives for this recipe but may need to add a bit more seasoning. If you don't want to use a store-bought vegan chicken product, try using soy curls (rinsed well and soaked in vegan chicken-style broth) or extra firm tofu.