This deceptively simple vegan pizza is ridiculously delicious with juicy mushrooms nestled in a bed of cream-cheesy tomato sauce on a perfect soft and slightly chewy crust that's wonderfully crisp on the bottom, topped with vegan mozzarella cheese and finished with savory spices. Click here for the printable recipe.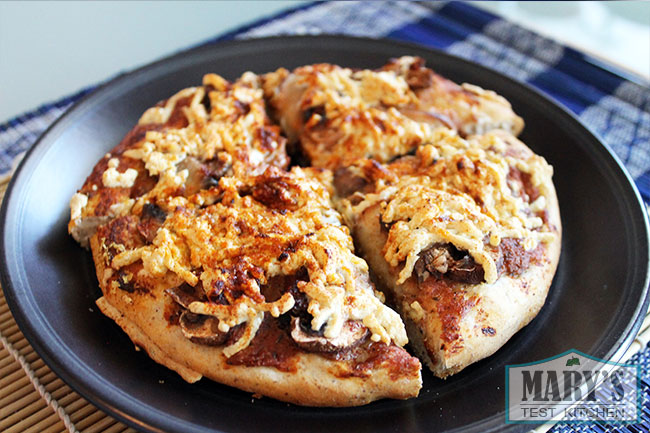 Usually, I won't make the same pizza twice, but ONE taste of this vegan mushroom pizza and I KNEW I had to make it again and film it for you guys. The crust has a great crisp on the bottom but it's soft and slightly chewy on the inside. The sauce tastes like it has cream cheese swirled in; rich and dreamy. SO FLIPPING GOOD. Have I been repeating myself? That's because it's just TOO DANG DELICIOUS!
Video Tutorial for Vegan Mushroom Pizza with Cream Cheesy Tomato Sauce

I made this pizza with the same dough as my fluffy flax hamburger buns. Actually, that dough is my go-to for most things. The trick to keeping the dough soft, even with the extra fiber, is to use flax seeds that is very finely ground. I actually buy already ground flax seed and put it though a spice grinder one extra time to get it almost floury.
This crust is more like pan-style crusts but you don't have to wait for it to rise on the pan. If you prefer a thinner crust, let it rest longer after you divide the dough and just stretch it out thinner than I did here. You'll want to reduce the bake time as well. Like all my recipes, tweak them for your tastes and for what you have on hand. The slice below has a yellow-ish crust because I blended leftover soup into the crust which gave it a curry kind of flavour.
Using this recipe, I made 6 individual sized pizza but not all at once! It was International Vegan Pizza day so I made two personal sized mushrooms pizzas; one for me, one for my man. Then for the next meal of the day, I used more of the same dough, the same cream-cheesy tomato sauce, but topped it with Tofurkey sausage, olives, red onion and pineapple. Sort of like a Hawaiian Pizza but with olives. The silken tofu mixed with the acidic tomato sauce really comes together to taste like a tomato-y cream cheese. If you have extra dough, just shape them and turn them into hamburger buns, garlic cheesy rolls, etc. The possibilities are infinite!
Printable Vegan Mushroom Pizza and Cream Cheesy Tomato Sauce Recipe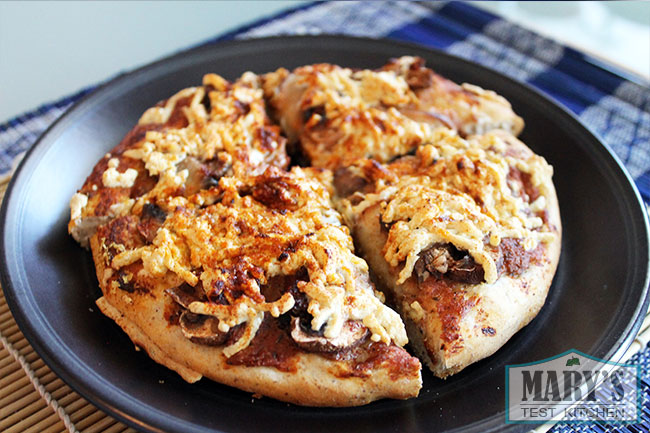 Vegan Mushroom Pizza with Cream Cheesy Tomato Sauce
2014-07-08 16:00:06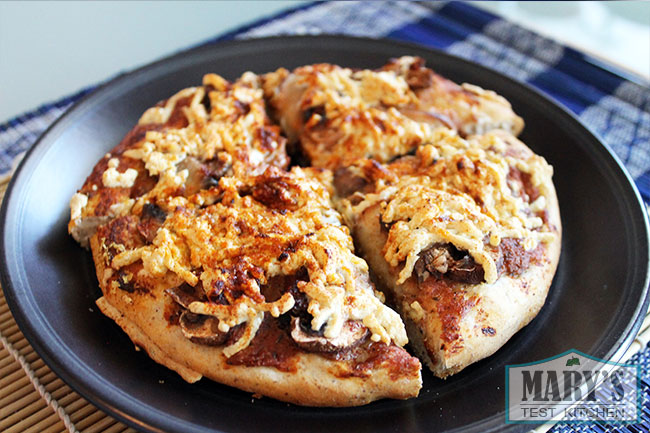 A simple mushroom pizza that's ridiculously delicious. The crust has a great crisp on the bottom but it's soft and slightly chewy on the inside. The sauce tastes like it has cream cheese swirled in; rich and dreamy but with no extra fat!
Dough ingredients
1 cup warm water [40C or 104F]
2 1/4 teaspoons dry yeast (instant or traditional) [11cc]
1 tablespoon sugar [14cc]
2 tablespoons vegetable oil (eg. organic canola, olive oil or melted Earth Balance) [30cc]
2 tablespoons ground flax seed (the more finely ground, the better) [30cc]
1/2 teaspoon salt [2.5cc]
3 or more cups all-purpose white flour [710cc]
Sauce Ingredients
1 can of pizza sauce [ 213 ml or about 7oz]
6 oz extra firm silken tofu (I used a half package of Mori-nu Extra Firm Silken Tofu)[175g]
3 tablespoons nutritional yeast
1 tablespoon onion powder
2 teaspoons herb blend, your choice [10 cc]
1/2 to 1 teaspoon salt
1 clove garlic
optional: 1/4 teaspoon white pepper
optional: 1-2 tablespoons vegan BBQ sauce
Toppings
mushrooms, sliced (about 1 large mushroom per serving)
shredded meltable vegan mozzarella (about 1/4 cup per serving or 60cc) or homemade vegan mozzarella
nutritional yeast
salt & pepper
paprika (regular or smoked)
Starting the dough
In a large bowl, whisk the warm water, yeast, sugar and a half cup of flour together.
Let stand for 5 to 10 minutes. You'll know the yeast is active when it blooms.
Mix in the oil, salt, and ground flax seed.
Incorporate the flour, a half cup or so at a time until it becomes doughy.
Turn dough onto a flat surface and knead for five to ten minutes. If the dough is too sticky, add a little more flour, but try not to add too much. As you knead, the dough will become more elastic and should not stick.
Let the dough rest in the bowl with a warm damp cloth or vented lid over top. Place it in a warm location free from drafts for 45 minutes or until the dough has doubled in size.
Punch down the dough and turn it onto your flat kneading surface again.
Knead and form into a ball. Flatten slightly.
If you're making personal sized pizza like I am in the video, cut the dough into six pizza (or as many as you'd like). Knead each into a ball and flatten slightly.
Cover with a damp lint-free towel or floured plastic wrap and set aside.
Preheat Oven
Set the temperature to 500 Farenheit or 260 Celcius
Make the sauce
In a blender, combine all the sauce ingredients. Blend until very smooth.
Taste the sauce and adjust for salt and pepper.
Assemble the Pizza
Flatten the dough and stretch it gently until it is about 1 cm thick or just under 1/2 inch. Alternatively, you can use a rolling pin.
Add the pizza sauce, using about 2-3 tablespoons per serving, and spread it out evenly.
Add the sliced mushrooms.
Top with vegan shredded mozzarella (like Daiya), about 1/4 cups per serving. Alternatively, you can use an easy homemade cheese like this one: "Foxy Moxy" cheese.
Sprinkle top with salt, pepper, paprika, and extra nutritional yeast.
Bake the pizza at 500F or 260C for about 13 minutes or until the middle is bubbling and the edges look lightly golden.
Broil under high for 1 or 2 more minutes or until the cheese brown in spots on top.
Remove carefully, slice and serve!
Notes
Because all ovens vary in their temperature and humidity, keep an eye on your pizza for the first couple times you make it and make a note of any changes to bake time and broiling time that you notice.
Mary's Test Kitchen https://www.marystestkitchen.com/
I hope you try this simple way to make amazing pizza. Enjoy!