The second of three Vegan Lunches That Will Make Your Friends Jealous, Gochugaru Tofu Subs are hearty and full of protein to get you through your day. Sweet and spicy sauce made with Korean Red Pepper Flakes (aka gochugaru) is used to marinate extra firm tofu before it's baked to perfection. Then the same marinade is turned into a thick sesame spiked sauce. Add some vegan cheese, cucumbers, and slice red onion tucked into a toasted sub and you've got a most drool-worthy vegan lunch that is sure to turn heads! Click here if you just want to make the Sweet and Spicy Tofu (with extra sauce too).
Video Tutorial for Gochugaru Tofu Subs
More Vegan Lunches To Make Your Friends Jealous:
Make the Gochugaru Tofu
For really flavourful tofu, you'll want to start this recipe a day ahead of baking. When making marinated baked tofu, one of the most important steps is to press the water out of the block. Slice your extra firm tofu into 1/4″ slices (just over half a centimeter). Then blot the pieces firmly on both sides with paper towel or a clean, lint-free kitchen towel. Repeat a few times until the towel comes away dry.
Removing the water leaves room for the marinade to sink into the tofu.
Gochugaru Tofu Marinade
Mix together orange juice, soy sauce, brown sugar, sesame oil, minced garlic and finely chopped scallion along with gochugaru (AKA Korean Red Pepper Flakes).
Gochugaru is made from dried Korean Red Peppers. The type I used in this recipe is in powder form. If you use a larger grind, you might need a larger volume than I've used.
Marinate the tofu in a shallow pan or in a sealable bag and let it sit in the fridge overnight or longer; up to two days. Alternatively, you can freeze the tofu in the marinade for baking later. Freezing will change the texture of the tofu. It gets spongier; sometimes I prefer that texture, sometimes not. If you do choose to freeze it, make sure you thaw completely before moving on to the next step.
Remove the tofu pieces from the marinade and lay them out on a parchment lined baking sheet. You could use a silicone baking mat instead of parchment if you have one. Reserve the marinade so we can turn it into sauce!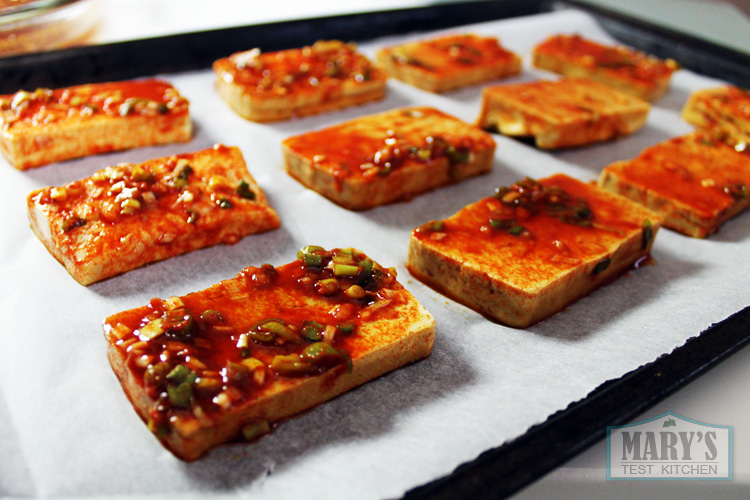 Bake the Tofu + Make Gochugaru Sauce
Bake for 15 minutes at 425°F (215°C) on each side. The tofu will get denser with baking and the edges may char a bit.
Meanwhile, transfer the marinade liquid to a sauce pan and cook over high heat. Stir in cornstarch slurry, let it come to a boil, then turn the heat to low. The cornstarch slurry will thicken the sauce in just a few minutes.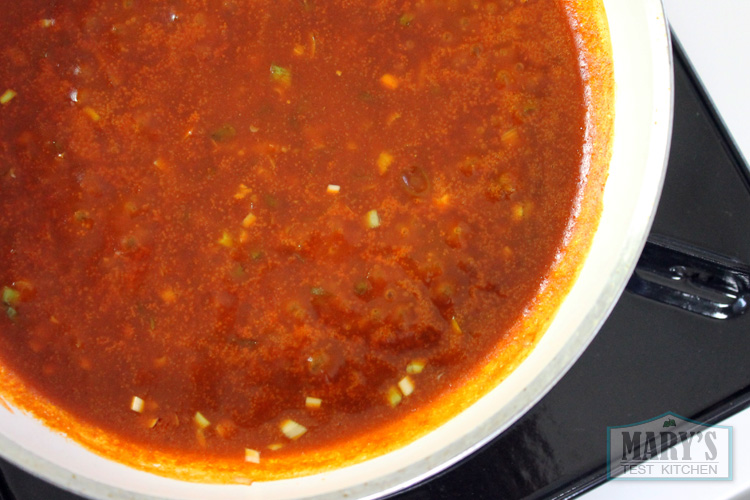 When the tofu is finished baking, you can use it with the sauce right away. Or store it in a container with the sauce layered between each piece of tofu. Then you can use it to make packed lunches throughout the week.
Prep Ingredients for the Gochugaru Tofu Subs
To make things easier in the morning, I like having all the fillings pre-prepped, sitting in containers at the front of the fridge so they're easy to get together.
I don't like to pre-assemble these sandwiches as they can go soggy in the fridge. If you must though, spread some vegan cheese on both sides of the bread to act as a moisture barrier.
I toasted my submarine bun with a little aquafaba mayo udner the broiler. This makes the inside and edges just a little crispy while the rest of the bread stays soft.
Then on goes slices of homemade aquafaba mozzarella cheese (or any vegan cheese Gary you like) and gochugaru tofu covered in sweet and spicy gochugaru sauce. Add some crunchy veggies like cucumber and red onion. Finish with a little extra sauce and toasted sesame seeds. Then roll up your sandwich in parchment paper and it's ready to go in your vegan lunch bag. Enjoy!
In case you're wondering since I kind of disappeared for a while there, here is what's going on in my life at the moment.
Printable Recipe for Gochugaru Tofu Sub Sandwiches
Yield: 3 6-inch sub sandwiches
Gochugaru Tofu Subs
Toasted submarine sandwiches filled with sweet and spicy baked tofu, crunchy cucumbers, red onions and creamy vegan cheese are perfect for your vegan packed lunch. Gochugaru (Korean Hot Pepper Flakes) adds spice with a hint of smoke and a brilliant deep red color. Start this recipe a day before baking so the marinade has time to transform bland tofu into flavourful dense protein.
Total Time
8 hours
30 minutes
Ingredients
1 12oz block of extra firm tofu (not silken)
Marinade*
1/2 cup orange juice
3 tablespoons light soy sauce
1 1/2 tablespoon brown sugar
1 tablespoon gochugaru (Korean red pepper flakes)
2 teaspoons sesame oil
2 cloves garlic, crushed (about 2 teaspoons)
2 scallions, finely chopped (about 1/4 cup)
Sauce Thickener
1 teaspoon cornstarch
2 tablespoons water
Other ingredients
3 x 6" submarine buns
vegan mayo mayo
vegan mozzarella cheese (or your choice of vegan cheese)
sliced red onions
slice cucumber
toasted sesame seeds
Instructions
Marinate tofu
Cut tofu into 1/4" slices. Remove excess water by blotting each piece of tofu with a clean lint-free kitchen towel or paper towel several times. Press firmly but gently to squeeze out the water without breaking the tofu.
Whisk the marinade ingredients together. Cover the tofu with the marinade in a shallow pan or in a resealable plastic bag. Let marinate in the fridge overnight or up to two days.
Bake the tofu and prepare the sauce
Preheat oven to 425°F. Remove the tofu from the marinade and spread the pieces out on to a parchment lined baking sheet. Reserve the marinade for the sauce. Bake the tofu in your preheated oven for 15 minutes. Flip the pieces and bake for an additional 15 minutes. The tofu will get firmer and the edges may be charred a bit.
While the tofu is baking, prepare the sauce. Transfer the marinade to a sauce pan. Combine the cornstarch and water, mixing well so the starch is well suspended in the water. Add to the sauce pan and cook over high heat until it boils. Then lower the heat to a simmer and cook until the sauce thickens. It should only take a minute. The sauce will thicken even further when it cools.
Store the tofu
When the tofu is done, transfer the pieces to a heat safe bowl but layer some sauce in between each piece. It can be used immediately or stored in the fridge for up to one week.
Assemble the sandwiches
Spread some vegan mayonnaise on both halves of the bread and toast under the broiler until the edges are browned. If packing to go, let the bread cool before adding the fillings.
Stack vegan cheese, gochugaru tofu, cucumbers and red onion slices on to the base. Finish with a sprinkle of toasted sesame seeds and extra gochugaru sauce if desired. Roll up the sandwich in parchment paper and secure with a rubber band. Your sandwich is ready to go! Enjoy!
Notes
*This amount of marinade makes 1/2 cup of sauce. This just coats all the tofu slices. For extra sauce, double the marinade and thickener ingredients.