Is vegan beef possible? Vegan Beefy Beefless Seitan is! This hearty seitan has a dense bite and a fibrous texture which makes it perfect for stewing, grilling, stir-frying, roasting, or simply slicing up for sandwiches. Does it taste exactly like beef? Nah. It has a hearty flavour from mushroom stock and marmite that is reminiscent of beef but filled with plant-based nutrients. So this "vegan beef" can stand in for the cow-based stuff in many recipes. You don't have to dump all your old favourite recipes when going plant-based; just sub in some beefy beefless seitan!
Video Tutorial for Vegan Beefless Seitan
Why Make "Vegan Beef"?
If you're new around here, you might wonder why vegetarians and vegans bother with "fake meat." To me, it's not fake. It's plant-based delicious food that is high in protein. In this case, the main ingredient is wheat. With this seitan, I can use lots of my old favourite spice mixes, sauces, and cooking techniques that were once associated with meat in a cruelty-free way that's delicious and full of essential nutrients. Plus, the high protein content is essential for making a meal that keeps you full! Try my Vegan Ginger Beef!
A Special Beefy Ingredient: Marmite!
If you're not familiar with Marmite, it's a yeast extract that, when mixed with water, tastes a lot like beef bouillon. If you don't have Marmite, you can also use soy sauce or miso paste instead. Some viewers have told me Vegemite works like Marmite as well.
More Seitan Recipes:
How to Make Beefy Beefless Seitan
This beefy seitan is super easy to make. All you do is blend all the wet ingredients together, mix with some vital wheat gluten flour to make the dough, then steam it for an hour.
This produces the dense, hearty "raw" seitan. Raw is in quotes as it's clearly not uncooked. However, I really mean raw in the sense that it's meant to be an ingredient to be further prepared in other ways. Sliced thinly for sandwiches or to top crackers, it's still tasty, but this seitan can be made more tasty after a bit of searing or grilling.
What to make with your "vegan beef"
My absolute favourite thing to make with my Beefy Beefless Seitan is Vegan Ginger Beef! The recipe uses tender homemade beefy beefless seitan, coated in a crispy fried batter, and dressed with sweet ginger beef sauce. It's super delicious; just like Chinese take-out ginger beef (AKA ginger fried beef or deep fried shredded beef in chili sauce).
It's great for stews too. Sear it well first, then drop into a flavourful stew and simmer just to heat up or for longer to let the stew's flavours into the beef-style seitan.
For this sandwich, I seared the seitan first, added a couple spoonfuls of my vegan not-honey garlic sesame sauce and chopped red onion, tossed that in the hot pan and stuffed that into a fresh made fluffy flax roll.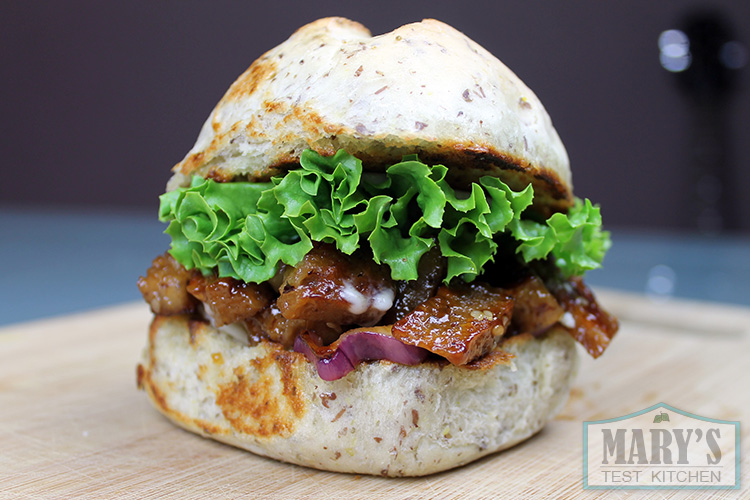 Or you can keep it simple, season with salt and pepper after pan-frying and add to a noodle bowl like this one.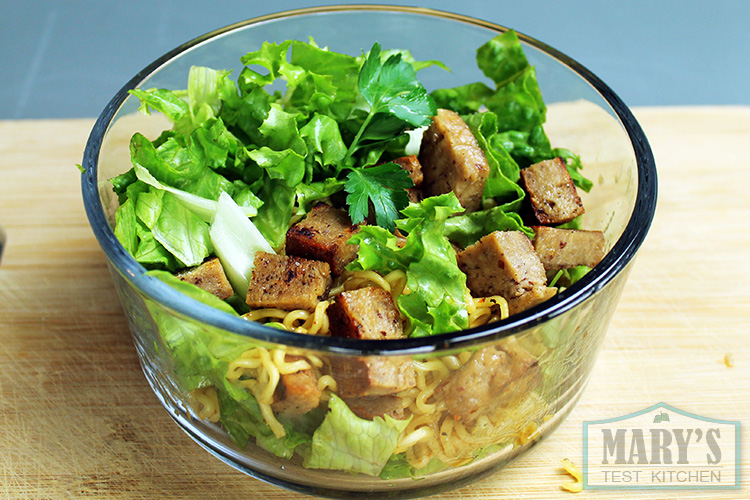 The possibilities are endless. Let me know in the comments what you would do with this beefy seitan!
Printable Recipe for Beefy Beefless Seitan
Yield: 1.1 lbs (500g)
Vegan Beefy Beefless Seitan
Mary's Beefy Beefless Seitan is a classic fan favourite! This vegan beef alternative has a dense, satisfying bite (NOT rubbery) and hearty texture that makes it perfect for stewing, grilling, stir-frying, roasting, or simply slicing up for sandwiches. It has a savory flavour from mushroom stock and marmite that is reminiscent of beef but in a plant-based form that's high in protein and free of cholesterol. 
While some have been known to slice it up and eat it plain, it's best to treat this seitan as a "raw" ingredient and dress it up in traditionally meat-containing recipes. Try Mary's famous Vegan Ginger "Beef"!
Total Time
1 hour
5 minutes
Ingredients
1 cup hot water
1/2 cup cooked kidney beans, rinsed and well-drained
1 cube mushroom bouillon (or 1 teaspoon powder)
1 teaspoon minced garlic
1 tablespoon balsamic vinegar
1 teaspoon marmite (see notes for substitutions)
1 teaspoon onion powder
1/4 teaspoon ground black pepper
1 1/4 cup vital wheat gluten (pure gluten flour), plus more if needed
Instructions
Blend all ingredients together except the vital wheat gluten. You want the ingredients to be fairly smoothly pureed. It's OK to leave some texture in though.
In a large mixing bowl, combine the liquid with the vital wheat gluten.
Stir together until a dough forms. Turn the dough out onto a clean surface and knead to make sure everything is combined well. You should see the gluten strands develop and the dough should be firm and spring back easily. It should be dense and stiff; add more gluten flour if needed. See this video for a demonstration.
Set up your steaming apparatus. Heat the water to a boil and oil the steaming basket so that the seitan doesn't stick. Place the seitan into the steamer, cover and steam over high heat for one hour. Do not let the water boil dry; check it regularly and add water if necessary.
After one hour, remove the seitan and let it cool before slicing into cubes.
This seitan can be used immediately, but the texture can be improved by searing the cubes on all sides, especially if using for stew.
In a large pan, heat a tablespoon of oil over medium high heat. When the oil is simmering, add the cubes. Cook until the bottom is brown, about thirty seconds, then turn the cubes and repeat until all the sides are nicely browned and a bit crispy.
Serve immediately, use for other dishes, or cool and store in the freezer or fridge for later use.
Notes
Marmite Alternatives
Instead of marmite, you can substitute 1 teaspoon of dark soy sauce or 1 tablespoon of miso paste.
Storage
After steaming, you can cool and store the seitan in an airtight container in the fridge for up to one week
Frozen seitan will last for 2 to 3 months.
Troubleshooting
If this seitan is kneaded more, it will before more firm and dense after it is cooked. If you like this, great. But it will lean more to the "rubbery" side.
If the seitan is gummy, it is not cooked enough! Make sure you steam over high heat for the full hour. You may even steam for an extra 15 - 30 minutes to make sure (I don't find this necessary but stoves vary and it doesn't hurt the seitan to steam longer). Let it cool down naturally and don't cut into it until it is cool. For best results, refrigerate overnight.
Nutrition Information:
Yield:
6
Serving Size:
1/6 of recipe
Amount Per Serving:
Calories:

201
Total Fat:

1g
Saturated Fat:

0g
Trans Fat:

0g
Unsaturated Fat:

1g
Cholesterol:

0mg
Sodium:

130mg
Carbohydrates:

11g
Fiber:

1g
Sugar:

1g
Protein:

37g
Nutritional Information automatically calculated by a plugin and may not be correct.