Disappointed by bland grocery store veggie dogs? The veggie dogs that look and taste sad compared to their traditional counterparts? BE SAD NO MORE! Make these fat, juicy, delicious paprika seitan sausages. These vegan hot dogs are perfect for your next cookout/BBQ/potluck/feast!
Click here for the printable recipe.
Video Tutorial for Vegan Hot Dog Recipe // Paprika Seitan Sausages
What is seitan? Not to be confused with the lord of darkness, seitan is a high-protein food made from wheat gluten (ie. not for those with gluten allergies). As traditional as a mock meat can get, it has been made by Buddist Monks since the 7th century by rinsing wheat dough with water. Now, we can get the gluten without rinsing anything! You can find Vital Wheat Gluten in the baking sections of grocery stores, at health food stores, or online. It can also be labelled "gluten flour" or "pure gluten."
Readers/viewers seemed to love my last hot dog recipe, Scallion Seitan Sausages. Those use whole scallions for their rich flavour and cashews to add juiciness with minimal salt to make them both delicious and healthy. Which is great when you want a vegan hot dog that you can have all the time with no dings to your otherwise healthy diet. But what if you don't want a "healthy" hot dog? What it you want all the salt? All the fat? ALL THE FLAVOURRRR??!!
In that case, you'll want to make these Paprika Seitan Sausages.
How to Make Paprika Seitan Sausages
In this vegan hot dog recipe, we use spices and herbs found in conventional hot dogs. Salt is not held back at all so these hot dogs have a comparable sodium level to the full flavoured gourmet bratwurst sausages that you might find in your local grocery. And refined coconut oil gives us the fat that keeps these sausages even juicier without being overly oily.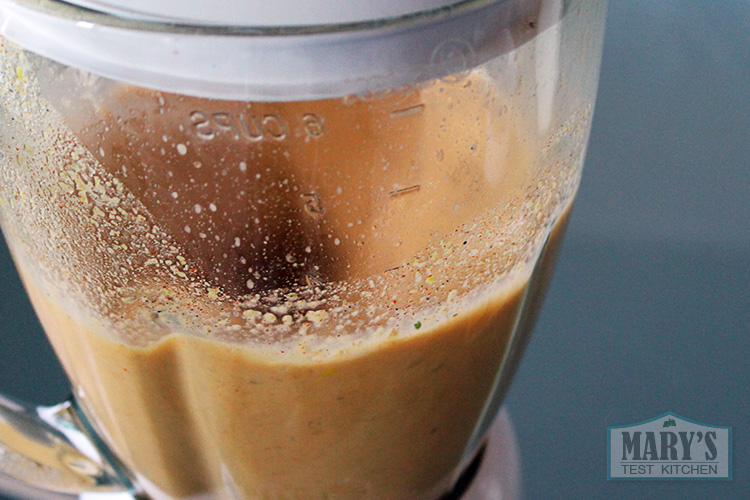 Making vegan hot dogs is super easy in this case. Blend all the ingredients except for the vital wheat gluten (AKA pure gluten flour).
Add the gluten to the liquified ingredients, a portion at a time. Gluten flour kicks up really easily so adding it in slowly prevents a mess. Plus, it's easy to add a bit too much gluten. That would not completely ruin your vegan hot dogs but would make them denser and firmer than regular hot dogs.
There isn't any kneading to be done to this dough. Simply mix until all the dry gluten is absorbed and then divide up the dough.
In my video, I divided the dough into six. However, this makes sausages that are oversized and just one of those will fill me up. So these days, I divide one batch of dough into eight parts which makes large but more reasonably sized servings.
You don't need to oil the foil before wrapping up the raw seitan sausages. Just press the dough into a log shape first. The dough will spring back a bit but that's ok.
Don't want to use aluminum foil? Wrap up the sausages with parchment paper or cheesecloth and secure the ends with kitchen twine.
Take the side of foil closest to you, up and over the seitan.
Tuck it into the other side and use your fingers to press the seitan more into a long log shape. I like to use a hot dog bun as a guide to see how long I want to make the sausage.
The sausage will expand during cooking so don't worry if it looks a little skinny.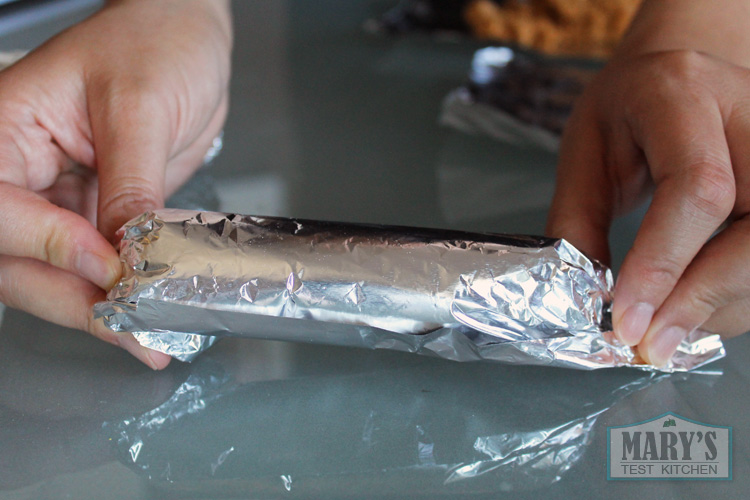 The foil I have in this picture is a little short. If you don't use enough foil, the hot dogs tend to expand unevenly. So if you want perfectly shaped vegan hot dogs, you should use enough to envelope the sausages twice.
Secure the ends and they are ready to steam.
These paprika seitan sausages are too long to fit into my regular steamer baskets so I'm using a large pot with a wire rack at the bottom.
Fill the bottom with water (I use hot water to speed things along), but leave a little room between the surface of the water and the top of the rack. You want to steam these vegan hot dogs, not boil them.
Cook for 45 minutes to one hour over medium high heat. The nice thing about steaming seitan is that it's pretty difficult to over cook them. When they are done, let them cool a bit before removing and unwrapping them.
Once cooked, these parika seitan sausages are ready to eat. You can have them as is, but I like to pan fry or grill them a little first to a crispy texture on the outside.
And that's it! Enjoy!
More Seitan Recipes:
Printable Recipe for Vegan Hot Dogs 2 // Paprika Seitan Sausages



Yield: 8 vegan hot dog sausages
Vegan Hot Dogs #2 / Paprika Seitan Sausages
These fat, juicy, delicious vegan hot dogs perfect for your next cookout. This easy recipe uses spices and herbs found in gourmet hot dogs, plus refined coconut oil keeps these vegan sausages juicy and bursting with flavour. High in protein, as well as taste, these vegan hot dogs are sure to satisfy!

By the way, don't be intimidated by the long list of ingredients; most just go in your blender! And of course, you can substitute or omit the some spices according to what you have on hand. These are YOUR vegan hot dogs and there are no rules!

Prep Time 15 minutes

Cook Time 45 minutes

Total Time 1 hour
Ingredients
1 cup water (240ml)
1/4 cup diced onion (60g)
1/4 cup nutritional yeast* (20g)
2 cloves garlic
2 tablespoons refined coconut oil
2 tablespoons tomato paste
1 teaspoon apple cider vinegar
2 teaspoons sugar
2 teaspoons soy sauce
2 teaspoons celery salt
1 tablespoon paprika
1 teaspoon mushroom seasoning powder/granules**
1 teaspoon ground coriander
1 teaspoon oregano
1 teaspoon ground mustard
1/2 teaspoon caraway
1/2 teaspoon fennel
1/2 teaspoon black pepper
1/4 teaspoon nutmeg
2 cups vital wheat gluten (8.46oz / 240g)***
Instructions
Blend all the ingredients, EXCEPT for the vital wheat gluten, until smooth. Transfer to a mixing bowl.
Add about a third of the vital wheat gluten flour and mix in with a fork. When it's totally incorporated, slowly add the rest of the flour until a soft dough develops. The dough should be fairly loose. Do not over mix or the dough may become overly stiff. Divide the dough into 8 even pieces
Prepare 8 pieces of aluminum foil, large enough to wrap the sausages twice (this ensures they expand evenly during cooking and don't break through). Place one piece of seitan dough in the middle of sheet and roll up starting from the end closest to you, and roll up. See the video for demo. Secure the ends by twisting.
Steam the wrapped sausages over medium high heat for 45 minutes. Remove carefully with tongs.
Grill/fry them to finish them just before serving. Brush on some oil to prevent them from drying out. Add a sprinkle of salt and pepper to the outside to really enhance the flavours. See notes for storage tips.
Notes
Storing your Vegan Hot Dogs
Let the paprika seitan sausages cool before placing in an airtight container in the refrigerator. They will keep for 5-7 days. You may also freeze the sausages.

Nutritional Yeast can be found in many health food and bulk stores, as well as in many major grocery stores and online. It is NOT the same as baking yeast or brewer's yeast. If you cannot get nutritional yeast, 2 tablespoons of good quality miso paste makes a good substitute.

It's NOT ground up dried mushrooms. Instead, it's an extract that is used like powdered bouillon and adds an unique meaty savory flavour. I highly recommend using it for this recipe. If you cannot obtain mushroom seasoning, you can substitute with dry vegan chicken soup mix or vegetable bouillon powder. Mushroom seasoning doesn't have as much salt as most vegan bouillon powders so you may need to reduce the amount of celery salt added.
***What is Vital Wheat Gluten (VWG)?
Also known as PURE gluten flour, is not the same as the wheat flour used in baking. It contains mostly protein and does not taste or behave the same way. The brand that I buy most often is Bob's Red Mill. It is also sold as gluten flour at Bulk Barn.
VWG measuring tip
I like to measure vital wheat gluten by weight rather than volume since the weight I get seems to differ every time I do the "scoop and level" method with it. If you don't have a kitchen scale, make sure to add your gluten a little at a time, stopping when you form a loose, wet dough. Refer to the video to see the desired texture.
Nutrition Information:
Yield:
8
Serving Size:
1
Amount Per Serving: Calories: 273Total Fat: 5gSaturated Fat: 3gTrans Fat: 0gUnsaturated Fat: 1gCholesterol: 0mgSodium: 451mgCarbohydrates: 13gFiber: 2gSugar: 2gProtein: 45g

Nutritional Information automatically calculated by a plugin and may not be correct.