HOT DOGS! GIT YER HOT DOGS! These are not the bland tofu dogs of yesteryear, my friends! These high-protein vegan hot dogs have a hearty sausage bite and burst with savory flavour. Best of all, they are ridiculously easy to make. Click here to skip to the printable recipe.
Video Tutorial for Vegan Hot Dog Recipe / Scallion Seitan Sausages
The Inspiration for these Vegan Hot Dogs
I actually posted this recipe on YouTube last summer but neglected to type it up here for the blog so apologies to my video-adverse readers! Back then, there was a bit of a thing between our food labeling requirements in Canada and Fieldroast so we had to go Fieldroast-less for a while. It was a sad time as Fieldroast made/makes some of my favourite vegan sausages and their frankfurkers are the best! That was one of the main reasons why I came up with this recipe. It isn't based on any one of their sausages, but more inspired by the fact that they put whole cooked veggies into their products. The scallions in this recipe help to break up the texture of the seitan, yielding a softer bite than some of my other seitan recipes.
What is seitan? Not to be confused with the lord of darkness, seitan is a high-protein food made from wheat gluten (ie. not for those with gluten allergies). As traditional as a mock meat can get, it has been made by Buddist Monks since the 7th century by rinsing wheat dough with water. Now, we can get the gluten without rinsing anything! You can find Vital Wheat Gluten in the baking sections of grocery stores, at health food stores, or online. Recently, I've been buying mine from Bulk Barn. It can also be labelled "gluten flour" or "pure gluten."
How to Make Easy Vegan Hot Dogs (Scallion Seitan Sausages)
To start, blend up a bouillon cube with hot water. This makes a very concentrated broth. If you're working with liquid broth, you'll want to reduce the volume by half. Remember that the more flavourful the broth, the more flavourful your hot dogs so choose a good one that you like! Then add all the other ingredients except for the gluten flour.
The cashews in this recipe help to keep the sausages juicy and moist without the use of refined fats. However, if you're allergic to nuts, you can replace this with a tablespoon of refined coconut oil or experiment with other fats.
More Seitan Recipes:
Get rid of the wheaty flavour of gluten
The apple cider vinegar helps to cut the distinct wheaty flavour of gluten and adds to the meatiness. If you can't get apple cider vinegar, try a nice balsamic. Use regular white vinegar only as a last resort as it can be a bit harsh.
Mix in the Vital Wheat Gluten
After blending everything up, transfer the liquid-y puree to a bowl where you'll add the gluten flour bit by bit. Gluten flour is super light and kicks up easily so this method helps to avoid a mess, plus you can scale back the gluten if it looks like the dough is getting too stiff. You want to end up with a soft, slightly loose dough. Just mix enough to eliminate any dry bits. Over mixing will make your hot dogs rubbery.
Shaping the vegan hot dogs dough
Divide up the dough into six portions and roll them up in foil, parchment, or cloth squares. I found that 6″-8″ by 6″ pieces of foil worked well. You can grease the foil on one side so ensure that the seitan doesn't stick. You won't have to do that with parchment/cloth. Twist the foil ends to secure. Use twine to secure if you're using parchment/cloth.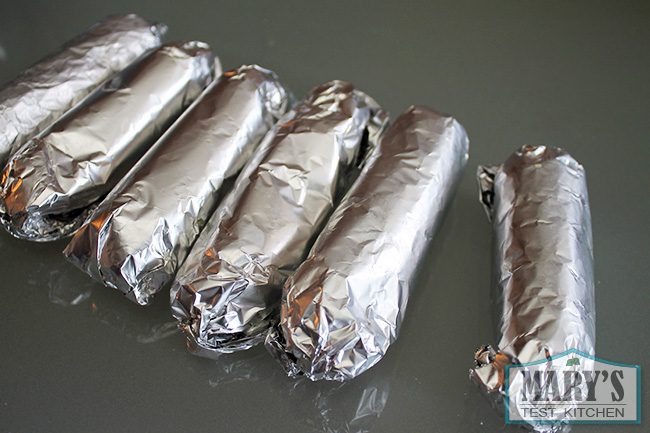 Steam the scallion seitan sausages
Finally, steam the wrapped up seitan over medium high heat for 45 minutes. Let them cool before you unwrap because they will be super hot. If you are using cloth wrappers though, you'll want to use tongs and unwrap them as soon as possible. Otherwise, they might stick terribly.
Finish up!
Once there are cool enough to handle, you can dig right in! They are super delicious and juicy just out of the steamer. But if you can also grill or fry them to get a bit of charring. If you do though, you'll want to brush with some oil so make sure they don't dry out.
And that's it! Enjoy!
Need some buns with that?
Simple Homemade Hot Dog Bun Recipe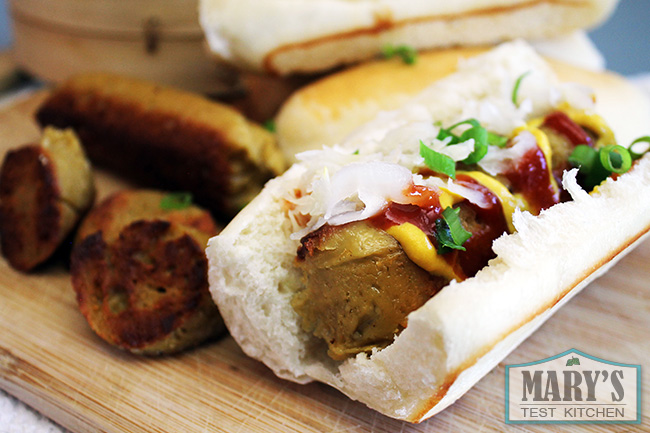 Printable Recipe for Vegan Hot Dogs / Scallion Seitan Sausages
Yield: 6 vegan hot dogs
Vegan Hot Dogs | Scallion Seitan Sausages
HOT DOGS! GIT YER HOT DOGS! These are not the bland tofu dogs of yesteryear, my friends! These high-protein vegan hot dogs have a hearty sausage bite and burst with savory flavour. Best of all, they are ridiculously easy to make. 
Ingredients
1 cup hot water (237ml)
2 cloves garlic
1/4 cup chopped scallions (green onions)
1 cube / 2 teaspoons vegetable bouillon paste/powder*
1/4 cup nutritional yeast
1 tablespoon apple cider vinegar (or your choice of vinegar)
1/4 cup cashew pieces
1 tsp onion powder
1/4 teaspoon ground nutmeg (less if freshly ground)
1 1/4 cup vital wheat gluten (150g)**
Instructions
Blend all the ingredients, EXCEPT for the vital wheat gluten, until smooth. Transfer to a mixing bowl.
Add about a third of the vital wheat gluten flour and mix in with a fork. When it's totally incorporated, slowly add the rest of the flour until a soft dough develops. The dough should be fairly loose. Do not over mix or the dough may become overly stiff. Divide the dough into 6 even pieces.
Tear 3 pieces of aluminum foil, about 6-8 inches wide, from the roll. Cut/tear each one in half so that you have 6 wide rectangles. Grease each piece lightly with oil so that the sausages won't stick to them. Leave about an inch of ungreased space around the sides and top end (side farthest from you).
Place one piece of seitan dough in the middle of a greased foil sheet and roll up starting from the greased end closest to you, and roll up. See the video for demo. Secure the ends by twisting.
Steam the wrapped sausages over medium high heat for 45 minutes. Remove carefully with tongs.
Serve immediately or grill/fry to brown them. To store, let cool before placing in an airtight container in the refrigerator. They will keep for 5-7 days. You may also freeze the sausages.
Notes
*I used 1 cube of regular strength vegan chicken-style bouillon. One cube is meant to make 2 cups of broth. Some pastes or powders are more or less concentrated. So use the amount of bouillon concentrate that is supposed to make 2 cups of broth. Let me know if this doesn't make sense to you!
**Vital Wheat Gluten, also known as PURE gluten flour, is not the same as the wheat flour used in baking. It contains mostly protein and does not taste or behave the same way. The brand that I buy most often is Bob's Red Mill. It is also sold as gluten flour at Bulk Barn.
Nutritional yeast can be found in many health food and bulk stores, as well as in many major grocery stores and online. It is NOT the same as baking yeast or brewer's yeast. If you cannot get nutritional yeast, 2 tablespoons of good quality miso paste makes a good substitute.
If grilling/frying, please be careful not to overcook. As there is not a huge fat content in these sausages, they will dry out faster than their non-vegan counterparts.
Nutrition Information:
Yield:
6
Serving Size:
1
Amount Per Serving:
Calories:

233
Total Fat:

4g
Saturated Fat:

1g
Trans Fat:

0g
Unsaturated Fat:

3g
Cholesterol:

0mg
Sodium:

137mg
Carbohydrates:

12g
Fiber:

2g
Sugar:

1g
Protein:

39g
Nutritional Information automatically calculated by a plugin and may not be correct.