This hearty vegan miso soup is perfect for cool days when you want something cozy and filling in 30 minutes or less. The broth is light and bright with fresh lemon juice, balanced with kale and garlic sauteed mushrooms for deeper flavour, plus protein-rich tender tofu to keep you full for hours. Click here to skip to the printable recipe.
What I Ate Vegan #77 – Feels like Fall

Skip to 4:25 for the Hearty Vegan Miso Soup tutorial.
I made this soup on a cool 22°C day. That's 71°F for my American readers. Which is, I guess, not actually very cool but after a long stretch of 30+°C/86+°F days, it did seem chilly to me. With the wind and sprinkles of rain throughout the day, it felt like fall was on its way. I love fall.
And I love miso. I was in high school when I started making miso soups at home. My sister had a Japanese friend who introduced her to lots of Japanese foods and she, in turn, brought these foods into our family home and I picked up on a few of them. Not natto though. I couldn't even bring myself to try it. But I loved miso paste. I loved that you could easily make a flavourful soup with it. You could spread it on bread with butter and make a super tasty toast. Miso can be mixed into anything, really, to give a savory salty taste. But I mainly made soup and toast.
More recipes with miso:
This simple soup-for-a-meal takes less than a half hour to make and it starts with sauteing thickly sliced mushrooms in vegetable oil along with a big juicy slice of ginger, three cloves of crushed garlic, and a chopped carrot. Cooking the mushrooms down until they are nice and soft brings out their deep earthy flavour.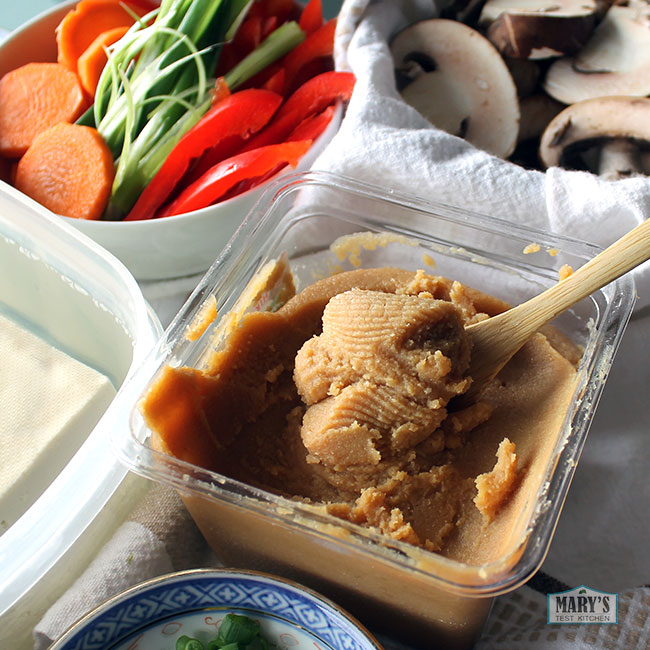 Then add cubed or crumbled tofu and enough cold/room temperature water to cover everything. I used medium tofu that comes stored in water. It's a bit delicate, especially compared to the extra firm tofu I use for most other tofu dishes, so handle it gently. After adding a tablespoon of light soy sauce, cover the pot and let it come to a boil.
When the soup has come to a boil, lower the temperature to a gentle simmer and add kale, sliced peppers and any other vegetable that you don't want to over cook. Kale takes less than a minute to cook through this way so once those greens turn that bright "I'm done now" colour, turn the heat off.
Then it's time to add the miso paste. The best way to do this is to take a little bit of the broth in a bowl and add the miso paste to it, stirring until the paste has dissolved, then adding the mixture back into the pot and stirring gently so the tofu doesn't get broken up. I am too lazy to do that though. I usually add the miso directly into the pot, break it up with a wooden spoon on the side of the pot as best I can and stir, hoping that I didn't leave any big salty chunks.
Finally, stir in a couple tablespoons of lemon juice. That acidity really enhances all the flavours in the broth. Don't forget to taste and, if you like, adjust the seasonings to your preference. After all, this is your miso soup and there are no rules.
I hope you give this vegan miso soup recipe a try. It's so simple and quick to make while being full of plant-based nutrients and flavour. Please let me know if you try this soup and your experience with it in the comments below!
Printable recipe for Hearty Vegan Miso Soup with Kale, Mushrooms and Tofu
Yield: 8 cups
Hearty Vegan Miso Soup with Kale, Mushrooms, and Tofu
This hearty vegan miso soup is perfect for cool days when you want something cozy and filling quickly. The broth is light and bright with fresh lemon juice, balanced with kale and garlic sautéed mushrooms for deeper flavour, plus protein-rich tender tofu to keep you full for hours.
This recipe makes about 8 x 1 cup serves or 4 entrée-sized servings. Feel free to halve the recipe for smaller pots or multiply it for larger scale meal prepping.
Ingredients
2 teaspoon vegetable oil for cooking
6 large cremini mushrooms, thick sliced
1 medium carrot, chopped
1 thick slice of ginger
3 cloves garlic, crushed
700g/ 24oz medium tofu (Traditional Tofu), drained and cut into bite-sized cubes
6 cups water
1 tablespoon light soy sauce
3 cups kale, torn into bite sizes
1/2 red bell pepper, sliced
1 scallion, cut into 3 sections and sliced lengthwise
3 tablespoons white miso paste
2 tablespoons lemon juice
Optional garnish
chopped scallion
sesame seeds
Instructions
Over medium heat, in a large pot, sauté mushrooms, ginger, and garlic together until fragrant. Adjust the heat and stir regularly to make sure the garlic does not burn. After a couple minutes, add the carrot. Continue cooking until the mushrooms are very soft; about 5 minutes.
Add the tofu and enough water to cover all the ingredients; about 6 cups. Turn the heat to high, cover, and let come to a boil. Be careful not to let the soup boil over.
Turn down the heat to a simmer and add the kale, red bell pepper, and scallion. Press the vegetables into the broth to help submerge them. Or add a little extra water or vegetable broth. Let simmer for a minute or until the kale turns bright green and you know it's cooked through.
Turn off the heat. Using a bowl or a ladle, mix a small amount of broth with 3 tablespoons of white miso paste until the miso is dissolved. Pour the mixture into the pot and gently stir to combine. Taste.
Add 2 tablespoons of lemon juice. Taste again and adjust for salt or acidity with miso paste or soy sauce and more lemon juice if desired. Garnish with chopped scallion and sesame seeds. Divide into bowls and enjoy!
Notes
Free to add or substitute any vegetables you like. For hard vegetables that take a long time to cook, add them with the mushrooms. For vegetables that are more delicate or vegetables that you want to stay crisp, add them with the kale.
For a different flavour, you can use other types of miso paste like red miso paste.
Nutrition Information:
Yield:
4
Serving Size:
2 cups soup
Amount Per Serving:
Calories:

300
Total Fat:

16g
Saturated Fat:

2g
Trans Fat:

0g
Unsaturated Fat:

12g
Cholesterol:

0mg
Sodium:

813mg
Carbohydrates:

22g
Fiber:

7g
Sugar:

7g
Protein:

26g
Nutritional Information automatically calculated by a plugin and may not be correct.