I've been meaning to make a veggie lo mein recipe for quite some time. I make lo mein all the time because it's so easy. But on the days when I feel lazy, the ideal time to make lo mein, I don't feel like getting out my camera and filming, let alone measuring the ingredients and recording everything for a proper recipe. But I got a request recently and felt a bit more motivated than usual so here it is! Click here for the printable recipe.
What I Ate Vegan #76 – Veggie Lo Mein + Choco Tacos??

Skip to 2:00 for the veggie lo mein tutorial.
Lo Mein literally means mixed/stirred noodles. Lo means mixed/stirred and mein means noodles. So you can guess why every Chinese restaurant has their own take on it. There are "lo mein" style noodles you can buy. The ones I used for the video tutorial are a store-brand of instant wheat noodles. You can even use rice noodles if you like. The key is to find a noodle that will stand up to a bit of saucy sauce and stirring action.
The sauce is usually soy sauce-based with sugar for sweetness, some vinegar for tang, plus aromatics like garlic and ginger.
This vegan lo mein recipe uses what I happened to have on hand so it's not your typical restaurant style lo mein. It doesn't have the usual vegetables like bok choy, mung bean sprouts, etc. Instead, I used a mix of frozen vegetables and edamame. I was also out of hoisin sauce. Typically, I'd add a tablespoon or more to the sauce.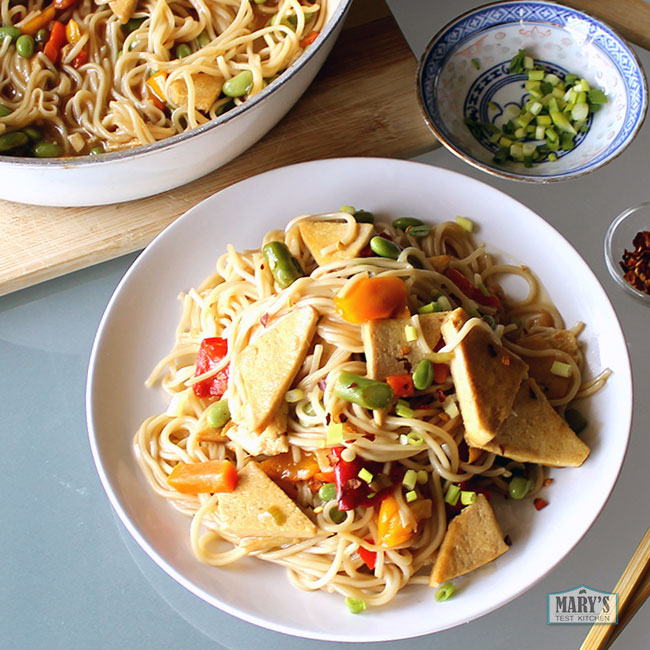 I hope you give this easy vegan lo mein recipe a try. Please let me know if you do and how you customize it for yourself! Enjoy!
Printable recipe for Veggie Lo Mein
Yield: 2 servings
Basic Veggie Lo Mein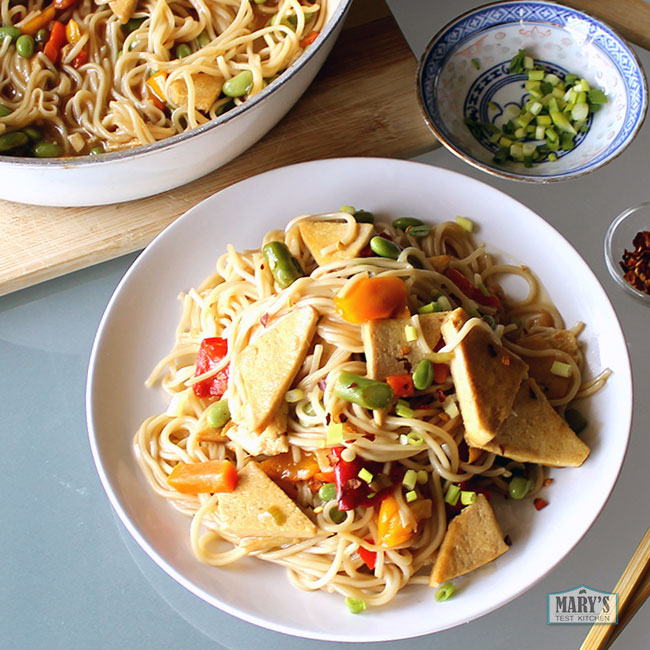 Veggie Lo Mein is an easy way to get a complete meal on the table in under 20 minutes. Tender noodles are mixed in a soy based sauce that's a little sweet, a little tangy and perfect for soaking into tofu and veggies.For this recipe, I used the tofu and vegetables that I had on hand. Feel free to substitute the protein and veggies of your choice. Broccoli, bok choy, and snow peas are fantastic in lo mein.
Ingredients
4oz instant wheat noodles or your choice of noodles (120g)
6oz extra firm tofu (1/2 block) (175g)
6oz mixed frozen vegetables (170g)
3oz frozen shelled edamame (85g)
1 cup 'chicken style' vegetable broth (240ml)
Sauce
2 tbsp light soy sauce
2 tsp Chinese black vinegar
1 tsp sugar
1 clove garlic
1 slice ginger (size of a toonie)
1 tbsp hoisin sauce, optional
1 chopped scallion, optional
Slurry
1 tbsp packed cornstarch
2 tbsp water
Optional garnish
chopped scallion
white pepper
red chili flakes
Instructions
Prepare the ingredients
Pat your tofu dry and cut into 7 thin slices. Cut the slices in half to make squares, then cut diagonally to make small triangles. Or cut them whatever shape you like. This is your veggie lo mein and there are no rules.
Mix the sauce ingredients and set aside. Mix the cornstarch slurry together and set aside.
Cook
Prepare the noodles according to package instructions. If you feel confident multi-tasking and cooking the other ingredients at the same time, go for it! If not, rinse the noodles in cold water once they are al dente, drain, mix with a few drops of sesame oil, and set aside.
Add a couple tablespoons of oil to a pan on high heat. When the oil is hot but not yet smoking, place the tofu in a single layer. Cook for 30 seconds to a minute or until a light golden crust has formed on the bottom. Flip the tofu and cook for another 30 seconds.
Add half the sauce and stir with a spatula quickly. The tofu will absorb the sauce in seconds.
Add the edamame, vegetables, the remaining sauce, and the broth. Let the it come to a boil, then turn the heat down to low.
Give the slurry a mix, then stir it in. The slurry will quickly thicken the sauce.
Add the noodles and fold the ingredients together to combine. Taste and adjust for soy sauce and pepper, if you like. Divide into two servings, add your choice of garnishes and enjoy!
Nutrition Information:
Yield:
2
Serving Size:
1
Amount Per Serving:
Calories:

575
Total Fat:

18g
Saturated Fat:

4g
Trans Fat:

0g
Unsaturated Fat:

11g
Cholesterol:

64mg
Sodium:

1642mg
Carbohydrates:

66g
Fiber:

11g
Sugar:

10g
Protein:

41g
Nutritional Information automatically calculated by a plugin and may not be correct.