In Calgary, we had a week long stretch of warm weather and I could even leave the balcony door open all day and not get a chill! It was absolutely brilliant and the clear blue skies and golden sunshine inspired me to start planning my garden. But when I woke up to start recording my "What I Ate" video, it was snowing. So to comfort my summer-loving heart, I had a giant mug of Very Berry tea by Stash.
What I Ate Vegan Wednesday Video – March 18th

It's an herbal tea with rooibos, hosehips and berry flavours and I've really been loving it lately.
For breakfast, I made a brown rice and lentil congee. I used a quarter cup of red lentils and a quarter cup of brown rice and cooked it like I would normal white rice congee.
In my pre-vegan days, one of my top two favourite types of congee was Lean Pork and Century Egg. Century Egg is preserved duck egg. The white of the egg is a gelatinous, kind of like stiff Jello or cartilage. Actually the "white" is not white at all; the whole egg is black. The yolk is soft and creamy. Not the most appetizing description, especially for my dear vegan readers, but I liked it and the meal was one of my comfort foods. Instead of pork, this congee uses Beefy Beefless seitan that had been sliced thin and baked. To replace the century egg, I used avocado. I had added avocado to my congee for the first time a few months ago because I had some leftover avocado that needed using up and I was having congee anyway. I was really surprised that it reminded me so much of century egg! A little sprinkle of kala namak (AKA Black Salt) and it really tastes like the original. I like this version so much better as the lovely green color of the avocado is a million times more attractive than the black egg.

For lunch I made a simple seitan sandwich with Beefy Beefless Seitan that had been sliced, doused with not-honey garlic sesame sauce and baked to crispy, chewy perfection. It's kind of like a BLTA with the lettuce, tomato, and avocado. Of course the roll is homemade too. Get my French Bread Recipe here.
For dinner, I used up a couple leeks that were sitting in the fridge for a week. I have a confession: I'm really lazy when it comes to cleaning vegetables. Leeks are more work than other veggies to clean so I tend to put them off until they are about to go off! This leek soup is really simple and quick to make though.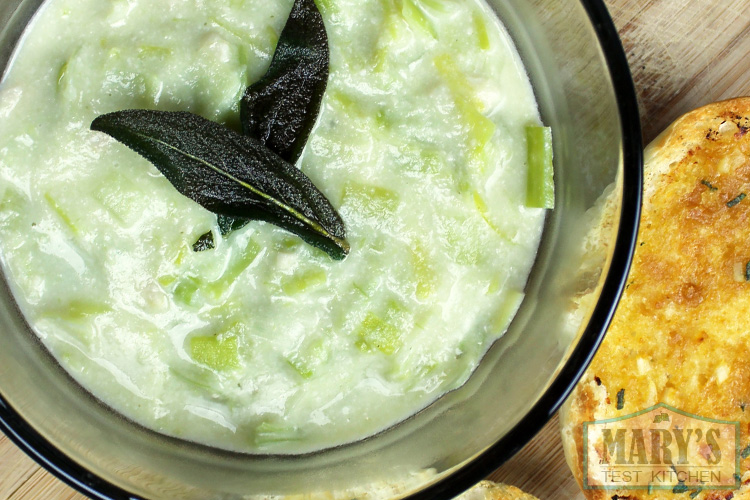 First, the leeks are simply cooked soft with some salt and garlic. The salt draws moisture out of the leeks so you don't need to add any oil. When they are soft, I add a vegan chicken-style bouillon cube and a couple cups of water. Separately, I blended a couple tablespoons of raw cashews with a cup of hot water to create cashew cream and then added that to the pot. Half the soup gets blended to make it thick and creamy, then gets added back in. Stir and you're good to go.
For a nut-free creamy leek soup, check out this Cream of Leek soup recipe that I posted previously.
I topped the soup with crispy fried sage. For that, just fry washed and dried fresh sage leaves in a bit of oil for twenty seconds or so on each side over medium high heat. The taste is smokey, savory, and is just wonderful when crumbled over this soup. It's also great on pasta and on sandwiches too.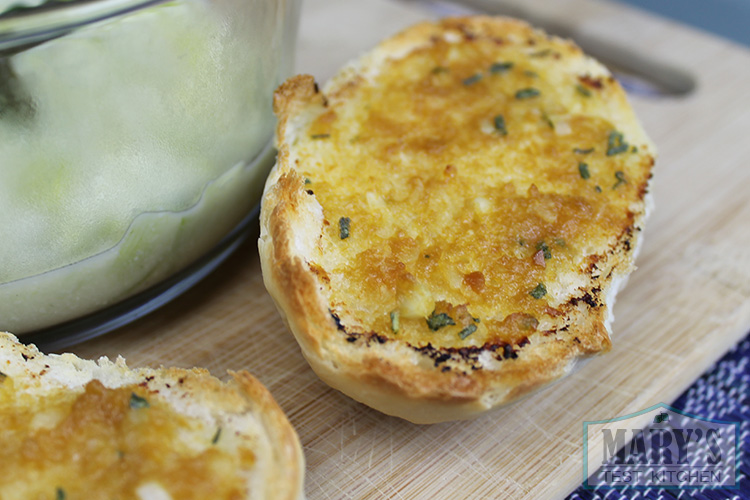 I'm really into fresh sage at the moment. I even chopped some up for the garlic bread we had on the side.
And that was my food day! How was yours?
Printable Recipe for Creamy Leek Soup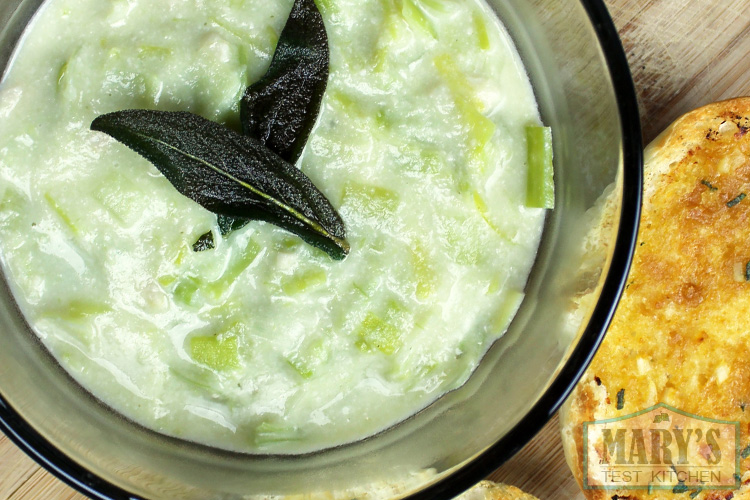 Creamy Vegan Leek Soup
2015-03-18 11:40:03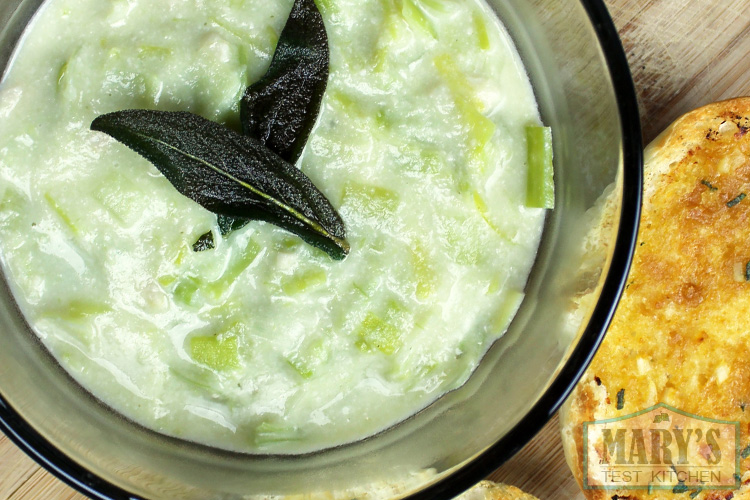 Serves 2
This creamy leek soup contains no dairy or refined oil! This super simple recipe is done in under 20 minutes and is really delicious. Especially when topped with some crispy fried sage and paired with garlic toast.
Ingredients
2 cups chopped leeks, whites and light green parts only [475cc]
1-2 cloves of garlic, minced
pinch of salt
1 cube vegan chicken-style bouillon (1 tsp powder) [5cc]
3 cups hot water, divided (plus more to thin out soup if desired) [700ml]
2 tablespoons raw cashews [30cc]
Instructions
Cook the leeks and garlic over medium high heat in a pot. Sprinkle in the salt and stir to incorporate. Let cook until the leeks are soft, about 5 minutes. Stir regularly to avoid burning the leeks.
Add the bouillon cube and 2 cups of water. Lower the temperature to medium heat.
Separately, blend the remaining cup of hot water with the cashews until very smooth.
Add the cashew cream to the pot and stir.
Let the soup continue cooking but ladle out about half to a blender. Blend until smooth. Add it back into the pot and stir to completely reincorporate.
Taste and season with salt and pepper if desired. For a thinner soup, add more water or vegetable broth. For a thicker soup, let simmer over medium low heat for a while.
Enjoy!
Mary's Test Kitchen https://www.marystestkitchen.com/