Last week, I scored a GINORMOUS head of cauliflower for only two dollars. I knew immediately that I would need to make my favourite cauliflower dish: Beer-Battered Cauliflower Nuggets. Lately, I have been also thinking about omni foods that I used to enjoy and one that came to mind was coated in a healthy dose (by that I mean, very unhealthy dose) of Honey Garlic Sesame Sauce. Luckily, I knew it would be easy to veganize as I had plenty of Vegan Apple Honey in the fridge. Don't have apple honey? Try it! It only takes 15-20 minutes to make!
Click here to skip to the printable recipe
WAIT WAIT WAIT! How can HONEY be VEGAN? Well, only if you make it your-own-darn-self and don't take it from bees. THIS vegan "honey" has the flavour and texture of the original stuff but is made from apples, lemon and vegan-friendly sugar. There are many ways to support all types of bees and other wild pollinators without taking their food. 🙂
Video Tutorial for Deep-Fried Vegan Beer-Battered Cauliflower Nuggets/ Cauliflower Wings
I made up this recipe a couple years ago on a day when I had some cauliflower in the fridge that was in there way too long. Cauliflower is actually my least favourite vegetable. It's shaped like broccoli (one of my favourites) but doesn't taste as nice or absorb sauces as well. I think it's the disappointment that gets to me. That said, I am slowly finding new ways of preparing it that I actually enjoy. Not all of them involve deep-frying.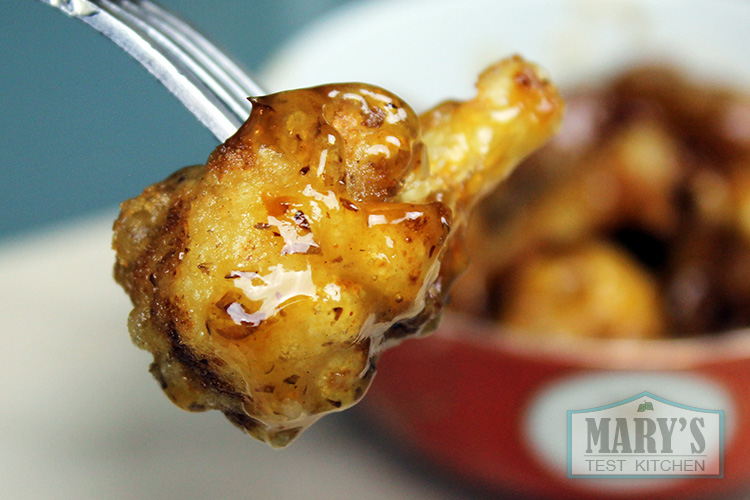 So with this head of unwanted cauliflower, I was actually dreading the idea of eating it! But then I thought to myself, "Deep-frying solves everything." And so it did. Fast forward to today and now I feel that I've refined the process enough that you will be sure to get amazing results each time you make this recipe!
This beer-batter is very similar to how I used to do onion rings. That reminds me…I should make some onion rings.
For the video, I used Whister Brewing Company's Chestnut Ale, one of my favourite winter beers. It's a seasonal ale that has the aroma of roasted chestnuts, malty caramel and vanilla notes and a smooth taste with just a bit of bitterness. It's one of my favourites even though it is pretty darn sweet. Feel free to use any type of vegan beer you like. Check out Barnivore for vegan-friendly beer listings. I actually cannot consume very much of any type of alcoholic beverage as I'm fairly sensitive to alcohol. So when I can't finish my beer (which is usually) I have to find ways to use it up in a way that enhances the whole experience rather than wasting it. Sometimes that results in beer banana bread, beer buttercream icing, or even a conditioning beer hair treatment. But this Beer-Battered Cauliflower is my favourite.
Simply mix together the batter ingredients, toss in the cauliflower pieces, then fry them in hot oil. I used to think that deep-frying was this difficult thing but, as my waistline can attest, it's almost too easy.
Just fry the cauliflower a few pieces at a time. Crowding the pot will lower the temperature and cause the pieces to stick together. You want to maintain the temperature at about 365°F (185°C). If the oil isn't hot enough it will soak into the batter and result in a greasy mess.
Cook for only a minute or two on each side and drain on paper towels. In no time you'll have a plate full of these golden nuggets of crispy perfection.
You could stop here and have them with your favourite hot sauces and vegan ranch sauce. Or you can toss them quickly in a couple tablespoons of Vegan Honey Garlic sauce. In fact I URGE you to try it! This is the kind of food that will convince any skeptical omnivore. Of what? Just that vegan food can be GOSHDARNAMAAZZZZZZZING. 🙂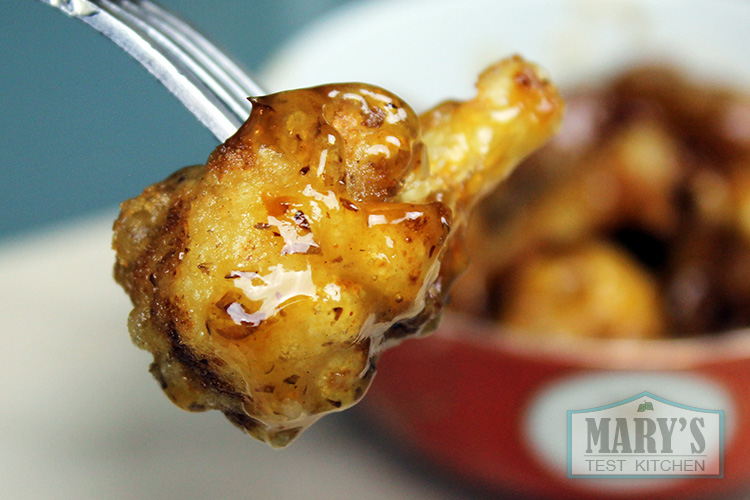 In closing, let me just say that THIS IS NOT DIET FOOD! IT HAS FAT, SUGAR, AND SALT AND ITS AMAAAZZZING! Jokes aside, if this is a bit too indulgent for any reason, a nice alternative is this healthy but tasty recipe for Crispy Baked Cauliflower Bites. 🙂
Printable Recipe for Beer-Battered Cauliflower Nuggets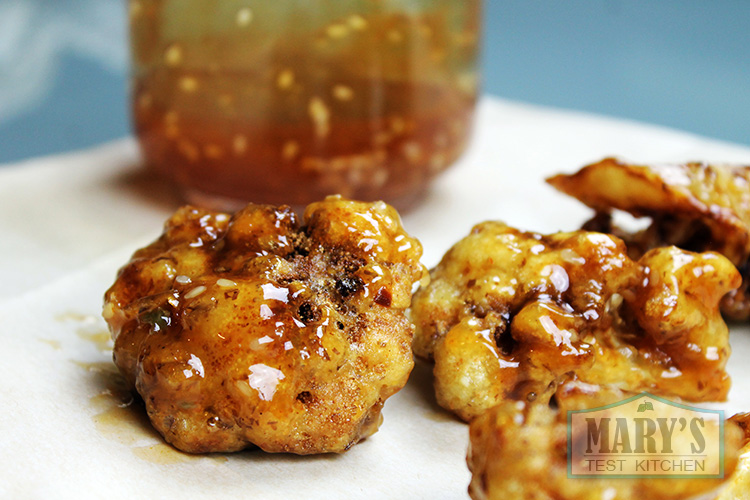 Vegan Honey Garlic Beer-Battered Cauliflower Nuggets
2015-03-05 08:41:48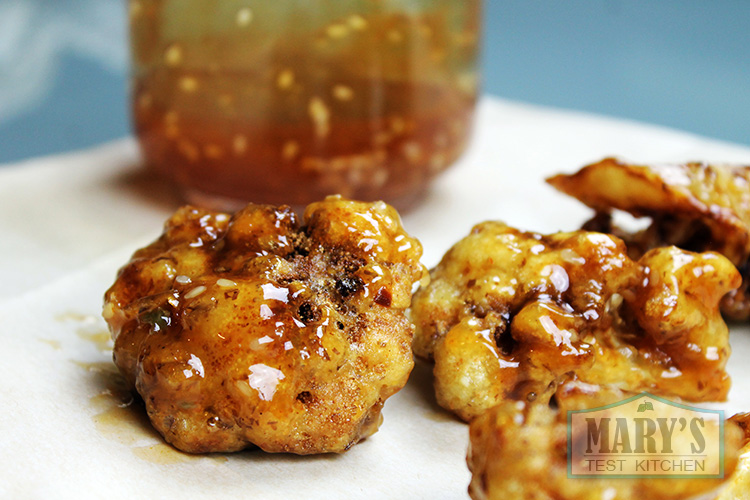 These deep-fried cauliflower nuggets fry up golden and crispy with a tasty beer batter and shallot shell. Tossed in Vegan Honey Garlic Sauce, even people that don't like cauliflower love these!
Ingredients
1 lb cauliflower (about one small head) [450g]
1 cup beer, any kind according to your tastes (check out Barnivore for vegan beer listings) [237ml]
1 cup flour [125g]
2 tablespoons finely ground flaxseeds [30cc]
2 tablespoons chives or shallots, minced [30cc]
1 teaspoon salt [5cc]
1 teaspoon white pepper [5cc]
2 cloves garlic, finely minced [10cc]
vegetable oil for frying
2 - 3 tablespoons of Vegan Honey Garlic Sauce [30-45ml] (recipe linked and below)
Instructions
Separate the cauliflower into pieces, about two to four inches in length and an inch or two in diameter.
In a large mixing bowl combine all the ingredients except for the cauliflower to form the batter. Mix until fairly smooth. You should have a thick pancake batter consistency. Add more beer or flour if it seems too thick or too liquidy. See the video for an example.
Coat the cauliflower in the beer by dipping in a few pieces at a time. Set the well coated pieces aside on a plate or bowl.
In a small-medium sized pot (or use your deep fryer), heat up a couple inches worth of oil over high heat to 365°F (185°C). Use a candy thermometer to check the temperature; guessing will likely result in greasy nuggets due to the oil not being hot enough. Also be VERY CAREFUL. HOT OIL IS HOT. Check the oil's heat periodically throughout the cooking process to make sure it doesn't get too hot or cool.
Use tongs/chopsticks to add coated cauliflower to the oil. Cook only a one "layer" of cauliflower at a time; just enough pieces to fill the pot without having the pieces stick to each other. Cook one side for about 1 – 2 minutes or until golden brown, then turn the pieces over to cook the other side. Remove the cauliflower and let drain on paper towels. Continue with the rest of the cauliflower.
You can serve these right away with dipping sauces or continue to the next steps to make Vegan Honey Garlic Cauliflower.
Place the hot cauliflower wings in a large mixing bowl with a 2-3 tablespoons of Vegan Honey Garlic Sesame Sauce. Toss quickly to coat. Too much sauce will cause the nuggets to get soggy so stick to a light coating and add more sauce on the side if desired.
Serve immediately!
Enjoy your vegan beer battered cauliflower!
Notes
These freeze remarkably well! I prefer to freeze them without adding the vegan honey garlic sauce first. Let the fried cauliflower drain and cool to room temperature. Then place them on a baking sheet, spread apart, and freeze for an hour until they are solid. Place them into freezer bags, label and store for up to 3 months. To reheat, bake in a 425°F (218°C) for 10 minutes or until hot and crispy.
Can you leave out the shallots? Yes. I think the shallots really add great flavour and a bit of texture but if you want to leave them out for any reason, it will not break this recipe. You can add in onion flavour with a quarter to a half teaspoon of onion powder.
Mary's Test Kitchen https://www.marystestkitchen.com/
Printable Recipe for Vegan Honey Garlic Sauce
Chinese-style Vegan Honey Garlic Sesame Sauce
2015-03-03 21:23:21
This Chinese-style vegan honey garlic sauce uses apple "honey" as its base and is indistinguishable from the original. Try it on crispy tofu, tempeh or vegetables.
Ingredients
1 cup water [237ml]
1/2 cup vegan apple honey, recipe here (or see notes for substitutions) [118ml]
1/4 cup sugar (see notes for alternatives) [50g]
2 tablespoons soy sauce (use Tamari if gluten-free) [30ml]
2 tablespoons ketchup [30ml]
1 tablespoon sesame seeds, raw or toasted, optional [15cc]
3 cloves garlic, minced [30cc]
1 teaspoon ginger, minced [5cc]
1/4 teaspoon white pepper [1.25cc]
1/4 teaspoon sea salt [1.25cc]
For cornstarch slurry
2 tablespoons cornstarch (or tapioca flour) [30cc]
2 tablespoons lemon juice [30ml]
Instructions
In a pot over high heat, combine all the ingredients except for the cornstarch and lemon juice.
Separately, mix the cornstarch into the lemon juice until completely dissolved.
When the sauce starts bubbling, stir in the cornstarch mixture. The sauce should start to thicken.
Allow the sauce to come to a boil, then immediately turn off the heat.
The sauce is now ready to use!
Enjoy!
Notes
Instead of apple honey, you can use other syrups like golden syrup and agave. However, the flavour will not be exactly the same. The apple honey really does make a difference. Consider making your own apple honey with apple juice, sugar and lemon juice. It can take only 15 minutes with this recipe.
Instead of adding regular granulated sugar, you can use other sweeteners such as date sugar, coconut palm sugar, or stevia. However, keep in mind that these sweeteners have different sweetness concentrations and you will need to adjust. Add alternative sweeteners at the end of the cooking process in order to adjust the taste. You can also simple replace the sugar with more apple honey. Add one third more apple honey and reduce the amount of water by the same amount.
To make Orange Sesame sauce, reduce the water by 2 tablespoons and swap out the lemon juice for 4 tablespoons of freshly squeezed orange juice. You can also add a quarter teaspoon of orange zest.
Mary's Test Kitchen https://www.marystestkitchen.com/