I made Asian-style Strawberry Cream buns vegan and easier! These dairy-free soft buns are sweetly dusted and stuffed with vegan whipped cream and fresh strawberries can be made in only 5 minutes!
Video tutorial for Vegan Strawberry Cream Buns
Tutorial starts at 10:30.
Why you'll LOVE these Vegan Strawberry Cream Buns
These vegan strawberry cream buns are inspired by Korean street food travel videos and Japanese Strawberry Sando. But I wanted to make a version that you can make in just a few minutes. No travel necessary! These vegan cream buns are
refreshing and not too sweet,
use ingredients you can find in major grocery stores,
and made in less than 10 minutes!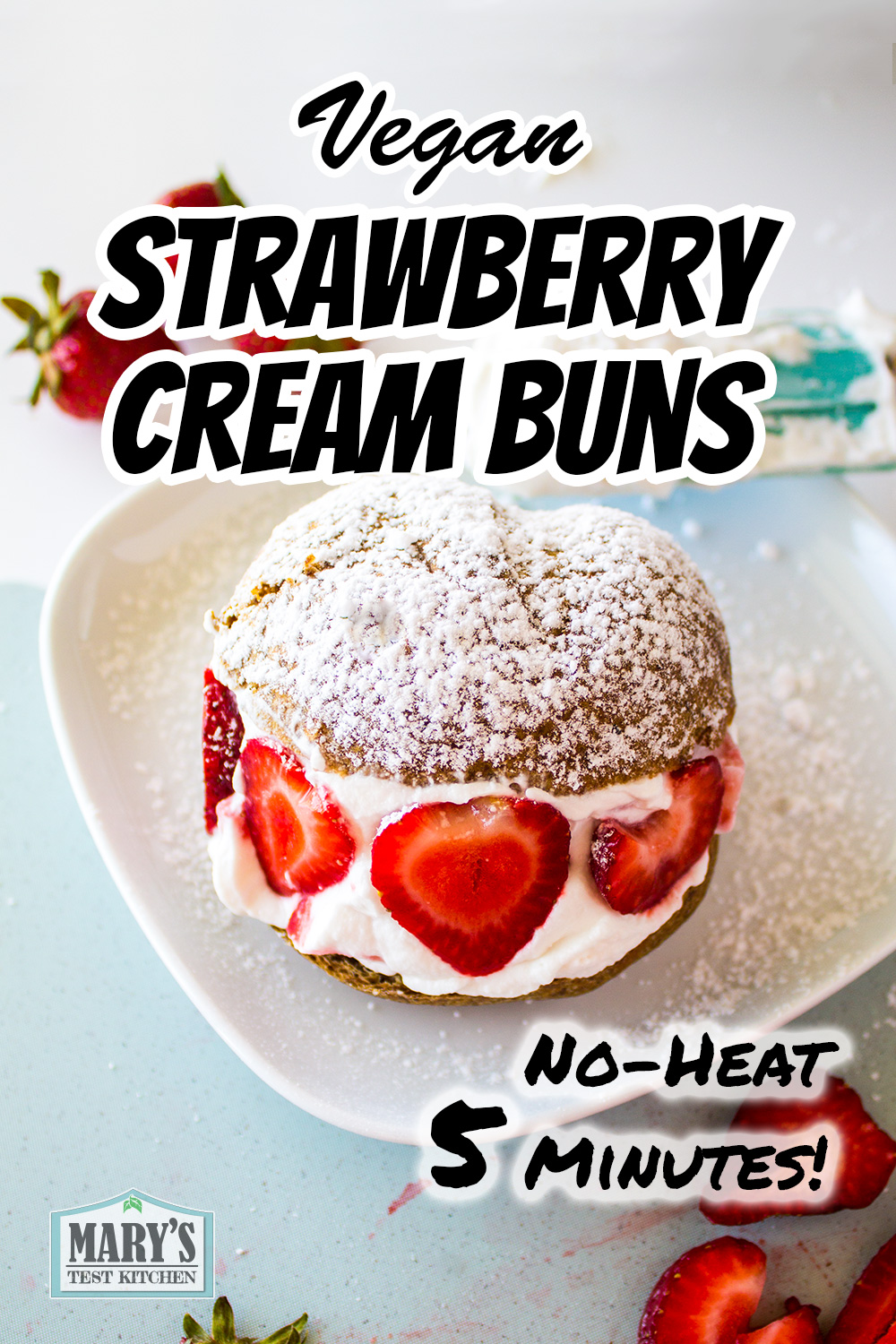 How to Make Vegan Strawberry Cream Buns
To start, use any soft fluffy bun that you like. Regular soft hamburger buns will work or you can make Vegan Milk Buns from scratch. To make a keto strawberry cream bun, I used keto-friendly soft buns that I got from my local grocery store's bakery. Just slice them almost completely in half, leaving one side attached. Remove some of the fluff inside to make more room for the strawberry whipped cream.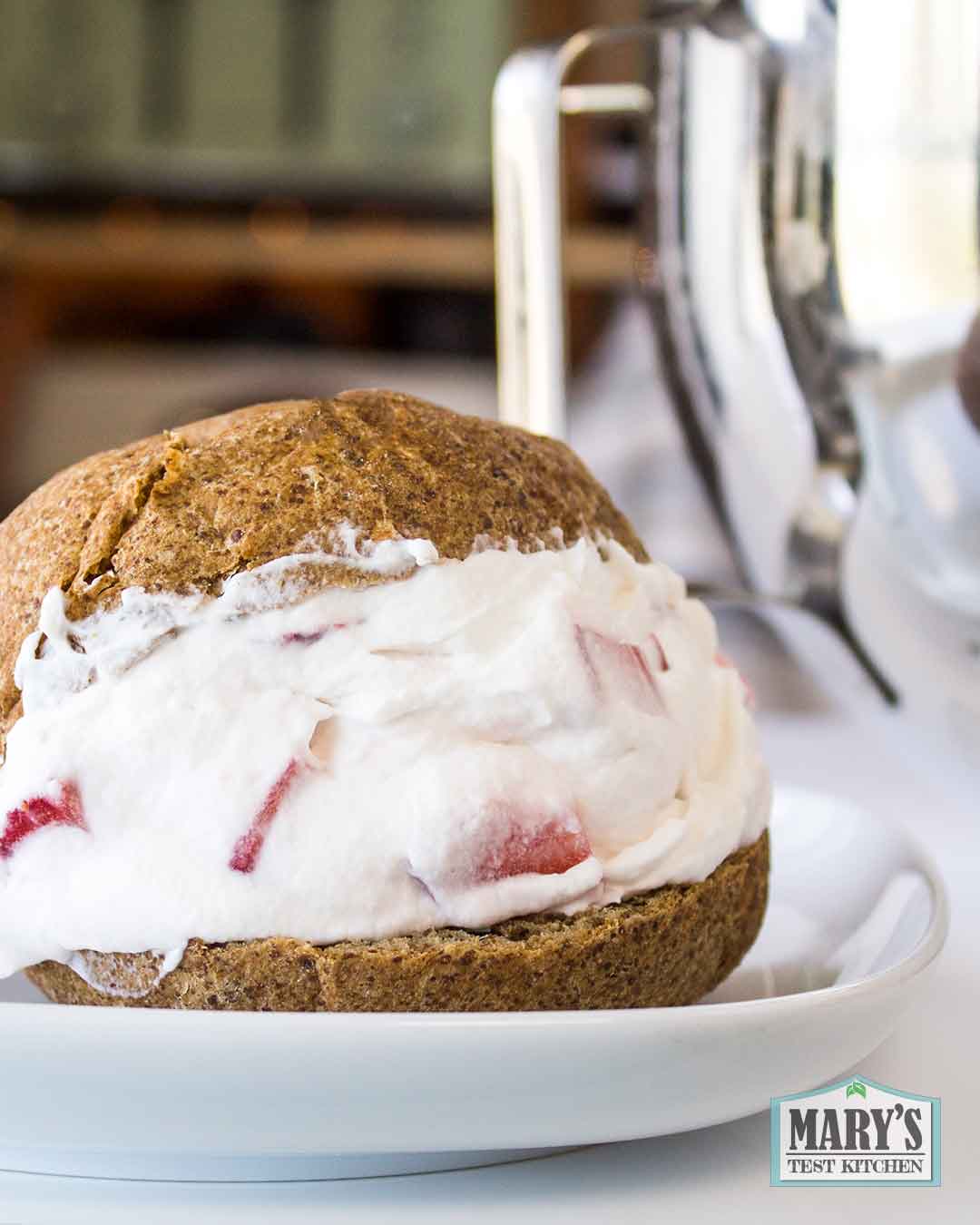 Then, grab the juiciest, sweetest fresh strawberries you can get your hands on. For two buns, use 4 to 5 medium-sized strawberries. Chop up half of them and slice the other half so the slices resemble heart shapes.
Finally, whip up some vegan whipping cream. I used Silk's new Whipping Cream from the dairy section of my local grocery store. But you can also substitute with the solid cream from a can of refrigerated coconut milk.
When you've whipped it to a whipped cream consistency, add a touch of vanilla and sugar or sweetener of your choice and whip that in. After a few seconds, your sweetened vegan whipped cream is ready to receive those chopped strawberries.
You'll fold them in and then that vegan strawberry whipped cream can be loaded into your waiting buns. Finish by using a mesh strainer to dust icing sugar or sweetener over top and enjoy!
Special Diets
To make Gluten-free Vegan Strawberry Cream Buns, choose a gluten-free bun or roll. Everything else in this recipe is already gluten-free. If you wanted to make Keto Vegan Strawberry Cream Buns, choose a keto-friendly bun or roll and use a sugar-free 1 to 1 sweetener. I like using Lakanto Classic (affiliate link) which is made from monkfruit and erythritol. And for the finishing touch, I use Swerve Powdered Sweetener (affiliate link).
Please note that if you use an affiliate link to make a purchase, there is no extra charge to you but I earn a small commission that helps support this website.
Printable Recipe for Vegan Strawberry Cream Buns
Yield: 2 super stuffed strawberry cream buns
Vegan Strawberry Cream Buns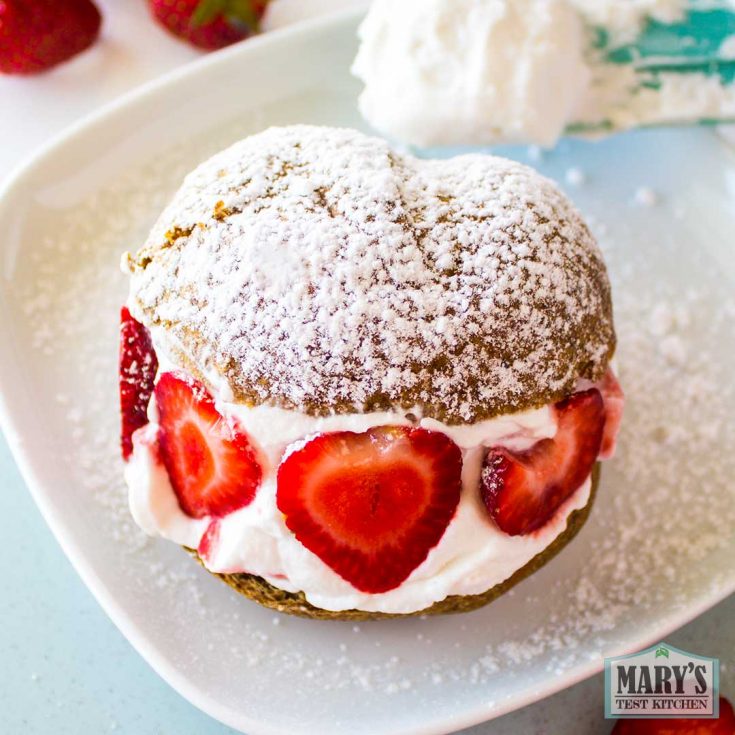 Korean bakery-inspired strawberry cream buns made easy! Easily made keto-friendly or gluten-free.
Ingredients
2 soft hamburger buns (choose plain regular, gluten-free or keto-friendly as desired)
4 strawberries
16oz carton vegan whipping cream (or solid coconut cream from 1 can coconut milk)
2 tbsp sugar or 1:1 sweetener (such as Lakanto Classic)
1/4 tsp vanilla extract
1 tsp powdered sugar or 1:1 sweetener (such as Swerve powdered sweetener)
Instructions
Whip vegan whipping cream until it is thick and fluffy. Add sweetener of choice and vanilla extract and whip again.
Slice two of the strawberries and chop up the remaining. Fold the chopped strawberries into the vegan whipped cream.
Slice the buns 3/4 of the way through, leaving one side attached. Remove some of the crumb form the inside to make room for the cream. Stuff with strawberry whipped cream.
Place the sliced strawberries on the outside of the cream. Dust top of the buns with powdered sugar or sweetener using a mesh strainer. Enjoy!