These giant vegan milk bread buns are for those of you honest folk who simply like big buns. They are made with my Easy Vegan Milk Bread dough and bake up just as beautifully. But in this post, I'll give you tips on how to shape them so they rise properly and look glorious out of the oven. So go on and make giant Vegan Korean Cream Cheese Garlic Bread with them! Giant Sandwiches! Giant…anything you like. These are your giant vegan milk bread buns and there are no rules!
Skip to the Printable Recipe.
Pin this for later.
Giant Vegan Milk Bread Buns Video Tutorial
Want to make more reasonable sized vegan milk bread buns or vegan milk bread sandwich loaves? Then, click to this post for Easy Vegan Milk Bread instead.
If you want to learn the more traditional method for making Chinese milk bread (still vegan, of course), then check out my original Vegan Chinese Milk Bread post.
Why you'll love these Giant Vegan Milk Bread Buns
Other than being extra fluffy and delicious, they have a high level of moisture that stays in the bread and keeps it tasting fresh for days. The Giant Vegan Milk Bread Buns are great for making:
sharable sandwiches,
regular garlic bread,
or just to snack on!
What are Milk Bread Buns
These buns are made with the same easy vegan milk bread dough I introduced recently. That recipe was a modified version of my original Vegan Milk Bread recipe. Of course, that recipe was my take on Chinese Milk Bread, the kind of soft, pillowy tender bread that you would typically find at a Chinese bakery. That same tender bread is similar to Japanese Hokkaido Milk Bread and Korean bakery bread as well.
What sets milk bread apart from others is the tangzhong, or water roux, technique. Some flour is cooked with water on the stove top before being incorporated into a dough. This helps maintain moisture in the bread, making it softer, fluffier and more tender. Plus, because of this extra moisture, it stays fresh-tasting longer.
Also, as the name suggests, milk bread typically contains milk, as well as eggs and butter. Luckily, it's quite easy to veganize with vegan butter, plant-based milk, and the many vegan egg alternatives that exist on store shelves (and probably unknowingly in your cupboards as well).
My even easier version adapts the tangzhong method, taking it off the stove and using freshly boiled water instead. This produces a similar (but not exactly the same) effect making my easy vegan milk bread recipe much easier and more accessible than the original. That recipe is sized to make two large sandwich loaves or any number of reasonably sized buns.
For this GIANT version, the dough is the same but you will want to shape the buns with a particular technique with an appropriate bake time.
About Measurements
Before measuring flour, fluff it up with a fork or whisk. Then lightly scoop up the fluffed flour. Don't cause the flour to compact by dragging the cup through the flour or tapping the cup (an unconscious habit I'm trying to break myself!). Use a flat edge (like the back of a knife) to level. OR be even more accurate and measure the flour by weight.
With the above method, one US cup yielded 140 grams or 5 ounces fairly consistently. Because this is an "easy" recipe, I made it based on this volume measurement. If you're a stickler for detail and/or use my previous recipes, keep in mind that this conversion (1 cup = 140g) only applies to recipes going forward. In most other recipes, 1 cup = 120g which is the customary conversion. I'm in the process of standardizing everything but it'll take me some time.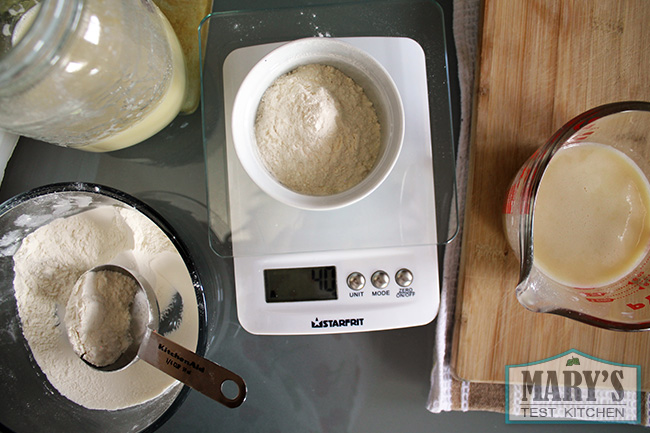 Most of my readers are in the US while I'm in Canada. Lucky for me, I have both types of measuring cups. If you measure by cups, this recipe will work no matter if you're using US cups or Canadian (metric) cups. Just stick to one system or another. Or, again, just measure by weight.
If you couldn't tell by now, I really recommend measuring by weight. I find my kitchen scale endlessly useful; the best $20 I've spent on a kitchen gadget. When you're looking for a good kitchen scale, make sure it can measure to a single gram and has a capacity up to 5kg (11lbs). It should have a tare button so you can measure different ingredients in the same container. And ideally, it should have a button to easily switch from grams to ounces, especially if you tend to cook out of both US and international cookbooks/blogs.
What you will need for Giant Vegan Milk Bread Buns
First, make sure you have all the ingredients and equipment before starting this recipe. Of course, I also recommend reading through the printable recipe at least once to get your bearings. Or watch the video tutorial. Preferably both!
Ingredients
For dough ingredients, you will need:
all-purpose flour (sorry, gluten-free flour will not work),
cornstarch,
soy milk (my favourite) or your choice of plant-based milk,
dry active yeast (regular OR instant, either are fine),
sugar (I typically use white sugar but any kind of granulated sugar you like will do),
vegan butter (my favourite is Earth Balance),
and salt.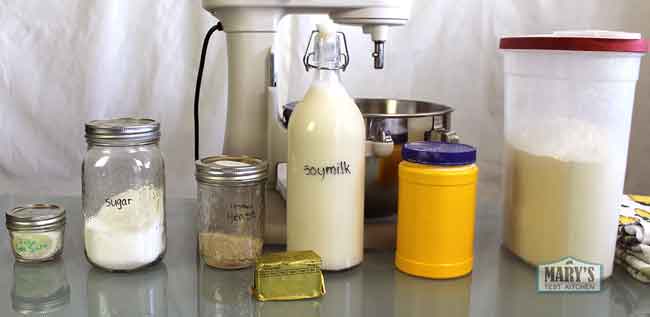 For the flour, all-purpose is perfect as it has a good balance of protein to starch. Before you ask, bread flour is not recommended. If that's all you have, it's okay to use but keep in mind, the texture will not be quite the same. Whole wheat flour is also not recommended. Whole wheat weighs down bread dough and absorbs a lot more water making it drier, denser, less tender, less soft, and …well…when you're going for milk bread…less desirable. But what about the "whole wheat" bread you saw at the Chinese bakery? That's a whole other story! If you really want that recipe, let me know in the comments.
Cornstarch can be substituted with potato starch or wheat starch. I haven't tested other starches so please let me know if you try them. The cornstarch helps in our modified tangzhong to achieve the effect we want without actually cooking the water roux on the stove.
Soy milk is my favourite vegan milk to use as it's higher in protein than other. However, you really can use any plant-based milk you like. High-fat coconut milk is also a good alternative and will make your bread coconut-scented.
Dry active yeast comes in two varieties: regular (often simply labelled dry active yeast) and instant. They are basically the same thing but instant yeast is milled finer. The advantage is that instant yeast should help dough rise faster. Plus, the finer milled yeast dissolves faster so you can technically mix it in with the dry ingredients without blooming it in warm liquid first. But over the years, I regularly get comments from new bread bakers wondering why their bread didn't rise, I always recommend blooming the yeast whether it's regular or instant. This step ensures that your yeast is alive, your liquid temperature is right, and you don't waste ingredients by continuing with dead yeast. For more tips on yeast, please see my post on troubleshooting yeast and bread dough.
Because instant yeast is milled finer, it takes up less room in the spoon than regular dry active yeast. So you can measure a little scantly if you're trying to preserve your yeast supply. But otherwise, just follow the recipe measurements and you'll be fine.
Substitutions for Dietary Restrictions
For soy-free, use another plant-based milk instead of soy milk and choose a vegan butter that is labelled soy-free. Earth Balance has a soy-free version of their original buttery spread that is perfect for this recipe. Melt Organic Butter Sticks are also soy-free and vegan.
For those with nut allergies, this recipe is nut-free. However, some plant-based milks and plant-based butter might contain nuts so be careful to check their labels. The brands I've mentioned so far in this post do not contain nuts.
How to Easily Make Giant Vegan Milk Bread Buns
The dough making process for making the giant version is the same as my Easy Vegan Milk Bread dough recipe. The difference is just in how you'll shape your buns and the bake time.
1. Make the modified tangzhong (water, cornstarch and boiling water)
2. Push the paste to the side and add warm water, some sugar, and instant or traditional dry active yeast.
3. Add the rest of the sugar, flour and some salt and knead.
4. Rest the dough before adding room temperature vegan butter and knead further.

5. Let the dough rise until doubled in size.
6. Shape buns and let them rise until doubled.

7. Add a syrup wash and bake.
Totally optionally, you can brush on extra syrup was or a super light coat of oil for a shinier finish before taking a picture and posting to Instagram. Don't forget to tag me @marystestkitchen 'cause I LOVE seeing your successes. Plus, I love to show off your work by re-posting on my stores.
Let them cool completely, then store the buns in an airtight container to keep them fresh. They will keep for up to five days; although, they will be best eaten the first or second day. Like most other breads, you can freeze them to keep for up to two months.
Tips to make your Giant Vegan Milk Bread Buns come out perfect
Don't add too much flour as you knead the dough. The high hydration level is what keeps the texture super tender and moist.
If you're kneading manually, the dough will stick to your hands. Wet your hands first before getting started to minimize sticking. But it will still stick. Keep kneading for the time recommended. Wash your hands afterwards.
After the first rise, you still have to knead it very well to knock out the large gas bubbles. If working manually, make sure your work surface is super clean. You can also oil the surface to prevent the dough from sticking to the table. The dough will be more manageable than before but as you knead it, it will seem to get more sticky. But keep at it and the dough will eventually become less sticky and more cohesive. You can add a little flour here or there to help you but if you can, try to avoid it.
Take your time when shaping the dough into buns. And while you're working on shaping one, cover the other pieces so they don't dry out.
If the top "rips" as you try to shape it in to a bun, you have added too much tension or the dough wasn't developed enough. Either way, cover and leave that piece alone to work on another one. You can go back to it later and it will be easier to shape after some time has passed.
To gently create more tension on the top of the bun, cup both hands over the top gently with the outsides and base of your palm against the table. Move the dough in a small circle with your cupped hands gently pushing the dough around. The bottom will stick to the table and top will gain a more rounded shape. Then transfer the shaped dough to a parchment-lined baking sheet.
Don't skip the syrup wash. You need it to help develop the browning on top.
Use bake time as a guide only! Go by the results to see when your buns are truly done. They should be evenly browned on top and sound hollow when you tap the bottom of the buns.
Giant Vegan Milk Bread F.A.Q.'s
I appreciate all your comments, my friends! Thank you so much <3 But just FYI, I am on a break for a tendinitis flare-up (no advice pls, I've been dealing for years now) so I will be staying offline and unable to respond to comments for a little while. So in the meantime, here are some answers to common questions I've been getting in my YouTube comments.
1) Can I use gluten-free flour?
Sorry, no it will not work. For gluten-free yeasted bread, it's not a good idea to try to just use a 1-1 to sub (even if you add xantham gum). Instead look for a recipe that specifically developed to be gluten-free.
2) Can you please make this recipe gluten-free?
No, sorry I have not had good results from trying to make yeasted gluten-free bread. After years of trying, I have not come up with anything that's good enough that I'd actually choose to eat it. At this point, I would simply be wasting food with more attempts. I'm sure there are bakers out there that are more skilled in that world that you should look for.
3) Can I add flavouring to the bread?
Yes, you can add any dry spices, cocoa powder, matcha, etc and it will be fine. Experiment!
However, if you want to add liquids, it's a little trickier. You may reduce the amount of vegan milk when you add liquid but it's not a guarantee! But be brave 🙂 What's the worse that could happen?
4) Can I use anything other than vegan butter?
I highly recommend vegan butter. It is not only a key component to this formula, it also adds a buttery flavour. If you cannot get vegan butter, try using coconut cream (the solid fat that forms when you refrigerate a can of coconut milk).
5) How did your buns get so shiny??
The corn syrup was gives it a subtle shine that develops in the oven. But for that super shiny effect, brush on a very light coat of oil after baking. You can also brush on a very light coat of melted vegan butter after the buns have cooled down.
Final tips!
Please make sure you bake them until the tops are nicely browned and they sound hollow when you tap on the bottom. Going by time is not as accurate since all ovens are different and variations in humidity and altitude can affect your bake time.
ALSO let those buns slowly cool down so don't try to speed things up by putting them in front of a draft or (heaven forbid) in the fridge. Otherwise they can wrinkle on top.
If you have any other questions, please let them in the comments below and I will get to them when I'm recovered. Thanks for understanding! Finally, stay well and safe, my friend!
Printable recipe for Giant Vegan Milk Bread Buns
Yield: 6 Giant Buns
Giant Vegan Milk Bread Buns
Prep Time
2 hours
40 minutes
Total Time
3 hours
15 minutes
Ingredients
STEP 1 (FLOUR PASTE aka modified tang zhong):
1/2 cup flour (70g)
2 Tablespoons cornstarch or potato starch (16g)
1 cup hot water, just off the boil (235ml)
STEP 2 (YEAST MIXTURE):
2 cups warm soy milk, 105-110°F (475ml, 40-43°C)
2 1/4 teaspoons dry active yeast (instant or regular)
2 teaspoons sugar
STEP 3 (REMAINING INGREDIENTS):
1/2 cup sugar or less for less sweet bread, SEE NOTES (100g)
5 cups all purpose flour (700g) plus more for kneading + shaping
2 teaspoons salt
1/4 cup vegan butter, room temperature (60g)
STEP 4 (SYRUP WASH):
1 tablespoon corn syrup (15ml)
1 tablespoon water (15ml)
Instructions
Before measuring flour, fluff it up with a fork or whisk. To measure, lightly scoop up the fluffed flour. Do not drag the cup through the flour which will cause it to compact. Do not tap on the measuring cup. Use a flat edge (like the back of a knife) to sweep away the excess flour, leveling it off. OR be even more accurate and measure the flour by weight (step 1, 70g flour; step 3, 700g).
Note that variables such as weather/humidity affect how much flour is required so use the measurements as a guide and feel free to add a bit more. Keep the dough on the soft and sticky side.

Step 1 - Make the Flour Paste:
In a large mixing bowl, combine 1/2 cup flour and 2 Tbsp cornstarch and mix well. Taking care not to splash, add 1 cup of hot boiling water and stir vigorously until a smooth paste forms. Use a wet spatula to scrape the sticky mixture into a single clump and push it up on to one side of the bowl, high enough to clear two cups of liquid.

Step 2 - Bloom the Yeast:
To the large mixing bow, add 2 cups warm soy milk (105°-110°F), 1 envelope or 2 1/4 tsp of yeast plus 2 tsp of sugar and stir well. Let the mixture rest until foamy (about 5 to 10 minutes).
If it does not foam, you may wait longer. If it still does not foam, the yeast is dead and you should re-do this step with new yeast. SEE MY GUIDE TO TROUBLESHOOTING YEAST AND DOUGH.

Mix the flour paste into the yeast mixture until dissolved.

Step 3a - Make the Dough:
Add 1/2 cup sugar (or adjust amount as desired) and stir until dissolved. Add 5 cups flour and 2 tsp salt and stir until the dough starts to form.

For stand mixers: switch to your dough hook and run at speed 2 for 4 minutes. Scrape down the sides occasionally.
The dough should be well combined, with no dry bits and still sticky. Cover, and let rest for 10 minutes.

For working manually: Rest the dough for 10 minutes before starting to knead.
Oil or flour your hands well to prevent sticking. Transfer the dough to a clean work surface, dust well with flour and knead until the dough is fairly smooth; about 15 to 20 minutes.
CLICK HERE FOR HOW TO KNEAD STICKY DOUGH.

Step 3b - Incorporate vegan butter + First Rise
Cut the vegan butter into little pieces and add to your stand mixer's bowl. Run at speed 2 for 5 minutes until the butter is well incorporated. If the dough has not come off the sides into a cohesive ball, feel free to add 2 to 4 tablespoons of flour and run a little longer. The dough should be smooth but still tacky at this point. Remove your dough hook and cover the bowl with a clean damp kitchen towel or plastic wrap

If you're working manually, knead in the vegan butter by flattening the dough, sprinkling on little pieces of butter and folding the dough over. Continue until the vegan butter is fully incorporated. You may add 2 - 4 tablespoons of flour during this time to help the process along. Place the dough back in the mixing bowl and cover with a clean damp kitchen towel or plastic wrap.

Place in a warm, draft-free location and let the dough rise until doubled or tripled in size; about 1 hour. Meanwhile, clean your work surface.

Step 4 - Shape and Second Rise

Uncover the dough and replace your dough hook. Run at speed 2 for 2 minutes to knock out the air pockets. If working manually, knead the dough right in the bowl for a few minutes. Finish by kneading it into a dough ball.

Lightly dust your work surface with flour. Line your loaf pans or baking sheets with parchment paper.

Divide the dough evenly into 6 pieces. Press out any remaining gas pockets.
Shape the pieces into nice looking balls by kneading over the edges into the middle of one side and pinching to keep the top tension. Gently increase the top tension by cupping lightly floured hands over top with the outside edges of your hands touching the table, then move the dough in a circular motion. With the bottom sticking lightly to the table, the dough will gain a round shape with good tension on top. Then, place the formed bun on a parchment-lined baking sheet. Repeat with each piece.

Make the syrup wash by combining 1 tablespoon corn syrup and 1 tablespoon water. Brush the top of the loaves/buns,then cover as before and let the dough rise in a warm, draft-free location until doubled in size; about 1 hour.

With about 15 minutes to go on your 1 hour timer, start to preheat your oven.
Step 5 - Bake
When your oven is preheated to 350°F and your loaf or buns have fully risen, uncover your loaf/buns and brush the top(s) with your prepared syrup wash.

Place in the center of the oven on the middle rack and bake for 35 to 40 minutes or until the tops are nicely browned. The bottoms will sound hollow when tapped.
SLICING + STORAGE
Let the giant vegan milk bread buns slowly cool completely to room temperature before slicing. You can add a light brushing of oil for a shiny egg wash-like effect.
After the bread is completely cooled, it can be stored in an air-tight container at room temperature for up to 5 days. Remove air from the bag and freeze for longer storage; up to 2 months.
To thaw frozen bread, keep in a bag and let it thaw a room temperature. For speedier results, microwave buns for 10 seconds or less just until thawed in the center.

Notes
*SUGAR (IN STEP 3)
1/2 cup of sugar makes a sweet Chinese bakery-style bread
1/4 cup of sugar is suitable for less sweet but still noticeable sweetness
Use 2 Tablespoons of sugar for regular white sandwich bread
FLOUR
This recipe uses all-purpose flour. Bread flour can also be used. Gluten-free flour blends will not work.
You will need 5 1/2 cups (770g) of flour for this recipe. You may also need an additional 2 - 4 tablespoons (20-40g) of flour after incorporating the vegan butter. This amount may vary since different vegan butters have different levels of hydration. Also, weather/humidity can affect how much flour you'll require.
Feel free to use extra flour to use as a barrier while shaping your buns. Try not to incorporate it into the dough; just use it to prevent sticking and brush off any excess before adding the syrup wash or baking.
Nutrition Information:
Yield:
12
Serving Size:
1/2 giant bun
Amount Per Serving:
Calories:

140
Total Fat:

5g
Saturated Fat:

3g
Trans Fat:

0g
Unsaturated Fat:

1g
Cholesterol:

12mg
Sodium:

418mg
Carbohydrates:

21g
Fiber:

1g
Sugar:

12g
Protein:

3g
Nutritional Information automatically calculated by a plugin and may not be correct.