This single-serving Vegan Keto Fried Rice made with vegan egg, plant-based protein, greens and fragrant toasted pine nuts in 20 minutes!
Video tutorial for Vegan Keto Fried Rice with Pine Nuts and Greens
Tutorial starts at 21:30.
Why you'll love THIS Vegan Keto Fried Rice
This dish has everything you love about fried rice but using highly nutritious cruciferous in place of plain white rice. Cauliflower rice is sautéed with a blend of flavours that had my boyfriend asking, "This REALLY isn't rice?" This dish is
packed with protein (31g);
high in fiber from whole plant sources (11g);
full of important micronutrients like calcium, iron, and zinc;
low carb with only 17g net carbs;
quick to make in about 20 minutes;
and perfectly portioned for one.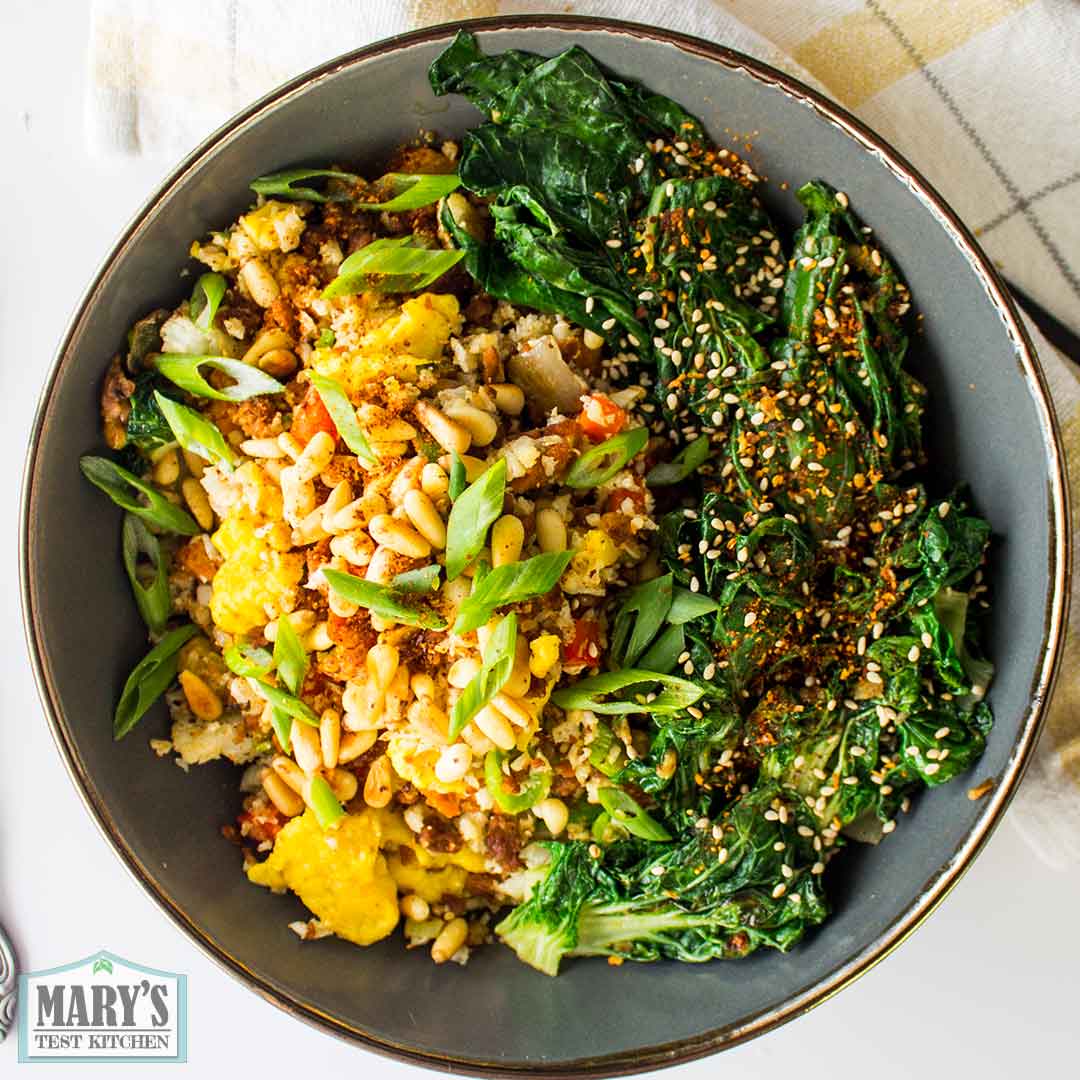 Printable Recipe for Vegan Keto Fried Rice with Pine Nuts and Greens for One
Yield: 1 serving
Vegan Keto Fried Rice with Pine Nuts and Greens for One
Vegan Keto fried rice with fragrant pine nuts and greens makes for a easy and delicious nutritious meal for one.
Ingredients
"For rice"
150g cauliflower, riced (1 1/2 cups)
1 tbsp olive oil
1 tsp minced garlic
1 green onion, chopped with dark green parts reserved
2 tsp sliced shallot
1 tsp soy sauce
sprinkle of five spice powder
sprinkle of ginger powder
sprinkle of white pepper
Vegan "meat" + "egg"
75g vegan ground
2 tsp rice vinegar
1 tsp soy sauce
1 tsp erythritol sweetener with monkfruit
1 tsp olive oil
55ml liquid vegan egg (such as Just Egg)
Vegetable Mix-ins
35 g red bell pepper, diced
25g sugar snap peas, cut diagonally
15g pine nuts
garlic bok choy
1 tsp sesame oil
1 tsp minced garlic
100g boy choy, leaves separated
1 tsp soy sauce
garnish
1 tsp toasted sesame seeds
1/8 tsp crushed red chilies
Instructions
With a large non-stick pan over medium heat, pour in 1 tbsp olive oil. Add 1 cloves' worth of minced garlic, lighter parts of the green onion, and the shallots. Cook until fragrant. Then add cauliflower rice and spread it out on the pan. Flavour with 1 tsp soy sauce and a sprinkle over five spice powder, onion powder and ginger powder. Fold together, then continue to cook until cauliflower is your desired doneness. Add salt and white pepper to taste. Transfer cauliflower rice to bowl.
In the same pan, heat vegan ground through. Season with rice vinegar, 1 tsp soy sauce, and 1 tsp of sweetener. Optionally sprinkle over ground Sichuan Peppercorn (or five spice powder if unavailable). Also sprinkle some onion powder and ginger powder as desired. Toss together and transfer to top cauliflower rice.
Wipe out pan, then add 1 tsp olive oil. When hot, add vegan liquid egg and spread out. Sprinkle over white pepper. Cook until set and break up before transferring to serving bowl.
Add bell peppers and sugar snap peas to the pan and turn the heat up. Season with garlic powder. Cook just a minute or less so the vegetables turn bright. Then pour everything from the serving bowl back into the pan. Fold together, then transfer back in to the serving bowl.
Wipe out the pan and add pine nuts. Let toast until just lightly golden. Transfer promptly to the serving bowl.
Finally, add sesame oil to the pan. Place minced garlic in the oil and let cook over medium heat until fragrant (about 30 seconds). Add the bok choy and let one side char slightly. Add a few spoonfuls of water to steam and cook until bright green. Add 1 tsp soy sauce or to taste then transfer to serving bowl. Garnish with the darker green parts of your chopped green onion, red chili flakes and sesame seeds.
Notes
For gluten-free, choose gluten-free soy sauce or tamari and check that your vegan ground is also gluten-free.
Nutrition Information:
Yield:
1
Serving Size:
whole recipe
Amount Per Serving:
Calories:

585
Total Fat:

41g
Saturated Fat:

4g
Trans Fat:

0g
Unsaturated Fat:

32g
Cholesterol:

0mg
Sodium:

1216mg
Carbohydrates:

32.8g
Net Carbohydrates:

17.2g
Fiber:

11.4g
Sugar:

9g
Protein:

31.3g