This is Best Vegan Chicken Salad Recipe! Made with green (not ripe) canned jackfruit for it's very chicken-like texture but also with chickpeas for a protein boost, this vegan jackfruit chicken salad is perfect in lettuce wraps and sandwiches. You'll love that it's super fast and easy to make too! Click here for the printable recipe.
Video Tutorial for Vegan Chicken Salad
Even if you don't really like jackfruit…
I never did like green jackfruit in savory dishes; ever since I was a kid. Back in the day, my parents had good friends who were Buddhists. So occasionally when we went over to their house for dinner, they would have some Chinese vegetarian dishes. To be honest, I wasn't a fan. Strong shiitake mushrooms flavours, textures that I wasn't used to from water chestnuts and bamboo shoots, and things that looked like meat but didn't taste as expected including bean curd and green jackfruit. I didn't know it was jackfruit at the time but I remembered the texture and taste once I tried my first jackfruit "pulled pork" recipe.
You may remember that I've tried green jackfruit a few times to make the ever popular vegan pulled pork. However, I could always taste the bubblegum-like flavour under the barbeque sauce which really put me off. I tried soaking the green jackfruit pieces, then rinsing them, cooking the living hey out of it, over saucing and over spicing but I could still taste that taste underneath it all.
More recipes with jackfruit:
But still, jackfruit has an intriguing texture and I thought if I could only get that taste out, it would be such a useful ingredient. A few viewers had recently asked for chicken salad and tuna salad type recipes and you guys know I like to fulfill your requests so I thought I'd give jackfruit one last try. The video below is What I Ate Vegan #64, in which I demonstrate how I made this recipe.
Getting the fruit flavour out of green jackfruit
This time, I soaked the jackfruit pieces in water while squeezing them; forcing the pieces to come apart into small fibers. I cut away the tough core sections and picked out the creepy alien-looking seed pods. I noticed the water got a little bubbly so I drained and rinsed, again and again until there were no bubbles. After each rinse, squeezed the jackfruit as dry as I could. After the 5th rinse, the flavour was very faint but still there. I hoped that it was faint enough to be covered by seasonings this time.
Spoiler alert, it worked great! I do this process whenever I'm using green jackfruit and I want to eliminate that slightly fruity flavour.
How to make Vegan Chicken Salad
The rest of the ingredients are your typical chicken or tuna salad ingredients: mayo (vegan, of course), celery, onion, mustard, salt, pepper, etc. Plus some cooked chickpeas, nutritional yeast and poultry seasoning (an herb blend that contains no actual poultry). Pop them in your food processor and pulse until all combined. Then mix in your prepared green jackfruit.
Why add chickpeas?
Chickpeas are great because they already have a somewhat chicken-like savory flavour. Plus, the protein in the chickpeas make this "chicken" salad much more satisfying than using only jackfruit which has very little protein.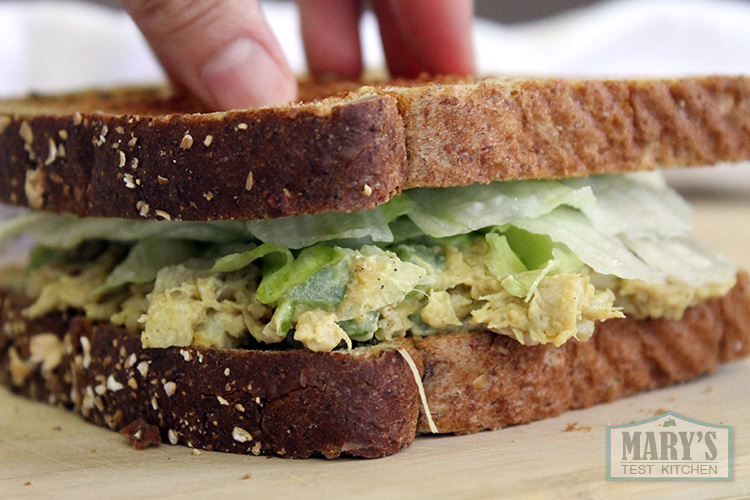 The result was the most chicken-salad like vegan salad I've ever tried. The texture is incredible and the flavour is delicious. I hope you give this a try and let me know what you think!
If I was making a tuna-style salad, I'd add a little powdered nori or dulse flakes and decrease the amount of nutritional yeast just a smidge. But I didn't have any nori or dulse on hand so that will be an experiment for another day!
Buy ingredients on Amazon and help support this blog!
Printable Recipe for Vegan "Chicken" Salad with Jackfruit
Yield: 6 servings
Vegan Jackfruit Chicken Salad
Green jackfruit transforms chickpea salad into the most realistic looking and tasting mock chicken salad. Be sure to use unripe jackfruit for this recipe. You can buy it canned in Asian markets and in international foods sections of major grocery stores as well as online. 
Ingredients
1 20oz can of green jackfruit in water or brine (591ml)
1 cup cooked chickpeas (150g)
1/2 cup diced celery (about 1 large stalk) (65g)
1/4 cup diced onion (40g)
1/4 cup vegan mayonnaise
3-4 tablespoons nutritional yeast
2 teaspoons prepared mustard
1/2 teaspoon garlic powder
1/2 teaspoon poultry seasoning (herb blend)
1/2 teaspoon celery salt (to taste)
1/4 teaspoon black pepper (to taste)
pinch paprika
Instructions
Remove the tough core and seed pods from the jackfruit. Squeeze the pieces to seperate the fibers and reveal hidden seed pods. Place the fiborous parts in a large bowl and discard the cores and seed pods. Soak, rinse and drain the jackfruit several times. You can use a wire mesh strainer to drain the water without losing the tiny jackfruit fibers. Squeeze the jackfruit as dry as you can after each rinse. Repeat 5 to 6 times or until the water no longer forms bubbles and the jackfruit taste is reduced.
Separately, combine all the other ingredients in a food processor and process until fairly smooth. You can choose to keep the mixture a bit more chunky if preferred.
Combine the chickpea mixture with the jackfruit. Taste and adjust the seasonings to taste. Enjoy!
Nutrition Information:
Yield:
6
Serving Size:
1/6 of recipe
Amount Per Serving:
Calories:

208
Total Fat:

6g
Saturated Fat:

1g
Trans Fat:

0g
Unsaturated Fat:

5g
Cholesterol:

0mg
Sodium:

175mg
Carbohydrates:

35g
Fiber:

5g
Sugar:

21g
Protein:

7g
Nutritional Information automatically calculated by a plugin and may not be correct.