This VEGAN KETO version of Samyang Buldak Ramen stays low carb with the help of keto-friendly noodles and a special fermented Korean ingredient! Also known as Korean Fire Noodles or Hot Chicken-Flavoured Noodles, they are too good not to try; especially if you can have them vegan and sugar-free too!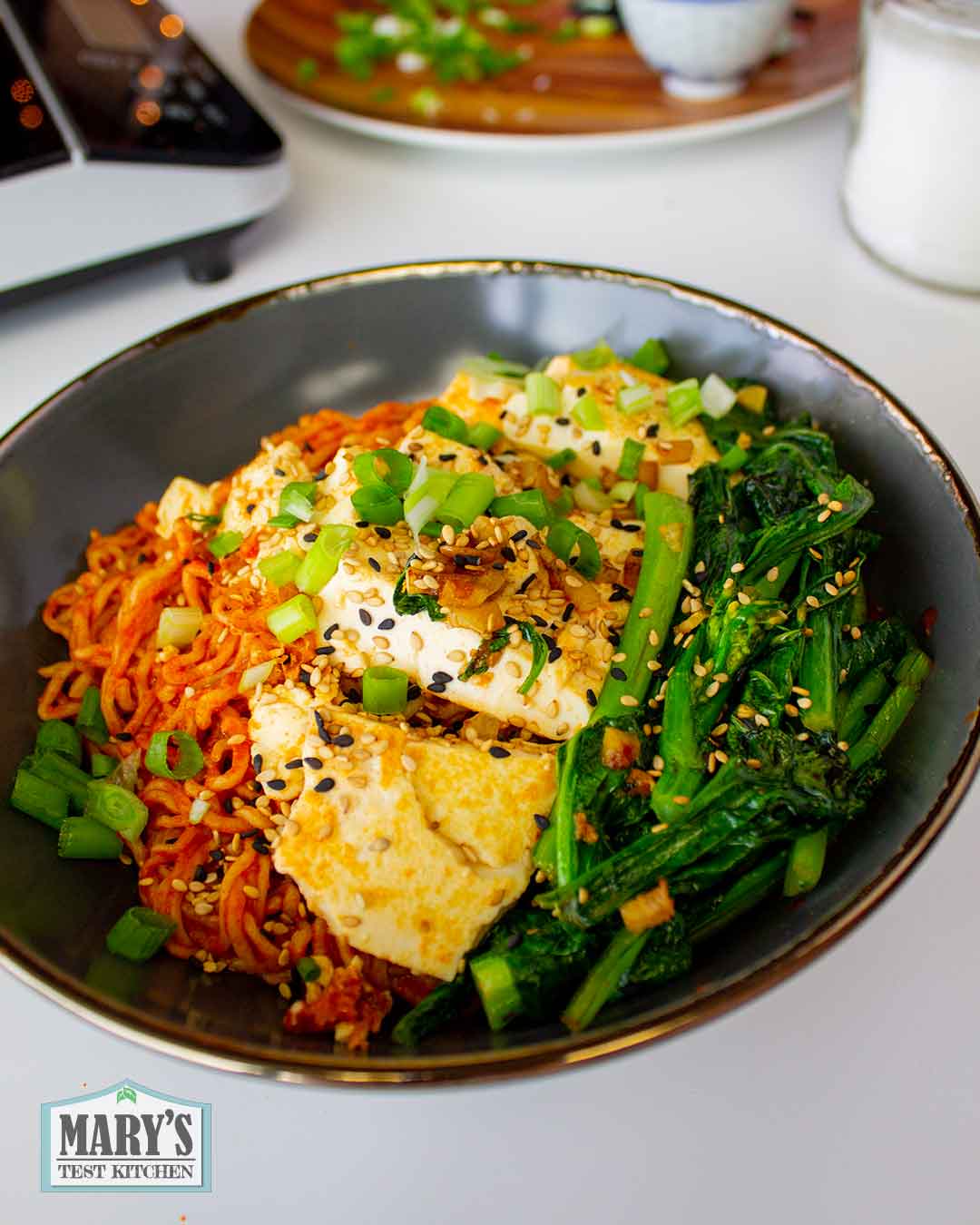 Video Tutorial for Vegan Keto Korean Hot Chicken Noodles (Samyang copycat)
The tutorial for this recipe starts at 10:30.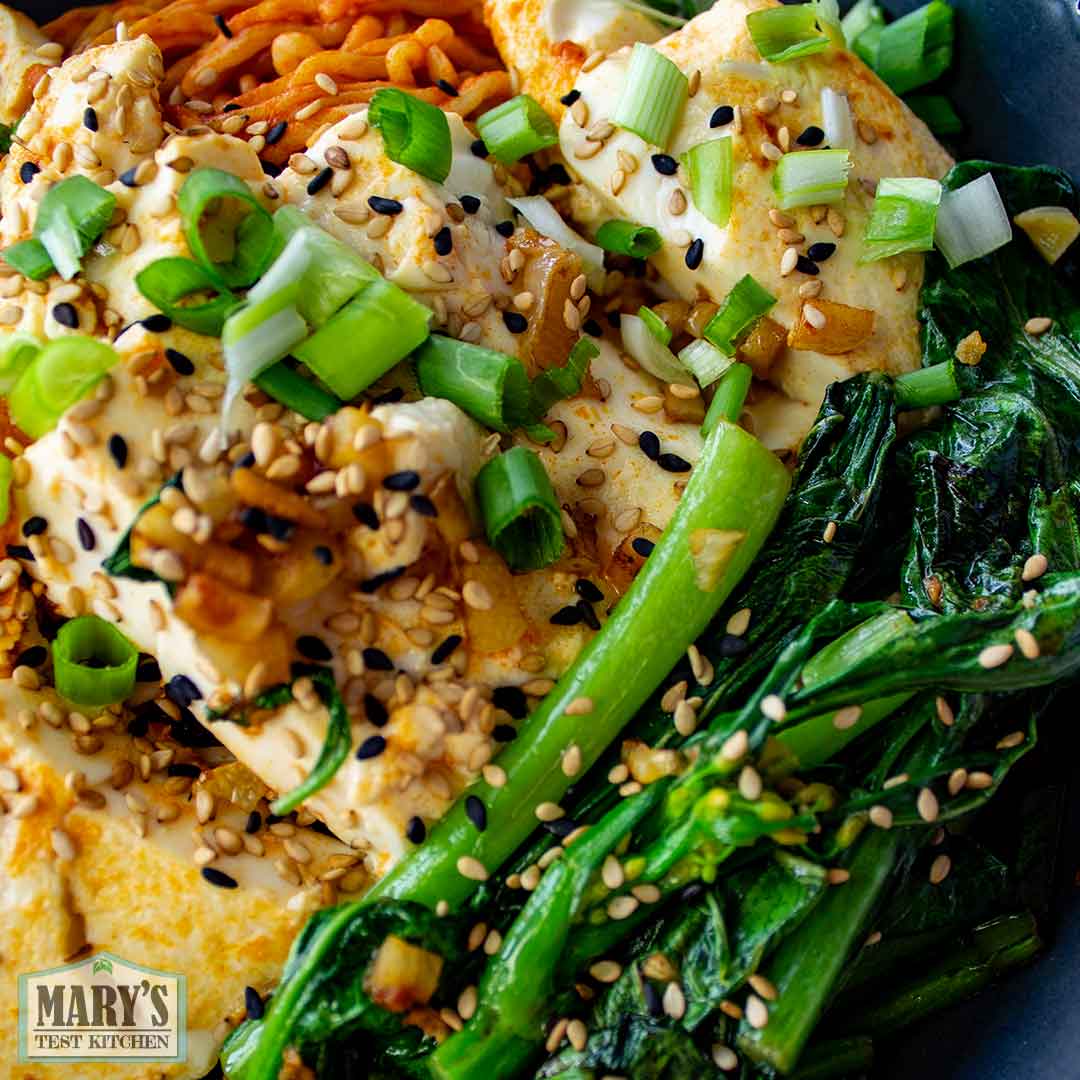 Printable Recipe for Vegan Keto Samyang Buldak Ramen Copycat Noodles
Yield: 1 serving
Vegan Keto Samyang Buldak Ramen Copycat Noodles
These Vegan Keto Korean Hot "Chicken" flavoured Noodles are super easy and fast to cook for an easy and convenient meal with added protein and veggies. I made this version with soft tofu and choy sum but you can use whatever you prefer or have on hand.
Ingredients
200g shirataki noodles (or your favourite cooked ramen)
sauce:
2 tsp olive oil
1 tbsp Korean Soybean Paste (doenjang)
1 tbsp Korean Red Pepper Powder, mild (gochujaru)
1/2 cube vegan chicken broth cube (or equivalent paste/powder for 1 cup of broth)
1/2 tsp nutritional yeast
1/4 tsp dark soy sauce
1/4 tsp erythritol sweetener (like Lakanto Golden)
1/8 tsp garlic powder
1/8 tsp onion powder
1/8 tsp curry powder
1/8 tsp msg crystals
1/8 tsp cayenne pepper powder (or to taste)
Other Ingredients:
7oz Shirataki noodles, rinsed well and drained (200g)
1/4 cup cultured coconut yogurt, optional
5.29oz soft tofu (150g)
1 tsp olive oil
1 clove garlic, minced
2oz choy sum or choice of dark green leafy vegetable (60g)
1/2 tsp soy sauce
1 tbsp chopped green onion
1/4 tsp toasted sesame seeds
1/8 tsp nori confetti
Instructions
Over medium high, warm olive oil in a non-stick pan. Add Korean Red Pepper Powder and let it bloom in the oil until fragrant, about 30 seconds. Then add 3 tbsp water.
Turn off the heat and add all the other sauce ingredients plus one more tbsp of water. Use a rubber spatula to break up the broth cube and soybean paste; mix to create a thick sauce.
Turn the heat back on and allow the sauce to come to a simmer. Immediately add your drained shirataki noodles. Cook until liquid is almost completely evaporated. Add coconut yogurt if using. Then add nutritional yeast and toasted sesame oil. Stir in and keep stir-frying until the excess liquid is completely evaporated and the sauce is clinging to the noodles. Transfer to your serving plate.
In the same pan, place slices of soft tofu and cook over medium high heat. Cook just to warm through and get colour on both sides. Transfer to plate.
Again in the same pan, add 1 tsp olive oil and minced garlic. Let the garlic bloom over medium high heat; about 15 seconds. Add the choy sum and cook just until bright green. Add soy sauce to taste, then transfer to plate. Enjoy with chopped green onion, toasted sesame seeds, and nori confetti on top.
Notes
Doenjang is a fermented soybean paste you can buy at Korean grocery stores. If you absolutely cannot find it, as a last resort, use miso paste which is similar tasting.
The spicy level of this recipe is medium; similar to the regular Samyang Hot Chicken Flavoured Noodles but NOT as spicy as the 2X spicy noodles. Feel free to add extra cayenne or chili oil.
Nutrition Information:
Yield:
1
Amount Per Serving:
Calories:

563
Total Fat:

48.6g
Saturated Fat:

18g
Trans Fat:

0g
Unsaturated Fat:

22.6g
Cholesterol:

0mg
Sodium:

1820.1mg
Carbohydrates:

23.7g
Net Carbohydrates:

6.6g
Fiber:

16.6g
Sugar:

2.7g
Protein:

15.3g