This vegan keto avocado toast is so tasty and filling with perfectly crispy high-protein tofu and delightful toppings! Make avocado flowers for a special touch or just mash it on and get your low carb breakfast done quick! It's up to you.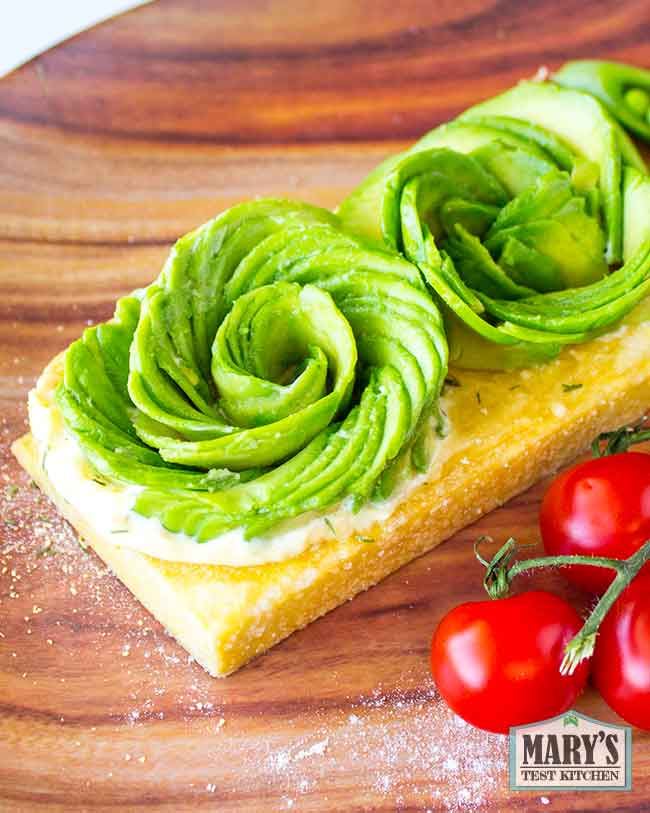 Ingredients for Vegan Keto Avocado Toast
For this vegan keto version of avocado toast, you'll need:
one ripe avocado,
extra firm tofu,
extra virgin olive oil,
plant-based mayo of your choice (lately I am loving the PC brand plant-based mayo spread! Fellow Canadians, give it a try and tell me your opinion!),
onion powder (the superfine powder type is my favourite),
garlic powder, and
freeze dried dill (don't skip, trust me it makes such a difference), plus
salt and pepper to taste, or
vegan furikake (highly recommend! Easy to make too)
Video Tutorial for Avocado Tofu Toast
If you'll be making avocado roses for your special low-carb toast, please watch the video below, starting at 4:47 for tips. It's a bit tricky but once you get the hang of it, you might top all your toasts with roses!
Printable Recipe for Vegan Keto Avocado Tofu Toast
Yield: 1
Avocado Tofu Toast (vegan keto / low carb)
Avocado toast goes low carb with crispy tofu "toast"! The trick is using extra firm tofu and gently pan-frying on all sides to golden perfection.
Ingredients
1/2 tbsp extra virgin olive oil
6 oz extra firm tofu, sliced as one large slab (175g)
4 oz ripe avocado, still a little firm, not mushy (120g)
1/4 tsp onion powder (or to taste)
pinch of garlic powder
pinch of dried dill
salt and pepper to taste, or 1/2 tsp vegan furikake
Optional:
1 oz cherry tomatoes
1 oz sugar snap peas
1 oz bell pepper slices
Instructions
Heat a nonstick pan over medium high and warm up the olive oil. Blot the tofu dry before placing it in the oil. Flip it around so all sides get coated. Sprinkle a little salt all over the pan and top (you will pick it up when you flip). Let cook slowly until golden on both sides (about 5 minutes per) before also cooking the edges (they will only take a few seconds more).
Meanwhile, if you like, prepare your avocado roses (or just mash the avocado as you like). For the roses, cut the avocado in half and remove the pit. Scoop each half out with a large spoon so they stay intact.
Carefully apply oil to a sharp knife and to the back of each avocado half. Wash hands and dry before starting to slice very thinly across the halves. Working with one half at a time, Fan the avocado slices so they become a long line. See the video for tips. Also check on your tofu. Turn the heat down if it's cooking too fast and flip if needed.
Carefully curl one end and use your hands to guide the long avocado "snake" into a tight coil. Also check on your tofu. It may be done by now.
When your tofu is golden on all sides, transfer to a plate. Top with mayo, onion powder, garlic powder, and dried dill. Place the avocado flowers (use the knife to help transfer). Gently spread out the "petals" from the outside in. Sprinkle over salt and pepper to taste (or vegan furikake)
Optionally serve with sugar snap peas sliced diagonally, bell pepper slices and cherry tomatoes. And don't forget your favourite hot sauce! Enjoy and let me know how you did!
Nutrition Information:
Yield:
1
Serving Size:
1
Amount Per Serving:
Calories:

415
Total Fat:

33g
Saturated Fat:

5g
Trans Fat:

0g
Unsaturated Fat:

26g
Cholesterol:

0mg
Sodium:

347mg
Carbohydrates:

18g
Net Carbohydrates:

7g
Fiber:

11g
Sugar:

5g
Protein:

21g
Nutritional Information automatically calculated by a plugin and may not be correct.