You're just 30 minutes away from pulling these fluffy and buttery gluten-free vegan cheese biscuits from your home oven. Then enjoy the crispy edges, soft crumb, and the deliciously hearty flavour of oats and cheddar. Plus, sprinkle one unexpected ingredient to take that cheese flavour to the next level!
Video Tutorial for Vegan Cheddar Oat Drop Biscuits (gluten-free too!)
About using oat flour for gluten-free baking
Oats don't contain gluten so they are OK for gluten-free diets BUT for folks who must avoid gluten for health reasons, you must buy the certified gluten-free kind to be sure they are free from any wheat contamination. You can buy either gluten-free certified oat flour, or buy the gf certified oats and blend them into a powder (a food processor or blender is your friend in this case).
If you're making your own oat flour from rolled oats, you can weigh them out first to get the perfect amount. Or you can choose to measure the oat flour afterwards and save the rest in an airtight container and it should stay fresh for a few months in a cool pantry.
How to make Vegan Cheese Biscuits CHEESIER!
The one special ingredient that just bumps up the cheesy factor in these dairy-free cheese biscuits is Green Mango Powder! You might know it from Indian cuisine where it adds a tangy flavour wherever it lands. Green mango powder is also known as Amchoor and is made from (you guessed it) unripe mangos. The powder is wonderfully sour and can add acidity without adding moisture. It's not noticeably fruity either.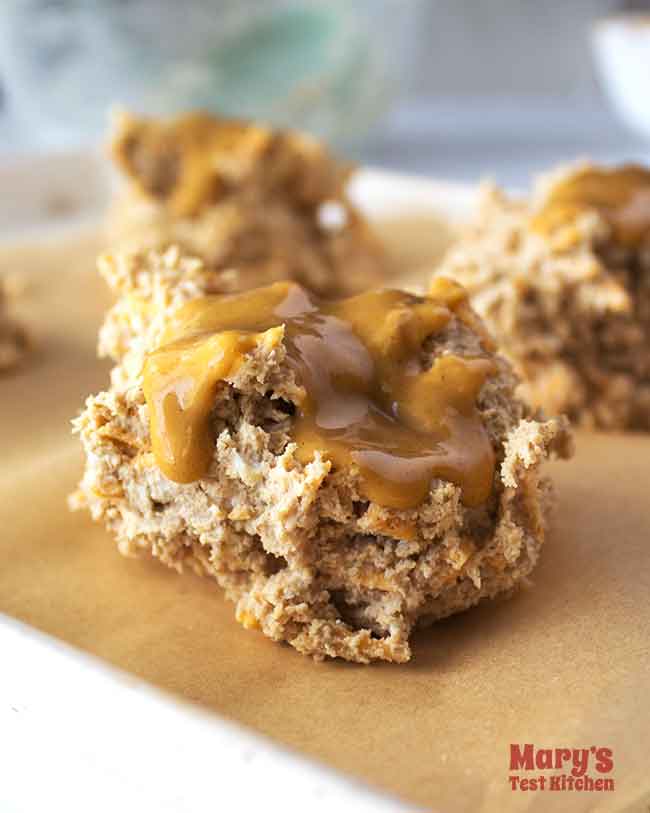 Amchoor is quite affordable and can be found at Indian grocery stores. I found it in the International foods aisle of my local supermarket. For my fellow Canadians, it was $1.99 for 100g at Superstore!
You can also find it at specialty spice stores (but I find it quite marked up in that case).
If you are worried about making a special trip for a spice you might not use much, do not worry! Add that green mango powder to tofu steak rubs, soy curl marinades, sauces, and more! Not to mention its traditional use in chutneys, pickles, samosa, pakora and more.
The only downside to using green mango powder is that is makes the orange cheese sauce dark and not as bright coloured. So say if I was taking these to a bake sale, I would skip the mango powder in the sauce portion of cheese and use it just in the portion that will go inside the biscuit. But for biscuits that I'm eating myself? Give me all the tangy amchoor! It tastes better!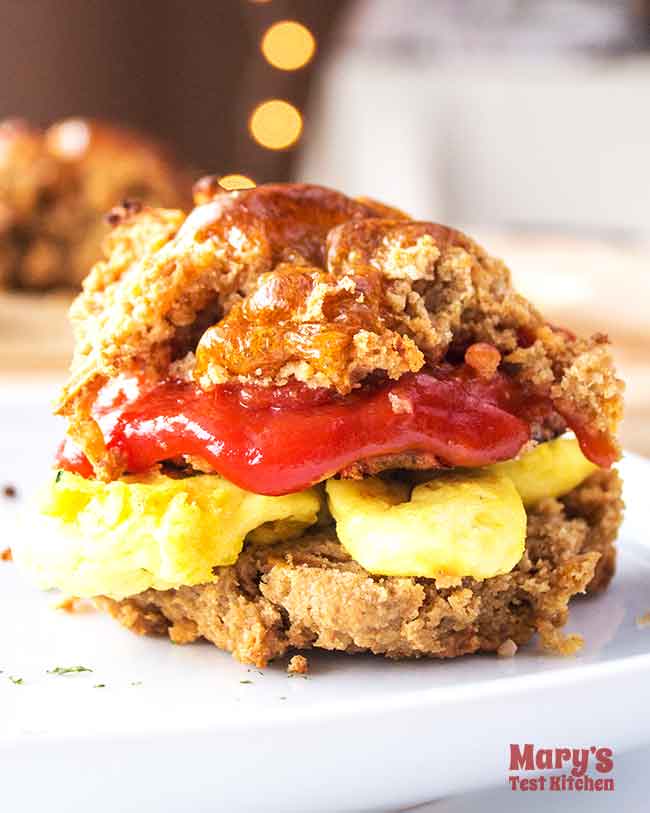 Printable recipe for Vegan Cheddar Oat Drop Biscuits (gluten-free too!)
Yield: 4 large biscuits
Gluten-free Vegan Cheese Biscuits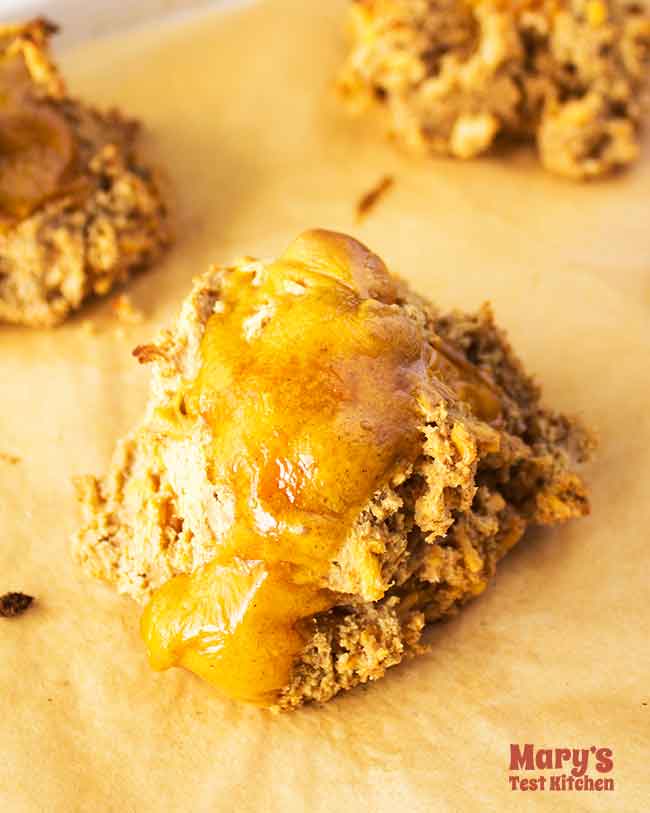 Make these easy drop-style gluten-free vegan cheese biscuits in about 30 minutes. Using oat flour, they bake up wonderfully aromatic, fluffy and buttery with fresh garlic and dairy-free cheddar.
Use certified gluten-free oat flour (or blend your own gf rolled oats) to avoid wheat contamination.
Ingredients
dry ingredients
1 1/4 cup oat flour (150g)
2 tsp sugar
1 1/2 tsp baking powder
1/2 tsp baking soda
1 tsp crushed garlic (2 cloves)
1/4 tsp salt
1/8 tsp cayenne
1 tbsp frozen vegan butter, grated (15g)
seasoned vegan cheddar
3/4 cup vegan cheddar-style shreds (90g)
2 tsp nutritional yeast
1 tsp green mango powder (amchoor)
1/2 tsp salt
1 tbsp plain plant-based milk
wet ingredients
3/4 cup plain plant-based milk (175ml)
2 tsp apple cider vinegar
optional
few pinches of dried parsley
Instructions
Start preheating your oven to 450°F and prepare a baking sheet with parchment paper.
In a mixing bowl, combine all dry ingredients.
Separately, combine cheddar-style shreds, nutritional yeast, green mango powder and salt. Mix well. Scoop out 1/4 cup and place in a microwave safe bowl. Add 1 tbsp plant based milk and set aside.
Add the remaining shreds to the dry ingredients and whisk together. Place bowl in freezer until oven is fully preheated.
Take the bowl from the freezer and make a well in the center. Pour in 3/4 cup of plant-based milk, then 2 tsp of apple cider vinegar into the middle of that. Mix the vinegar and milk together. Then use a spatula to fold the dry into the wet ingredients until a thick wet batter forms. It should be just stiff enough to hold its shape. If it is too wet, you can add a little more oat flour (try a tbsp at a time).
Scoop 4 equal portions from the batter and place evenly on the prepared baking sheet.
Heat the remaining cheese shreds with milk using 15 second intervals for a total of 30-45 seconds to melt the cheese. Stir well to create a smooth sauce. Spoon sauce evenly on tops of each scoop of batter. Sprinkle tops with dried parsley if desired.
Bake at 450°F for 20 to 25 minutes.
Nutrition Information:
Yield:
4
Serving Size:
1
Amount Per Serving:
Calories:

300
Total Fat:

15g
Saturated Fat:

6g
Trans Fat:

1g
Unsaturated Fat:

7g
Cholesterol:

28mg
Sodium:

964mg
Carbohydrates:

29g
Fiber:

3g
Sugar:

6g
Protein:

13g
Nutritional Information automatically calculated by a plugin and may not be correct.