These are the BEST vegan cheese buns you can easily bake at home! If you're looking for dairy-free buns that are fluffy and soft with layer upon layer of sharp cheddar goodness, this is the recipe for you. For my Calgary friends, the might look somewhat familiar as they were inspired by the iconic Glamorgan Bakery cheese buns. So if you want to make vegan Glamorgan-style cheese buns, give these a try at please let me know how they compare in your opinion ❤️
Video Tutorial for The Cheesiest Vegan Cheese Buns
Why you'll love these Cheesiest Vegan Cheese Buns
This recipe starts with a straight-forward yeast dough, combined with vegan cheddar-style shreds that are enhanced with simple seasonings you probably already have in your pantry, and baked to soft and puffy perfection!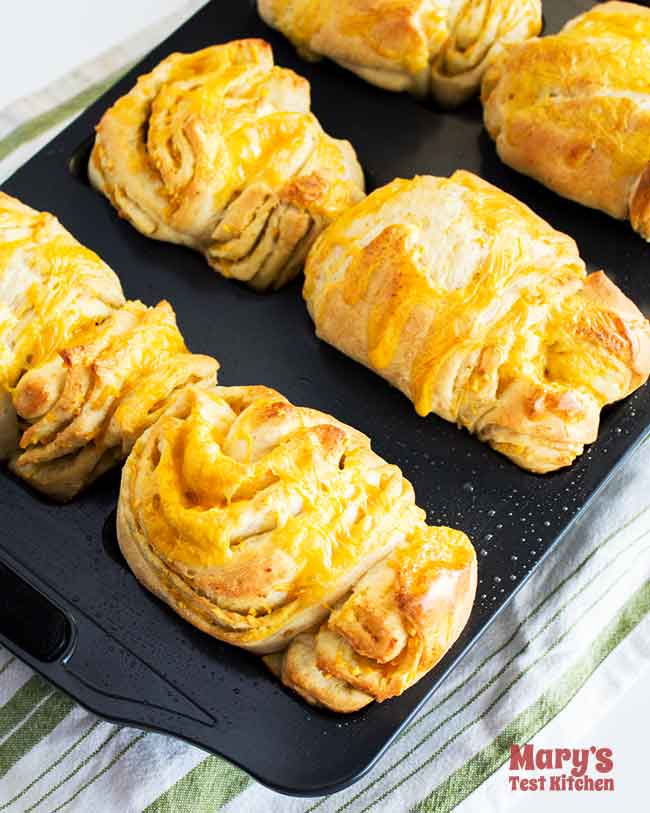 Extra Tips to make The BEST Vegan Cheese Buns
don't skip the seasoning on your vegan cheddar-style shreds! Just plain vegan cheddar shreds is not enough to to get the bakery-quality cheesy flavour.
make sure your yeast is active! If you have any doubts about the yeast in your pantry, check it by combining it with the warm water first. Wait 5 to 10 minutes and it should turn foamy. When you disturb it you will actually see gas bubbles moving about.
don't kill the yeast with water that's too hot. Make sure it's not above 115°F. If you don't have a thermometer, opt for lukewarm rather than hot water to be on the safe side.
go by look and feel rather than strict times. Rising times and baking times will be affected by various factors in your home such as the ambient temperature and humidity for the former and oven strength and ventilation for the latter. Watch the video so you can compare your results as you go.
If you're a beginner at bread-making or get stuck at any step, please check out my page all about troubleshooting yeast and bread recipes.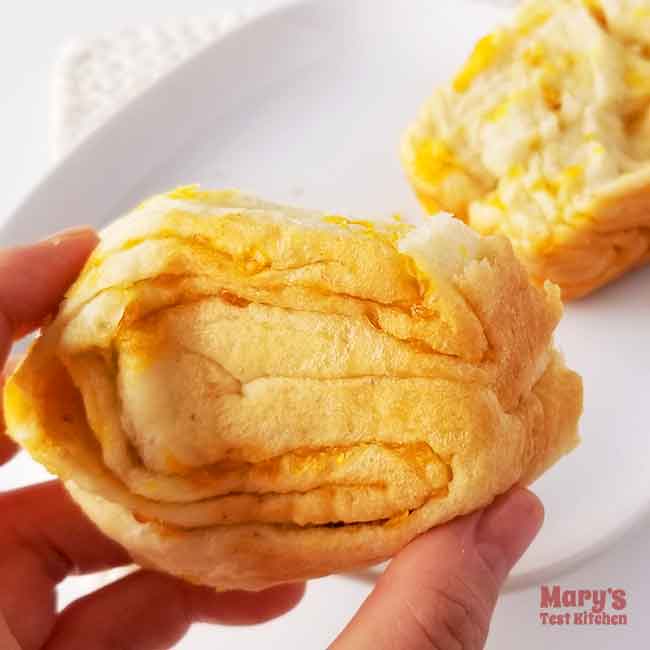 More Vegan Bread Recipes
Printable Recipe for The Cheesiest Vegan Cheese Buns



Yield: 6 big cheese buns or 12 small
The Cheesiest Vegan Cheese Buns
These are the cheesiest vegan cheese buns! Inspired by Calgary's Glamorgan Bakery cheese buns but made plant-based, they have a soft and fluffy texture and layer upon layer of dairy-free cheddar flavour.

Make them in a 6-cavity mini loaf pan or 12 cavity muffin pan.
Ingredients
355ml water at 110°F (1 1/2 cups)
1 tbsp ground flax seed
2 1/4 tsp instant yeast
2 tbsp sugar
500g bread flour (4 cups)
1/2 tsp salt
4 tbsp vegan butter, room temperature
180g vegan cheddar shreds (1 1/2 cups)
2 tbsp nutritional yeast
1 tsp salt
2 tbsp plain plant-based milk
Instructions
1. Make Dough
In large mixing bowl, combine warm water and flax. Sprinkle over instant yeast, then sugar, then bread flour and finally 1/2 tsp salt. Manually or in a stand mixer, stir together until the dough forms. Let it rest 15 minutes before kneading. Knead until smooth; about 10 minutes by hand or 5 minutes in stand mixer.
First Proof
Cover and let the dough stand in a warm, draft-free location to rise for 1 hour or until doubled in size. Meanwhile in a small bowl combine vegan cheddar shreds with nutritional yeast and 1 tsp salt. Stir well. Measure 1/4 cup of the mixture and set aside in a small microwavable bowl. Cover both.
Shape Cheese Buns
After the dough has risen, transfer to a lightly floured work surface. Press flat to remove air bubbles. Then roll it out to about a 1/4 - 1/2 inch thick rectangle. Spread 1 1/2 tbsp vegan butter evenly on top. Add half of the larger portion of seasoned vegan cheddar. Press the cheese into the dough with a spatula so it sticks well. Fold the dough, short-side to short-side, avoiding trapping air pockets.

Press to flatten to about 1" thick. Spread 1 1/2 tbsp vegan butter on top evenly, then sprinkle over the other half portion of cheddar. Press cheese into dough as before and fold the outer thirds into the middle (like a pamphlet).

Finally, flatten with hands and fold again lengthwise to form a thin log. Cut into 6 or 12 pieces.

Use the final tbsp of vegan butter to grease your mini loaf or muffin pan. Place one piece in each cavity.
2nd Proof
Cover with plastic wrap or a clean, damp lint-free kitchen towel. Let rise in a warm, draft-free location for 1 hour or until doubled in size. About 15 minutes before this hour is up, start to preheat your oven to 350°F.
Top and Bake
When the buns have fully risen, carefully remove the plastic wrap.

In a small bowl microwave-safe bowl, combine the remaining 1/4 cup of seasoned cheese shreds with 2 tbsp plant-based milk. Heat using 15 second intervals until the cheese is melted. Stir smooth. Spoon evenly over tops of risen buns.

Bake in preheated oven for 25 minutes or until the golden brown. Enjoy!
Notes
Try adding green mango powder for an extra bit of tanginess to pump up the cheesy flavour.
Nutrition Information:
Yield:
12
Serving Size:
one 12th of recipe
Amount Per Serving: Calories: 264Total Fat: 10gSaturated Fat: 4gTrans Fat: 1gUnsaturated Fat: 5gCholesterol: 15mgSodium: 393mgCarbohydrates: 34gFiber: 2gSugar: 2gProtein: 10g

Nutritional Information automatically calculated by a plugin and may not be correct.