Meal prep these Vegan California Roll Sushi Bowls for delicious high-protein, satisfying meals that are perfect for the summer! I made these for convenience of pulling delicious and nutritious meals out of the freezer when I just don't want to (or just can't) cook. So also in the name of convenience, this vegan meal prep recipe is super easy and quick but still very nutritious and scrumptious.
Click here for the printable recipe.
I've been on a huge sushi kick lately but sadly, sushi rolls aren't the best choice for make-ahead meals. The nori gets too soggy. On the other hand, sushi bowls are great. You can store them in the fridge for a few days or even freeze them.
These vegan California Roll Sushi Bowls start with regular sushi rice as the base and are boosted with red lentils for extra protein. While the rice cooks, make the next layers. Fresh, crisp cucumbers (like in regular California rolls) are great. But cucumbers won't survive freezing so only add them to sushi bowls you'll eat right away or keep in the fridge for up to three days. For freezer-friendly sushi bowls, use corn or other hardy veggies that will freeze and thaw without turning to mushy grossness.
Vegan High-Protein Meal Prep / What I Ate Vegan #86
Watch me make these vegan California Roll Sushi Bowls at 5:25.

Ingredients for your Vegan California Roll Sushi Bowls
For the crab replacement, I use smoked tofu. The only smoked tofu available at major grocery stores in my area is Soyganic Smoked Tofu by Sunrise Soy Foods (not spon but #iwish) and its firm texture makes it easy to grate. The grated pieces are tender and perfect for that crab-like texture. I don't know if I'm just getting more and more into tofu as time goes on, but I can eat this smoked tofu without anything added. It's delicious all on its own. For this vegan California Roll Sushi Bowl though, I add some aquafaba mayo, sesame oil, scallions and a little salt. Try not to eat this by the spoonful before adding it to the bowls.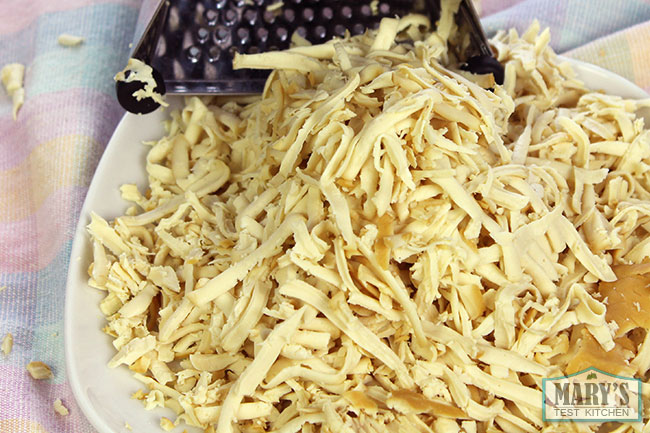 This wouldn't be a sushi bowl without some nori. You could just crumble on some plain nori or furikake. Or brush your nori with a little sesame oil, sprinkle with salt and bake in a 350°F oven for 5 minutes or until the nori gets nice and crisp. Then you can cut the nori into strips to use as a delicious topping. Or just a snack. Store them in an airtight container until you're ready to serve.
Personally, I like to add wasabi mayo and red chilli flakes to the top. Then they are ready to eat!
Storing your Vegan California Roll Sushi Bowl Meal Prep
Once assembled, you should immediately refrigerate the bowls. They will stay fresh in the fridge for up to 3 days.
If you need to store them for longer, do not add the cucumber. Instead, you can add that when you're actually ready to eat. Then you can place the bowls (sans cucumber) in the freezer for up to 2 months. However, the texture of the rice will change after thawing. I don't mind it but, of course, the texture is better if it's never been frozen.
I hope you give this recipe and try and tell me what you think. What freezer-friendly meals do you like to make? Let me know in the comments below.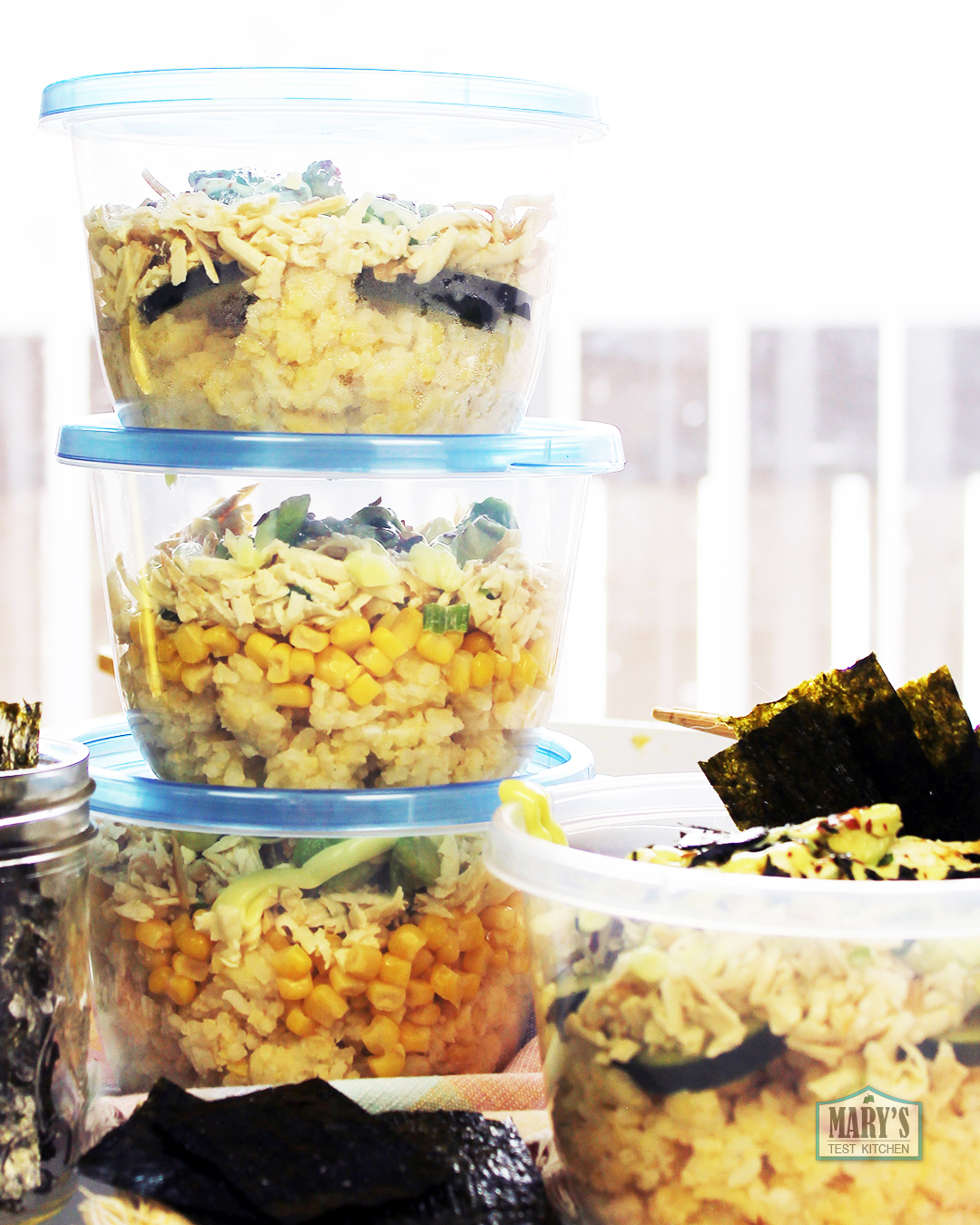 Printable recipe for Vegan California Rolls Sushi Bowls
Yield: 4 servings
Vegan California Roll Sushi Bowls
An easy high-protein vegan sushi bowl that you can make ahead for a delicious lunch or dinner. Use smoked tofu in place of crab, along with the usual toppings of avocado and cucumber for bowls to be served fresh. For bowls to be frozen for later, keep the cucumber away and use corn or other freezer-friendly veggies.
Ingredients
for sushi rice
3/4 cup uncooked sushi rice
3/4 cup uncooked split red lentils
2 cups water
sushi rice seasoning
3 tablespoon rice vinegar
1 tablespoon sugar (optional)
1 teaspoon salt
for toppings
6oz smoked tofu (170g)
1 cup sliced cucumbers
1 cup corn kernels
1 avocado
for crispy nori
2 nori sheets
1/2 teaspoon sesame oil
1/8 teaspoon sea salt
Instructions
Rinse and drain the sushi rice and lentils until the water runs clear. In a pot, combine the rice, lentils and water. Bring the water just to a boil, then turn the heat to low and cover. Cook for 20 minutes or until the water is fully absorbed. Let sit for at least 10 minutes before transferring to a larger container (flat and wide is best), adding the sushi rice seasoning, and folding gently to combine. Cool the rice quickly by letting it sit in the fridge or freezer (do not let it freeze).
While the rice is cooking, prepare the toppings. Roughly grate the smoked tofu, mix with vegan mayo, sesame oil, and sea salt. Mix well, then cover and refrigerate.
Chop the avocado and mix with a teaspoon of lemon juice to prevent browning. Slice cucumber if using and prepare any other vegetables you'd like to add. Cover and refrigerate.
Brush the nori lightly with sesame oil, sprinkle with salt and bake at 350°F for 5 minutes. Cut the nori into strips and store in an air tight container until ready serve.
When the rice is cool, divide into bowls, layer with cucumber/corn, cubed or sliced avocado, and smoked tofu. The bowls will be good in the fridge for up to three days. For serving, add some crispy nori, wasbi mayo (mix mayo with wasabi to taste), red chili flakes or the garnishes of your choice. Enjoy!
Notes
Storage Instructions
The sushi bowls will stay fresh in the fridge for up to 3 days. If you are storing longer than than, freeze the bowls
Freezing Instructions
Ensure all the ingredients are cool and there are no watery vegetables like cucumber, cover and freeze. The bowls will last in the freezer for up to two months.
Nutrition Information:
Yield:
4
Serving Size:
1
Amount Per Serving:
Calories:

226
Total Fat:

9g
Saturated Fat:

1g
Trans Fat:

0g
Unsaturated Fat:

7g
Cholesterol:

0mg
Sodium:

745mg
Carbohydrates:

33g
Fiber:

7g
Sugar:

7g
Protein:

7g
Nutritional Information automatically calculated by a plugin and may not be correct.