This spicy beet seitan gets its red color from beets! The combination of spices in this recipe are similar to those you might find in pepperoni, giving this seitan a hearty, smoky flavour that is great in sandwiches, stir fries, and other savory dishes. Keep in mind, I keed the salt on the low side so you can add the seasonings as you like in your finished dish. So it's a little bland if you just eat it right after steaming. But sprinkly a bit of salt and all the other flavours come alive too!
Skip to the printable recipe or pin this for later.
Video Tutorial for Vegan Spicy Beet Seitan
The Inspiration for Vegan Spicy Beet Seitan
I was just trying to use up the beets that had been sitting at the bottom of my refrigerator for a few weeks. I go through phases with beets: sometimes I love them, sometimes I hate them. Sometimes beets are sweet and other times, they have a strong earthy flavour. And by earthy, I mean they taste like dirt. So after cooking with this batch of beets and just not liking the flavour at all, I decided to utilize the nutrients and the color in them and hide them in a spicy, flavourful seitan.
I was pretty happy with the results but tested it a few more times with various adjustments. The result is this spicy beet seitan recipe.
How to Make Vegan Spicy Beet Seitan
I like to make recipes as simple as possible. For this recipe, all you need to do is blend up your ingredients and combine that with vital wheat gluten to form a firm dough.
You can steam the seitan or bake it. Each method results in a different texture. Steamed seitan is firm and easy to slice. The starch from the beet makes the bite a bit softer than my beefy beefless seitan or simple savory seitan for sandwiches.
It is nice plain but it is really spectacular when you fry it up with a little oil to make the outside a bit crisp. Brush it with one part maple syrup and one part BBQ sauce and you have a great crispy, smoky, sweet and salty filling for a breakfast sandwich or just to eat on it's own. You could use this seitan where one might've used bacon in their pre-vegan days but keep in mind that they are two totally different things. Three and a half years into eating a plant-based diet, the thought of "bacon" doesn't appeal to me in the least. But this "seitan bacon" is drool-inducing and totally worth the time it takes to make.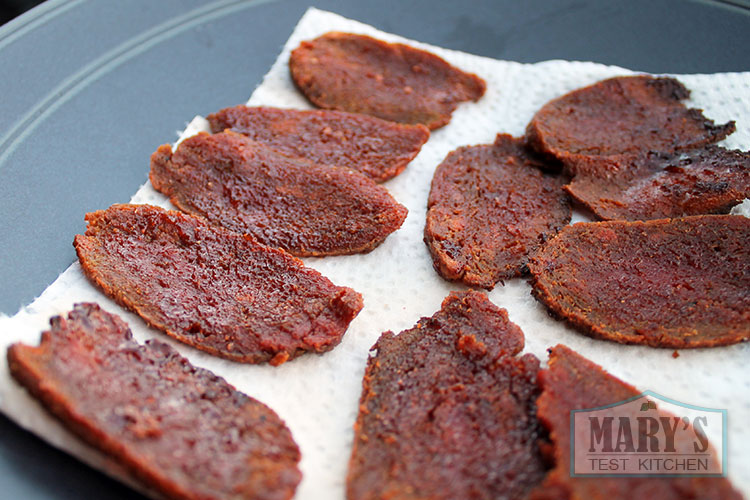 If you bake the beet seitan and let it cool, you can pull it apart with your fingers to create pieces that are great to use in stir-fries. The texture of the baked version is softer and chewier than the steamed version and retains the gluten strands. Like my beefy beefless seitan, this seitan is meant to be a starting point to make even more delicious foods. You can enhance the seitan by adding sauces or glazes and baking it further, sauteing, or frying.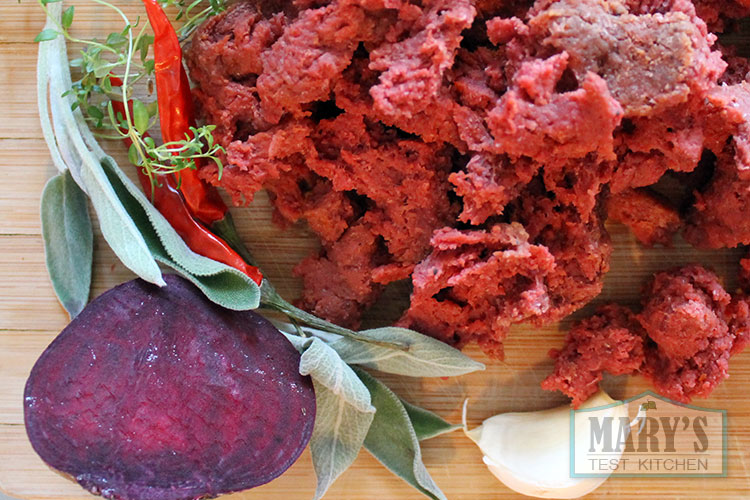 How would you use this seitan? Does the color and texture freak you out or do you like that kind of thing? I'm on the fence about that part but I have to say, it tastes amazing.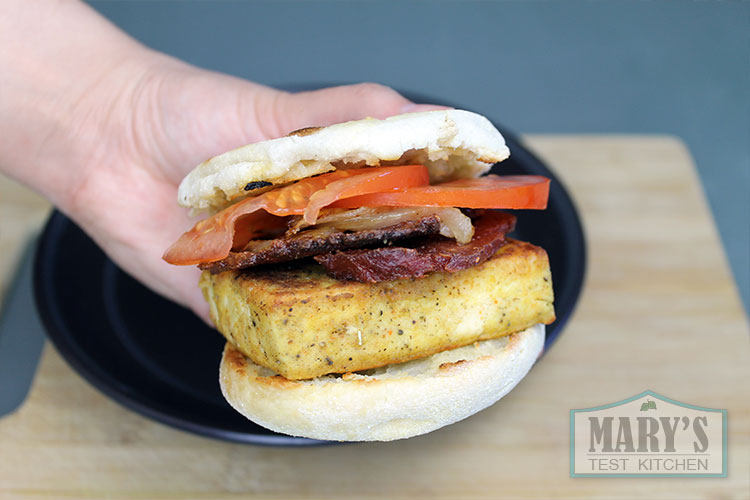 Other seitan recipes:
Printable recipe for Spicy Vegan Beet Seitan
Yield: About 1 pound seitan
Vegan Spicy Beet Seitan
This spicy beet seitan blends herbs and spices that one would find in cured products such as pepperoni to create a smoky hearty flavour. Deep red beets add color but also healthy nutrients like B vitamins. You can fry it up and brush it with maple syrup for a smokey salty chewy and crisp addition to a breakfast sandwich or stir fry with onions and sweet BBQ sauce to top noodles or rice. The possibilities are endless.
Cook Time
1 hour
15 minutes
Total Time
1 hour
20 minutes
Ingredients
1 cup cooked beans, any kind (150g)
1 raw beet, peeled and chopped (120g)
1 cube or 1 teaspoon mushroom/vegetable bouillon powder
2 cloves garlic
2 tablespoons maple syrup (or other liquid sweetener)
1 tablespoon balsamic vinegar
1 teaspoon ginger powder
1 teaspoon poultry seasoning (marjoram, sage, thyme, rosemary, etc)
1 teaspoon onion powder
1 teaspoon red chili flakes
1/2 teaspoon ground coriander
1/4 teaspoon black pepper
1/4 teaspoon white pepper
1/4 teaspoon cardamon
1/4 teaspoon cumin
1/4 teaspoon liquid smoke
1 cup vital wheat gluten )120g)
3/4 cup hot water (175ml)
optional
Instructions
Make Seitan Dough
Blend all the ingredients EXCEPT for the vital wheat gluten in a blender until fairly smooth.
Transfer the puree to a large mixing bowl and add the vital wheat gluten. Mix until it forms a dough.
With clean hands, knead for one to two minutes. This step develops the gluten strands which creates texture in the final product.
Steam or bake the seitan as below.
To Steam
Shape the dough into a log shape and wrap in parchment paper. Simply roll it up in the parchment and fold the two ends under the loaf.
Steam over high heat for one hour and fifteen minutes if you are cooking the whole batch in one loaf. For a half batch, steam for only one hour.
Remove from heat, remove the parchment and let cool until just warm. Then cool completely in the refrigerator before slicing or cutting into cubes. This seitan is now ready to eat or use in other dishes.
To Bake
Divide the dough into two pieces.
Prepare a sheet of aluminum foil by oiling the shiny side. Leave a couple inches at the side un-oiled. One piece of dough in the middle and roll it up in the foil. Fold the two sides under the roll and the edges to seal. Repeat with the other half of the dough.
Bake in a preheated oven at 350F or 180C for one hour on the middle rack, turning every 20 minutes to ensure even cooking.
Remove from the oven and let cool for a half hour. Then place in the fridge to cool completely.
Unwrap the foil before slicing or pulling apart to create chunky pieces. This seitan is now ready to put into stir-fries or toss with glaze and bake again to make the seitan a little crispy.
Notes
This seitan is intended to be a starting point which is why the salt is optional. Once you've prepared this, you can fry it, saute, glaze and bake or use another method to enhance it.
For maple glazed seitan "bacon," slice the seitan into strips. Then fry it in a little oil over high heat. Before flipping the pieces, brush on a thin layer of glaze made from one part maple syrup and one part barbecue sauce. Cook until browned or as crispy as you desire.