Fun Fact: The coleslaw that I grew up with was never made at home. We got it from KFC (Kentucky Fried Chicken Restaurants) and I LOVED IT. In this vegan copycat version, I replicate the sweet and tangy flavour that I remember with Follow Your Heart (Earth Island) Vegenaise. You can also use your favourite store-bought or homemade vegan mayo.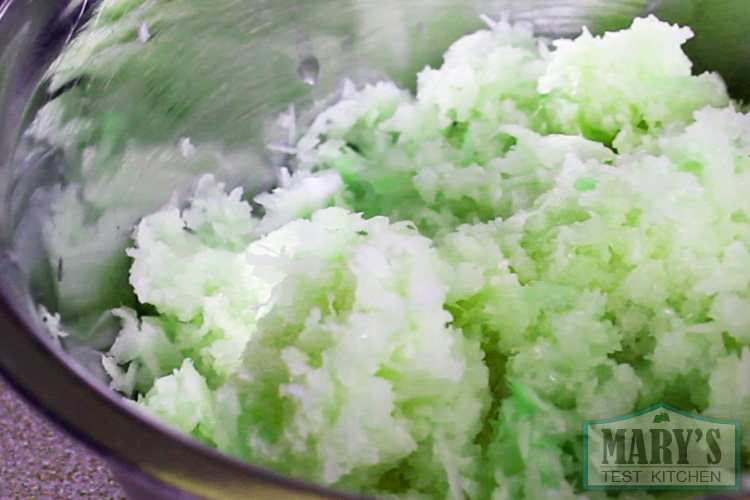 I had been watching some of my old videos so look at what I liked and what I didn't like in order to improve my videos going forward. In the process, I realized that I have some recipes on the videos that I didn't post on this blog yet! The video below was from December. This recipe for KFC-style coleslaw was one of them.
What's Real KFC Coleslaw?
If KFC's coleslaw changes in the future, let me describe the KFC coleslaw that I grew up with. It's made with finely grated cabbage, very green, tangy and sweet but without much else to it. There are no carrots and no, god forbid, raisins!
How to make Vegan KFC Copycat Coleslaw
This coleslaw recipe is super quick and easy. If you have a food processor, use the fine grating blade to make your life even easier. If you're working manually, get ready for buff arms as you finely grate half a head of green cabbage.
You should have about 5 cups of finely grated cabbage which you'll combine with:
juice from one lemon,
3 tablespoons vegan mayonnaise (or a little more for creamier coleslaw),
2 tablespoons white vinegar,
2 tablespoons of finely minced white onion,
1 tablespoon sugar, and
1 teaspoon salt.
While not in the original KFC coleslaw, I like to add 1/4 cup of finely grated carrots as well for extra colour and nutrients.
By the way, this recipe is naturally gluten-free and nut-free. You can make it soy-free if you use soy-free vegan mayo.
For the tastiest coleslaw, let the flavours mingle overnight before serving. The coleslaw will stay fresh for a few days but don't be surprised if it disappears quick! It's super addictive for a salad!
Lastly, don't forget to taste and adjust the salt to your preference. Also, as grated cabbage sits in the salty dressing, the moisture in the veg will sweat a bit so you may also want to drain excess liquid before serving your Vegan KFC Copycat Coleslaw.
What to eat this Vegan KFC Copycat Coleslaw with
The obvious choice to pair with this KFC-style coleslaw is Vegan KFC-style "Chicken"! Try my Best Vegan Fried Chicken Sandwich with KFC Original Recipe Copycat seasoning.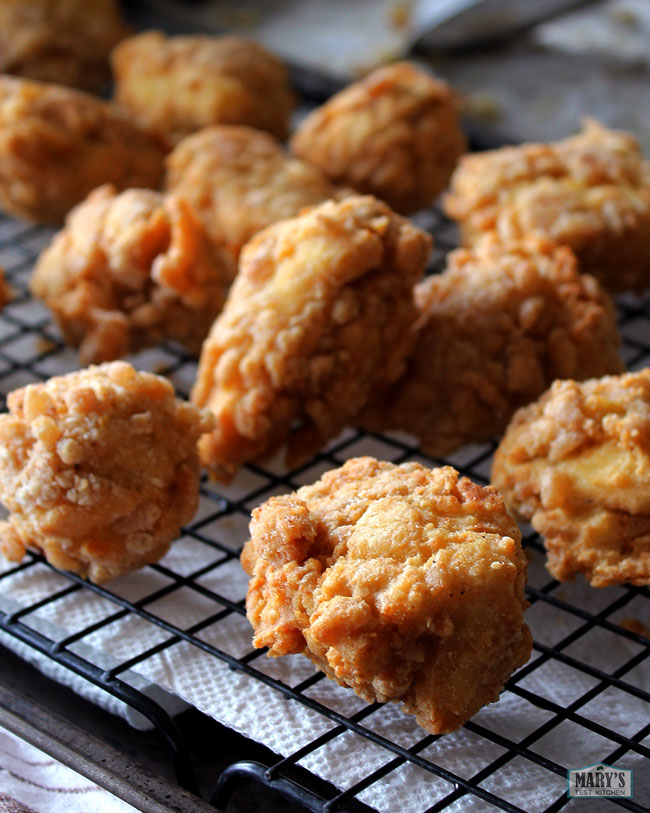 Or try my BEST Vegan Fried "Chicken". It's super crispy and crunchy on the outside while being juicy and meaty on the inside. You won't believe your eyes!
What do you plan to have with your vegan coleslaw? Let me know in the comments! Plus, if please leave a review after you try this vegan coleslaw recipe. Thank you so much and let me know what other favourites you'd like to see made plant-based!
Vegan KFC Coleslaw Copycat Recipe, plus other vegan foods I ate in a day
Printable Vegan KFC Copycat Coleslaw Recipe
Yield: 5 cups
Vegan KFC Copycat Coleslaw Recipe
This super quick recipe is a dupe for the flavour and texture of the coleslaw from KFC. For this version, only plant-based ingredients are used resulting in no cholesterol while delivering all of the taste.
Ingredients
1/2 large head of cabbage, grated finely (about 5 cups)
juice from one lemon (about 1/3 cup or 80ml)
3 tablespoons Vegenaise or your fave vegan mayo
2 tablespoons white vinegar
2 tablespoons minced, white onion or 1/2 teaspoon onion powder
1 tablespoon sugar
1 teaspoon salt
Optional!
1/4 cup grated carrots for color.
Instructions
Stir all ingredients together until thoroughly combined.
For best results, cover and refrigerate overnight.
Taste and adjust for salt for your preference.
You may drain some of the excess liquid before serving
Nutrition Information:
Yield:
5
Serving Size:
1 cup
Amount Per Serving:
Calories:

105
Total Fat:

5g
Saturated Fat:

1g
Trans Fat:

0g
Unsaturated Fat:

4g
Cholesterol:

0mg
Sodium:

498mg
Carbohydrates:

14g
Fiber:

1g
Sugar:

10g
Protein:

1g
Nutritional Information automatically calculated by a plugin and may not be correct.